YES it's Friday! I am SO happy its the weekend! It's been a busy old week here at Boho HQ! but now it's time for the weekend, fun with my boy and some time to enjoy the sunshine! Nik is away this weekend, so tomorrow I am taking Dexter out for lunch and then we are going to a friends house for a bit of a get together. Sunday we are off to Chatsworth House in Derbyshire, lots of places for Dexter to paddle and cool off! Should be good, what about you? I do hope there are plenty of weddings this weekend, the perfect weather for it!  I am finishing off the week with this super stylish 'Bold Boho' Industrial wedding inspiration. Warm luxe, meets cool warehouse vibes with plenty of style, gorgeous flowers and the most stunning couple thrown into the mix. However, the star of the show really has to be the couples pet dog, Olive! I just love this shoot, it's a real blend of ideas and inspiration, it took place in September 2020 at The Old Tannery in Wellington, Western Cape, South Africa, big thanks to Lynn Shapiro Photography for the fabulous photos.
A luxe boho elopement shoot within an industrial setting of an old tannery.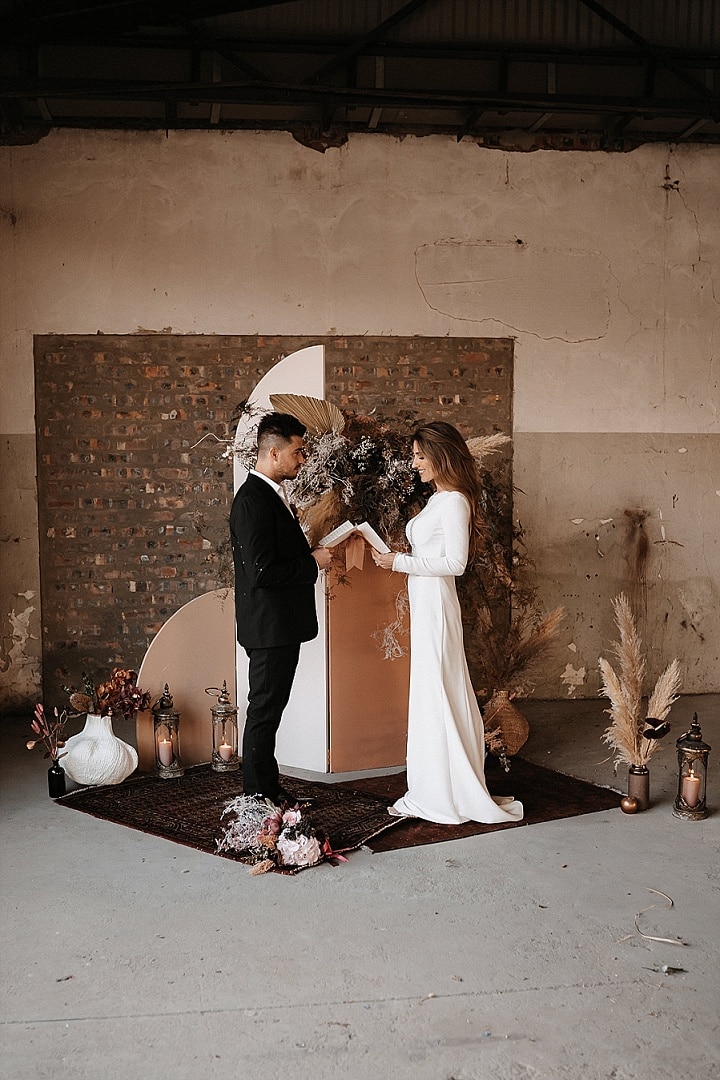 Lynn the photographer tells us more about the shoot
For the concept we chose to focus on eloping, considering the current world climate, and wanted to mix a few bold boho elements to really make this elopement unique to our 'couple'. We wanted to challenge the idea of elopements being small and limited considering it's just the two of you, and show how you can invest in certain areas of your day that are most important to you and it can be as gorgeous and bold and stunning as you hope!
The inspiration was Bold, rich colours, dry florals, the contrast between boho and industrial and mixing those two different vibes together.
The shoot was born out of a desperate need to create during hard lockdown. Myself and Zahn from Bulb Flowers developed the concept and wanted to create a gorgeous, warm, luxe boho style shoot but with a twist – hence being located in an industrial tannery. Our models are a real married couple as I was intent on having the true connection of an actual couple. The shoot also featured sweet puppy Olive, the couple's own puppy, who brought so much fun and playfulness to the day.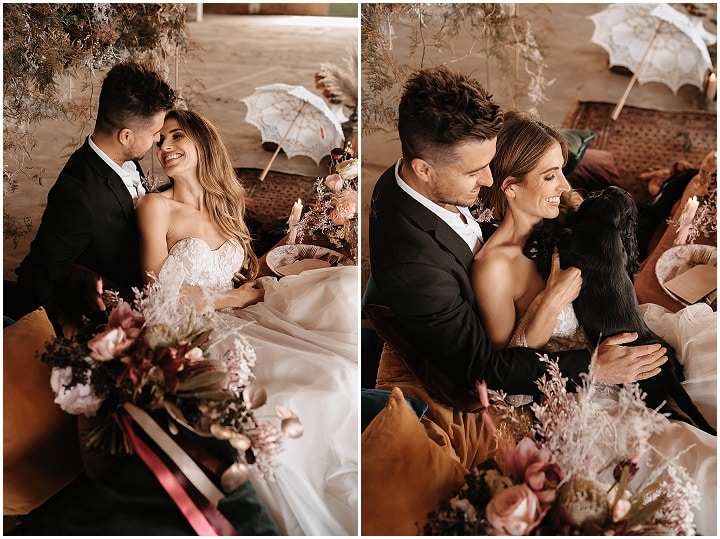 Supplier Shout Outs
For more information on Lynn Shapiro Photography go to
www.lynnshapiro.co / [email protected] / FACEBOOK / INSTAGRAM / PINTEREST