Morning beautiful people! How are you all this fine and sunny morning? Today is Nik's (my husband) birthday, so I'd like to wish him the most wonderful of birthdays. We are off out for breakfast soon, then he is playing golf with his best mate, a quick trip to the fun fair this afternoon with Dexter and then this evening we are going out to dinner. Not too shabby as far as birthdays are concerned! So I hope he has a wonderful day he deserves it. On with today's wedding and it's the turn of Ally and Cavan who were married on 13th October 2020 in Ellicottville, Western New York, in a cute backyard ceremony. Even with Covid this gorgeous couple still managed to have the most wonderful of weddings, with personalised face masks for their guests, the most beautiful florals and stunning decor. The whole day is full of whimsical details, muted tones and so much love! Big thanks to Event Planner EVL Events  for submitting this gorgeous wedding and to Anomaly Photography & Design for the photos.
Ally wanted a romantic backyard tent wedding that was intimate and fun and on their gorgeous property in a little ski town in New York. Brought to life by her vendor dream team even through a pandemic, Ally was still able to get the day of her dreams!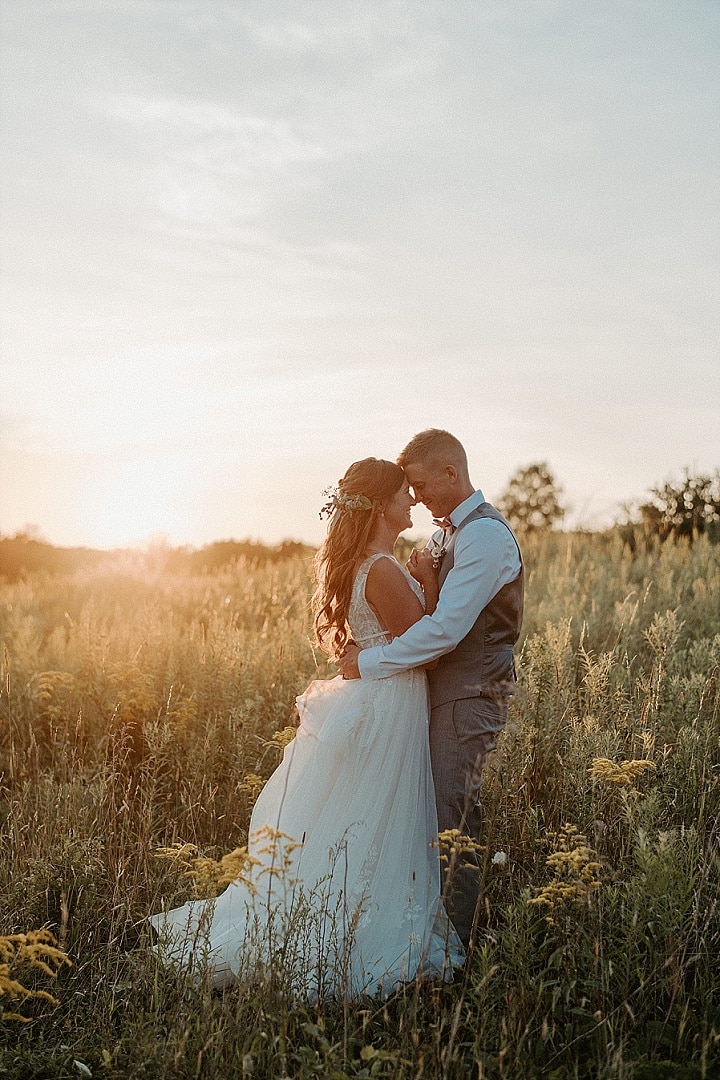 How they met
We met in the cutest little ski town, Ellicottville, NY, which we now call our hometown! My husband actually grew up here and I was in town visiting a friend. Our friends were dating at the time so we met out for drinks and the rest was history!
The proposal
The proposal was a surprise! I would say shock, but we had been dating for 6 years and had built a house together. We had just sold our first house together, which was my grandparents old house. It had been in my family for 60+ years and was obviously very special to me. There was a stream in the backyard- which had been my favorite spot since I was a little girl. We went to the house for the last time on July 15, 2019 to get a few things left behind. Cavan suggested we take our chocolate lab, Remi, down to the "crick" one last time. I was looking upstream when Cavan said, "I have something that will always help us remember this place!" And when I turned around he was on his knee with the ring. We both hugged and cried, and I finally said "yes!"
The Outfits 
I knew I wanted my dress to have the whimsical romantic feel. I was also adamant on being comfortable! My best friend who lives in NC was going to be about 6 hours away- so we decided to meet in the middle so she could see me try on dresses! I walked into Dress Your Fancy with an open mind. I told the consultant what I had in mind and after trying on a few dresses I had picked out, she walked in with one she picked- Raelynn by Rebecca Ingram. As soon as I saw myself I started to cry and knew it was the one! It had a deep v-neck, detailed illusion lace on top, which trickled to the tulle skirt. It was also the lightest dress I tried on! I still think it was fate I found my dress that day! My husband is very easy going, but also has a great sense of style. His suit was much more difficult to choose due to COVID. I was lucky since I found my dress before the pandemic. We did a lot of online shopping, ordering, and a couple returns to get the right sizes! He wore gray pants with a matching vest. His groomsmen wore suspenders which helped complete the look!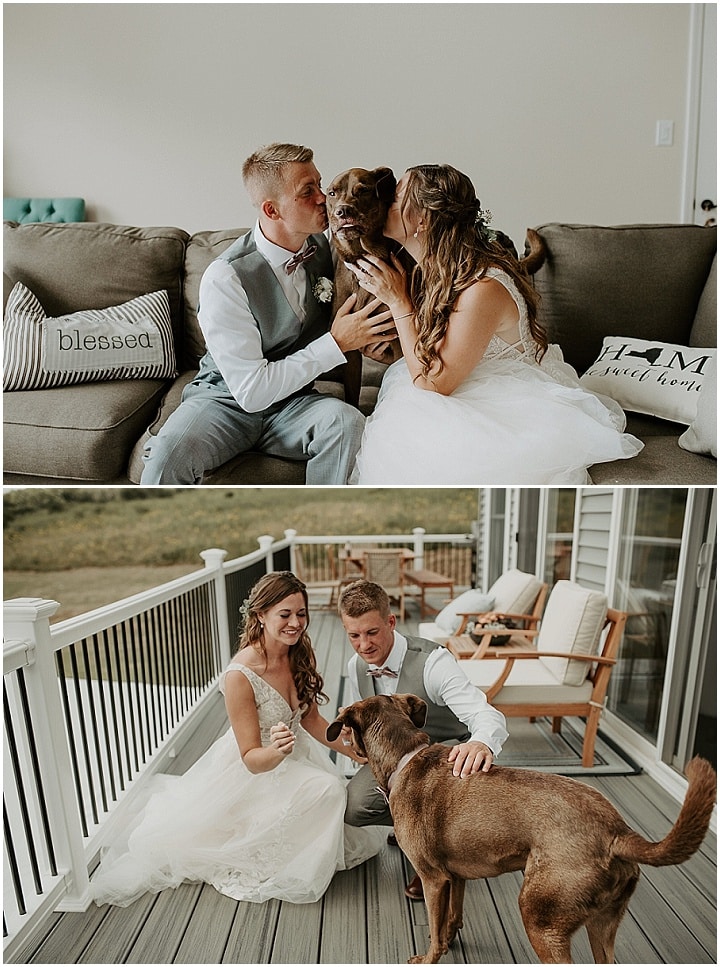 Theme or colour scheme
The theme of our wedding was whimsical romantic. I wanted it to feel like holding hands running through an open field! Our color palette was dusty rose, ivory, greens, and a little gold thrown in.
Decoration
Blue Violet and Tesoro Rentals really made our ideas come to life! The ceremony was decorated with tree stumps holding candles and greenery, and a simple arbor decorated with two beautiful flower arrangements, and a flowing ivory sash. What pulled the look together, and really completed the look for me was using farmhouse chairs instead of the traditional folding chairs. For the reception, we were under a gorgeous white top tent with bistro lighting throughout. We used long farm tables, decorated with an ivory sash running down the middle, with eucalyptus, roses, and gold votives. We used gold rimmed charger plates, with gold-ware. I also made a ton of wooden signs (direction signs, welcome sign, and label signs) which were DIY.
Flowers
Florals were definitely a huge part of our wedding design. We used a ton of eucalyptus, roses, and dahlias. Our florist also recommended using pampas grass to soften the look of the bouquets, which ended up being my favorite part! These were used for the ceremony arbor, bouquets, decorating our welcome sign, and decorating the farm tables at the reception, along with some side tables. To me, the florals definitely played the biggest role in creating the whimsical romantic feel.
Personal Touches
The thing that meant the most to us, and was most personal to us was my husbands younger brother marrying us. This made our ceremony extra special and it wouldn't have been the same without him. Something that personalized our reception was our caterer, CJ's BBQ. They run a food truck in the town where we used to live, and have been our favorite for years. When we got engaged we both knew right away we wanted them to cater, and were happy they made the trip to our new town.
Special moments
Before the day of the wedding, the ceremony was the most anticipated part for me. But when it came down to it on the actual day of the wedding I would say the first look with my husband was the most anticipated and special part of the day. We had spent the night before apart so I hadn't seen him. Our wedding planner, Sam from EVL Events, had Cavan standing down under the arbor. Then she came and got me on a golf cart. Once I saw Cavan and the ceremony set-up I started crying instantly. I couldn't even walk to him because I couldn't see through the tears. Once I got to him and he turned around we just hugged each other and cried again!
Advice for other couples
Hire a planner! And also, be flexible- with planning and in life! I am a very type A person. I stress over details and crave organization. Without Sam, I know I would have been super stressed and I know this wedding wouldn't have been the same. With COVID we had to be flexible with changing certain things. We were lucky we had planned to get married in our backyard all along. We did have to cut back on the guest count, and change up a few things for sanitary purposes- which again, would have been a lot more stressful without Sam!
Supplier Shout Outs