Happy Friday everyone, how are you all doing? Yay for the weekend! This week has just flown by, thanks to the bank holiday we had! Now the forecast is for more rain over this weekend….roll on 17th May when we can go inside places again, I cannot wait! So not much planned for this weekend, what about you? Somewhere there is little rain at the moment is Australia, which is where today's wedding takes place. Stephanie and Cameron had their original destination wedding cancelled due to Covid, so they had to re plan their entire day and this beauty of a wedding in in Queensland, Australia is the end result. The whole day is totally gorgeous, the outdoor woodland ceremony, the natural feel, the gorgeous flowers, the earth tones and the general flow of the day is just amazing. Big thanks to Anje Luck at Gabbinbar Homestead the beautiful venue, for submitting it. They also did the planning and the catering, while Sarah Conlan captured the day for us.
There's something absolutely magical about dreaming of your wedding day, and then actually living it. It was the most amazingly day from start to finish, we are both still in disbelief that it was real life, OUR LIFE!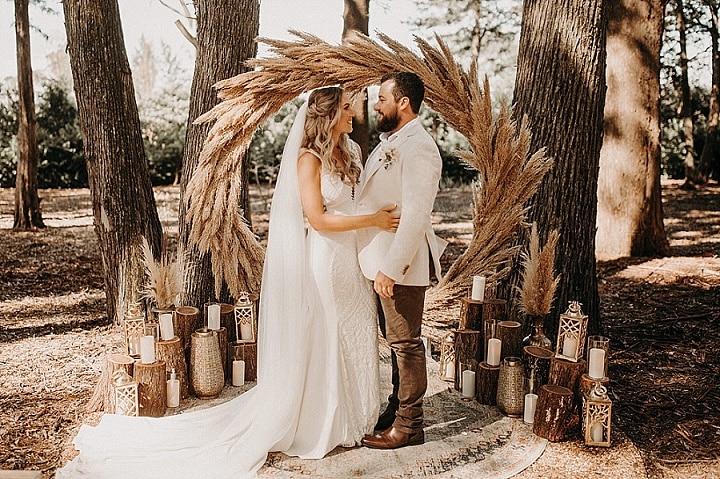 Stephanie and Cameron were married on 14th January 2021 at Gabbinbar Homestead 'The Woods' for ceremony and Gabbinbar Homestead 'The conservatory' for reception, in Queensland, Australia. 'After viewing Gabbinbar Homstead back in June of 2020, there were no second thoughts, we knew immediately this was our location. There were no questions, no doubts, this is where our day was going to be held. The specific ceremony location 'The Woods', was actually on my Pinterest inspo page before seeing Gabbinbar so that was without question also, and ended up being better than I had dreamed! We had 70 guests, I can't remember exactly how long it took to plan, maybe 8-9 months? I really can't remember it was all such a whirlwind!'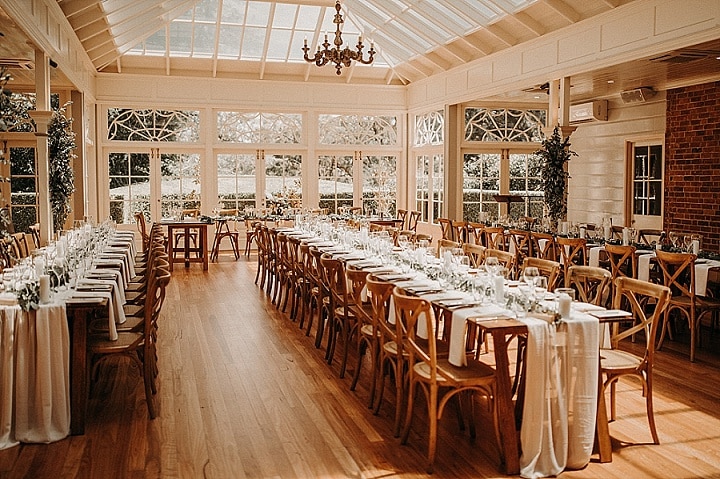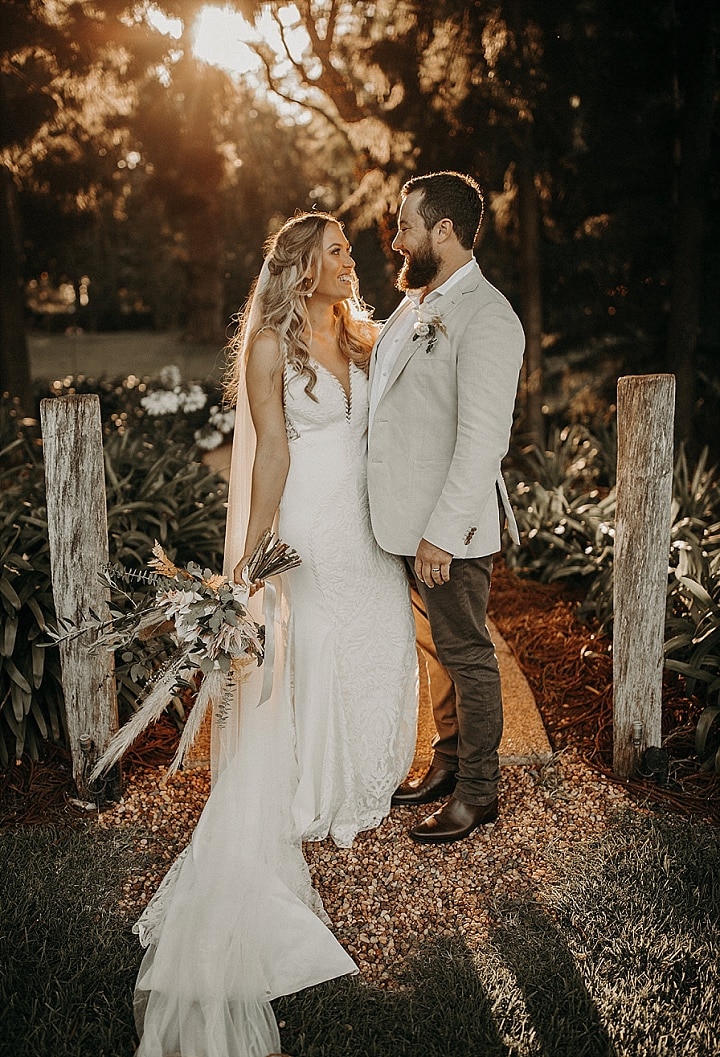 How they met 
Cam and I met at the age of 15 through sport, and started dating in 2016. Married in 2021.
The proposal
Cam proposed in the Onsen Hot Pools in New Zealand in September of 2018. It was so special and the view was spectacular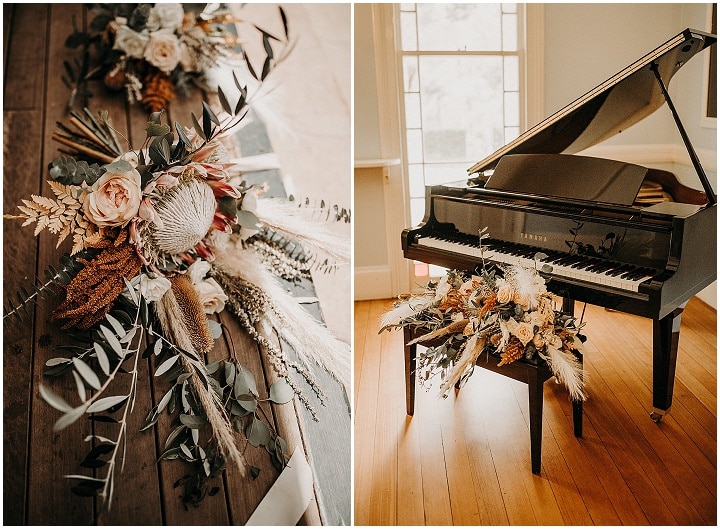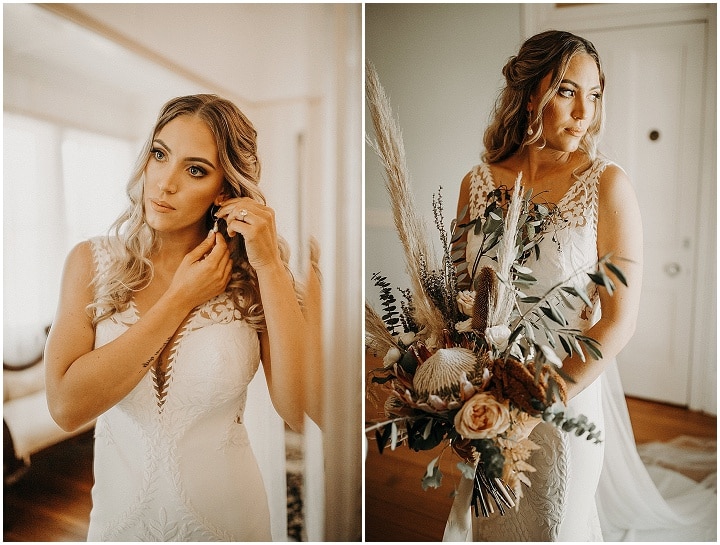 How did you allocate your budget?
To be honest we did not have an exact budget for Gabbinbar. We were planning this wedding right off the back of losing almost everything to our previously planned (and fully paid for) destination wedding which was meant to be in Bali in September 2020. It obviously could not go ahead due to Covid. We received a very small refund from the venue itself, but we lost 100% of pretty much everything else, we lost an incredible amount. We went into planning this new wedding with a budget of 'as absolutely minimum as possible'. Gabbinbar were so understanding of our situation, not only financially but with supporting me as well. I came to Gabbinbar (over the phone) as a completely broken bride to be, and they really took care of us. We made a lot of cuts to all the bells and whistles and suppliers that we would have normally chosen to have or would have hired, but we were more than happy to do this, as long as the wedding was going to go ahead that was enough for us. Gabbinbar were so great helping with what to cut and what to keep.
Where did you splurge and where did you save?
We ended up splurging on our celebrant/MC, Married by Jake. Our budget was quite low for a celebrant and we were not going to have an MC at all to save on costs, however after researching for endless hours and speaking with Gabbinbar (who highly recommended Jake). We decided to make some cuts to allocate more money for this service. We had a phone appointment with Jake, and from that point forward I knew this would be our celebrant. It wasn't until a few weeks, maybe even a month or two later, we decided we needed Jake as our MC as well. I can tell you, it was the BEST decision we made. I was very naive about just how much of an impact the celebrant or MC would have on our day. Jake's presence was incredible, he brought a vibe that was so 'us' to the day and I can't imagine the day without him.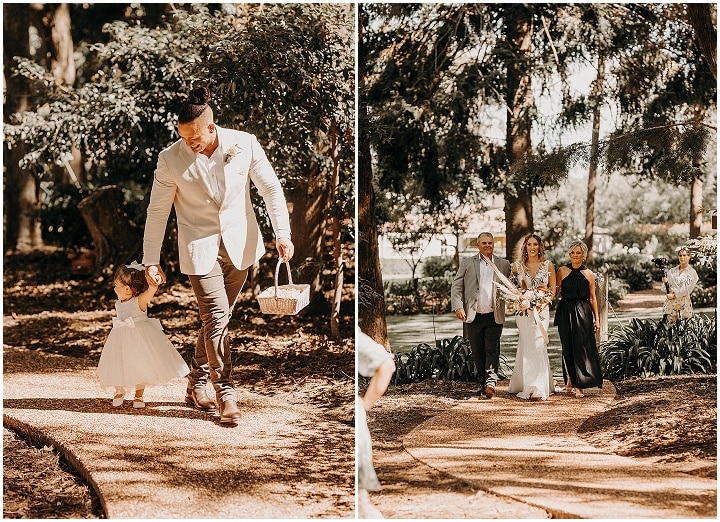 How did you choose your photographer?
This was an easy decision for us! My childhood friend Sarah is an amazing photographer who we get photos with often. Sarah had previously photographed my maternity photos and my baby girl as well, we are very comfortable with Sarah and know how amazing her work is. We jumped at the idea to ask Sarah if we could book her as our wedding photographer and to invite her as a guest to our wedding. It was so special to be able to have her there on our day. My partner is extremely uncomfortable in front of a camera so to have someone who he was also completely comfortable with was so great. Our photos are more than I had hoped for they are INCREDIBLE! Our Videography was a surprise gift from Cam's Dad and Step mum, it was such a beautiful surprise for us. Sarah and her partner Cam from Galeforce Weddings & Events were amazing on the day, they were such a fin time and made us feel so comfortable. Our video is so so amazing. It's something so special to have and I can't wait to look back on this each year with our family.
The dress 
My dress was the Freja Gown by Lovers Society. I went very minimal with accessories, I only wore earrings which were hand crafted by Indigo Jade. And my shoes, now I bought 3 different pairs of shoes that turned out to be extremely uncomfortable, so I ended up wearing $8 Kmart shoes that were on clearance. They were a treat on the day! 3 days before the wedding I ordered a custom made pearl denim jacket from Miss Poppy Design, with 'Mrs Cole' on the back which I wore at the end of the night, it was absolutely stunning.
The suit and bridesmaids
The men's attire was from MJ Bale. I worked for a long period of time with James from the Chermside, Brisbane store. He was a gem! The men all wore The Robertson Jackets, the Cornelis white button up shirt, the McQueen Chinos in the colour Bark, and the brown leather shoes were from ASOS. They all wore their brown leather RM Williams belts as well. My bridesmaids dresses were a rather finny story, we actually had two dresses, champagne gold and rust. Both colours went with my theme so I let the girls choose on the day whichever dresses they all felt most comfortable in. They chose the rust colour dresses from The Iconic, and they were stunning, I'm very happy with their decision!
Theme or colour scheme
I wasn't super decisive on my overall theme, I changed my mind a million times with my stylist Tamara from Toowoomba White Weddings, she was so understanding and helped me with the final decision of whites, lots of greenery and some pops of blush and rust throughout the bouquets. which tied in beautiful with the girls rust dresses. We liked the neutral and earthy colours on the groomsmen. We kept things to a minimal because Gabbinbar's venue really speaks for itself and we wanted to enjoy it's natural beauty.
Flowers 
We went with some natives, a beautiful big King Protea, mixed with roses, pampas grass and some spindally greenery and rust elements. There was actually a lot going on in my bouquet it was a dream! I didn't really know exactly what the florals for the bridesmaids were going to look like because I had sent so many inspo photos that I ended up just trusting that Tamara knew the vibe I was going for. Oh my gosh she did not disappoint. I was so overwhelmed in the best way when I saw our florals, they were incredible she delivered exactly what my idea of the perfect bouquets would have looked like. For the reception we had simple greenery laid upon white chiffon with pillar candles in glass jars scattered throughout. It was exactly what I had envisioned.
Decoration 
Firstly, I cannot speak highly enough of Daniel, Renee and the team at Berry Vintage who styled and supplied the decorations for our entire ceremony. I stumbled upon their website in the very early days of planning and fell in love with the items and scenes they create. As soon as I saw it I knew immediately that the cane plume arbor was what I had to get married in front of. My dream arbor, it's truly beautiful. Other than the arbor I actually had no idea what my ceremony set up was going to look like, I knew there was a pack that they had put together for me with some logs, candles and accessories but I had no clue what the final set up would look like. I trusted them entirely with creating something amazing I had full faith it would be perfect! I actually didn't see the set up until I was actually walking down the aisle and I was immediately teary when I was it all. It could not have been more perfect it was so much more than I imagined. There is something really touching about picturing a set up and then seeing this magical scene in person it was so surreal I couldn't believe this was here for me, for us. It was breath taking. We repurposed the arbor to behind the bridal table in the reception afterwards to save on costs as well, that was beautiful and so great that we got to enjoy the stunning arbor for even longer. We had laser cut place names to lay on the dinner plates for each person in the reception, and a beautiful acrylic wedding sign with white decal writing made by Pastime Paradise.
Food 
The food was catered by Gabbinbar, and I can't tell you the number of guests who have told me it was the best meal they have ever had. The food was incredible. I was really amazed how Gabbinbar catered for every food allergy and dietary requirement for our guests, not just in the dinner service but they made sure those people with requirements had their own trays of canapés throughout the garden party and were so well taken care of. I myself am vegetarian and had a huge array of delicious options. For dinner we chose two proteins per plate, the lamb and chicken. It looked like it was straight out of a magazine!
Wedding cake
We were fortunate enough that Cam's step mum is a chef and an incredible baker. Donna made our two tier semi naked vanilla cake in Mount Isa and transported it all the way to Toowoomba. It was such a huge help for us because the quotes I was getting for wedding cakes were completely out of our budget, we were actually not going to have a cake at all but this was an amazing and even more special that it was made by Donna. It was also delicious!
Who supplied the stationery?
I got the wooden cut place names, the clear acrylic welcome sign, our cake topper and our Father of the Bride and Groom gifts from a local store called Pastime Paradise. I ended up ordering name decals from Etsy and transferring them myself onto wine glasses from Kmart for family and my bridesmaids, they actually turned out beautifully. The Groomsmen had stainless beer mugs personalised from Giftware Direct. These turned out so great and were a nice keepsake for the bridal party.
Where are you going on your honeymoon?
Our honeymoon was the first thing we sacrificed in order to make this wedding go ahead. We knew from the start that a honeymoon would not be an option if we were to pay for a second wedding, and we're so happy with our decision to share that day with all of our friends and family. We are more than happy to make that sacrifice, it was every bit worth it.
Personal touches
I made the personalised wine glasses for my family and bridal party with decals from Etsy. It was easier than I thought and much cheaper to do it myself. I also cut the wood, stained and painted our Mr & Mrs wooden signs to hang on the back of our chairs at the reception, they were a nice little touch.
Special moments 
Again the main highlight would honestly be Gabbinbar itself and the staff, my amazing vendors, they made the day something I could never have dreamed of and it will always be at the forefront when I think back on the day. My make up artist and hair stylist were such a huge part of the day and they were just really amazing people. Jake was so amazing it's not something I can sum up into words it was such an experience. To see the people closest to us having such an amazing time and thoroughly enjoying themselves meant the world to me. Having our little daughter Alice with us on the day was incredible and something i'll never forget, such a special day to have her be apart of.
Advice for other couples
I learnt very quickly to choose vendors/suppliers who I could really work with as a person. There were a few companies who I loved their work, but when I made contact I wasn't left feeling like they were 'the one', or I felt uncomfortable asking too many questions or maybe the same question 3 times. It's an overwhelming task and planning can get very confusing and messy in your head. I ended up going with people who I vibed best and felt like I could really work with. Of course I loved their work as well, 100%, it's just so important to get along great over the phone or in person if you can, and feel that connection because at the end of the day, you're going to be spending a lot of time communicating with these people, and you want to feel respected and understood even if you go back and fourth 10 times on a decision. My vendors were truly the most caring people and I felt that throughout the whole journey. It brought such a special aspect to the day.
Biggest surprise
Honestly, Gabbinar Homestead itself. I was so blown away from the minute I got there and I felt like this constantly throughout the day. I was surprised that a business could be so caring, so understanding, so helpful, so attentive, so onto every little detail it was unreal. You can't train people/staff to be how the Gabbinbar staff were – you can tell these staff members were selected so carefully because of their ability to make this exactly what it was. This stands out in my mind as the biggest sort of surprise, I didn't know a place, staff or an experience like this was even a possibility. I feel like I could talk about it all day because more than anything I want people to know just how truly amazing this whole experience was. I know first hand how overwhelming it can be choosing a venue and a team to work with, and this exceeded every expectation.
Supplier Shout Outs