Happy Tuesday everyone. How are you and how was your bank holiday weekend? We had a lovely time, seeing friends on Saturday and Sunday. Monday Nik laid on a BIG tapas feast for us and his mum, which was delicious! So all is good here at Boho HQ! The more Covid weddings I get to feature here on the blog, I am realising there is an underlying theme with all of them. Even though these weddings have been re-arranged, re-planned and only have a fraction of the original guest count, every couple has said the same thing. That the day was more special than they could ever imagine. Because people all around the world have been starved of social contact, not being able to see friends and family, when these weddings do happen, no matter how small they, are the most special days that people could imagine. So if you are planning a wedding at the moment, please don't worry about the restrictions, love really does conquer all and you will be delighted with special memories that you will make. Today's wedding, even though it looks like a styled shoot, is actually a micro wedding of 16 guests. Stephanie and Andrew postponed their wedding to 2021 but decided they still wanted to tie the knot on their original wedding date, so got married with a handful of very close friends and family and the results are today's glorious wedding. Big thanks to Danila Stella the wedding planner for submitting these beautiful photos by Rossella Putino to the blog.
I would say that was a way better than I expected. Covid only made the atmosphere and the desire of celebrating and gathering together stronger. The protagonist of the day was just pure love and feelings. Me and husband were spreading love everywhere and everyone just kept smiling.
Stephanie and Andrew were married on 27th June 2020 at Mulino dell'Olio in Italy. 'We has booked another venue in 2018, with a stunning Lake Varese view. We were expecting more than 100 people but then covid happened and so we postponed our big event and celebration to 2021 but we decided to still getting married in Italy in Varese area just with our very close relatives. Our wedding planner suggested Mulino dell'olio as it is a very lovely authentic mill on a river in Varese with horse and alpaca farm (I love horses) and thought that could have been the perfect place for a genuine Italian atmosphere wedding even if with a British touch thanks to the old green house. We had 16 guest die to covid restrictions. Our wedding planner did everything in more or less one month.'
How they met 
A bit classic but we met on the beach while both on holiday in Santo Domingo.
The proposal
Again: classic! but Andrew is not exactly a creative man. On our anniversary on the same beach where we met 3 years ago. Just me and Andrew, no one else and not a big organization. I wish I had some photos of that moment but I remember Andrew face a bit scared and me laughing at him asking: Why you so scared, is not you are going to propose me! His face turned red and I basically ruined the surprise!
How did you allocate your budget?
Our wedding planner told us the average cost for our day based on her project and we decide to go a bit extra to add a few decorations with the wow effect
Where did you splurge and where did you save?
We definitely went extra budget with the flowers wall and dessert corner, but worthy every single penny! We saved nothing!!! To be honest we couldn't wait to celebrate and have fun that we didn't really focus on saving. But we decide to concentrate the budget just on one day and we decide to don't plan anything for the welcome dinner or the day after. 
How did you choose your photographer?
Our wedding planner suggest Rossella and we liked her straight away.
The outfits
We bought our outfit in a local boutique in Varese called Yoliah, we went for pret a porter as we were short on time and I didn't want us to wear the outfit we bought for the big day on the lake. 
Theme or colour scheme
Our wedding planner listening to our passions and she tried to put all together, so you can see horse and nature which are my passions. We also tried to keep it eco friendly as possible by using more plants than flowers. I guess our colour was green.
Flowers
Our wedding planner is an expert of eco friendly wedding so she made a project with more plants than flowers to reduce the impact on the environment. Also the wp project match perfectly the venue and the idea of being green as winter garden and plants just fit right. We had a few flowers such as sterlizia and orchidea as far as I remember. 
Decoration 
For the ceremony we decide to keep it simple, so we just had a few baskets hanged on the trees and a few flowers, really just a few. For the dinner instead we rent 3 old Italian style chandeliers, on the table we had plants in vintage pharmacy pots and candles. The mise en place was what really blow my mind. Italian porcelain vintage style dishes hand painted,  fake ivory cutlery, vintage glasses, and handmade embroidered napkins. I have to say was really stunning.
Food
Every bit was so Italian and delicious, we started with a bit of cheese and lots of vegs. The first main was pasta with saffron en zucchini flowers, second main Risotto with porcini mushroom and burrata. Rosemay sorbet. Parmigiana and stuffed peppers with rice. 
Wedding cake
was a simple victorian sponge with maracuja and cream filled decorated with real flowers.
Entertainment
We had a DJ set for the party and the flowers wall photo booth. 
Who supplied the stationery?
Studio Alispi.
Where are you going on your honeymoon?
We still waiting…our wish is Polinesia…but after our day we had a lovely week end on Lake Como.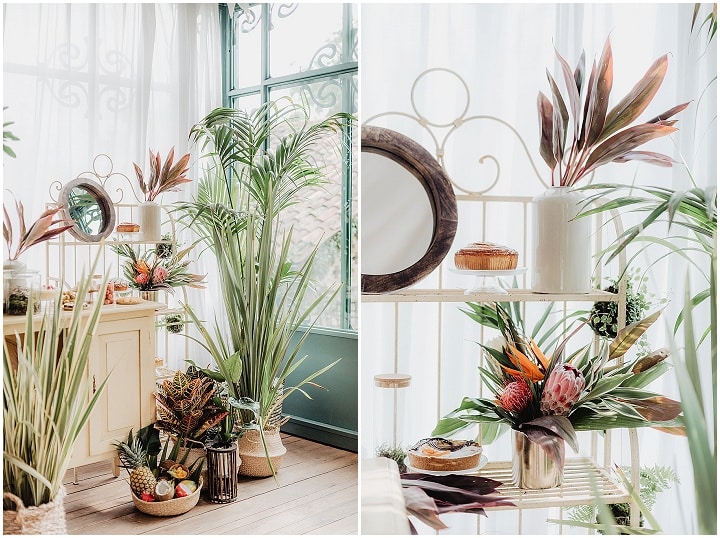 Personal touches
I wish but time was too rushed. For the big day on Varese Lake I am crafting the menu and wedding favors 
Special moments 
The ceremony was the most touching moment. My legs were literally shaking as I walking to Andrew. When I saw the green house and the result I start crying of happiness. I was a bit shocked of the result in just one moth and how different it looked from the when I saw it at first.
Advice for other couples
I cant compare a big wedding to a small one as I only had the small one, but I do believe the emotions are exactly the same. Every moments were really intense and as was just me and my closest relatives I really spent my time enjoying every single moment and every guests. I didn't feel in rush as everyone told me, everything was relaxed and stress free. I spent mostly of my day with my husband, mt father and my brother and I really have timeless memories. 
Biggest surprise of the day?
The horse in the venue! That was no expected at all. My husband and my wedding planner kept the secret and surprised me!
Supplier Shout Outs
[jprel]