Happy Good Friday everyone, if you are in the UK I hope you are having a good bank holiday! The start to a four day break here in the UK and the start to the two week Easter break if you have children! Yay!!! With the restrictions having lifted slightly, we are off to Chatsworth House today for a walk around the gardens and a picnic, which hopefully will be lovely. Tomorrow we are off to Yorkshire Sculpture park with some friends, and then Easter Sunday we are going to my brother in laws for an Easter BBQ in their garden! It's so good to be able to do a few more things now and go to different places! What have you got planned? On with today's wedding and it's the turn of Lety and Joe who were married on 5th October 2019 in San Diego. The whole wedding is totally gorgeous. I just adore their reception set up. Modern styling mixed with muted natural tones, with pops of mustard works so well against the dark wood of the The Wood Shed venue. I love this colour way, the whole look of the wedding is just adorable. Gabriel Conover Photography has captured the day perfectly and the golden hour shots of Lety and Joe are just stunning.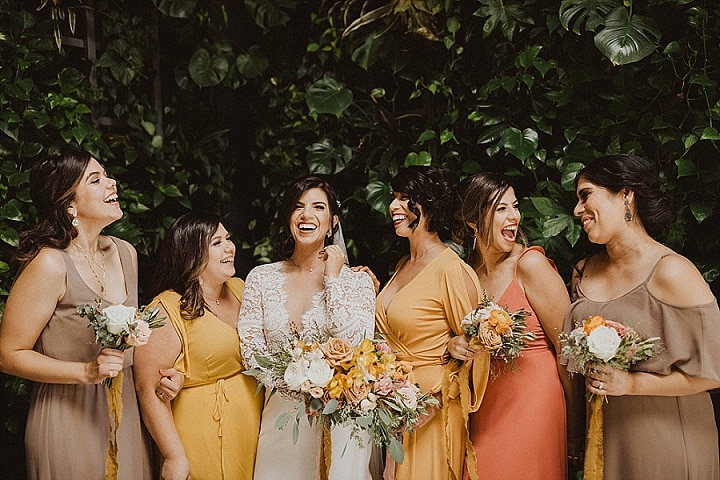 Gabriel tells us more about the wedding 
I met Joe and Lety at the Modern Love Event in San Diego. If you haven't heard of it, be sure to check it out cause it is the most incredible wedding event in the nation.
We met up in Joshua Tree for their engagement where they rented the coolest airbnb to start the shoot in. Their outfits were perfect and the shoot was perfect.
Fast forward to their wedding at the Wood Shed. This was my first time shooting a wedding at the Wood Shed and now I want to be here every month. I felt the love from these two and their families so much. I felt like I was a part of it. They had their ceremony in their church and the wedding reception at the wood shed. The church was gorgeous and the emotions were high. Joe only cried a little bit when Lety was walking down the aisle.
These two have had so many opportunities to travel together and even got engaged in Iceland! They never stop having fun and this whole day was a huge reflection of that. Thanks for the memories you two!
Supplier Shout Outs
Fore more information on Gabriel Conover Photography go to
[jprel]