I am seeing more and more colour when it comes to wedding styling these days and I have to say I am here for it! After years of a natural palette of white and greenery (which I do still love) the wedding world seems to be seeing a bit of a shake up. Bursting with bright, bold colours, deep rich tones and so much imagination, I just love this new colourful trend. Today's styled shoot is bright and beautiful and features Vibrant jewel toned wedding inspiration. The shoot took place in July 2020 at Ben Lomond in California, it was organised and submitted by Danzante Events & Design and captured by Kathryn Cooper Wed.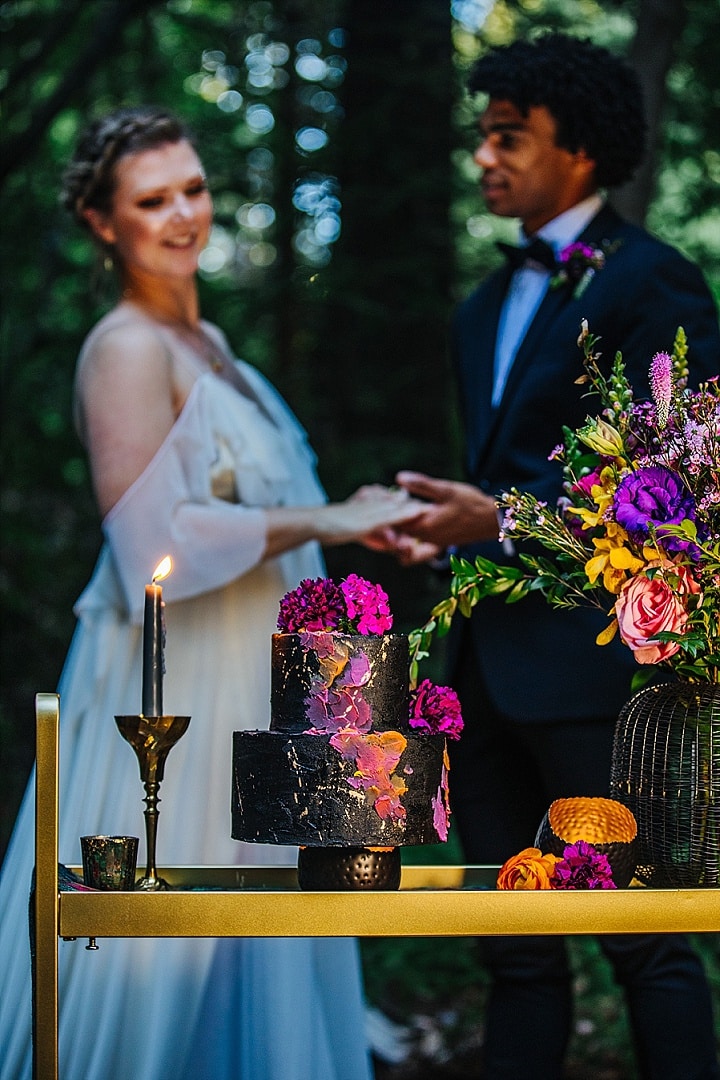 Danzante Events & Design tells us more about the shoot.
The talented photographer Kathryn Cooper, reached out to me wanting to do a shoot. I loved the idea because I had been missing styling events in person due to Covid. We talked about color palettes and she expressed Jewel tones being something she particularly connects with. I totally agree. Always captures the imagination. When I saw the photos afterwards I was ecstatic. So dreamy and exactly the story I went out to tell.
When planning any shoot I first find the venue where that shoot will take place. For us that was the sensational Sequoia Retreat Center in Ben Lomond. Styling in the redwoods I wanted to go with deep colors to speak to the grandeur of the magnificent Sequoias while bringing in brighter tones to pop against the backdrop and tell a fun romantic story.
Working with Wind acre farm floral is always a dream. Erin knows right away what I am looking for. This was no exception. I loved seeing her take on the vision. Style shoots are a great opportunity to collaborate and have fun.
Meg Ryan designs put together something truly amazing with that wedding gown. I just was blown away. And how Stovall beauty enhanced the models natural beauty was very mesmerizing and brought the look together. Olivia Shih loaned us some jaw dropping jewelry pieces that worked so perfectly with everything I couldn't have been more pleased. In fact I had to purchase one of the necklaces because I loved it so much!
When you work with wedding vendors, you are in the presence of very talented and creative individuals. Creative people like Tart and tin. That cake blew me away. It was perfection and worked with all the details I had gathered so we had to stage it just right. Kiss me in Carmel vintage rentals provided some amazing pieces that brought the design to life, including the cart the cake was placed upon. Those tiny details brought life to the design and completed the story.
What shoot is complete without fantastic stationary and calligraphy! The ever talented and visionary Little Sister Creative Studio provided all the stationary for the shoot and partnered with Wild Quill Calligraphy, who with a brush of a pen can take make magic happen. These two are always inspiring me with their skill.
Lightbox Creative LLC provided the video for the shoot and told a beautiful story. When watching it I thought I was watching a waltz amongst the Redwoods. It looked so romantic and dreamy.
The models Jennifer, Will, Jamie and Roger were fantastic. Very lucky to have worked with them. Seeing how they engaged with the space made me so happy. It's exactly what I strive to achieve when people come and see a space and are blown away. If you saw the chemistry in those photos like I did, it's because they are all friends and real married couples. They were so fun to work with.
You bring all these incredible vendors together, especially now in a world full of uncertainty, and you ask them to tell a story, and when they have fun and exceed expectations, I couldn't ask for more. Love is a story worth sharing, embracing and telling in unique ways.
Supplier Shout Outs