Happy Monday everyone! And happy 'the kids go back to school today!' Lets hope this is the start of lockdown being eased for good! I'm currently recovering from a very decadent birthday weekend! A whole lot of food and drink was consumed, from cake, to lobster, scallops, tiramisu, wine, cocktails………it's going to take a few days to recover I think! I had a lovely day though, considering the lockdown restrictions. So I am super excited to have the whole week in the office for the first time in weeks, as Dexter is at school, so I'm making the most of the time and cracking on with lots of blog related jobs! Starting off with this beautiful wedding from my home town of Sheffield. Isobel and Thomas wanted an effortless boho affair, chilled vibes, filled with neutral tones and then pops of colour from the wild flowers. The whole day is so pretty and both Isobel and Thomas look amazing and such a happy couple, their laughter is infectious. Isobel is the epitome of Boho cool in her amazing wedding dress! Big thanks to Ufniak Photography for the gorgeous photos.
We wanted it to be an effortless, boho affair. We kept everything very neutral other than the confetti and our gorgeous flowers.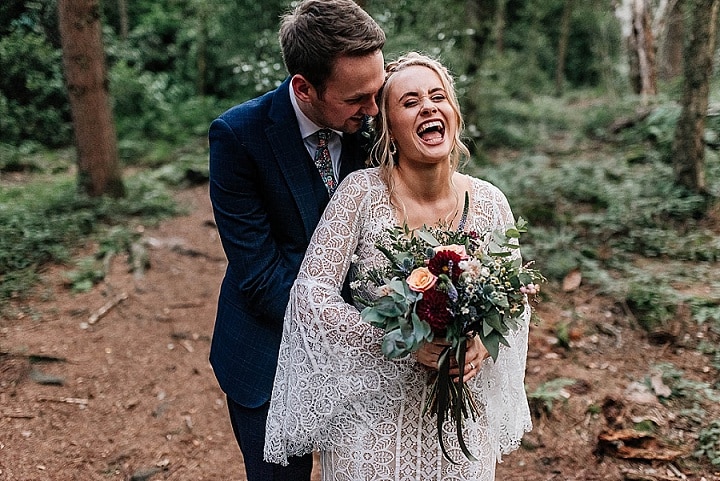 Isobel and Thomas were married on 18th August 2019 at Wentworth Church, South Yorkshire with the reception at Whirlowbrook Hall.  'Since being a little girl, I have always dreamt of getting married at Wentworth Church. I attended the local primary school and we held all our navities and harvest festivals in the church. We looked everywhere for a wedding reception location and finally decided on Whirlowbrook. We loved the fact that we would have the whole place to ourselves and the grounds provided plenty of room for the children to play. We had 80 guests, we got engaged in July 2018 and started planning the wedding straight away.'
How they met
We met at sixth form and were friends at first. Later, we found pictures and realised we were actually friends at nursery, which was a really strange realisation. We then went on to date long distance whilst at university, as we chose universities either side of the country.
The proposal
We went away to Edinburgh to celebrate my birthday. Whilst we were there we took a trip to Edinburgh Castle and proposed to me on top of a turret overlooking the city.
How did you allocate your budget?
Well lucky Tom is an accountant, so he is really good at budgeting. We were also saving for our first home together, so that was a factor when it came to the budget. We looked at the things we knew we definitely wanted and then read blogs to see how other brides had allocated their budget. We spend roughly £11,000 in total, so I don't think we did really well.
Where did you splurge and where did you save?
We splurged on makeup and our wedding outfits. Both of us had a really vision of how we wanted to look on our wedding day and didn't want to compromise. After all, the pictures of us are the ones we will cherish and past down the generations. In years to come, you won't necessarily look at photos of the venue etc.
We saved on the flowers and through several DIY projects. I could have gone mad on flowers, but in the end I ultimately decided I would rather spend the money elsewhere. I also learnt how to do calligraphy, so I could create my own signage, menus and placecards. We also found all the bridesmaids dresses off ASOS and looked at local antique shops for vintage accessories.
How did you choose your photographer?
I knew I wanted a photographer who specialised in natural photography. I wanted the pictures to really capture the day.
The dress 
I bought my dress from The White Yard in Elsecar. The dress was called Adelaine from Walters by Woo.
The suit and bridesmaids
Tom's suit was from Tweed and Groom in Elsecar. It was a Tweed suit which really captured Tom's dream of being a Peaky Blinder for the day.
Theme or colour scheme
We kept everything really natural with white and lots of foliage. We had pops of colour throughout the venue with confetti and wild flowers.
Flowers 
We were lucky that our venues didn't need much decoration, however we stuck to wild flowers. I wanted the flowers to look like we had impromptuly picked them the day before.
Decoration
Kurly Bird Events helped me create our perfect day at Whirlowbrook. However, I believe the day really came together with our personal touches. Tom and I spent a lot of time collecting photos of every guess to use as place settings. We also wrote a special message to each person who attended our day. The wooden calligraphy signs at the church, outside and inside the venue all helped tie the day together and create a cohesive feel.
Food 
For starter we had soup, then chicken dinner followed by chocolate tarte. We also had pie and peas as a buffet (that we totally forgot about as everyone was too busy dancing).
Wedding cake
We had a three tier wedding cake from Sally Shortcake. She also provided me with donuts and cakepops as a special treat for our night guests. We had Victoria sponge, lemon cake and fruit cake.
Entertainment
We had a DJ and a photo booth. Both were great and really created a buzz. I pushed for the photo booth and it really made the wedding standout from others we had been to.
Who supplied the stationery?
I created all our wedding stationery as this is one way we decided to save money. It is amazing what you can do on Microsoft Word with copy and paste.
Where did you go on your honeymoon?
Two days after the wedding we went to Rome. This was an amazing experience, as we explored the sights and ate some lovely food.
Personal touches
We had a lot of DIY things at our wedding. The sign pictured outside the church was actually created on my wedding day, as I had a dream someone was taking pictures as I walked down the aisle. I really wanted an uninterrupted ceremony with no other technology other than the photographer's camera.
Special moments 
An unexpected highlight of the day was the car ride to the reception venue. We had a thirty minute drive between venues and it was lovely to enjoy each others company as husband and wife.
Advice for other couples
You are the most important on your day. There isn't a wrong way to do your wedding day. Everyone will have an opinion about who you should invite or what you should do, but just make sure it is a day that represents you as a couple.
Biggest surprise 
How fast it goes ! But everyone says that..
 
Supplier Shout Outs
For more information on Ufniak Photography go to
www.ufniak.co.uk  / www.michalufniak.pl / [email protected] / 07756829935 / FACEBOOK / INSTAGRAM / TWITTER 
I'm a wedding photographer based in South Yorkshire. I document weddings in a natural and unobtrusive way. Using images I provide couples from across the UK with beautiful love stories.