Happy Friday everyone, and indeed it is a very happy Friday! Today is the last day of home schooling, it's the weekend tomorrow and to top it all it's my birthday on Sunday! I am off for a walk with a friend this afternoon and meeting with another friend for another walk tomorrow. Today we are having an Italian take away with Dexter. Saturday night after a zoom with some Uni friends I have ordered a dine at home seafood platter for Nik and I. Then Sunday Nik's mum is coming over and after our woodland walk we will be having a (hopefully) delicious 3 course meal from a local caterer, followed by a film and some cocktails. Not too shabby for a lockdown birthday! I cannot wait! Monday it will be time for some serious dieting after all that food! So enough about my birthday today it is all about Laura and Sam, who held the most gorgeous outdoor wedding in Queensland, Australia. The wedding is full of boho vibes and a whimsical feel to the whole day. Moody florals, divine decor and of course their pet dog to add that personal touch. Big thanks to Tyneale Hahn Makeup Artist for the lovely submission and to Graeme Passmore for the photos.
Laura and Sam were married on 28th September 2020 at Preston Peak Winery in Queensland, Australia. 'Our day started with myself and Bridesmaids getting ready at the bridal cottage while Sam was at a house nearby with his Groomsmen. The Makeup Artist came to the Bridal Cottage on site to help get us ready. Our morning was relaxed but organised." The onsite Bridal Cottage at Preston Peak Winery is for exclusive use by those who choose to marry there, it is the sweetest little 2 room cottage with everything you need to get ready for your perfect day.'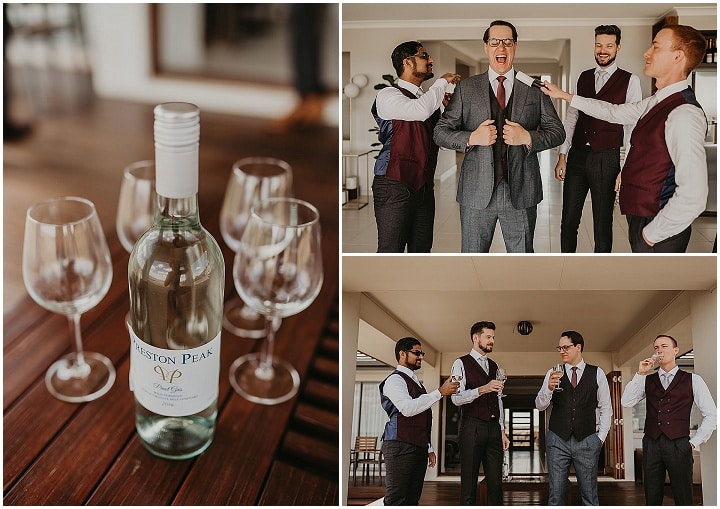 Theme and Decor
Laura and Sam chose to style their day with a boho vibe and moody florals – Bouquets, Flower Crowns, Display blooms and table pieces were created by The Flower Grocer. The blooms set the colour palette as the girls all wore white.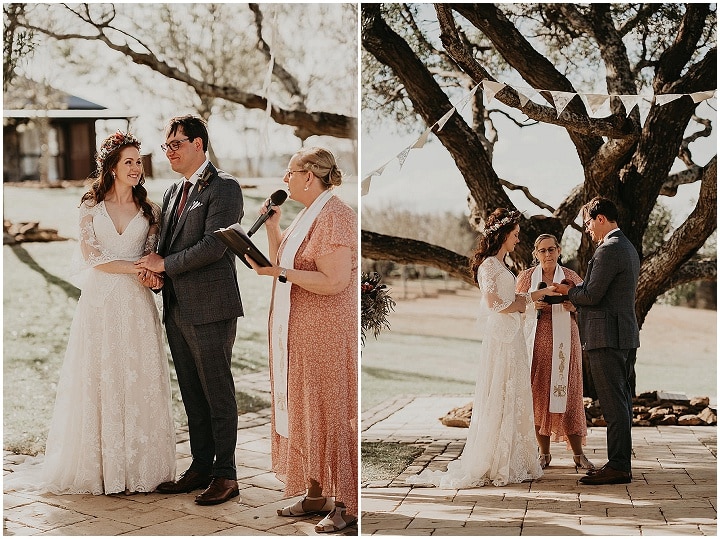 The ceremony 
As the wedding time drew closer, the bridal party waited at the cellar door as Sam welcomed the guests –and Laura could sneak a peek through the window! "Soon enough we were in the pavilion facing each other, ready to say I do, I can't believe how fast that time went!" The string quartet played Sam's sister's own arrangement of Ed Sheeran's Perfect as Laura walked down the aisle, it was perfect! Both Laura and Sam are Music Teachers, so this aspect was especially important. Special mention to the Band and Quartet who were able to incorporate special songs of the couple into their Set Lists. "Hayden John's and the Quartet even wrote arrangements of songs at our request; we are
SO appreciative of this!"
"When we saw each other, we were so happy! We couldn't stop grinning and I couldn't stop crying." They were of course VERY happy tears! "We held each other close as our family friend Yvonne married us and entertained our guests by replacing our names in a storybook called 'I love you stinky face.'"
Laura and Sam had their cocker spaniel Sadie be part of the day, she was a little bit too excited about the ceremony and made it known to everyone, but apart from her occasional barking, the ceremony was beautiful and everything the couple had hoped it would be. "It was really important our animals were there on the day, so we made sure our dogs and our horse had front row seats!"
Afterwards, the newly-weds and bridal party went with photographer Graeme Passmore for a wander around the property to capture some beautiful memories. "Graeme did such an awesome job, it was so nice to have natural, candid photos in the moment while we enjoyed ourselves with our bridal party."
"We joined our guests at the cellar door with delicious food and speeches from our family and friends and our first dance.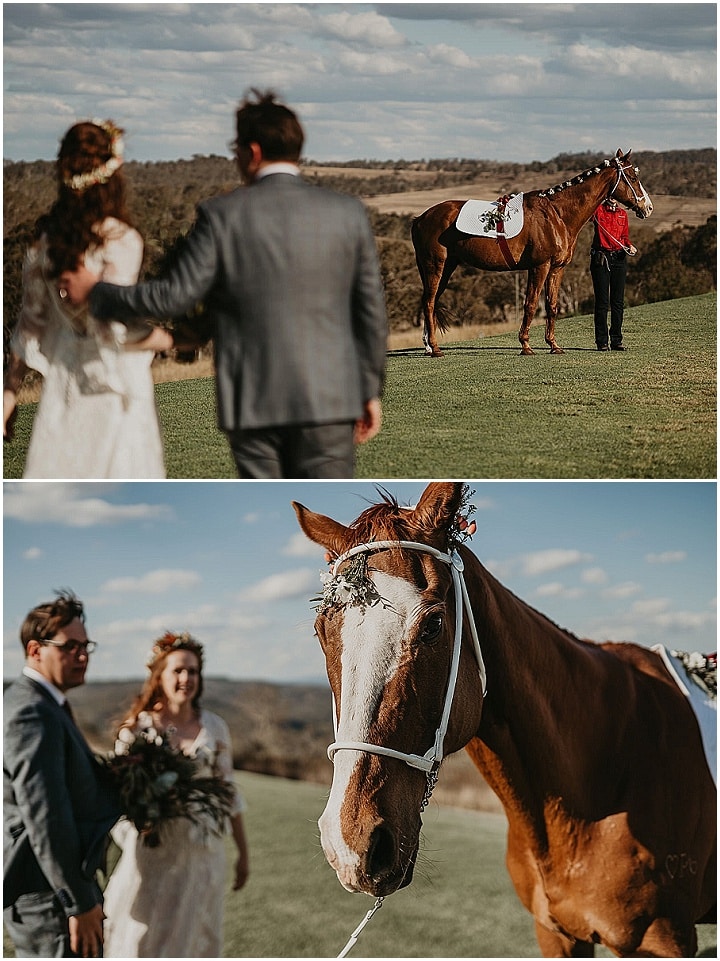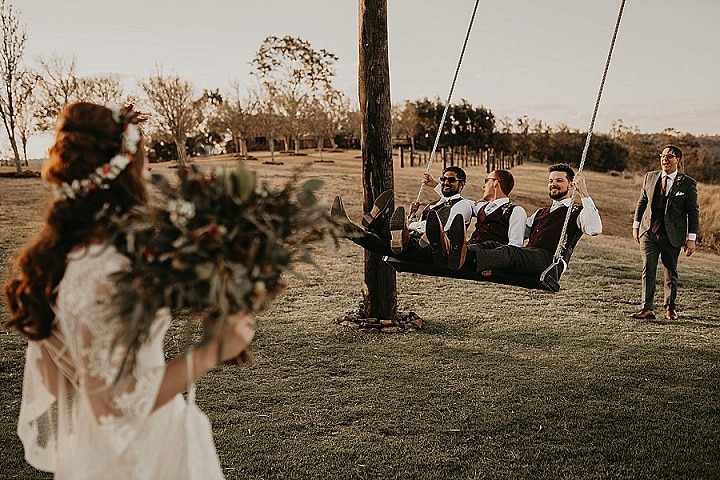 Covid restrictions
Unfortunately, no one else was allowed to dance but the live band was great, and people could still enjoy the music!" Due to COVID restrictions the beautiful cake remained out of sight so it could be served, unfortunately not able to be captured by the photographer either but I'm sure what Jillicious Cakes created was both amazing and delicious!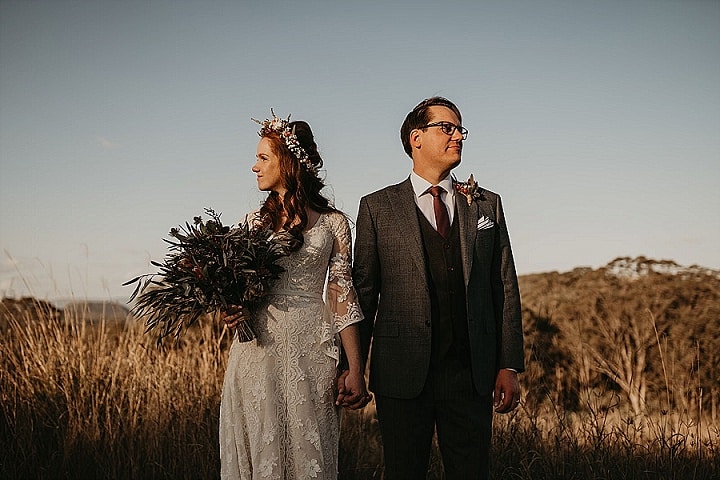 Special Moments
The Brides favourite moment… When I finally made it to Same at the end of the Aisle! I was so nervous before the Wedding, but it all melted away when I could finally hold his hand. I'll never forget the huge grin on his face at that moment!
The Grooms favourite moment… Seeing Laura for the first time as she came down the Aisle, she looked so happy, beautiful and radiant. Nothing else existed for me in that moment!
COVID threw a few little adjustments in the way – one member of the Bridal Party and Family in NSW and Tasmania couldn't attend due to border restrictions. "It was a beautiful day, and we are so thankful it could still go ahead without too many changes or restrictions. All our Vendors were terrific and helped make our day run smoothly."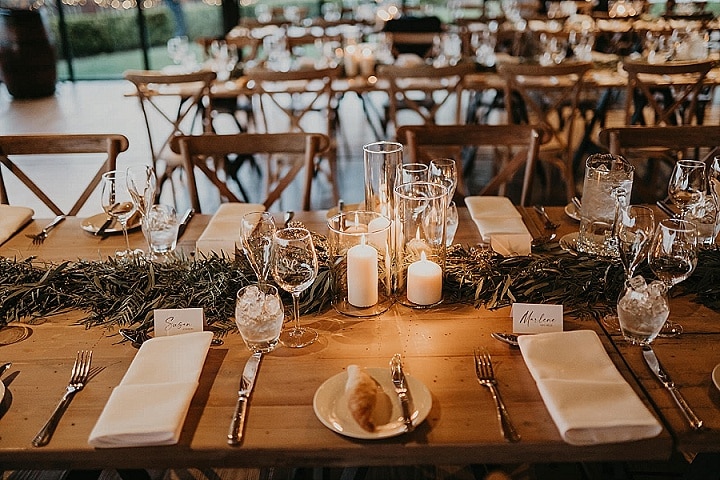 Supplier Shout Outs