Elopements and micro weddings are BIG at the moment, I am seeing so many of them due to the restrictions we had on weddings last year and the beginning part of this year. However, they have always been popular! Maria and Ingo, today's couple, chose a family elopement in Tuscany instead of a massive party and the results are just adorable. They were married in an intimate ceremony in Tasmania, Australia, then on 7th October 2018 they had their official ceremony with friends and family in Tuscany, which lasted for 3 days. The highlight of the wedding, after the gorgeous couple of course, and the breathtaking rainbow shots, are their two pet dogs who steel the show completely! Such gorgeous dogs for a totally gorgeous outdoor wedding, all captured perfectly by Briars Atlas.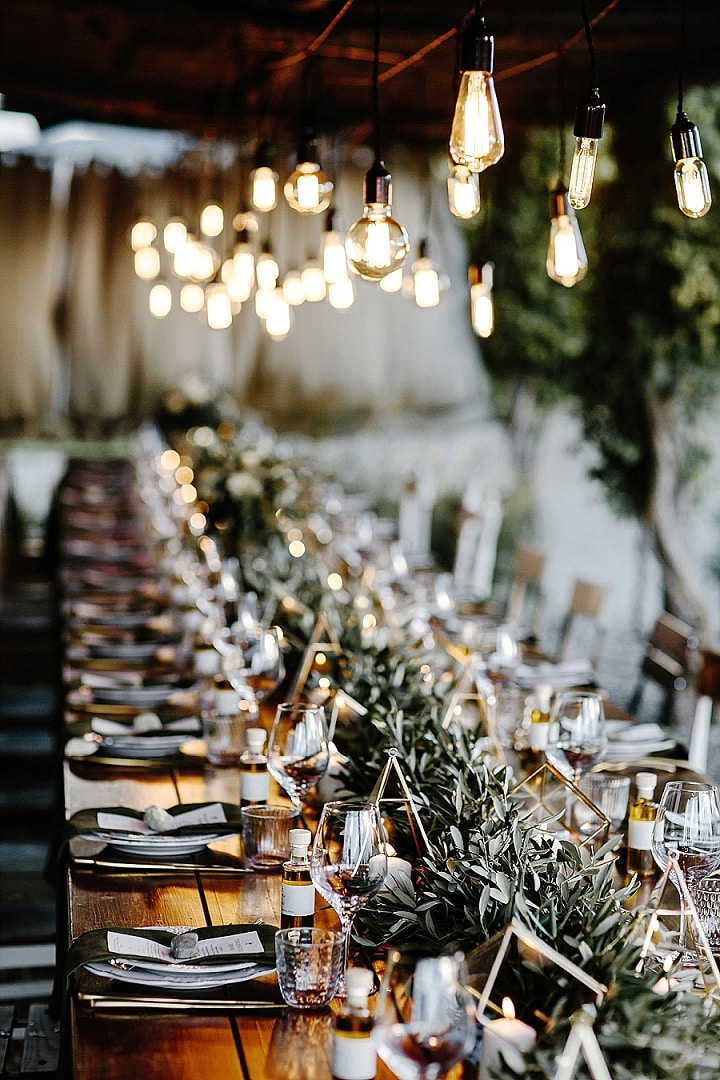 How they met
We met online in 2014…more or less by accident as I (Maria) didn't really look for a relationship and never really activated my account which I had created out of a mood. But Ingo kept coming back to my account again and again and I go notifications about it. I just could.not.see.his.details! as I didn't pay for my account…So I rang up the dating website, explained that I am a poor student and I would like to test their services before paying for it… They gave me a 2 day trial. I messaged Ingo back and told him, that I was only on there for 2 days, that I don't believe in online dating and that he should email me if he wants to get in touch. Well…he did, we met a week later and things were pretty clear right from the start…even though it has taken me about 2 months till I admitted we're actually a couple…
Theme and Decoration 
The ceremony in Tassy (Tasmania) was something very important for the two of us and in most ways it is our proper, true wedding day. We wanted to have this moment just for the two of us because we believe a wedding is something that happens between two lovers and therefore we wanted to give our vows to each other in a private ceremony.
We chose Tassie as Maria is very connected to Australia and on our first trip to Australia together we had an amazing time on Tassie and we always wanted to return to the Pumphouse.
BUT despite wanting to give our vows in private we definitely wanted to throw a party for our friends, which is why we had a party in Tuscany, too! To make it feel a bit more like a wedding we created a ceremony for this one, too. We didn't exchange vows, though… The Tuscany ceremony included parts of Merren's amazing ceremony from Tassie and she even recorded the reading she did at Lake St Caire for us and sent it across, so we could play it at the Tuscan ceremony.
After the ceremony we basically had not schedule, apart from dinner…we just spent a lovely afternoon with our friends, had amazing food (all organic and locally sourced) and danced the night away.
Also: the Tuscany party went on for three days. We invited only people that were dear to our heart and made a weekend out of it. It was more along the lines of "invite only who matters to you and make the party longer" ;)
The outfits
Maria: My dress is made by elfenkleid, a little label operating in Austria and Germany. They produce fair and sustainable and I love their designs. I have worked for the girls a lot before and it kind of came natural to me to try their dresses for myself. I combined it with boots as I am not a heel-girl anyway…I wanted to be able to move like I usually do and to not worry about being comfy. So Dr. Martens it was! Grey for Tassie and pink for Tuscany.
Ingo: My outfit is completely by Herr von Eden, a fantastic and mad tailor from Hamburg, with a second branch in Berlin. They manage to have a very particular style that is reminiscent of the flamboyant 60s and 70s, but still manage to make you look fashionable and not dressed for the carnival.
Special Moments 
Ingo: For me it was seeing Maria coming down the aisle in Tuscany with our two dogs. Realizing that this is my family and the most important beings in my life. I felt such deep love in that moment.
Maria: I guess the whole lot! The freedom and happiness we felt in Tassie, which made me really happy… And the happiness the party with all our friends in Tuscany made me feel.
Advice for other couples 
Do what you both really love, don't listen to customary or tradition and get your dogs on it, too! Honestly: Do.Not.Listen.To.Traditions!! And invite only who matters to you and make the party last as long as possible.
Supplier Shout Outs
For more information on Briars Atlas Photography go to