Well how are you all today? With all the news from Boris yesterday about when we can start doing stuff, I spent all last night with my diary arranging days out, dates with friends and family and I actually bought tickets for a proper night out in a night club! I am beyond excited! So it looks like we will get a summer this year and we can start to see a light at the end of the tunnel! And now with a clear road map for weddings, those of you who have had to postpone will now have a clear road map, which is such a relief! I can't wait to start seeing full on weddings drop into my in box again after 21st June! Just what we all need! Today we are celebrating the wedding of Kevin and Alvaro. These two lovely grooms started off planning a micro wedding, but due to Covid restrictions it turned into one of the most beautiful elopements I have ever seen. The decoration is just breathtaking, this goes to show that just because you're having an elopement, it doesn't mean you have to skimp on the details. The whole day is stunning, their wedding planner Marbella Weddings have done an awesome job at creating such a jaw dropping day.
Absolutely amazing, full of love and ceremony was very emotional, just the two of us it was so intense and real, our celebrant Sophie from Bilingual Celebrant Spain was so kind and we felt super relaxed
Kevin and Alvaro were married on 15th of November 2020 at Embalse de la Viñuela in Malaga. 'We wanted something wild mixed with hipster style, we love nature and its beauty, something to reflect our relaxed and wild personality. We always wanted a micro wedding, maybe 20-30 people, but due to Covid-19 circumstances elopement was the best option and we are happy with our decision. During the lockdown we had a lot of time to think about how life can change in few hours, how the world can be different instantly so we knew this is our opportunity to do this important step this year. It took us approximately 3 months to plan, but our wedding planner helped us a lot.'
How they met 
One of Alvaro´s friend has presented us, but nothing happened that time, we had good feeling but nothing else. Two years after we meet in a coffee shop, by pure coincidence and Alvaro was preparing for a casting, I remember I helped him during one month and after we started to meet more often until one day, we realized we felt in love, since then we are together, growing up professionally and support in any circumstances. At this moment we have been in a relationship for 2 years and 4 months, full of love, complicity, kindness and understanding.
The proposal
Ohh this is funny one, we are both actors and one day I said to Alvaro that I must rehearse for a movie so I asked him for real to marry me, at first he laugh, he thought it's a joke, but when he realized I am serious he was so happy and he said Yes!
How did you allocate your budget?
We actually saved money doing the elopement and we had everything we wanted
Where did you splurge and where/how did you save?
We spent good amount in all our suppliers, we saved money in entertainment, at the location we had birds singing, the wind, us and our love so that was more than enough, sometimes the nature give us everything if we know how to listen to her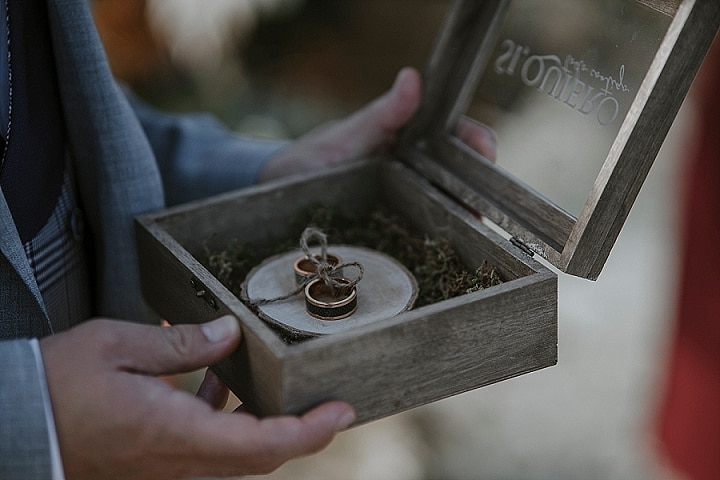 How did you choose your photographer?
A friend recommended Mas Positivo Produciones, we checked their website and loved their work, first zoom call was relaxed and funny so we knew Yanina and Martin are perfect for us and we cannot be happier with the amazing pictures and videos we have. We wanted someone who could capture our love, feelings, emotions, us being so natural and they were just how we expected.
The suits
Prestigious Felix Ramiro, tailor shop where the designer Felix Ramiro-Dedal de Oro 2015 understood perfectly what was the best for us, the materials, delicate colours, details and how professional they are, we absolutely loved the suits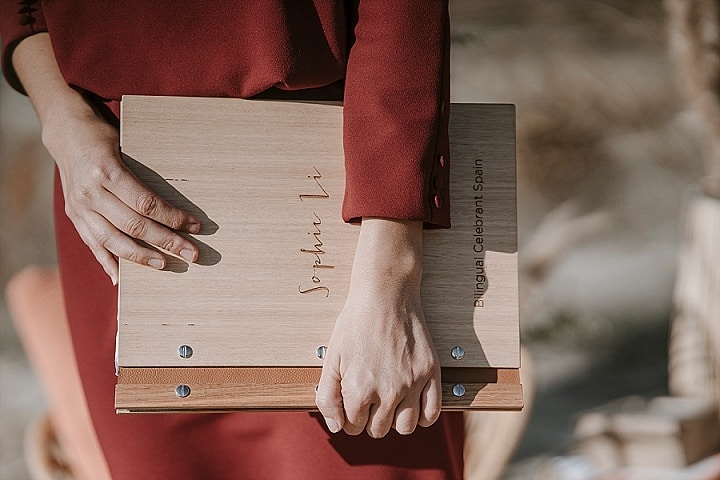 Theme or colour scheme 
Yes we did, our wedding planner Lili from Marbella Wedding suggested terracotta palette, we wanted orange, green, beige, macrame, we thought it will align with the location and everything matched with the nature in harmony
Flowers 
We felt in love with our ceremony arch, the florist stylist Roberto and Berta from Uniquebyrobertosilvosa have mixed very well the following: Garden roses different varieties and shades, Skimmia,  Dianthus, Chrysanthemum, Eryngium, Washintonias, Corteria, D. ajanis, Nigella, zea, Scabiosa, wheat.
Decoration 
We wanted something relaxed, Paula and Cris from LovelyCouple and Sea Wood have made the perfect combination for us, small table with cushions, rugs, wood decoration, chillout vibe with tipi, a super nice terracotta sofa, macrame and of course our hipster Volkswagen Van from Ro&Company, we felt so cool driving the van, just the two of us and our love.
What did you eat?
We decided to choose one of the best catering from Marbella, Goyo Catering, first we wanted some appetizers and main, but when we knew it will be elopement wedding we changed our mind and decided to have small bites, Spanish tapas, cheese boards, assortments of breads, salmon pate and because wine is also important, we had a good Vega Sicilia Valbuena 5º 2015.
Wedding cake
Who doesn't like a chocolate cake? We had vanilla sponge with chocolate, absolutely delicious from Goyo Catering, we go often to their shop in Marbella (when we skip the diet) and I must confess they have the best suits and cakes you will ever try.
Entertainment
Just the birds singing, wind, the sun, nature was our entertainment, this location is just perfect without any entertainment trust me
Who supplied the stationery?
Talented Daniela from Papelosophie, specialised in designing unique, personalised, handmade wedding stationery. She has been passionate about paper and stationery her entire life and that is reflected on the stationery she provides, so delicate and unique. We have a special place in our house for the vows and stationery.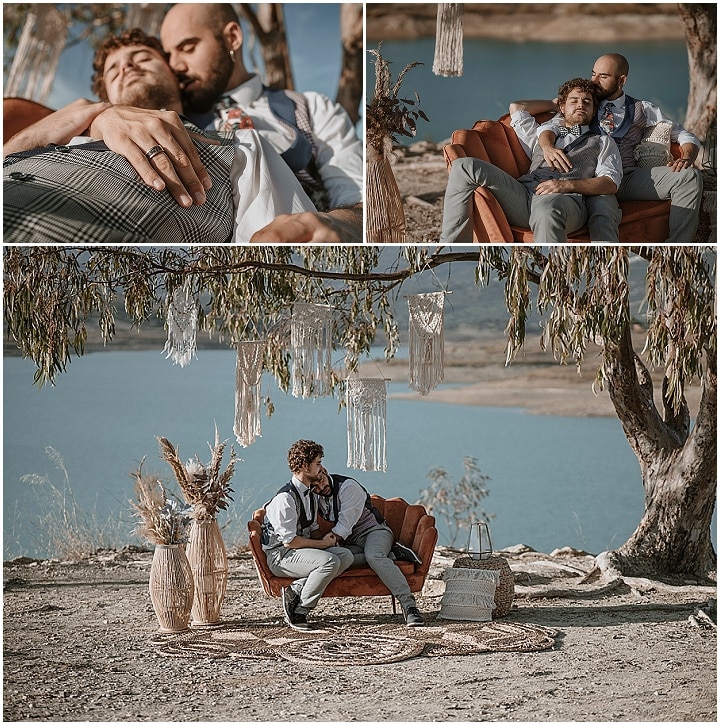 Personal touches
No, we didn't, we are both travelling a lot and when we are home we like to disconnect, our wedding planner has sent us moodboards with the palette colour, decoration, flowers,  furniture and all spaces, that helped a lot to have a vision of the big day, but on the wedding day it was even better. All suppliers have done an excellent work and we are grateful for that.
Special moments 
The ceremony was one of the most special moments, reading our vows, exchanging the rings, I (Kevin) was crying and that moment was so emotional. We loved the Volkswagen van, our story by the lake and the wildness of the location, everything we had it was special, we felt kinds wild and free.
Advice for other couples 
We would like to encourage new couples to dare more, to dare to be different and do what their soul really want, at the end of the day life can change so quickly and love can win any pandemic or lockdown. Be brave enough to see things from another perspective, reflect who you are without being afraid what people will say, it is about your special day and the decision is yours.
Biggest surprise 
The week before our wedding we had rain every day and we were super worried how this will affect our chillout decoration, but on Sunday the 15th of November we had 22 degrees, sunny day so it was meant to be our big day.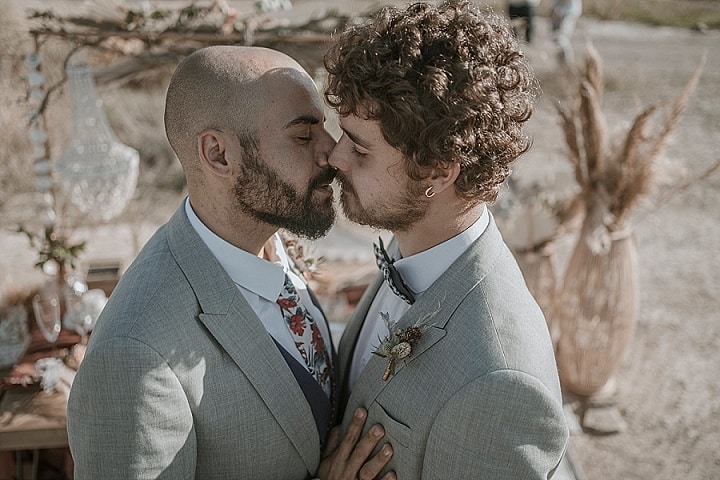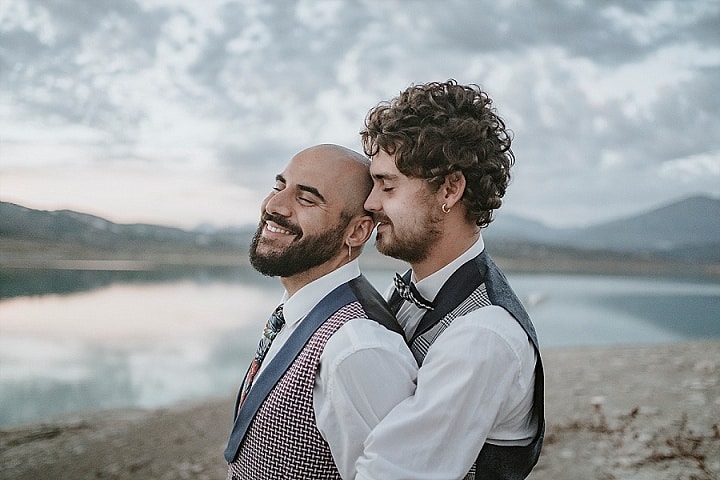 Supplier Shout Outs
For more information on Marbella Weddings go to
  www.marbella-wedding.com / www.marbella-wedding.com/wedding-blog / [email protected] / 0034/ 673 671 174 / FACEBOOK / INSTAGRAM / PINTEREST / TWITTER

My name is Ilinca Radu and I am the founder of Marbella Wedding company, based in Marbella, Spain. I started this soul  project 5 years ago and today I am proud to organize weddings for international clients. My team  and I are ready for any challenges, we speak  8 languages, our style is fresh and we are fans of unique weddings.For us every client is special, we only do 10-15 weddings per season and the client becomes our friend during the long wedding planning process. 

[jprel]