Happy Friday everyone, and it's a massive TGIF for me, what a week it's been! I think I'm safe in saying this for everyone, Lockdown is rubbish! It's been a hard week, so I'm glad for a big old glass of wine tonight and some delicious food tomorrow. We have ordered a 3 course dine at home meal from one of our Local Sheffield caterers, which I am super excited about. I will be trying out a new brownie recipe this weekend, as well as  trying to get out for some fresh air, I think everyone in our household needs to blow away a few cobwebs! If it's cold and snowy where you are, like it is here in Sheffield, I have a huge dose of summer sunshine to share with you today with this gorgeous wedding from Damien Vickers Photography. Chloe and Alec were married on 15th June 2019 at Orchard House Farm, which is the brides family home. The whole day is bursting with colour, as well as so much laughter and fun. A wonderful splash of happiness, what we all need on a cold January day!
A fantastic relaxed home wedding with a festival vibe. Love, Laughter and Music filled the air on a warm midsummer day. 
Damien tells us more about the wedding
When the Bride Chloe approached me about her forthcoming wedding which was taking place on the farm where she had grown up I was instantly onboard.
She described how the farm had been her family home all of her life and how they planned to have an amazing party with over 150 guests many of whom would be staying over in Tipis on one of the farm's fields. Each camping zone was named after a music festival.
There was a wonderful buzz around the farm in the morning. The girls relaxed with glasses of fizz and pizza during bridal prep as the suppliers put the finishing touches to the table decorations and the incredible amount of flowered that adorned the venue.
A gazebo area had been constructed outside the house for the humanist ceremony which was a wonderfully uplifting and colourful celebration accompanied by a live band who had everyone singing.
The marquee for the wedding breakfast was beautifully decorated and the couples chosen theme of travel was tastefully presented with every table representing a destination that was significant for the bride and groom. The head table was "Mont Blanc" where Alec had popped the question at the summit, a moment also replicated on the couple's wedding cake.
I used the beautifully natural and wild surroundings of the farm to capture some really relaxed wedding portraits. A meadow full of wild flowers and the huge fenland skies dominated the scene so I was spoilt for choice when it came to deciding where to shoot the couple.
The wedding guests were clearly there to party and there was no stopping the bride or groom for the well rehearsed first dance before the live funk and soul band had the dance floor packed into the late hours.
I went back the following day for the send off. Chloe's Dad is a pilot so was able to take them off on their honeymoon in Cornwall straight from their own private runway on the farm as their friends waved them off.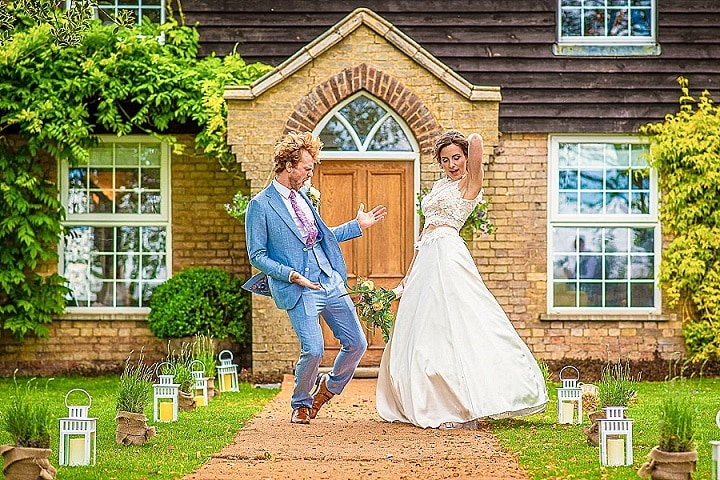 For more information on Damien's work go to
www.damienvickersphotography.co.uk / www.damienvickersphotography.co.uk/blog / FACEBOOK / INSTAGRAM