It's a snow filled day here in Sheffield, how is it where you are? Never mind the cold as I am taking you to the most stunning location for today's wedding. Parker and Jenelle were married on 15th July on the Thousand Islands, a North American archipelago of 1,864 islands that straddles the Canada–US border in the Saint Lawrence. They had the most idyllic, fuss free, laid back wedding, full of so much love. The kind of wedding where the experience completely outweighs the details and decor, it's the sentiment in this wedding that is so touching. Realising the friends around you and the memories you make together is way more important than anything else. Big thanks to Briars Atlas for the gorgeous photos.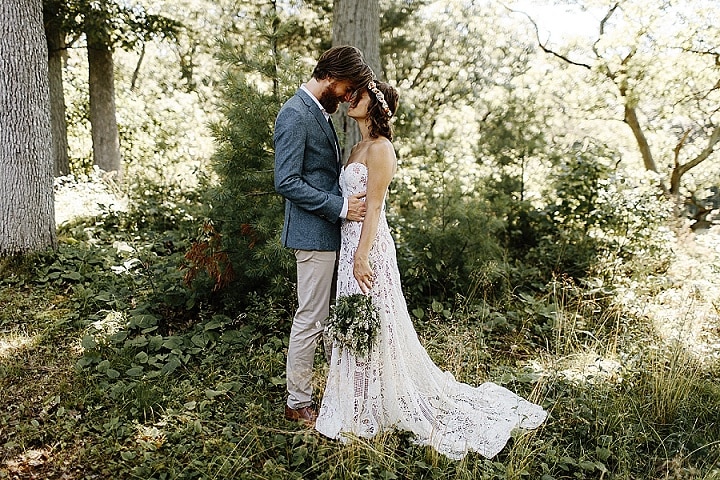 Jenelle the bride tells us more about the day
The location choice was easy. I grew up vacationing in The Thousand Islands. It's a region on the St. Lawrence River, splitting upstate NY and Canada. I was less than a week old when my parents first brought me there and we continued to return annually for the past 34 years. That location feeds my soul and it warms my heart till this day that Parker recognized this and suggested that we get married there. We rented the most beautifully quaint and rustic cabin on Lindsay Island for only us (the bride and the groom) to stay in and have our reception at. This would be the epicenter of it all. We both believe that experiences outweigh possessions so for us, it was incredibly important for our guests to have an experience they wouldn't quickly forget.
Early the next morning — approx 9am — we had canoes, kayaks, paddleboards and a hand-full of motorboats awaiting our guests to their surprise. As a group they would take the 30 minute paddle/boat ride to the ceremony location. It was a small little inlet called Half Moon Bay on the nearby Bostwick Island. Ironically, Bostwick is a significant name in Parker's family and his father's middle name — so it would only be fitting that we'd have the ceremony there.
I remember the morning being so emotional in the most beautiful way. There are parts of me that wish that boat ride with my Dad was longer, only so I had to the time to breathe and truly relish in that private moment with him. My youngest brother, Tom, was awaiting us right outside the cove. He was to give the "ok" for us to come in once he knew everyone was in the cove and situated. I remember my heart racing, seeing the "ok" handwave from my brother and looking over at my Dad. He said, "are you ready." I don't think I verbally replied— I think he just knew. I hit play on the ipad and we made our way into the cove. It was like a fairytale. I honestly couldn't believe everyone had made it. I think I may have shared glances with perhaps 4 of our guests when I looked up at Parker. He immediately started to cry and I suddenly acquired tunnel vision. There was no one else I could see — only him.
Guests were dropped off near the boathouse, for the reception, which was about a 6 min walk from our cabin. Once they disembarked their boat shuttle they were greeted by my parents with a custom mug (for their keeping) filled with either champagne or sparkling juice (guests choice) and sent on their journey towards the cabin. Along the way, there were framed photographs of Parker and I growing up hanging on the trees. It was a project inspired by my Mom that set a beautifully delicate tone to the evening.
One of my more prideful projects was the wall of photos we had in the cabin. There was a framed photo of every guest invited with either Parker or I (or both) spread around a custom-made sign we had built. It read, " the best things in life are the people we love the places we've been and the memories we've made along the way". We have each traveled extensively, both as individuals and as a couple. We share the sentiment that every time we have traveled, be it near or far, we've met some of the most remarkable people and created some of the most fantastic memories along the way. And isn't that what life's all about. Surrounding yourself with the people you love the most, doing the things you love to do the most and truly living life to its fullest? Those framed photos were a take home gift to our guests — hopefully seen as a testament to just how meaningful they are to us and a homage to how lucky we are to have them in our lives.
Supplier Shout Outs: 
For more information on Briars Atlas go to