Happy Monday everyone and welcome to Christmas week! Christmas day is only 4 days away now, how excited are you?? We had a lovely weekend filled with Christmas activities. Saturday we went to see Santa and then Sunday we went to White Post Farm to enjoy some fresh country air and their Christmas offering. Now I am off work till the new year (well I'm back in the office in the evenings, but off in the day) and today we are off for a socially distanced walk with a friend and running a few Christmas errands. Today's wedding takes us to Ecuador for this super glam wedding of Erik and Noy. Sometimes I get sent submissions and I just fall in love with the couple straight away. This pair are SO delightful together, so in love, they grin from ear to ear when they are together and just look like they are having the time of their lives! Big thanks to Michelle Agurto for the lovely images.
An international celebration full of energy, love and music. An adventure for everyone who attended.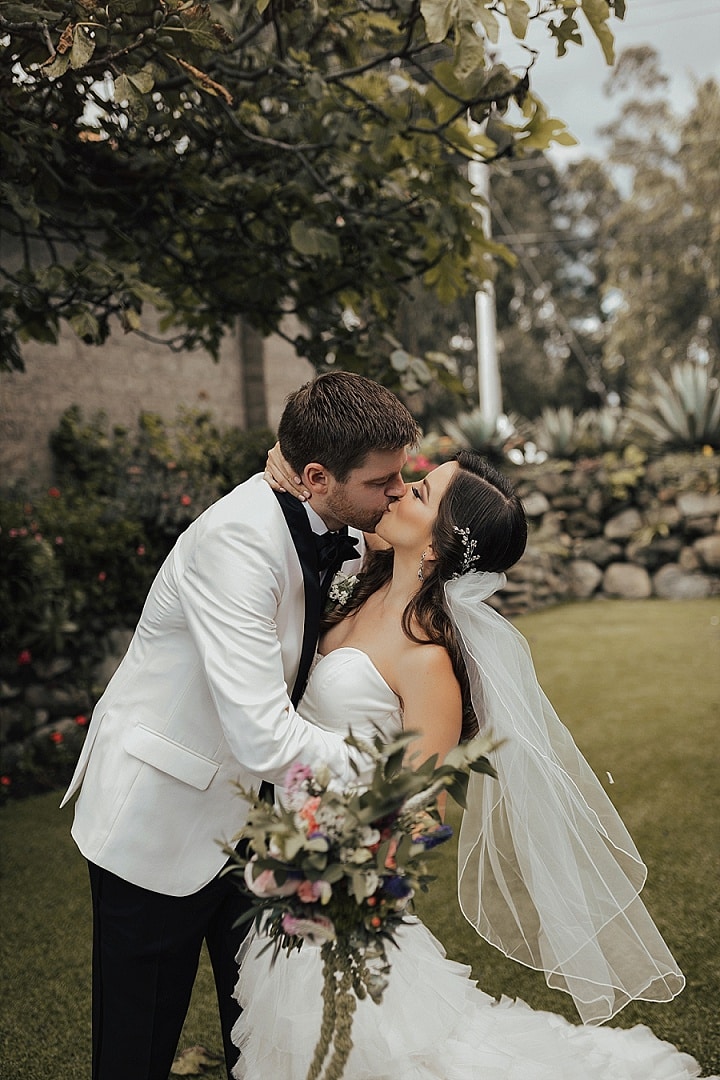 Erik and Noy were married  on 23rd February 2019 at Quinta Lucrecia. Cuenca, Ecuador. 'I (Noy) was born and raised in Ecuador. I took Erik a bit over a year into dating to Ecuador and we visited Cuenca. His parents came too and everyone fell in love. We knew we wanted a big wedding where most of my family would be able to come so Ecuador was the right choice for us. We also have a great group of friends who love traveling! We invited around 450 (yikes!) There is no RSVP in Ecuadorian weddings, you just have to estimate. We think around 280-300 showed up. We got engaged in August of 2017… So we had time! We were not picky, but choosing a location from our hometown Chicago was interesting. My mom and aunt scouted locations and sent us videos. Quinta Lucrecia was the only venue we saw in person and immediately fell in love. We made the important decisions maybe 10 months before the wedding and things just fell into place one by one. We even had a flower decorator change three months before!!!'
How they met 
We met September 2015 on Tinder! He was my first match and I was one of his firsts. We bonded over football and I invited him to watch a match with me two days after we match. I felt like I had a good group of soccer buddies to watch over me in case it didn't go so well. But it did go well, incredibly well.
The proposal
We bought a home together on July 2017. We talked about forever but marriage was not something I needed immediately. He carefully orchestrated my family to come visit us and made me think it was all my idea. I had had a long day at work and was having major FOMO, my mom and siblings had gone to Erik's Parents' lake house and grilled out, drank some wine… and I was stuck at work. I left my job at 10pm and called him and he said my family had decided to go out in the city. More signs I didn't catch. HE said they wanted to go get some drinks at SOHO House, my sister, brother and mother… How did I not suspect anything?!
I got home and the lights were turned down low and he just seriously whispered "Amor…" as he received me by the front door… My immediate thought was that something had happened to our dog! But then I heard the music playing in the background… "Clair De Lune" by Debussy. That was the song we were listening to on our first kiss. It became "Our song". I cant remember everything he said, I just remember the look in his eyes. He was wearing an Ecuadorian soccer jersey and to anyone who knows us that makes total sense. Within a few minutes I was engaged.
How did you allocate your budget?
This part was hard… We had a budget and just took out venue, music and food out first and then figured out how to allocate the rest. We switched floral designers, invitation plans, timeline of events several times trying to figure out where to save more money. We have a pretty crafty family so we also figured out areas where family could pitch in and help to save money.
Where did you splurge and where did you save?
We took our time figuring a lot of the details out but we knew our priorities. We needed a venue that was beautiful on its own, we like light decor but love architectural details. We wanted it to feel Ecuadorian. We also splurged on Music. We hired by far the best band in the country. We knew we would have a very eclectic mix of guests and music knowledge was very important. As we are also music fanatics, classic Rock knowledge was a must and REWIND delivered! We also made sure to have excellent food and drinks.
We saved by minimizing decor, booking hotels early and in bulk, I found my dress at a sample sale shop and bought my hair accessories on Amazon ( a tip from another bride). I made my own invitations and we opted out of having a bridal party, other than our siblings. This was a great decision.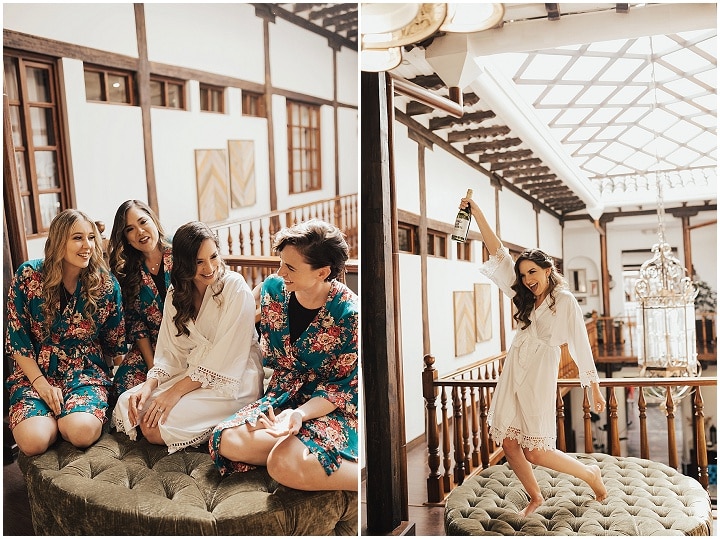 How did you choose your photographer?
I did some research through friends and got a bunch of names. Instagram was a big player in the decision. There were some highly sought after photographers that were available for our dates but their rates were either too high or their styles a little to hard. I am an artist so I knew what I was looking for. I wanted natural, soft. I wanted someone to make me feel comfortable and have fun with us the day off. I didn't want the serious and down to business. I wanted professional but fun and friendly and that is exactly what we found in Michelle. She had done one of my good friends engagement pictures and I just knew right away she was the right choice. And I was so on point! She did an amazing job!
The dress
My dress was Ziggy by Rivini (Rita Venieris). My shoes were Betsy Johnson, my veil was from David's Bridal and my headpiece from Amazon
The suit and bridesmaids
The suit was from The Black Tux. We did not have a bridal party per se but the groomsman wore Tuxs from The Black Tux.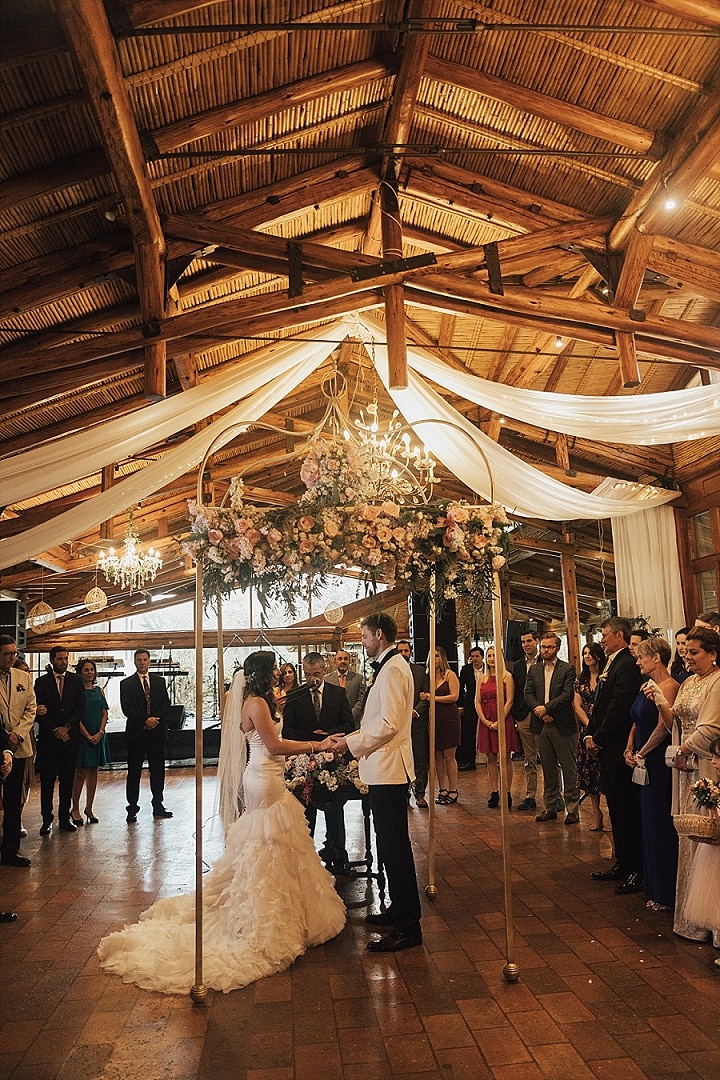 Theme or colour scheme?
For our siblings I just wanted neutrals, Black and beige. But for the wedding decor I wanted a soft palette with light shades of pink and a few different greens with a spotlight on eucalyptus.
Flowers 
Ecuador is known for its beautiful foliage and roses. The town we got married in is up in a valley and succulents grow beautifully in that climate. Our arrangements were composed of soft pink roses, hydrangeas and eucalyptus, accented with some draping foliage.
Decoration 
Very minimal, soft and romantic. Hanging arrangements lightly decorated the room.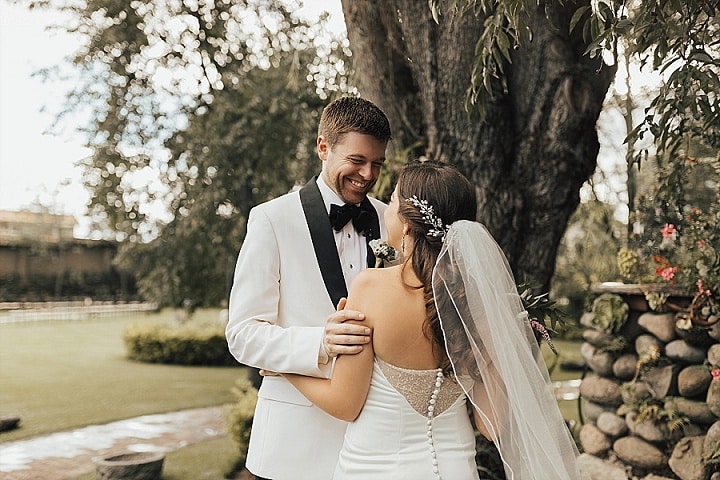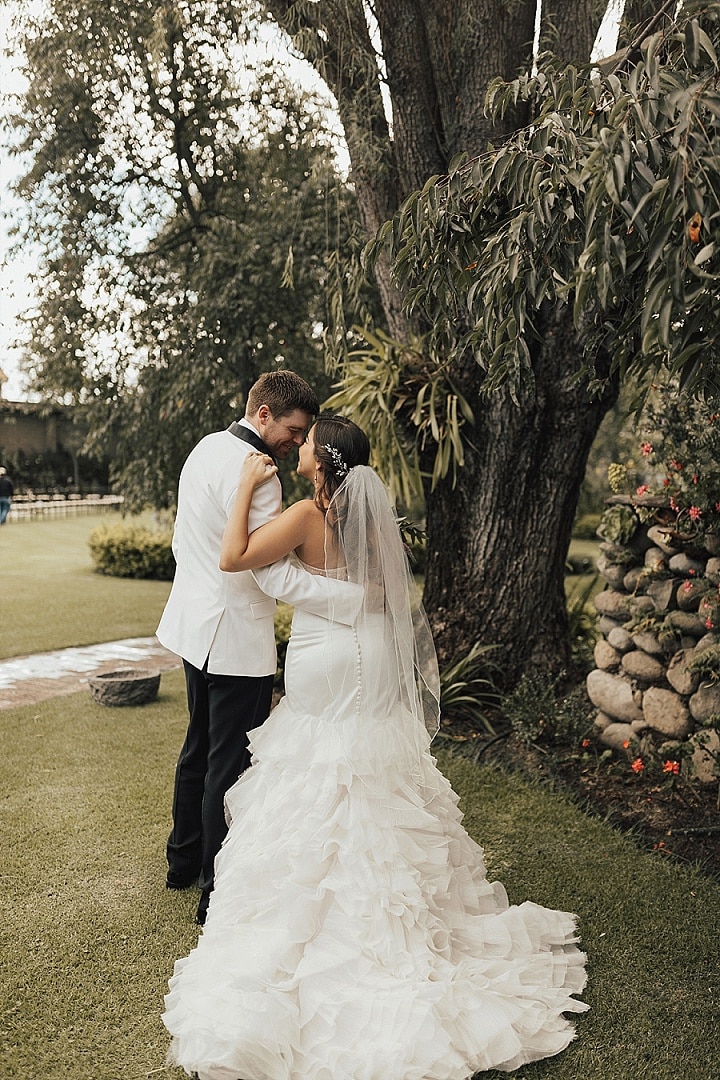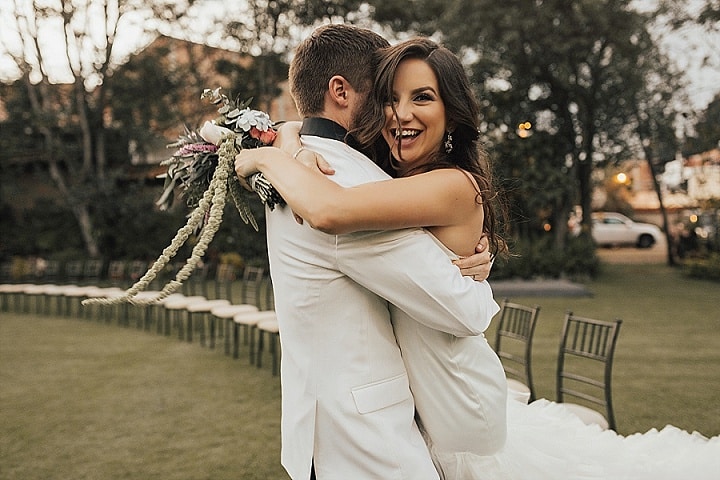 Food
Ecuadorian weddings are known for their lavish buffets. We had an appetizer table with traditional dishes such as ceviche, shrimp cocktail, grilled octopus in balsamic, cheese and charcuterie. The main dish included Fungi Risotto, Beef tenderloin in blue cheese sauce, pork loin in merlot sauce and stuffed eggplant. We also served a side salad, four cheese souffle and breads with spreads.
Wedding cake
Walnut and almond flavored with a light icing.
Entertainment
We hired a string quartet for our ceremony, they played "clair de Lune' for the entrance, a traditional church song for candle lighting ceremony and "Got to get you into my life" by the Beatles for the exit. For the reception, we had a live band which played 20 minutes of every hour for four hours. They killed it! We also had a guest performance by one of our good friends who played two Incubus songs for us. In between the band sets we had a DJ.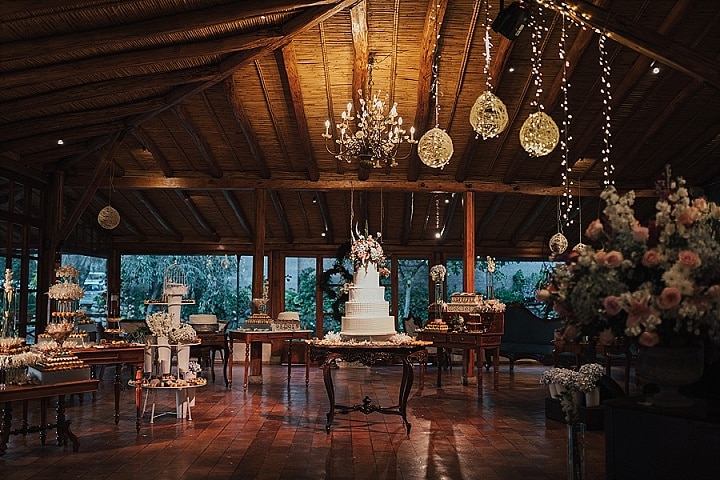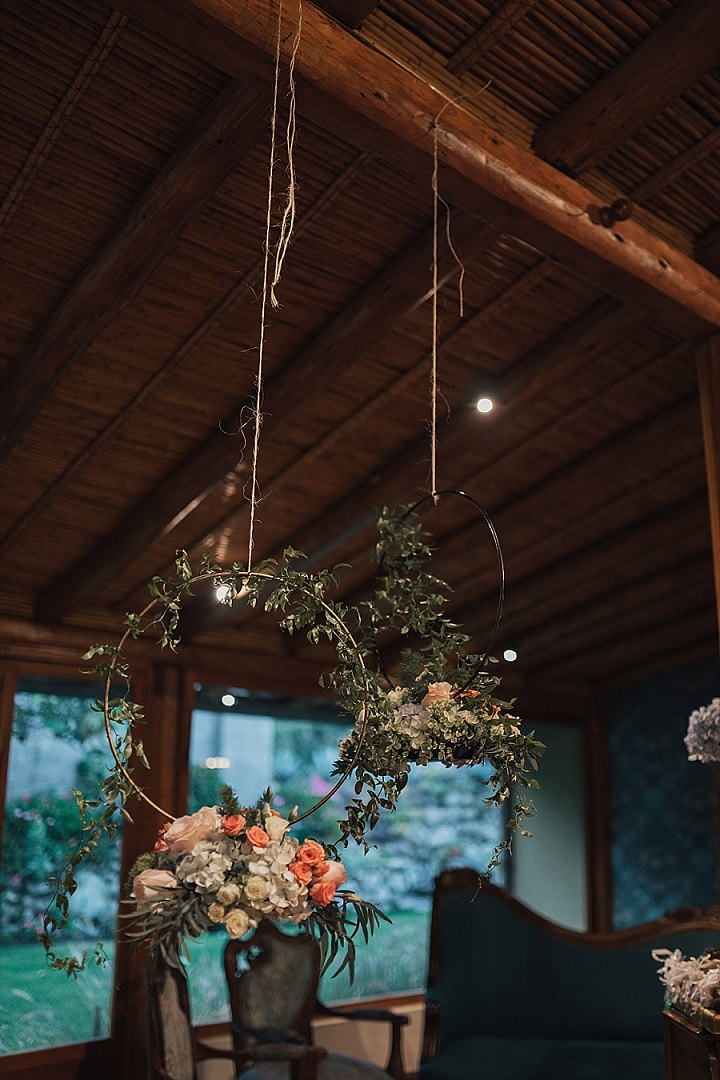 Who supplied the stationery?
I came up with a design and had it printed by PaperSource using Thermography on Ivory paper. I bought the envelopes and designed the liners and made them myself. I created an abstract work of art, created a pattern off of it and printed it in wrapping paper. We had a mold which we use to hand cut all envelope liners. We cut and glued around 300 envelopes and then I hand addressed each one of hem.'
Where did you go on your honeymoon?
The honeymoon was one of the first things we talked about after getting engaged. We are adventurers and lovers of soccer so we knew we had to go somewhere meaningful to watch a game. As we closed in on a wedding date, we realized we could wait a couple months and possibly catch the Champions League final which was held in Madrid. We started our trip in Paris for 2.5 days, we arrived a day before Eriks 33rd birthday! We then flew to Porto and spent 4 amazing days there. We did a tour with a local to Douro valley. We walked around 9 miles every day and explored the city and its tasting rooms. From then we took a short flight to Madrid where we enjoyed some of the festivities, not the best set of teams for my liking but we soaked up the experience. After the final was played and the fans returned home, we were able to enjoy the city and explore its food and mixology. We both fell in love with Madrid.
Personal touches
The wedding invitations had a very big personal touch. We also arranged for our friends to try a very special restaurant and taste Ecuadorian cuisine at its finest. We helped some people extend their trip by visiting the Galapagos Islands or touring the country. We provided traditional hats and scarfs at the wedding for when the temperature drop. I also hand painted a leather jacket with an abstract pattern and the words "Mrs. Johnson" on the back.
Special moments 
The whole day was incredible. But what made us the happiest was seeing so many people we loved, that made us who we are come together and celebrate with us. Erik and I had to get legally married in the US before our Ecuadorian ceremony so for us the official part was already done! We had people fly from 7 different countries and had 12 nationalities represented. I remember seeing friends I went to Middle school with dancing with Erik's high school friends and some of my Chicago co workers singing and drinking with my cousins. There were no isolated groups. at our wedding, everyone seemed to have known each other their entire lives! It is so evident in the wedding video when we look back.
Advice for other couples
Enjoy the process and know that a million things will go wrong but that is ok. It will still be the best day of your life if you let it be. You get to start the rest of your life with your favorite person.
Supplier Shout Outs
For more information on Michelle Agurto go to
 www.michelleagurto.com / [email protected] / +593999323427 / FACEBOOK / INSTAGRAM / TWITTER 
Hello! I'm Michelle Agurto, a wedding and fashion photographer from Ecuador. Photography is
my passion and I'm so blessed to work in what my heart loves. I describe my style as romantic,
emotive with an editorial touch.