This morning I am taking a break from Christmas weddings (don't worry I have a Christmas DIY for you this afternoon) and taking you back to last summer with the glorious beach wedding in Cornwall of Suzy and Ben. This fun loving couple wanted a laid back, festival feel to their wedding day and this they got in abundance. They held an informal church ceremony in the cutest church ever. They then followed this with a fun filled party in a beach side marquee filled with rustic touches, a real chilled out vibe, great food and cracking entertainment. The day was photographed by Destination wedding photographer Miki Studios who have captured the day perfectly.
A fun festival beach wedding with the most amazing food and drink possible and the best friends and family ever.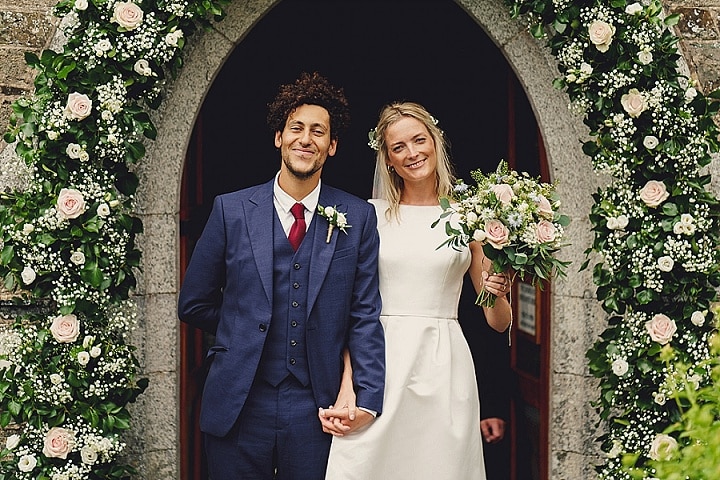 Suzy and Ben were married on 20th July 2019 – we chose the date because we wanted maximum chance of the sun shining! The wedding was at St Enodoc Church, followed by the reception at Roscarrock in Port Isaac, Cornwall  'We chose St Enodoc Church as it is a stone's throw from where Suzy grew up and spent her childhood. Her parents still live there. She was also christened in the church (by the same vicar that then married us!). It is a beautiful spot with views of the sea and Ben and Suzy have now also shared lots of memories in and around the church. The church has a very quirky and interesting history too. It was once completely buried in sand! We wanted a rustic/countryside vibe, Roscarrock farm had lots of different spaces where people could go and amazing views of the dramatic coastline. Venue owners were amazing and an enormous help. The farmer's son even gave us a lift home at 2am in the morning! Would recommend it to anyone! We had 150 guests.'
The proposal
Easter 2018. With multiple plans having gone wrong, we got engaged in the same church where we
ended up getting married. It started raining heavily while we were on a walk so we took shelter in the only building nearby – the church. The church lights are on a timer and the light switch is outside the main space. When the lights automatically turned off, Ben asked Suzy to turn them back on. She went out to do this and when she walked back in Ben was down on one knee.
How did you choose your photographer?
We choose Ash Davenport because he did our good friends wedding and the images were just amazing, the best we had ever seen so it was a no brainer to book him for our wedding and it was the best decision by far. We are thrilled with every image. So many amazing moments and we have had so much fun going through them reliving our day.
The dress 
I chose a very simple dress. I wanted to still feel like me and didn't want to feel too 'over dressed'. I started by trying on all sorts of dresses (sequins, lace, tight, meringue!) but went with a simple structured dress made from thick satin and it had pockets! Once I found the designer Jesus Peiro, I knew his styles of dresses were what I was looking for so went to a few shops that stocked his dresses and found the one for me at a bridal shop in Angel, Islington (Morgan Davies Bridal). The dress ended the night covered in mud, sand and red wine – which summed up the party!
The suit and bridesmaids
Summer bridesmaid dresses from Stories and the Grooms from Reiss.
Theme or colour scheme
Rustic, nature, coastal, informal. We wanted everyone to feel relaxed and have a great time! Also we wanted the wedding to reflect the area we were in. It turned out exactly how we wanted and lots of the guests commented on how relaxed they felt.
Flowers
Flowers from Bruallen
Food
Fee's Food – Absolutely beautiful food! They did the wedding cake as well an orange polenta and almond cake
Entertainment
Andy the Crooner and Blue Lion Band from Exeter
Where are you going on your honeymoon?
We haven't been yet…planning to go next Easter. Hoping to go to an island with lots of beaches and then a bit of culture on the side.
Personal touches
Our favours – each guest had a photo of them with Ben or Suzy on their place setting and on the back of each photo was a hand written personal note from Ben or Suzy.
Prosecco on the beach!
Egyptian and Cornish flags flying atop the marquee.
Shisha tent – we felt that this was the space where people really mixed and made new friends!
Wedding stationery – all hand written by Suzy's mum and hand made by Suzy, Ben and Suzy's mum.
Image of the Church we used on 'Save the Dates' & Service booklets – designed by our close friend and amazing artist, Charlotte Perkins. Ben then had the church image turned into a stamp which we used on various stationery and we also have a framed picture of it in our flat!
Advice for other couples
Ben – where possible do bits yourself rather than chucking money at someone else to do it. The smaller, personal elements are fun to do and are what you and your guests will remember.
Suzy – the best advice I was given before the day…relax, have fun and don't stress about anything on the day (even if things go wrong). Your guests will see this and follow your lead!
Supplier Shout Outs
For more information on MIKI Studios go to
 www.mikistudios.com / www.mikistudios.com/stories / FACEBOOK / INSTAGRAM