It's been a while since I had a bridal designer here on the blog, so today I am delighted to introduce you to not one but two, Anissa and Naïma are sisters and together they created Lâme Cœur Paris. This bridal range is like no other, the duo have created a collection they have described as 'Boho Fairy.' 'We've specialized in Alternative Wedding Dresses with a Boho Fairy twist. Our 'Ever After' Collection is aimed at Modern-day Heroines, a bit Dreamy and Poetic, who want a mythical dress to tell their own story.' The whole collection is eclectic, with abstract designs, layers of tulle bodices of beads, all with an ethereal edge and a real fairy tale feel. These gowns are perfect for the bride who is looking for something different, a dress that lets her personality shine though. Not only is the collection unique in design, it is entirely handmade with sustainable materials and always respectful of the environment.
We are 2 sisters, designers and best friends, raised in France, in love with centuries-old forests and dreaming of adventures that you only meet in fairy tales. Our collection of Alternative Legendary Wedding dresses celebrates Modern-Day Heroines.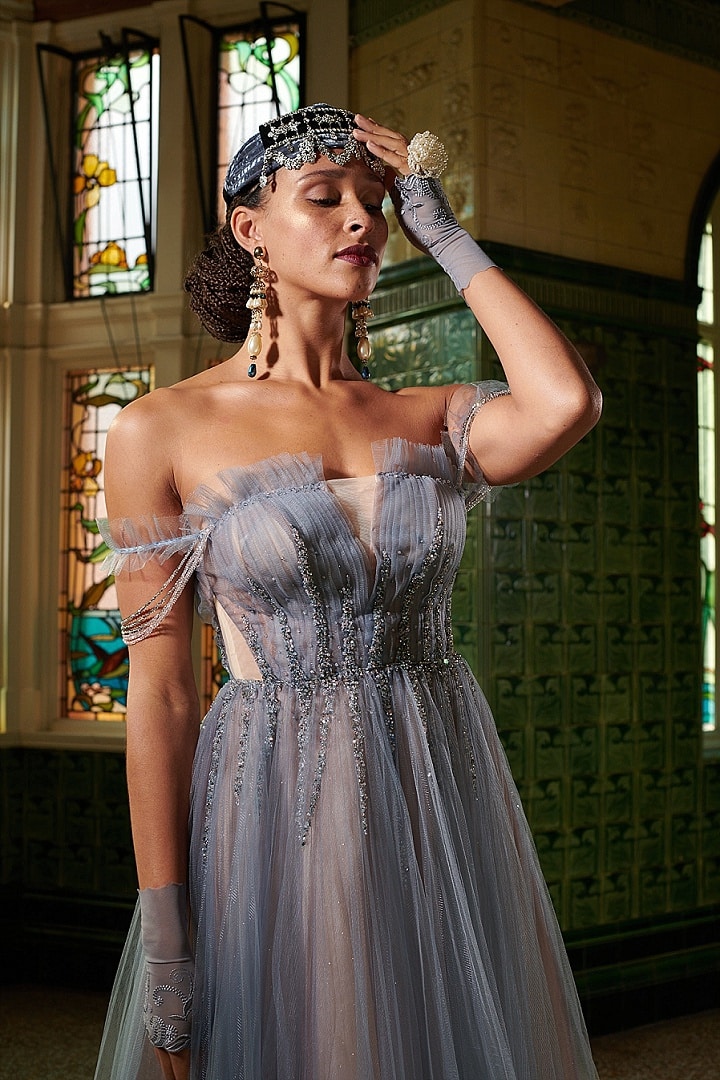 What made you start your business?
Our most beautiful memories were always of the stories and legends told to us by our grand-mother as a child, every summer, when we visited her in Algeria.
She was a theater seamstress, passionate about art, poetry and myths from around the world.
She instilled in us the most precious gifts: her imagination and a belief in beauty and happy endings! It became our roots, and the place we constantly try to return to in our work, and our dreams.
This collection is a way of paying homage to her and to all the Modern-Day Heroines.
When did you start and where are you based?
We started this year and are based in the Bright and Bustling Liverpool! Our showroom is in Liverpool but our Dresses and Accessories are shipped worldwide.
How would you describe your style?
In 2 words: Boho Fairy!
We're specialized in Alternative Wedding Dresses with a Boho Fairy twist.
Our 'Ever After' Collection is aimed at Modern-day Heroines, a bit Dreamy and Poetic, who want a mythical dress to tell their own story.
What makes you different to your competitors?
Our brand celebrates women forgotten, misrepresented or demonized in Fairy/Folk Tales. We're inspired by our European culture and our North African roots.
Princesses or Witches, Peasant girls or Ogresses, Angels or Demons, our exclusive selection of dresses features brave and proud heroines from both shores of the Mediterranean sea.
Our dresses are Unique and shine with multiple shades of colours.
They are handmade in England with Sustainable Fabric and all our beading and embroidery are carefully sewn by women in Tlemcen, ancestral city of Algeria, renowned for its unique savoir faire in this field.
Can you give me a rough price range for your dresses
Between £2000 and £5000
What do you enjoy most about your job?
Our brand is a brand created by women for women.
What do we like the most? Working together, my sister and I, and allowing strong and different women to find a dress that reflects them.
This is the really best in our job: to meet, discuss, listen to, support other women and offer them models different from the expectations imposed by society.
Our best reward? Hearing our brides say: I feel like me in this dress!
What sort of couple do you think you attract?
Couples who want to celebrate their union by turning away from the codes and traditions that clutter our lives.
No, our couples are not completely crazy or weird. They just want a wedding that looks like them, and will be different from any other wedding.
What would be your ideal wedding to work on?
We love ALL type of weddings: small, big, in a tree, an aquarium or a Star wars convention… What matters to us is to accompany our bride and to offer her a wonderful and comfortable dress in which she will feel like a Queen.
What is your ideal way to spend a day off?
Have a picnic with nice crockery, lemonade and a big (chocolate!) cake for dessert!
We are real hobbits!
What can you never leave the house without?
Our sense of humour!
Who would be your 5 dream dinner guests dead or alive?
Cleopatra (next to) Gandalf (who would flirt with her), our grand-mother (chatting about Africa with) Nelson Mandela, Viggo Mortensen (cornered between my sister and I and obviously far from Cleopatra!) and finally, David Suchet (dressed in Hercule Poirot, of course!).
We know, it makes 6 but… for a successful dinner, it is better to have an even number so that no one feels left out!
For more information on Lâme Cœur Paris go to
www.lamecoeurparis.com / https://lamecoeurparis.com/blogs/news / [email protected] / FACEBOOK / INSTAGRAM / PINTEREST / YOUTUBE
this is a sponsored post
[jprel]