Well hello to Monday, I hope you are all doing well. How was your 2nd weekend in Lockdown? Mine was OK thanks, the weather here in Sheffield was pretty pants, which didn't lend well to outdoor living, so it was a weekend of baking, eating, watching films, playing board games and general chilling out! Only two more weekends to go and hopefully we will be back out of lockdown and back to normality, whatever that is…..who knows!! I have the most amazing Australian wedding for you today, and the star of the show for me is the dress. Alyce chose the most dramatic and perfectly boho Rue De Seine blue and white gown. I loved this gown as soon as it launched from the Rue De Seine collection and I prayed that a bride would wear it in one of my weddings and here we are! It fits this wedding perfectly, the outdoor lakeside beach like location is super relaxed, the macramé backdrop, the boho chic decoration and of course the beautiful couple. What a fabulous way to start the week, lets make it a good one! Big thanks to Justine Missen Photography for the gorgeous photos.
Our wedding day Couldn't have been more perfect, of course they day had a couple of stresses but it wouldn't of been a wedding without those. The weather was brilliant considering the day before and after were  average.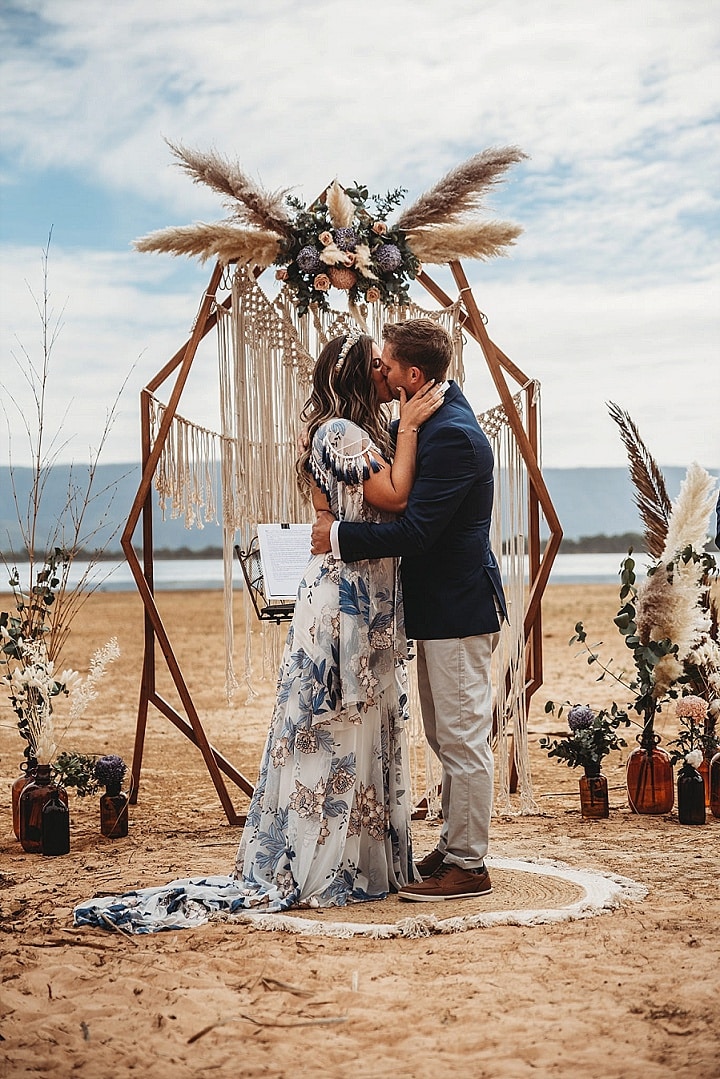 Alyce and Kye were married on 21st March 2020 at Stawell Yacht Club, Lake Fyanns, with the reception at Grampians Pioneer Cottages. Both located in The Grampians, Halls Gap, Victoria, Australia. 'I grew up in the area and we both have a love for outdoors, we thought about a beach setting, which was probably always my dream, but after having a look around the lakes and finding this perfect shore area around Lake Fyans I think we were sold, getting a "beach" type of deal, whilst getting to have the beautiful Australian bushland and mountains around us as well, it ended up being the best of everything we love about our beautiful country. We had around 90 people attended our wedding which we were grateful for, being right on the edge of uncertainty with Covid-19 upon us. We feel extremely fortunate to have gotten our day in. It took just over a year, just enough time haha.' 
How they met
We met through mutual friends at one of the local night clubs. We have been together for 8 years and have two beautiful children, our son Tyler who is 6 and our daughter Annaley who is 4 in a couple of weeks.
The proposal
The proposal was not a typical proposal, we had been out and about with our Son and Daughter driving around the local lake, when Kye pulled over and asked our daughter what she was playing with, turns out was playing with was a ring box. And here we are.
How did you allocate your budget?
We tried to keep to a budget for the overall costs, which I think we did stick to it well, but there was not really a structure to our spending I guess haha.
Where did you splurge and where did you save?
The dress was most definitely a splurge. We saved on furniture, finding some good bargains on Facebooks marketplace.
How did you choose your photographer?
I was really after someone that had a rustic feel, but caught the special moment with ease, I stalked Justine on social media a few times before committing, and have absolutely no regrets in that decision, she caught the day perfectly along with all the small details. we also had videographers' Kelly and Dan of Clique Films, who were amazing, them and Justine were a perfect mix and worked so well together through out the day.
The dress
My dress is the Aegean Gown (in indigo) by Rue De Seine. I wore a denim jacket also designed by Rue De Seine. My earrings, bracelet and one of my necklaces are from Australian designer Mimco, the other necklace was my grandmothers. My Shoes are Badgley Mischka. My Crown is made by a UK designer Ellys of Frida Flower Crowns.
The suit and bridesmaids?
The Suits are from Ferrari Formal wear Ballarat. The bridesmaids are wearing Grace Loves Lace with Mimco Jewellery, and hair accessories from Crystal eclipse crowns.
Theme or colour scheme
Not really on purpose, we just kept with the colours through out my dress really and colours that complimented.
Flowers
I'm not very good with this so I asked my florist to give me a little write up and this is what she said. Her name is Bec McDougall and her business is Three Blooms."An eccentric mix of fresh and preserved flowers was used in all bouquets. Main features of the brides bouquet was tinted Disbuds and the grandiflora's new colour of 'Wild Moss' in a latte tone. To create more textures we used various flowers including bunny tails, cotton, palm spears,preserved Ruskus and pampus grass. "
Decoration
I work at a shop that sells decor so I got a bit from there for lighting, I got some macramé made from a place called "we're knot crazy", some old cameras and old draws from home, so very boho type of feel, as well as the flower arrangements done my our florist Bec of Three Blooms, we tried to keep it relatively simple.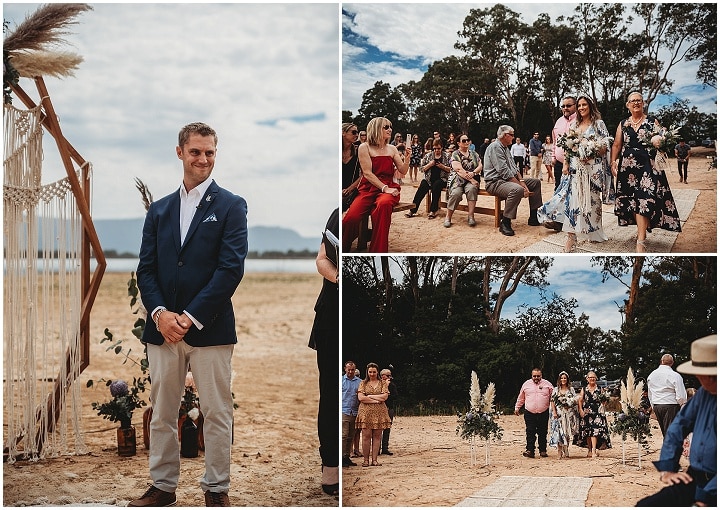 Food
We had an amazing caterer, her name is Paula Symons she prepared a Cocktail menu for us, with many delicious options such as Slow roast lamb & feta Tartlets, Filo tarts of creamy egg and bacon with chives, Slow cooked pork belly with soft plenta and red onion jam, some mini cheese burgers and chips for the kids, just to name a few. Of course, we had cake for dessert.
Wedding cake
The wedding cake was made by Aimee Chappell of Chapp Cakes Décor, and I've also gotten her to write up something for me as I certainly wouldn't do it justice. "This elegant cake is an absolute show piece for a boho wedding. Pristine white fondant is the back drop for the hand crafted succulents and complimenting foliage. A rose gold hexagon ties this cake into the wedding decor. With a decadent salted caramel mud, chocolate mud cake and moist fluffy vanilla cake a mouth watering Swiss Meringue buttercream ties this all together."
Entertainment
We had a local duo, Jacob Hamilton and Jason Carey make up this duo called JJ acoustic, who were fantastic, as well as the fantastic music, we had a few games spread out at the Reception, such as giant noughts and crosses, giant connect four and Skittles, suuplie by ballarat party co.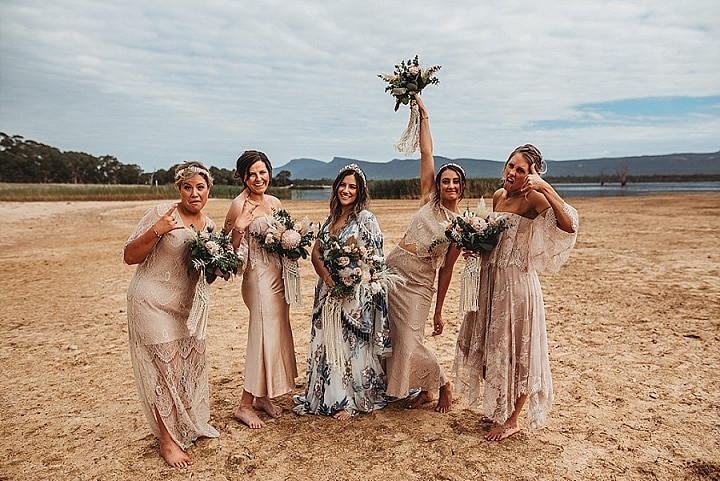 Who supplied the stationery?
I got the paper for the invites and envelops from a place called "Rag Papeterie"(USA), and the foiled vallum sheet from Leigh Louise Creative (UK), both Etsy shops, I designed, printed and put together the invites (and save the dates) myself (my Business is called Tyley_J)
Where are you going on your honeymoon?
We are yet to go on our honeymoon, due to covid-19, but we had planned to go to a place called palm cove in north Australia, and we still plan ongoing there once we are allowed to travel again.
Personal touches
I did a lot of it myself the invites I designed and put them all together, printing etc. The whole theme and lay out I had in my head, it was a little hard to relay it to others at first, but considering everything turned out exactly how I had imagined I think they got it by the end haha, I did forgot the part where I probably couldn't help do much of the setting up haha, so glad it all came together.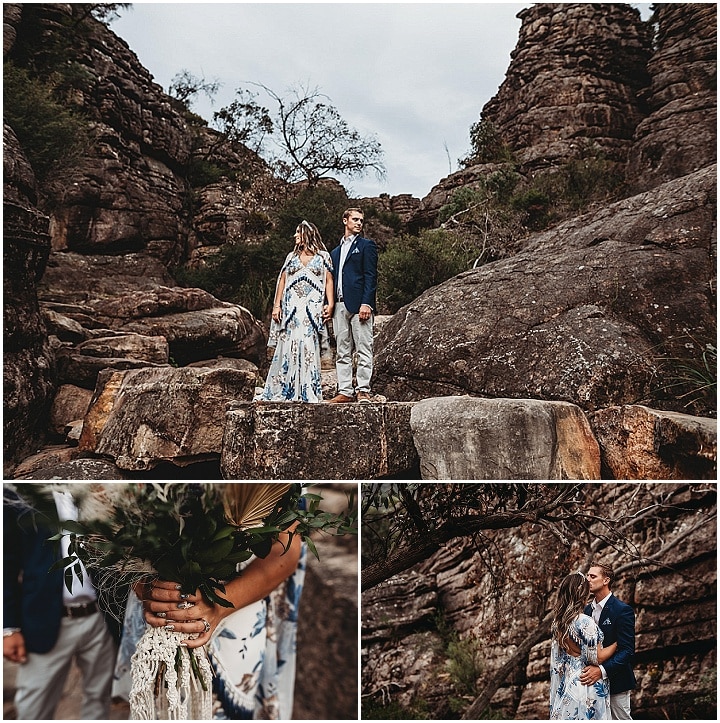 Special moments 
Being able to acknowledge Kye's mum who had recently passed away was definitely a key moment or important moment for our day, we had so hoped shed be there. Sadly, it was not to be, I have no doubts she was there with us though.
Advice for other couples?
Try to be as organised as possible, it definitely doesn't hurt having things organised 6 month to a year in advance, because the 3 or so months before I think is going to be stressful regardless, oh also accept all help offered, haha you'll need it.
Biggest surprise 
I don't think we really had any surprises, maybe just how perfect everything had turned out perfect, it was very pleasing to see my vison come to life and be exactly how I imagined it, I wasn't sure it was going to all fall into place so perfect.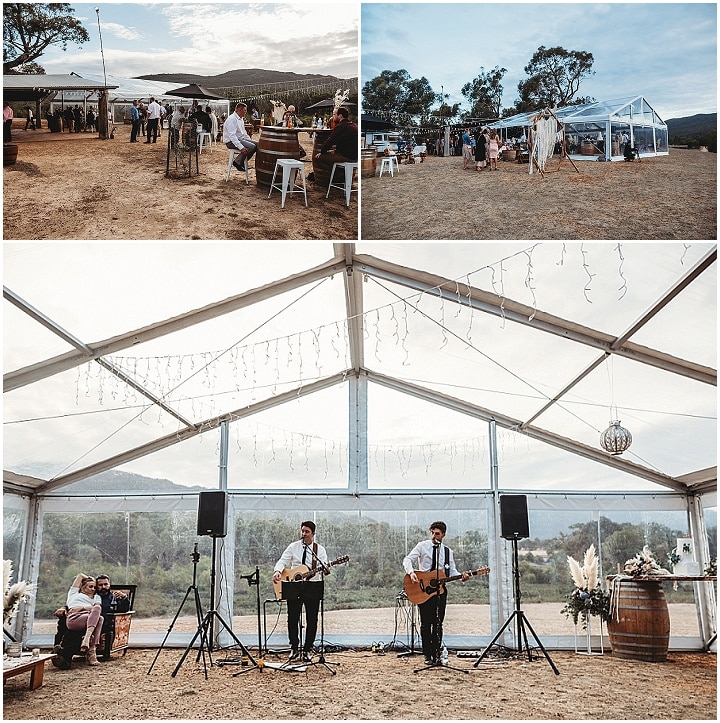 Supplier Shout Outs
For more information on Justine Missen Photography 
www.justinemissenphotos.com / FACEBOOK / INSTAGRAM