Well hello everyone and if you are reading this in England happy first day of Lockdown 2.0!! Here we go again! We went out for dinner last night, as a kind of last supper, we had tapas, Dexter's choice, and the food was amazing! We have done so much lately, really making the most of the stuff we are allowed to do, so roll on 4 weeks when we are allowed to go and enjoy ourselves again. Till then there will be lots of walks in the country, baking cakes, board games and films to be watched! Meanwhile in the world of weddings we are celebrating Lara and Mike's gorgeous laid back Cotswold wedding that took place in the incredible The Matara Centre. The outdoor ceremony area really is completely stunning and seeing as the wedding took place in April they were super lucky with the warm sunshine day, a real blessing. As for Lara in her Grace Loves Lace dress, she looks totally beautiful with her baby bump! What a totally stunning bride. Big thanks to Cotswolds Wedding Photographer – Dan Morris for the wonderful images.
The day was ALL and more. Amazing feeling with overwhelming happiness.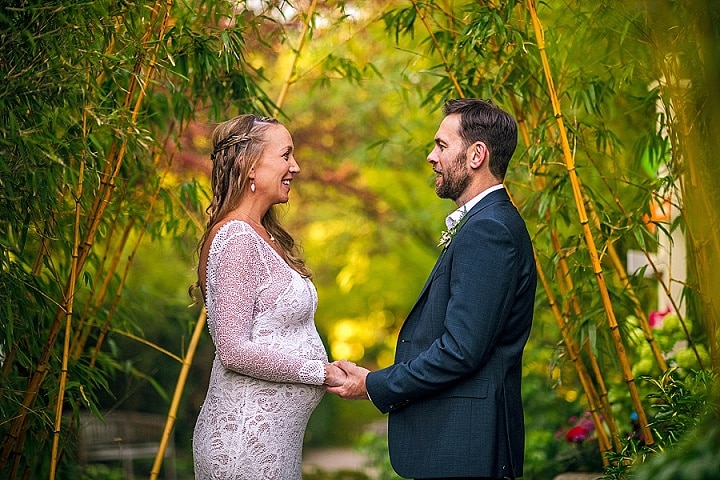 Lara and Mike were married on 21st April 2019 at The Matara Centre , nr Stroud in the Cotswolds. 'Beautiful space, sense of calm – very boho and very unique. Also, location – not too far from home. We were six months pregnant with twins, so felt comfortable being close to home and easier for our guests! We had 70 guests for the day and 100 for the evening. The wedding was originally planned for August 19 but due to the twin's surprise pregnancy we had to bring the wedding forward to April 19. They were actually due on the first planned date!'
How they met 
We met through Match.com. We both had children from previous relationships, which made it hard to go out. We have been together for 5 years.
The proposal
I had just come back from my son's Harvest Festival assembly and set up to start my days' work (worked from home) and our Cockapoo, Nel came walking in with her head hanging low and a typical fed up hound dog's pose. I thought she had got something caught on her collar and said, 'come here you silly doggy, what have you done, let's get that off', and I realised then a little bag with a small notebook had intentionally been attached to her. I opened it and unbeknown to me that Mike was waiting in the next room. Mike had put sketches together of a trip to London in a car, heading to Hatton Gardens, on one knee proposing and a night at the Shard, which was massively impressive as I didn't realise he had such a creative side. I shouted out, 'are you proposing to me?!!' He walked through with a lovely smile and got on one knee and popped the question! I obviously said yes but actually was, 'you know I will, you silly so and so (bugga)!' And my eyes filled with happiness!
How did you allocate your budget?
We did a set deal with Matara to have 70 for the ceremony and the wedding breakfast. The original date was in fact on a Thursday, reducing the cost but then when we found out the twins were due on the wedding day, we moved it to pretty much the only available day and the day that most of our guests and suppliers could move to; 21st April 19. This was Easter Sunday.
Where did you splurge and where did you save?
I saved on the dress as I ended up buying this second hand due to not knowing how my body will change by the wedding date. I bought a size bigger, which just worked! We splurged on the band who were really, really good!!
How did you choose your photographer?
Dan Morris photography. I loved his natural and funny shots. His images held a real feeling for the day. He really does capture the real moments. Nothing posed. Nothing uncomfortable. His portfolio showed fantastic vibrant colours. He didn't appear to be 'another' wedding photographer. His work looked very different.
The dress 
The dress was Grace Loves Lace. Accessories I bought from independent sellers through Etsy and shoes I wanted to be very simple as the dress had quite a bit of detail. I think these were Boohoo!
The suit and bridesmaids
The suit and bridesmaid's outfits were to follow our colour scheme, which was teal. The suit was from Kiln (John Lewis brand) and the dress was from ASOS.
Theme or colour scheme
We weren't going to have a colour scheme as I wanted to keep everything relaxed for guests but a few people were asking, so we decided on teal but made a point that anything is welcome.
Flowers 
We kept the flowers very green and white – very natural. My bouquet was of beautiful proteas from South Africa.
Decoration 
Hanging rings from the dome, candles around the pond and driftwood with flower displays
Food
Tarragon chicken and a lemon and raspberry compote, followed by cheese and coffees. The ceremony was for 1pm so decided to skip on the starter. We had a huge cake and a barbeque with marshmallows over the firepit early evening.
Wedding cake
A friend made a naked Victoria stacked sponge with fruit displayed on a tree trunk base bought from Etsy.
Entertainment
A very good live band, called Alive. We also had garden games – giant Jenga, giant connect 4 and Matara had a maze.
Who supplied the stationery?
We found various suppliers, a few through Etsy, Notonthehighstreet, Zazzle etc…
Where did you go on your honeymoon?
We did a familymoon to Dubai due to being restricted on opportunities from being 6 months pregnant with twins and time of year. We wanted guaranteed sun but wanted to avoid the zika virus and somewhere not too far. We also took our 8 year old! The original plan was the 2 of us to Kenya and Zanzibar. Maybe for a future anniversary.
Personal touches
We planted a tree which is now ours with a plaque stating our names and wedding date. The entry ceremony song was the same as the exit ceremony song but by different artists. Song was Some Kind of Wonderful. Entry by Carole King and exit by Marvin Gaye. My sister-in-law did some of the flower arranging – the bouquets and ceremony seats. Our friend made our cake. Our older children were bridesmaid and Paige boy. We wanted it to be relaxed so said ties were not needed. It was also
Mike's parent's 50th wedding anniversary. We made sparklers with their own match strike and cover stating wedding date. Our 'book' to comment in was a wooden board to write on with our names and wedding date.
Special moments 
The setting for the ceremony was beautiful. We were standing on a podium over a large pond. Everything of the day was perfect. There was no stress. We wanted everyone to feel relaxed and to have a happy day, which turned out perfectly. My future husband made reference to our twin pregnancy through his speech which was quite emotional as we had over 4 years with IVF of trying. We were not
allowing anything to put us off our plans and we did joke the time it'd work for us would be when we're due to get married. And it did!
Advice for other couples?
Try not to put on too much to create crazy amounts of work. Write all down and give yourself a year to plan it. The planning is also the fun part but don't get too carried away. Stick to your original plan, or you then have ideas of what else it could've been and then possible panics. Spend good time with the wedding planner, flower arrangers etc. See if they get 'you'. See if they can understand your requirements by them possibly taking the lead and the stress away from you.
My main flower arranger was brilliant. I clicked with her from the off and after 30 mins or so with her, she said I know what you want and like and started to show me her thoughts and ideas and I loved them, so I then sat back and left her to it!
Biggest surprise 
I can't recall anything being a surprise. We just had the most perfect day. Well, maybe the weather was the one thing we couldn't manage, and we had a glorious sunny day, which was great for 21st April! The original day in August turned out to not be so good so we did feel lucky!
Supplier Shout Outs
For more information on Dan Morris go to
www.danmorrisphotography.co.uk / www.danmorrisphotography.co.uk/blog / FACEBOOK / INSTAGRAM / PINTEREST / TWITTER

[jprel]