I get sent a lot of wedding related 'stuff' in this job. Some I have seen a million times before, whilst others are more unique. Today I would like to introduce you to Dapper & Bride a truly unique idea that I absolutely love! Dapper and Bride is a personalised wedding magazine created just for you. It tells the story of you as a couple, while acting as a wonderful keep sake of your day. You can add in the order of the day, the table plan, the wedding breakfast menu, a bit more about the wedding party. Anything goes, it's your magazine! Think of all the bits of paper normally thrown in the bin! Now everything can be put into one stylish place and you can guarantee your guests will take them home at the end of the day. The perfect wedding favour that is not only super useful but looks super cool. I really do LOVE this idea, Kysha Marie who set up and runs Dapper and Bride has been kind enough to answer some questions for us to find out more about the idea and how it can work for your wedding.
Dapper & Bride's personalised wedding and stationery magazine is a stand out wedding favour dedicated to the wedding couple on their big day. Inside, you can feature all of your on the day prints such as your order of service, wedding day events, wedding menu, seating plan and much more and it makes the perfect keepsake for both the couple and guests.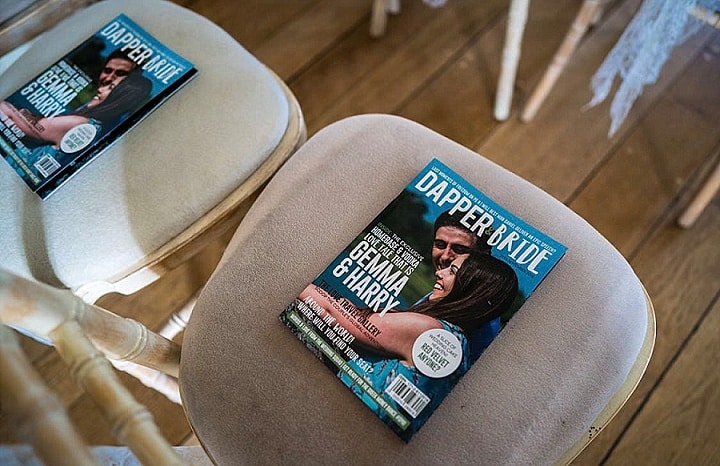 What made you start your business?
As a wedding stationery designer, I spent a lot of time consulting with clients on bespoke wedding design packages and ideas. A general concern that kept popping up was spending money on bits of paper that would most likely end up in the bin after the celebrations. It was something that frequently came up in many of my clients and I's early conversations and I always kept it in the back of my mind to try and come up with something to combat what was becoming frequent topic.
Randomly, I came across a replica of gossip mag at an event and a light bulb went off! I instantly came up with the idea of a personalised wedding magazine. Literally, by the time I'd got home I had mapped out the entire business on a scrap bit of paper found in my bag.
I have a BA in Magazines and I've collected them (magazines) since I was a teen, so the whole weddings-meets-magazines was such an easy and organic connection for me.
My idea was to rather than have all of the different separate bits of paper for the orders of service, menus etc and a big board for a seating plan (that would potentially end up behind the sofa), I wanted to create a print where everything could be kept together in one place, something small, neat and handy that could fit in handbags and blazer pockets… A print that would be adored so much by guests that they'd be taken home as the perfect keepsake and memento of the day… And Dapper & Bride was born!
When did you start?
I've been designing wedding stationery since 2014 and Dapper & Bride was launched in October 2017.
Where are you based?
Dapper & Bride is an online service based in London, but ships all over the UK and Europe.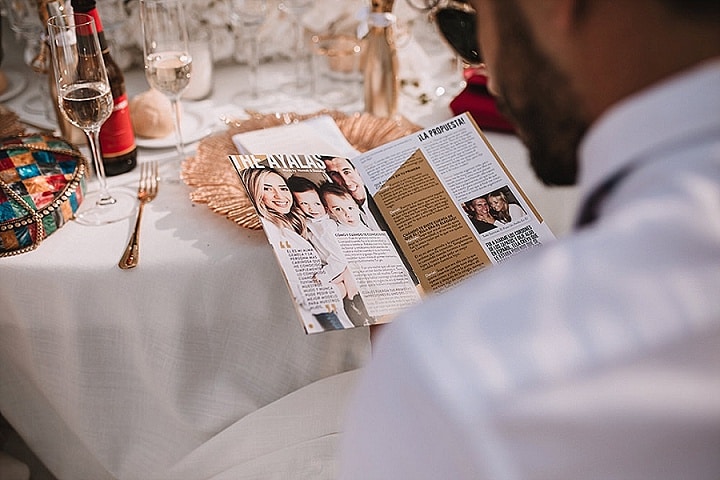 What were you doing before?
Prior to designing for weddings, I designed editorial and creative prints. Still do!
How would you describe your style?
Modern, quirky, vibrant and bold.
What is your biggest achievement so far?
Being awarded the Highly Commended SE title at the 2020 Wedding Industry Awards. I'd never entered a competition before and I never ever thought of entering one for weddings. I just said to myself: give it go! What's the worst that could happen?
The support and feedback from clients were absolutely amazing and just getting that far made me feel like my brand and business was heading in the right direction.
Hollie and Joshua Wright (TOWIE) featured Dapper & Bride magazines at their 2018 wedding in Spain. It really kicked off my business. I've also created magazines for Hannah and Daniel Ayala (Middlesbrough FC) for their 2019 Spain wedding. Hannah runs her own successful business and is the 'queen of personalization', so it was great to have my work featured at a wedding of someone in that arena.
What makes you different to your competitors?
As an editorial and print designer first, I've always had a passion for magazines. I have hundreds of copies have passed through my hands throughout my years and my degree title is literally 'Magazines'!  That should say it all lol!
Dapper & Bride brings both highly professional editorial design together with great understanding and experience of the wedding industry and customer service. Combined, makes a really solid and stand out product.
I'm able to slot myself into a rather unique space because I understand the wedding experience; what really makes the best parts of the day to my clients and how to enhance the guests' experience. I took this knowledge and applied it in developing the magazine; even now, I note the questions asked, the feedback, the general enquires and continue to build on that.
The style and quality are also really important to me and I take pride in creating each and every issue for my clients. On first glance at a Dapper & Bride personalised wedding magazine, one of the first things couples usually say is 'this is like an actual, real magazine!' and I always reply – 'because it is!'
What do you enjoy most about your job?
I get to do what I love. I own a magazine business. It was my dream job as a kid, only now I get to create magazines in a way I never even imagined. What I do, is a part of the most important day in people's lives and to be a part of that is priceless.
Opening an email from a couple who've just received their magazines in the post is always wonderful. They're so grateful and pleased. My products fuel wedding excitement. It's a lovely feeling.
What sort of couple do you think you attract?
Couples who are really into the details.
They usually focus is on the thought of how their guests would react to seeing their mag for the first time or how they can use a Dapper & Bride mag to freeze their wedding as moment in time.
My clients have all had different types of weddings with different destinations, themes and numbers of guests. One thing they all share is that they want to do something really different!
What would be your ideal wedding to work on?
My job is to take some text and some photos, sprinkle the couple's personality on top and create magic in the form of a wedding print. Couples who come to the plate with lots of ideas and character are always great!
Most of the time I get that from our first few conversations, but most definitely when I've read their content and seen the photos to go inside their magazine. They're always a fantastic read.
When a couple first sends me their content one of the first things I do, is (at random) click open a photo. Much of the time, I've never met my couples in person and I've no idea what they look like, so it's a really fun moment of discovery for me.
I did a wedding last year and in the very first random photo I clicked on; I was mooned by 4 pairs of bum cheeks on a beach! I laughed hysterically and emailed the bride to share what had just happened and, in that moment, I knew instantly the type of couple I was creating for and knew exactly the direction I go in with editing their content. It was just great!
Can you give me some information on your pricing structure?
There are three packages and prices start from £650 for 50 copies.
What is your ideal way to spend a day off?
Down time and self-care are becoming more and more important to me these days, so on a day off, no electronics or social media… I love to bake (specifically Rock Cakes lol) and I really enjoy making my own shea butter creams and body scrubs too! I try and catch up with friends and have actual conversations. It's hard to keep up!
What can you never leave the house without?
My phone, NYX Praline Butter Lip Gloss and my Sean Rolle Oil fragrance
Who would be your 5 dream dinner guests dead or alive?
Just five? Hmmm. My nan, Chadwick Boseman, RuPaul, Dave Chapelle and Jeff Goldblum. (Apart from my nan), not necessary my dream guests, but I think these guys would make one heck of a dinner party.
I've just discovered the world of Dunder Miflin, so alternatively, zap me anywhere in Season 2 of The Office US and I'll happily people watch with a slice of pizza from Alfredo's Pizza Café in the conference room.
What would you do if you won the lottery?
Travel. Explore the world. It's my all-time favourite thing to do. I love boats and being on water… I'd buy a luxury yacht! Also, hire my own private pastry chef because all I'd eat is cake, pies and strudels and a personal trainer, because all I'd eat is cake, pies and strudels.
Dapper & Bride's new packages are much more flexible, giving you the option to fully choose the type of content you want inside your magazine.
You can also choose to have additional items such as place cards and table names and get all of the wedding day stationery needs in one place.
Thank You editions are also available as a thank you card/photo album combo and comes with gift options for guests and if you want something completely and fully customized and tailored, there's an option for that too.
For more information on  Dapper & Bride go to
 www.dapperandbride.com / [email protected] / 07960220256 / FACEBOOK / INSTAGRAM / PINTEREST 
this is a sponsored post
[jprel]