More and more couples have decided to hold their weddings in the autumn months due to the Covid restrictions and so many cancellations in the summer. Autumn may not have been your first choice but believe me there is a huge selection of ideas available to you in this gorgeous golden month. Think rich colours of yellow, brown, orange and green, beautiful flowers, rustic detailing, lots of warm fabrics, fruit, nuts, the options are limitless! So while you are making sure your wedding is Covid friendly and following all the necessary guidelines, you can get excited about the endless autumnal possibilities available to you.
8 Tips To Help You Have A Magical Autumn Wedding During COVID-19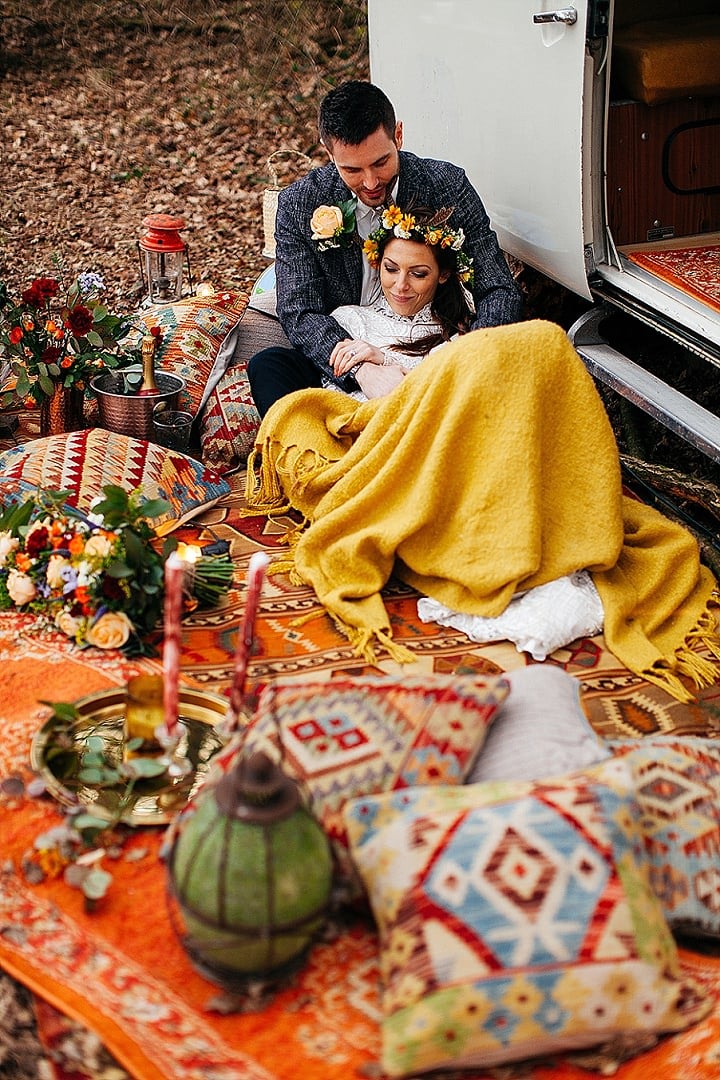 It's a good idea during COVID-19 times to look at an Online wedding planner to make the event much smoother running. For now though, here are 8 exciting suggestions!
1. A photo session among dry leaves
How about choosing an autumn background ? The photos will be beautiful in a field or field full of dry leaves in shades of brown and yellow . The contrast with the white of the wedding dress will create a truly magical image! And in case the rain makes an appearance, you can also take advantage of the umbrella and include it as one more complement to the photographic report. The snapshots will be as fun and casual. Another option is to take advantage of the magical hour of sunset so that the yellowish, reddish and ocher tones of the landscape stand out. You will get an incredible light and it's beyond rustic!
2. Chic touches for the bridal look
These months of the year present a wide range of resources to customise your wedding outfit. Long sleeves with an illusion effect and French sleeves with light fabrics and lace or feather details will be the great allies to face the temperatures typical of autumn. It will also be a great opportunity to show off a pair of funky boots, or trainers, making sure those toes stay warm. An original and elegant bridal bouquet, made with peonies, pineapples, dahlias, berries, wheat and green foliage would also be a great addition.
3. A natural setting full of charm
If you want yours to be an open-air civil ceremony, choose a forest or garden full of trees with reddish, ocher, green and brown leaves. There will be no better possible backdrop for your "I do"! You can take advantage of a majestic tree to act as an altar or build your own with a spectacular floral arch with white and orange fabrics, and floral arrangements of yellow, orange, browns and deep reds. The path to the altar can be covered with beds of leaves, petals or carpets, or edged with tree trunks, with flowers typical of the season will add a festive touch to the celebration.
4. Leaf Shaped decoration
Using the theme of leaves will give a truly unique edge to your wedding decoration.  There are many variants: carved wooden leaves with engraved names, dried natural leaves written with white ink, leaves painted in gold and with the names in marker. In any case, they will be pieces to dress the tables that will make a difference and add an autumnal feel to your day.
5. Tables with seasonal flowers and fruits
If you want your tables to have a strong autumn feel, then dress then with wild flowers, candles and seasonal fruits, such as grapes, figs, pomegranates etc. The wedding planner that you have hired or your trusted florist will be able to advise you on what is the best combination for a successful look. What is clear is that the brown, orange and green tones will be best to achieve an aesthetic consistent with that of these months. More options? How about placing some wooden logs with apples or an empty pumpkin filled with bouquets of dried leaves as centerpieces? They will be very creative and beautiful!
6. A delicious seasonal menu
Gastronomically speaking, autumn is associated with mushrooms, nuts, cauliflower, sweet potatoes, pumpkins, tangerines and figs, among many other options. Thus, at your banquet you cannot miss a tasty tasting menu with more consistent hot dishes made with any of these foods. You can opt, for example, for scallops on pumpkin cream; for a salad of pomegranate, quince and goat cheese; for suckling pig with pumpkin and yucca; for squid with tamarind and sweet potato, or for tartlets with fig jam. Delicious proposals with a vibrant color presentation!
If the wedding is informal or buffet-style – as long as the measures established to deal with COVID-19 allow it – the idea is to have several corners with cheese boards; baskets with breads of all kinds and seeds; Assorted nuts and seasonal mushrooms. Also, if the event is of rural essence, an outdoor barbecue will be a magnificent option that will win the hearts of all those present.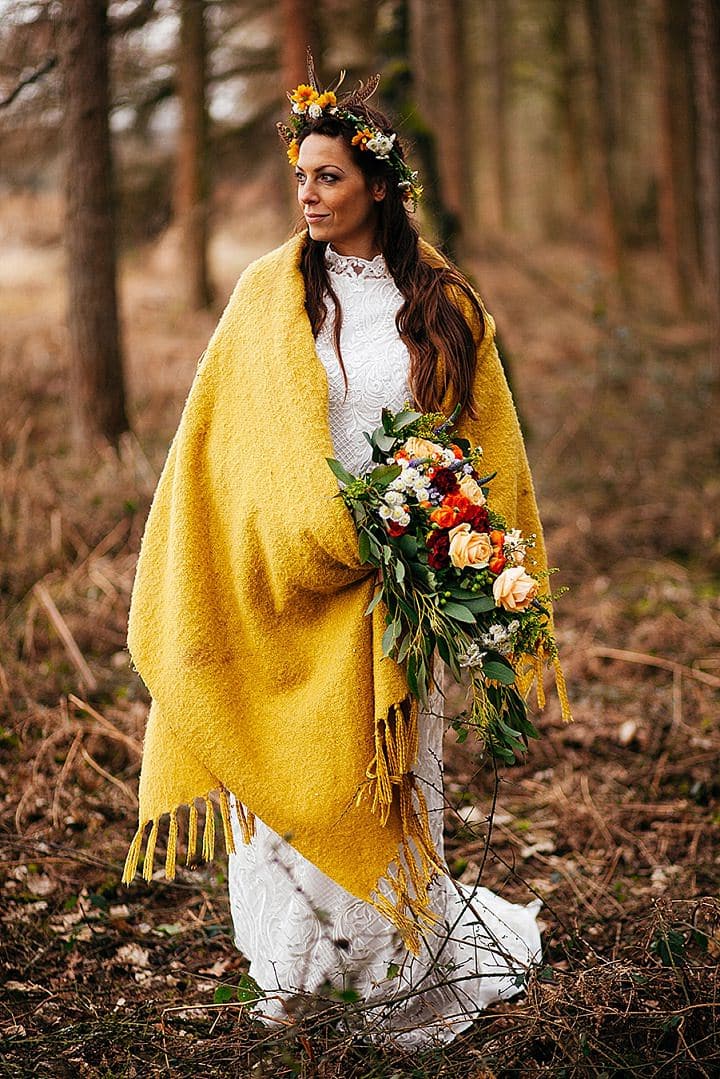 7. Wedding cakes with seasonal fruits
When it comes to the cakes why not play around with your design to suit a fall setting? You can help yourself with flowers sculpted in sugar, natural petals or seasonal fruits, as well as using gold ribbons and green plant motifs. A naked cake with golden touches or with figs and wild fruits, an iced white cake or a lemon meringue and caramel cake will add some autumn goodness to your day. Show your chosen cake on an aged piece of furniture or a wooden log and enjoy its flavor!
8. A Halloween-inspired themed wedding
Another curious and interesting idea is to celebrate a Halloween-inspired themed wedding. A format only suitable for the most original couples who like this traditional holiday. Skulls, ghosts, spider webs, pumpkins, candles. Anything goes. For the party to be a complete success, photocall ideas should include vampire masks, capes, and teeth. Get inspired by the colors of autumn and let your imagination fly.
Making the day Covid Friendly 
Avoid the crowds for a COVID-19 secure wedding!
It is safe to say that large numbers at weddings are a thing of the past, for now anyway. So be careful to keep an eye on the ever changing restrictions when it comes to the amount of people at your wedding. For the UK it is currently 15, down from 30 as it was a few weeks ago. For other countries it will be different. It may also be different if you are holding a destination wedding, but again you must keep a close eye on the travel restrictions.
In terms of wedding favours, it may be an idea that you let your guests know you will be supplying things like face masks and hydro-alcoholic gel containers. One less thing for them to think about and you can put together a cute little care parcel for each of them.
Communicate the setting in advance
The key to planning a Covid friendly wedding is the preparation and letting your guests know plans before they get there. An autumn wedding can often mean a change in weather, so let them know to bring warm coats or suitable foot wear if part of the day is to be held outside. Also make sure there are blankets and umbrellas at hand in case the weather takes a turn for the worst.
Let them know where they are sitting in advance, this means less people crowded around a table plan. These can be given out on your wedding website, or even in a whats app group. Communication and pre planning are key.
There may be a few things you need to make compromises on, a few ideas you may need to adapt to fit the new rules, but never fear the magic of the wedding will be the same. Your favourite romantic wedding songs can still play in the background, even if you can't have a DJ, You will hold a BIG party, it will just have to be next year. Make the most of the small, intimate wedding ceremony and enjoy getting married. 
If you are planning a Covid wedding then I would love to hear from you. How have you adapted your wedding plans, what is the best thing about planning a downscaled day?