Today I would like to introduce you to a wonderful company called Positive Prints. I was made aware of them a few weeks ago and I have to say I am now a big fan. Positive prints create custom moon phase, star maps, maps of cities, counties and countries and birth sketches. All of these can be personalised, making them the perfect gift for a wedding, anniversary, birth, birthday even a guest book at your wedding, table plan, or used for table names. The options here are endless and having used the site I can say first hand it is easy to use and takes no time at all.
Are you looking for a wedding gift that is unique and simply breath-taking? Check Positive Prints – a brand that stirs emotions with their fully customizable moon phase and star map posters. Positive Prints is an online super easy-to-use platform where you can create personalized gifts for weddings and anniversaries. Your fate was written in the stars – choose between the beauty of the moonscape or the night sky of your wedding night. Select time, date and location and check how the sky looked at this significant moment.
Positive Prints was created out of love. Marta and Ralph wanted to commemorate their first date – a romantic walk under the stars. They couldn't find anything special so… they just created it by themselves. That's how Strellas was born. From ever since they have pushed themselves to create high-quality prints mixed with a user-friendly experience. Now they joined forces of Strellas and Positive Prints to create a wonderful selection and a huge choice of personalized gifts for many occasions.
Unforgettable night memorized with a Star Map Poster
A Personalized Star Map is a perfect idea for the original guest book for your wedding day. You can easily create it before the wedding. Data provided by The European Space Agency helps to create highly-accurate measurements. Star maps based on those measurements display the sky from any night – even from the future. Choose the date, time and location and add your names as a personal message. With the several size options, you can adjust the size of the poster to the number of wedding guests. Stick it to the board and let your guests leave warm messages and wishes. This idea is totally out of this space!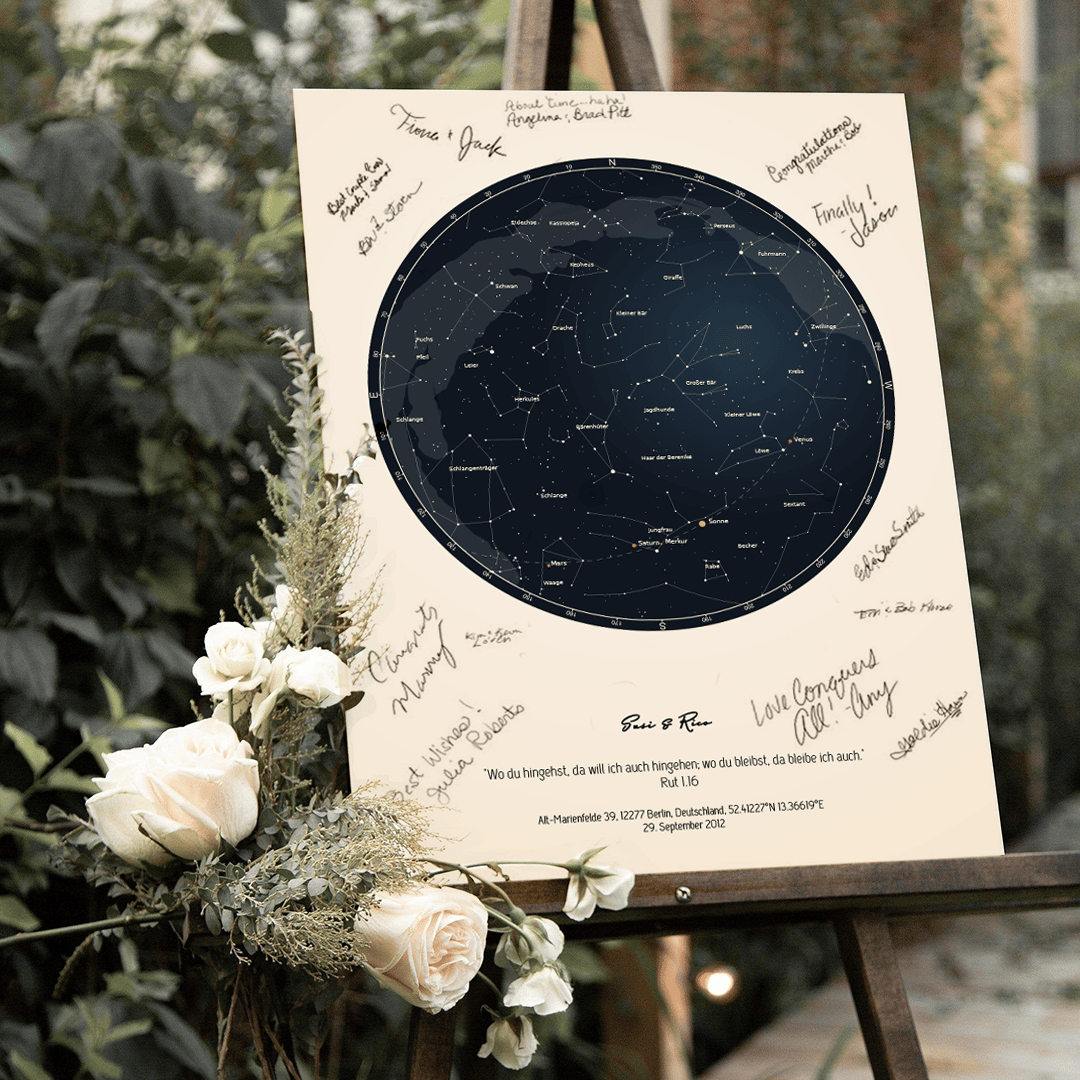 Moon Phase Poster – a perfect wedding gift
The moon is one of the prettiest celestial bodies. Cherish one of the most beautiful nights of a significant couple by creating an amazing Moon Phase Poster of their wedding night. It's a perfect gift with personal touch. Select date and location, then choose the background color. You can also add a personal message or emotional love quote. They won't forget how beautiful and meaningful the moon was that night! The moon print is available in landscape and portrait orientation, in the most popular framing sizes.
When did you start and where are you based
We started in 2017 and we are based in Based in Poland, Warsaw. We ship worldwide (for free).
What were you doing before?
Marta was working in a corporation as an innovation and service designer, Ralph was a personal trainer.
How would you describe your style?
Unique and high-quality prints, designed by ourselves but created by our customers.
What is your biggest achievement so far?
Developing a business from the very beginning and obviously our 2 beautiful daughters: Laura & Alice
What makes you different to your competitors?
Digital version of files for instant download – it's really helpful for the last-minute gifts
Free worldwide delivery
Our products are fully customizable
High-quality design – we spend many many hours perfecting our designs
High-speed delivery
What do you enjoy most about your job?
We love hearing back from our customers. It's an honor to know that we helped them commemorate their special moments. We also had customers that had proposed with our star prints. This one made me tear up a bit. So beautiful!
Not sure what to expect from the site, I played around with it for a bit and I have to say I was very impressed with how easy it was to use. I started with a star map as an anniversary present, celebrating our wedding in Ibiza. Lots of different options to choose from, you can add in the date, a personalised message, choose from different colours and different sizes. You then get the choice of having it printed or use it as a digital download.
I then looked at the city map, first looking at the UK as a whole but then decided on a map of Sheffield. You can add in another location, so chose my little village of Stannington and added a house symbol to show where we are based. This is a super cute idea. Again you can play around with shapes, colours, size and print or digital download options.
The last thing I looked at was the baby sketch. This would make a lovely birth present. You can choose from lots of different baby sketches, colours to match the nursery, and add a date and personalised message. Such a lovely idea and I haven't seen anything like this before.
All in all I LOVE this site. The prices are really reasonable, you can choose from small prints right through to much larger ones, so they would fit any price point or budget, and of course the digital download means there is always an option for a last minute gift. So why not try out Positive Prints, I'm sure you will love them.
For more information on Positive prints go to
www.positiveprints.com / www.positiveprints.com/our-blog / FACEBOOK / INSTAGRAM
This is a sponsored post
[jprel]