Happy Friday you lovely people, I hope you are doing well? Have you had a good week? I don't know about you but I am really looking forward to the weekend. In these uncertain times the present climate has taught me one thing, to live in the moment. I LOVE to plan. Normally by now I would have Halloween sorted and Christmas booked but it seems impossible to do at the moment so instead I am learning to live in the present and enjoy the moment more. So we have decided to make the most of every weekend and try and do as much as we can. Tomorrow Dexter is out for his friends birthday, so Nik and I are having the day to ourselves. A day date! I can't wait! Sunday we are all going out for the day as a family, enjoying the fresh air and time together. What about you? Are you finding yourself planning less and trying to live in the moment more? On to today's wedding and it's a real beauty! Shelby and Ryan wanted a 'vintage desert' theme with warm tones, lots of textures and a Bohemian vibe throughout. This wedding is giving me hints of autumn with the rich colours, and has been captured perfectly by Trin Jensen Photography.
A vintage desert bohemian party transplanted to a Midwestern city.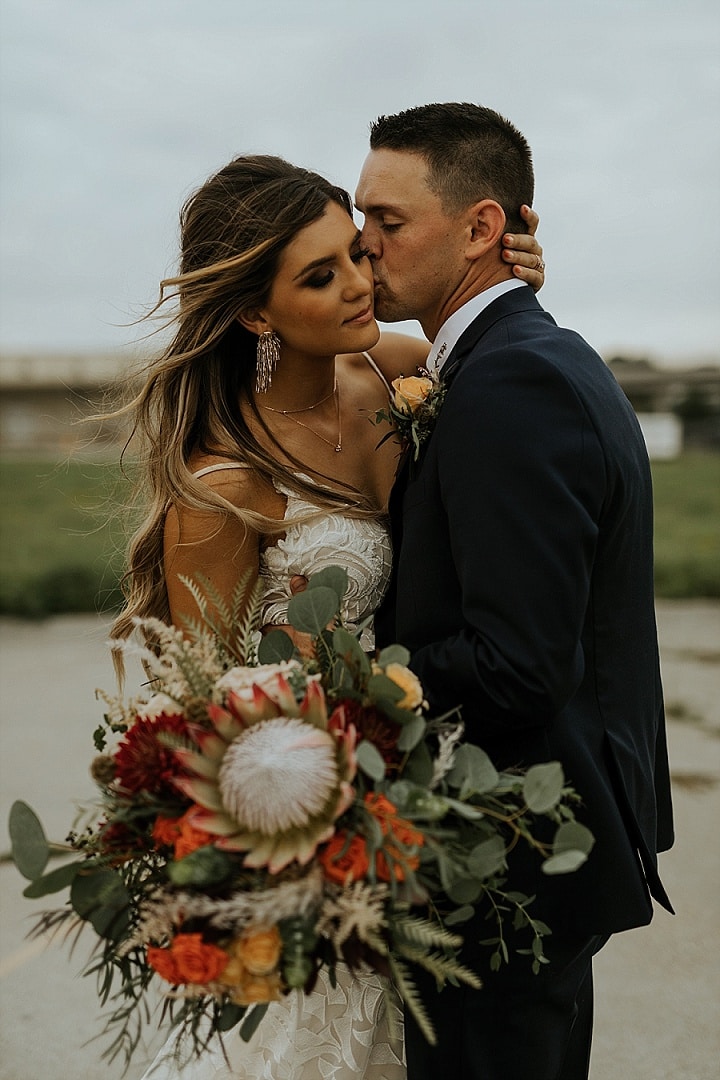 Shelby and Ryan were married on 24th August 2019 at Ceremony: St. Timothy's Lutheran Church, Omaha in Nebraska, with the reception at Livestock Exchange Building. 'We loved the vintage style building with the high ceilings, wood floors, ornate trim etc. The room was large enough for our guests and able to accentuate our décor/style. We had 425 guests, we were engaged for about a year and a half but I think in total the wedding planning took about a year.'
How they met 
We actually knew of each other in high school. We went to different schools but he had dated one of my good friends and knew my sister well. Ryan was really smooth and decided to facebook message a few years after college. The infamous message that I later learned took him several hours to compose and went something along the lines of "hey, I see you live in Omaha now." I decided to let him sweat it out til the next day and then we started talking, dating and have now been together for just over 5 years.
The proposal
We had been living in an apartment together while we looked for a house of our own. We finally found a lovely Victorian house with the most lovely wood floors and trim that we couldn't wait to go all "fixer-upper" on. On the closing day, we went to the house with our realtor to do a final inspection and then went to sign the closing paperwork. After the closing, we went to our favorite restaurant for a few margaritas and tacos. With high anticipation we went back to the house to tear up the carpets and unearth the original wood floors upstairs. Ryan went upstairs first and when I got up there he was waiting in what would be our master bedroom, with a trail of roses and candles and was down on one
knee. Neither of us is quite sure how the speech went but he asked, I said yes, and the rest is history. After that, we spent the next hour tearing up carpet before meeting up with some friends to celebrate. It was perfect.
How did you allocate your budget?
The majority of the décor was bought in order to be repurposed as décor in our home. Many of the vintage rugs and wicker touches were already things we had laying around the house. Things that were important to us were quality photos and videos (yay Trin!). I also think we wanted to make sure our guests had a good time. We like to think of ourselves as the life of the party when we are wedding guests so we wanted to make sure our guests could enjoy themselves. That being said, a large portion of our budget was spent on food and drink.
Where did you splurge and where did you save?
We definitely saved on the décor. We used a lot of house plants, rugs, candles and other household items that we already had or were used as décor after the wedding. I think our biggest splurge was on food and drink. We wanted our guests to have as much fun as we did!
How did you choose your photographer?
When it came to our photographer, it was a no-brainer for us. I had been a big fan of Trin's style and knew she was super talented. It definitely helped that she lives in my (Shelby's) home town, and a block from my parents house! We are obsessed with our wedding photos and find a new favourite all the time.
The dress 
I also found my dress at a dress shop in my small home town. The dress is by Allure bridal and was a huge cost-savings. Shoes: Sam Edleman. Earrings: Stella & Dot.
The suit and bridesmaids
Suits: We decided to have the guys all buy their suits rather than rent them. We went for a classic blue suit that every guy needs in their wardrobe and actually ended up being a cost savings. The suits were from Jerry Ryan. Bridesmaids Dresses: All of the dresses were unique which I absolutely loved. As a
group we tried to incorporate different colors and textures that had a cohesive vibe. It was definitely a team effort but I think they looked stunning. Several of the dresses are from Jenny Yoo, Show me your MuMu, Fame and Partners.
Theme or colour scheme
The theme was a vintage desert boho. I wanted to keep the color scheme warm with neutrals and adding different textured elements.
Flowers
We used a lot of house plants to decorate: Aloe, cactus, Snake plants etc. We also used some dried grasses like pampas grass. For our bouquets we had a lot of warm tones in the arrangement. Each bridesmaid had a protea flower surrounded by greenery, dried elements and other warm flowers. They
were gorgeous.
Decoration 
Much of the décor was more or less things that could be found around the house. We had wicker chairs and benches, vintage rugs, house plants and dried grasses, candles. We also had several macramé elements and dream catchers. Each table arrangement was unique. We loved how this made every table interesting and didn't seem too matchymatchy. One thing I utilized was wedding rentals for large area rugs, vases, macramé back drops, wicker peacock chairs etc.
Food 
Each guest was given the choice of two salads, two entrees, two potatoes, and two vegetables prior to the day. We served bacon wrapped pork tenderloin, baked chicken, mashed or baked potato and either a berry salad or a thunderbird salad.
Wedding cake
We really cut corners here and got our sheet cakes from Costco. We just kept it simple and did chocolate and vanilla. Don't knock it until you try it! The chocolate Costco cake is so moist and is really to die for. We did end up getting a small three-tiered cake to cut and for decoration. This cake was a carrot cake from a local place in Omaha called Cupcake Island. The cake design was a simple "naked cake" that was decorated by our florist. We wanted something interesting for the cake table so we put the cake on a rattan footrest and draped a small vintage rug down the table.
Entertainment
We had the best DJ. He was a family friend who is also from our home town. We loved this idea because Austin has a fun personality and really let us customize the song list. The dance floor was packed all night, which was one of our hopes.
Who supplied the stationery?
We got our save-the-dates and wedding invites from Etsy. We were able to get a digital download and print them ourselves, which was a huge cost saver. The Etsy shop is called Black Lab Studios.
Where did you go on your honeymoon?
We ended up waiting a few months after the wedding and went to the Bahamas in December. Nebraska has some really cold winters so this was a perfect get-a-way when the cold weather hit. We ended up splitting our trip between two different resorts on different islands, which we definitely recommend!
Personal touches
We had the amazing help of our wedding planner, Margie Merchant, but she allowed us to keep the day authentic to ourselves. One thing that I (Shelby) loved about Trin is that she goes way above and beyond the role of a photographer. I was able to bounce ideas off of her and she provided me a wealth of knowledge from her experience in the industry.
Special moments
In Ryan's words, "the whole day was special." There were a few moments that we will never forget. One hilarious moment was our nephew and ring-bearer sitting up on the alter during the ceremony and taking off his shoes. This is exactly was we both needed to lighten to mood and put a smile on our face.
Advice for other couples
People always tell you how fast your day goes by, and looking back it was a blur. I think that is why it was so important to us to have great photos and video to be able to remember it all. I think if we had to do it over again, we would have cut down on the price of our food because I really don't think that is as memorable as the environment and experience itself. Most of all, be authentic to you and your style. Ryan and I took somewhat of a risk with the style of our wedding in the Midwest but I think it is  fabulous.
Biggest surprise
I think it is hard to be surprised on a day that you planned for a year. The only part that I didn't have much of hand in were the speeches at the reception. Our maid of honor and best man had some of the best speeches I think I have ever heard at a wedding that made us laugh, cry and never forget. We were so lucky.
Supplier Shout Outs
For more information on Trin Jenson Photography go to
www.trinjensen.com / https://www.trinjensen.com/blog-1 / [email protected] / 308-383-5348 / FACEBOOK / INSTAGRAM / PINTEREST
Trin Jensen Photography is a worldwide traveling photographer based in Nebraska who specializes in photographing couples in an honest and relational way.  The basis of every image is where creativity + heart collide, with an emphasis in bohemian earthy vibes.