After a week full of glorious weddings here on the blog, today I am taking you off to beautiful Italy for another fabulous offering. Today it's the turn of Nickolas and Nadine, who opted for a laid back 'Party on the Lawn'.They enlisted the help of wedding planner Silvia from Chapeau Eventi  who was kind enough to submit this glorious wedding to me. The day was filled with bright and bold flowers, the most gorgeous location and a laid back boho style outdoor ceremony with stunning decor and a sofa for the couple to sit on during the ceremony. And Nadines' flower crown? Oh my, how gorgeous! What a wonderful day, I'm sure you will agree!
"Una festa sui prati" the song of Adriano Celentano was our motto of the wedding. It means "a party on the lawn" a garden party, a beautiful, Italian garden party.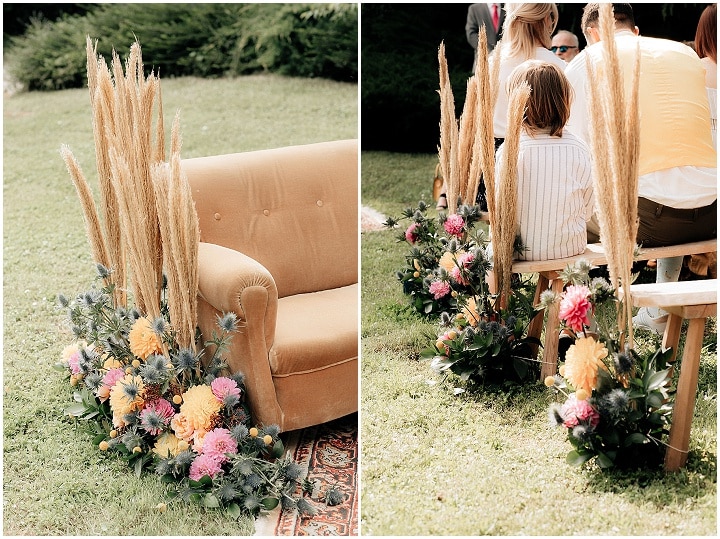 Nickolas and Nadine were married on 25th May 2019 at Villa Tissano, Santa Maria la Longa, Udine in Italy. 'We absolutely love Italy and Friuli is the closer Region to Austria. We love Italian music, food and wine! We had 95 guests and 14 children and it took a year to plan.' 
How did you allocate your budget?
Silvia (Chapeau) help us to allocate the budget and keep it under control, focusing on the most important aspects of our wedding. Atmosphere, food and wine and music!
Where did you splurge and where did you save?
Food/wine and music are the most important things for us. We save money for accessories for us (not fancy shoes or similar).
How did you choose your photographer?
Silvia convinced us to ask to Alice Tramontina to capture our day. We did not want the professional photographer. For luck we listened her! When we met Alice we just understand each other perfectly!
The dress 
It's a handmade, bespoke dress from the Austrian couture & bridal designer Marlene Scheiber, from Das Kleid. Shoes from Alexandre Birman. The rings are handmade by the beautiful jewelry designer Gunda Cancola
The suit
The Suit was handmade by a small men, heritage shop Hafton Clothing
Theme or colour scheme
Silvia helped us in this: she design a proper creative project inspired by a typical Italian Party with a vivid color palette with red, pink, blue and fuchsia.
Flowers
All seasonal flowers in color palette and some pampas grass for the ceremony aisle. Fuxsia and yellow Dahlias, Peach English roses, Red carnations and thistles. For the aisle and near the sofa we add pampas grass with a perfect combinations of bohemian style ceremony.
Decoration 
I was looking for a ceremony in a perfect bohemian style, with carpets, pampas grass and flowers. But also that speaks about us and fell like home. The idea of Silvia to put a couch in the middle of the ceremony focus was absolutely great, we loved it!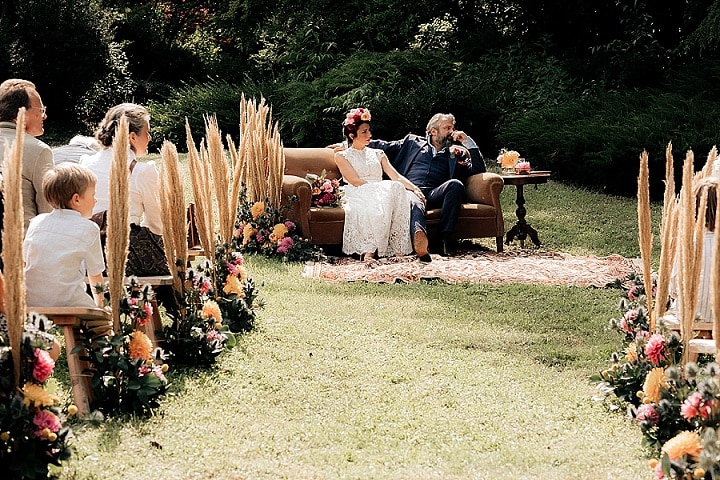 Food 
Typical Italian food, with a big buffet in the garden and a dinner under the kiwi tree between the villa and the garden. We need to rent a transparent tent because the rest of the month was very cold and rainy but that day we have a very sunny and nice weather, even at late night.
Wedding cake
NO wedding cake. We ask to not have the classic wedding cake cut. We really do not care about sweets, but we have an Ape Car serving Italian ice cream.
Entertainment
The Sellout Band
Who supplied the stationery?
Mirabilinto
Where did you go on your honeymoon?
We spent a couple of days in Croatia with the whole family afterwards in Rovinj
Personal touches
We had a really great wedding playlist for the whole day. This felt really personal. My husband had so
much fun, putting it together. The ceremony was pretty much our own idea, from the structure to what we wanted to say and what ritual we wanted to do. We planted a little together with our children. The ceremony was really really special and one of my personal highlights as it felt really personal and was our own idea.
Special moments
Again, the ceremony was really special to us. We were honest, open, it was really intimate and all guests were really toughed by it.
Advice for other couples?
Plan the wedding just as you want it, don't try to follow any habits or rules that you don't like. We did not have a traditional wedding cake, we did not do a traditional 1st dance. We wanted it to be really relaxed, easy going, without any big Musts. And it was wonderful. The best party I have ever been to
Biggest surprise 
That the weather remained good because it was forecasted to rain a bit and be cold but suddenly the sun came out and it was really warm and we could do everything outside which was our intention! And the other surprise was when I entered the villa … I was just so fascinated by Silvia's work. Everything
was soooo beautifully decorated, with so much attention to detail. It was perfect. We were really, really
happy!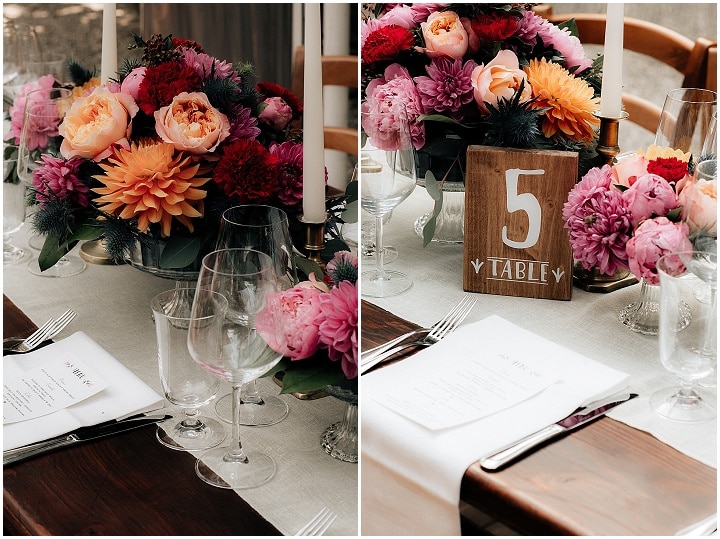 Supplier Shout Outs