Today I have the most gorgeous festival style wedding to share with you from Somerset last summer. Bregeta and Tom knew they wanted a venue that let them have their wedding the way they wanted: a blank canvas where they could bring in their own suppliers and utilise their hugely talented friends and family. This they found in The Old Summer Dairy which meant they could create the wedding they had always dreamed of. The thing I find most striking about this wedding is the amazing flowers, all done by a family friend. The huge arrangements are so beautiful. The bouquet and flower crown look totally stunning. The decor in the tipi, the ceremony area, the Grace Loves Lace gown and of course the whole laid back festival vibe to the day. What an amazing day from start to finish, big thanks to Ryan Goold Photography for the fabulous photos.
An outdoor Somerset summer knees up with LOADS of love & laughter. Everything we dreamed for and more!
Bregeta and Thomas were married on 17th August 2019 at The Old Summer Dairy, Somerset. 'We wanted a blank canvas where we could bring in lots of personal elements that were important to us and on budget (free bar!) – including an outside ceremony (which wouldn't be our legal marriage but would be carried out by our older siblings), tipi, homemade bar, food trucks, outside games and camping on site. Relaxed, festival vibes. Lots of traditional 'wedding venues' have limitations on how much you can personalise them (in the lead up I often joked about how I did not want to get married somewhere where the options were cream, or blush seat covers). The Old Summer Dairy provided us with a totally blank canvas, with beautiful views and great facilities (including bell tents and a log cabin) that we could throw everything at. We are lucky to be surrounded by LOTS of talented friends and family who we brought in to help with everything. My brother built the bar from pallets, his father in law to-be loaned us the beer pumps. My mum made the flower girl dresses. A family friend did the flowers. Another close friend did my makeup. My bridesmaid wrote out the signs which were also built by my brother. We had 100 guests and it took a year to plan.' 
How they met 
Tom and I met at University in September 2012. We both studied Film & TV Production at The University of Westminster but didn't get together until our graduation film project. We've been together 5 years.
The proposal
Summer of 2018. Mid football world cup and heat wave frenzy. I'd got back from working in Croatia for 8 weeks (really crazy TV shoot with lots of long days and complicated travel). Tom said he was surprising me with a day away kite surfing in Camber Sands – I'd asked him to postpone it as was desperate for a weekend at home. I made his life difficult by phoning up the centre and asking if we could postpone the lesson etc. Not often Tom does the planning of these things so I really should have seen it coming! After a boozy day in the pub watching England get through to the semis – we took a picnic to the beach and Tom asked me to be his wife. Totally shocked and overjoyed my first question was 'have you asked my Dad?!' Tom hadn't as believed my parents wouldn't have been able to keep the secret and he'd tried to call him just before to ask but hadn't go through. So we called and asked them together and they were also over the moon. My gran passed away in October so didn't see us married but I'm so very glad she was able to celebrate our engagement and see this part of our lives.
How did you allocate your budget?
We sat down with my parents and wrote a rough budget (budgets are a big part of my day job in TV) about how much we thought we needed to spend and what were our priorities. We all agreed that number one was having an open bar which straight away dictated on what sort of venues we would look at to allow us to do this without haemorrhaging money for our 100 or so guests. Toms Dad drove to France to pick up all the wine for us and we bought the spirits in the run up to the New Year (£20 for 1 litre bottle offers – hello!) and stored them away for the big day. Lots of DIY meant we could achieve our vision on a relative budget (although we did go somewhat over!). The venue and tipi hire were another big chunk of the budget.
Where did you splurge and where did you save?
Having lots of family help meant we saved in a fair few areas including the BEAUTIFUL flowers that our family friend Lucy did for us at cost price. I can't imagine what these would have cost elsewhere. Lucy is an incredibly talented florist and we are so very lucky and grateful to her for all her help including her super early 3AM start to buy the flowers at the market! Working in TV and having filmed weddings together previously we also knew that we didn't want to cut corners on our photographer and videographer as these would be something we would keep and look at forever. Ryan our photographer is local to my hometown, and I've watched his career grow and seen his amazing photos of beautiful weddings so he was a really easy straightforward choice. Our videographer was a bit trickier to find with us being quite particular on the style we were after; we actually found Wildfire Wedding films through a blog of a wedding hosted at our venue a year before. Our other big splurge was my dress from Grace Loves Lace – I loved the designer from the moment I started looking at wedding dresses and went to the showroom knowing which dress I wanted. I had thought this was going to be an area we would have saved money on, but my Dad insisted that the dress wasn't something we should scrimp on and I'm so glad as felt totally beautiful wearing it.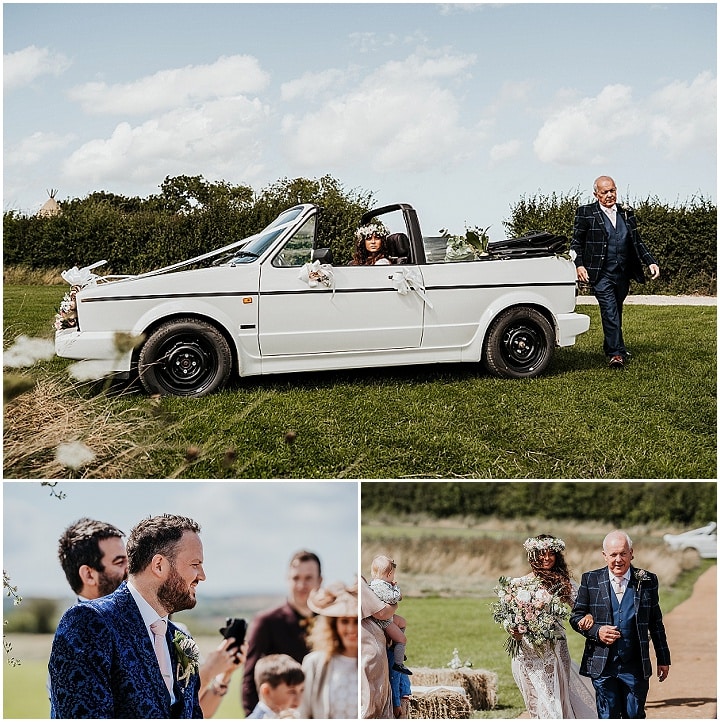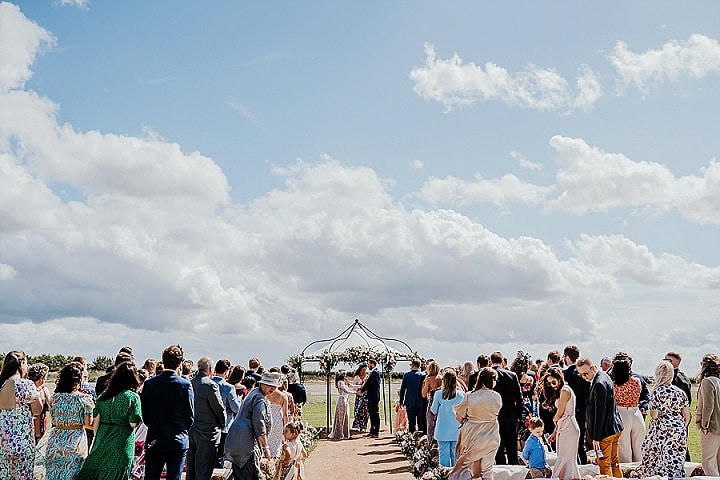 How did you choose your photographer?
We know Ryan locally and having followed his work knew his style was bang on what we were after.
The dress 
Grace Loves Lace – Inca Dress with the Nude Lace. Tried in the London showroom and was bespokely made to measure and shipped from Australia. Accessories included my Grans solid gold bicep bangle which I wore on top the dress and a flower crown. Shoes – my mum bought online – nothing special and I'd joked that I wouldn't wear any as couldn't see the point as you wouldn't see them with the dress!
The suit and bridesmaids
Groomsmen all wore their own navy blue suits and brown shoes (provided them with blush pink ties and socks to tie them together). This was another big saving and a look I was quite keen on rather than having them all in the exact same suite looking like they'd came straight off a factory line. Bridesmaids were also mixed/matched for the same reason – one wearing a Davids Bridal full-length grey and the other a blush pink ASOS number. The flower girls' dresses were made by my mum – again all different but similar from the same run of blush fabric. Tom wore a paisley patterned embossed Navy velvet jacket which we found one day in Bath at an independent menswear shop called Gabucci and instantly fell in love with. Gabucci matched his trousers and waist coat to the jacket and he had it tailored to fit.
Theme or colour scheme
Colours were blush, navy and grey.
Flowers 
Roses, peonies (silk!) and lots of greenery and eucalyptus. My bouquet was huge and wild with the stems left long. It was super heavy to carry but was exactly the look I was after.
Decoration
Flowers, haybales, rustic signage, fairy lights, festoon lights. Place names were wooden carvings for people to keep along with packets of seeds and mini jaeger bottles for people to drink during the speeches.
Food 
Another big cost saver and very much in keeping with the vibe we were after, we had 2 food trucks for the main wedding meal. One serving up wood fired pizzas with lots of delicious toppings and another BBQ van serving Salmon & Steak with salads. Pizza van was Delivita and the BBQ van was Charcoal (who also did our canapes – chorizo and manchego with chilli jam, caprese mini salad skewers with balsamic YUM). Tom and I didn't have chance to each much on the day, but the food certainly went down a treat! To keep everyone going into the evening we had a Hog Roast – true Somerset style!
Wedding cake
Another family friend made us a gorgeous tiered wedding cake.
Entertainment
In the evening we had a local band called 'The Honky Tonks' play. They do lot of great fun covers from all Era's and got everyone up and dancing with props galore (Blue's Brothers hats and glasses and all!)
Who supplied the stationery?
I designed all the wedding invites and table names myself and had these printed locally. This was another big saving utilising a skill of my own and allowed us to have them exactly how we wanted.
Where did you go on your honeymoon?
Two days after the wedding we flew out to Fuerteventura for a short week honeymooning and kitesurfing! We had taken a week off work before the wedding to get everything ready so decided on a small affair honeymoon and to put the bulk of the funds towards the celebration itself! Fuerteventura exceeded our expectations and we ate loads of amazing food.
Special moments 
Waking up to blue skies and sunshine! The weather had been biblical the days in the lead up (the Tipi erection, decoration and all the build on site all happened in the pouring rain) and having a predominantly outside affair we were worried we wouldn't be able to do the ceremony outside as planned. Our only shelter being the big hat Tipi! Standing in front of our friends and family in the sunshine and declaring our vows to one another in a totally personal ceremony that was conducted by Tom and I's older Sister and Brother respectively, was everything we had dreamed of.
Advice for other couples
Take time to plan and work out an order of priorities on where to spend your money. You may have different views on this and need to compromise somewhat but it's important to work out what are your non-negotiables and what you are happy to forgo. Pull in those favours from your talented friends! We started our ceremony at 1pm and if we did it again would bring this earlier to make the day longer. Everyone says it – but it goes so crazy fast.
Biggest surprise 
My best friend from school wearing his Naval Uniform. He'd told me he wasn't going to as wanted to wear his tailored suit but turned up on the day wearing the Uniform (sword included!)
Supplier Shout Outs
For more information on Ryan Goold Photography go to
www.ryangooldphotography.co.uk / www.ryangooldphotography.co.uk/blog /  [email protected] / FACEBOOK / INSTAGRAM
I'm based just outside of Bath, Somerset living with my wife Abigail, 18month old son Leo and our 9 year old pug Frank. I like to capture moments as they happen. I like to get in the mix of it all and I often find myself stuck in the middle of the dance floor. My style is purely documentary apart from the ccasional group shot, and I always try to capture moments as discretely as possible so your guests forget that they're being papped when they're dancing like crazy later in the night.