Happy Monday everyone, how was your weekend? Did you get a chance to enjoy the glorious weather? My weekend started on Friday as I had the day off to spend with Dexter, we met up with friends and had a wonderful day. Saturday we went to magic school, the cinema and a playcentre and yesterday was family day! He's back to school now, so normal service has resumed at Boho HQ! Today we are looking at Boho Festival style weddings. As you know, here at Boho, I just adore a festival style wedding. I feature so many here on the blog as so many of my lovely readers choose to have a loose, unstructured festival style day. Choosing to hold a festival style wedding means that you can really inject a huge dose of personality into your day. You can opt for a more relaxed outdoor ceremony, eat under the stars, spoil your guests with various street food options, have wed-fest themed stationery, amazing boho style decoration and of course a whole host of entertainment options. If you are currently planning your own festival style wedding, this post is just for you. So here are some fantastic ideas on how to turn your festival wedding into a VIP affair!
Throwing The Ultimate Boho-Festival Wedding
Venue 
Before anything else, if you are hosting a boho-festival wedding, you must get the venue sorted. The venue is the foundation on which you will build the rest of the day, so you must get it right. 
With that in mind, it's essential to consider what type of venue is best suited for a festival atmosphere. In particular, outdoor venues such as fields, forests, or woods can work well. Especially if there are rustic style buildings nearby that can provide cover in inclement weather. 
Another option you should give serious consideration to here is choosing to put up yurt or tipi style tents outside. There is a range of benefits with these, including cover from the sun, wind, or rain should the weather not behave.
With a  yurt or tipi, you get all the advantages of using a marquee, but in a much less formal way. You can even choose to fit your yurts with fire pits, benches, and fake furs for seating too. Something that makes them the perfect chill-out areas for later on in the day once the temperature drops. 
Of course, it's up to you whether you choose to set out the table for your wedding breakfast inside the yurt. However, many people do, to significant effect. Alternatively, you can dine alfresco and set up a stage and dance floor inside the tent, giving it an authentic festival style vibe! 
Entertainment 
The other defining factor of a festival style wedding is the entertainment you choose. It's not just about keeping your guest entertained, either—the type of activities and performances you pick help to keep the atmosphere lively and exciting. 
With that in mind, a musical number of two is the best idea. Choose a band that plays in the style you and your partner most love, or get friends and family to perform in an open mic style set up. The latter works particularly well if creative types surround you. 
Of course, it's always a good idea to go through what songs your band will play before the big day. Also, having additional music played through an iPod or computer over the PA system is smart. Then you can make sure the atmosphere will be perfect during your meal, cocktail hour, and at other points when you don't have a live entertainment scheduled. 
Bands are not the only option for entertainment when it comes to a festival wedding, however. Some couples choose to have performers walk around their venue, including jugglers, musicians, and even storytellers. The only rule here is to pick what fits into your theme the best. 
Wedding breakfast
If your only experience of festive food is greasy burgers, then it's best to shelve this. Instead, for your wedding, you will want to go for something a bit more sophisticated. The good news is that two approaches can work well here. 
The first is a traditional sit-down wedding breakfast with some distinct boho vibes. To achieve this, you can set your tables outside or inside, add fresh and dried flowers, crochet doilies, and other boho touches. Long trestle tables with chairs or benches work particularly well here. Serve less typical wedding fare such as sharing platters, spit-roasted meats, and organic fresh salads to your guests, who are sure to be delighted with the change of pace. 
Alternatively, you can eschew the sit-down meal altogether and embrace the festival vibe even more. Getting street food vans and mobile vendors to offer a range of snacks to your guests. Ones they can access when these choose. In particular, foods like pizza, taccos, cones of fish and chips, popcorn, bratwurst, candy floss, crepes, and ice cream can go down a storm. Don't forget about other street food options such as dim sum and churros, either! Yum!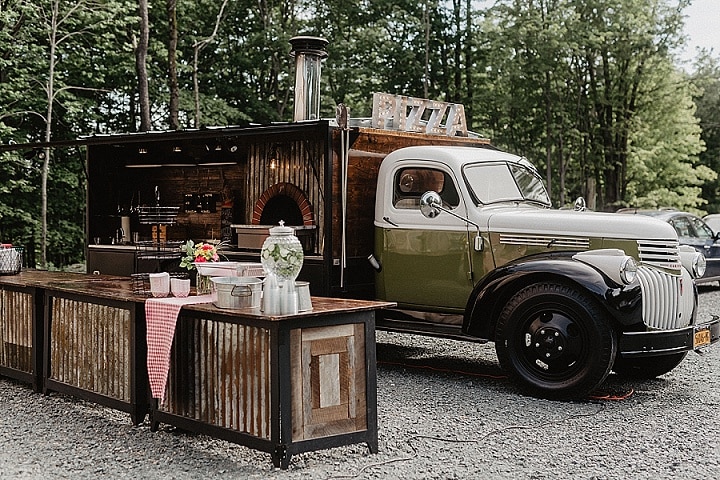 Drinks 
Whether you choose to serve alcohol or not at your boho festival style wedding, you will want to make sure that the drinks are as stylish as the rest of your day. 
Probably the best way to achieve this is to set up a bar station that deals only with drinks. You can hire these from wedding supply companies, or if you'd rather, create your own station with vintage and rustic pieces of furniture. Something that can help keep your bar integrated with the rest of your theme. 
Of course, it's vital that you make it clear to guests whether they need to pay for their own drinks, or if you will be providing them. An excellent middle ground here is to add a donation box next to the bar where people can put money as they see fit. This money can then be used against the bar tab bill when it comes time to pay it.
Signature cocktails can be a lot of fun at a boho-festival style wedding. Look for recipes that contain fresh ingredients like fruits and herbs. With a signature cocktail, you can offer a virgin option, which is excellent for all those designated drivers and pregnant guests. 
Alternatively, more straightforward drinks such as barrels of beer or ale can work well in this environment. Some couples even choose to have a special brew made up just for the wedding day! 
Be sure to find just the right glassware for your wedding beverages as well. Look for patterned and colored glass sets. These can be picked up reasonably cheaply from big stores these days. Alternatively, you can scour thrift shops for individual pieces and give them an upcycled new life as part of your big day. 
Wedding outfits
You'll also want to make sure that the outfits you and your partner choose are in keeping with your big day. Things can get fun, here as a festival style wedding means you don't have to be traditional in your clothing choices at all. 
One option is to go for more rustic themed outfits like blues suites for the groom(s) or even suspender and bow ties rather than jackets. For the bride(s), fitted lace can work exceptionally well, especially if its accessories with a fresh flower crown and sandals or bare feet! 
Oh, while we are on the subject of footwear, there are plenty of other rustic and detailed style options to consider too. How about a pair of cowboy boots under your dress? Some brides even go for wellies and provide them for the rest of the wedding party to wear. Something that can help contribute to that fun festival vibe and also provides some beautiful photos of opportunities. 
Photos and memories 
While we are on the subject of photos, with so much effort going into your big day and getting it just right, you will want to make sure that you capture as many memories as possible. 
The best way to do this is to have a mix of approaches. That means combining a professional Wedding Photographer that can take your formal and less formal shots with other ways of capturing the day, such as a polaroid guest book. Some folks even like to set up a web page or a social media account for their wedding. Something that allows guests to take pics with their smartphones and tag them online so that you will get lots of reportage style shots all in one place. 
Decorations & Invites, etc 
Finally, when throwing a boho-festival style wedding, you must pay attention to the smaller details. Especially if they will help set the tone of your day. Decor, in particular, is crucial, and it's vital to avoid anything too modern- looking.
Instead, opt for layers of fresh or dried flowers, with rustic style containers. Pick wooden chairs where you can and accessories tables with burlap runners and jam jars. You can also make your own macrame wreaths, dream catchers, or bunting to complete that boho vibe. However, you will find that there are plenty of very cheap versions now available online, as well. 
You can even begin to highlight the theme of your wedding when you send out the save-the-date cards and invitations. In fact, by calling your wedding something like "Wedfest," you can easily create the right kinds of expectations in your guests, which will further help to reinforce the boho -festival atmosphere on your big day!
The key to throwing a successful boho-festival style wedding is all about creating the right kind of relaxed but fun atmosphere. Happily, you can make many small touches to ensure that both you and your guests stay happy and engaged—from the ceremony to when it's time to head on home!