As a guest to a wedding, choosing a wedding present can be a minefield! A lot of couples will have a curated gift list picked out for you to choose from. However, more and more couples these days are leaving the gift list out and not asking for anything at all. BUT as a guest you still want to gift them something special, but what? Many people get stuck when trying to think about the ideal wedding gift. For this reason, we have curated a list of the 10 best wedding reception gift ideas of 2020.
Some Greenery to delight
Flowers make a wonderful gift in any situation. Flowers, plants, succulents, the choice is yours. Any of these options would make a wonderful gift for the wedding couple.
If the couple are nature lovers, one of the greatest "eco-friendly" presents you can offer the couple is to plant a tree on their behalf on the same day, which can be remembered by the couple for a lifetime.
A Framed Photo or Portrait
A picture frame with a beautiful photo of the couple would make a great gift, maybe one form their engagement session or of them when they first met.
If the couple are a pet owner you can even gift them a custom pet portraits. The picture could contain the pet's photo or a mixed one of the pet and the couple.
Designed Fabrics
Various fabrics, such as towels, pillowcases, and bedsheets, are a more traditional option for wedding gifts. You could make these more personal by getting their names or initials monogrammed, lots of companies offer personalisation services. Your couple will love the thought that has gone into this gift.
Dinners/Weekend Trips
Treat the newly married couple to some quality time time by giving them dinner vouchers to their favourite restaurant or a weekend away. This would be even more special if the couple have children and you offer to baby sit for them to enjoy the time to themselves. You could also look at theatre tickets, gigs and spa breaks as options.
Kitchen Appliances
If you want to go down the traditional route then why not look at kitchen appliances as a gift. These may seem like the obvious choice but newly wed couples are often building a home together,so try and get a feel for that they need to make their home complete. A coffee maker, cocktail kit, smoothy maker, pancake maker, a new speaker system? So many options for things they could use every day.
Watches and Jewellery
Matching watches could be a rally cool option for a wedding gift. It shows you have really thought about them and tried to find something that suits both their tastes. These could also be engraved to make them more personal. If not then, what about matching jewellery?
Customised videos
This is a really personalised option and something the couple can keep forever. Collect messages from all their friends and family and then compile the messages into one video for them to keep. You can use on-line editing equipment and download the video onto a USB for them to keep and cherish forever
Wedding Calendars
Collect photos of the couple from different milestones of their relationship and then turn this into a beautiful calendar. Each month they turn the page of the calendar and see a new photo of themselves, re-living some lovey memories. They can keep this up in their home for the first year and keep it as a memento for their first year of marriage together.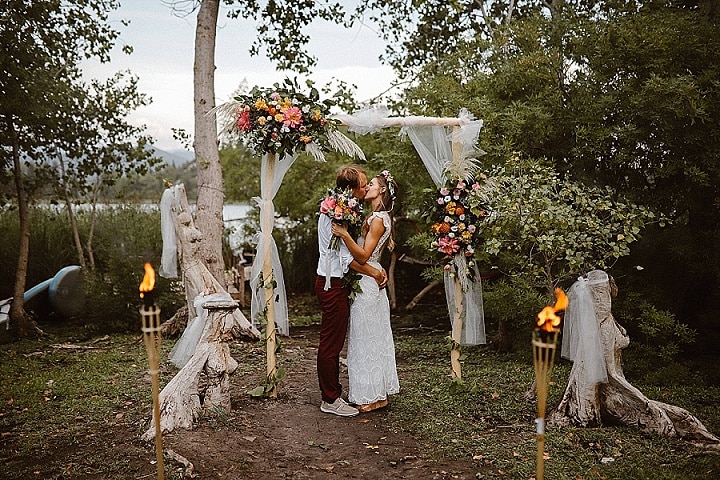 Home Decoration
Buying something to decorate the couples home is always gong to be a hit, just make sure you know their personal taste. Pieces of art can be a wonderful addition to any newlyweds home. Elaborate vases, gorgeous scents for their home, cushions, throws, the choice is endless and can be perfect for many budgets.
Gift a Honeymoon Package
For the couple that love to travel why not buy them a gift experience for their honeymoon. Find out where they are going and get them a unique travel experience while they are there. Maybe dolphin watching or a cooking experience for their chosen country or a guided tour of their favourite landmark.
When it comes to gifting a wedding present the options are endless, I hope these ideas have helped you come up with some fun ideas 
THIS IS A COLLABORATIVE POST
[jprel]