Well hello Monday and how are you all today? Did you have a good weekend and are you happy and ready for the week ahead? I had a lovely weekend. Saturday I went to Stockeld Park with Nik and Dexter which was a lovely day, Nik's mum came over in the evening and we had a takeaway and a few drinks. Sunday we did a Zoom with Nik's sister who now lives in Australia, it was great to have a catch up. Now I am raring to go with lots planned for this week. I am starting the week with a fabulous wedding. Rebecca and Michael were married on 12th October 2019 at Dardanelle, Arkansas in the US. They wanted an outdoor ceremony and their woodland fall ceremony is a thing of beauty! Incorporating lots of gorgeous autumn tones, their wedding is a collection of stunning flowers, amazing decor and stunning outfits. The whole day just gels together perfectly and is a real autumn dream. Big thanks to Irish Eyes Photography for the lovely images
The proposal
We met in college. Neither of us really know when we met exactly. Since it was a small school, we most likely knew who each other was before we officially met. Actually, we had multiple dance battles before we even really had a conversation (I won, of course!). The proposal took place in Lake Tahoe. By this time in our relationship, we had already been together for almost 7 years. I did not expect Mike to propose on this trip because we were with other people (Mike is not a fan of PDA). On one of the nights of our trip, our group took a sunset sailboat cruise. We were enjoying ourselves on the sailboat when the captain put up the sail in the front of the boat. Mike asked me if I wanted to go take a picture at the front. After we got our picture taken, Mike proposed! I was shocked and so excited! I was also terrified because the ring was too big and I didn't want it to fall into the lake! It was the perfect proposal!
Outfits
I knew I didn't want a super white dress, so when I saw my dress, I fell in love with it. The color of my dress is titanium and it also includes some light grey, velvet details. The lace details also made the dress look a little whimsical, which I loved. After choosing my dress, I decided I wanted to do something a little different and wear some bridal booties. I ended up picking a pair of grey velvet booties with flowers on them. I wore my grandmother's watch, and a pair of funky gold earrings. I didn't want to wear a neckline because my dress already had a dramatic neckline that I did not want to distract from. Mike also wanted to wear something a little different. He decided to wear a dark green, velvet jacket. He then decided that he and his groomsmen were going to wear collar-less button-down shirts to set their look apart from the traditional wedding attire. Mike also decided to wear boots and picked out some black, suede Chelsea boots to go with his black slacks. My wedding gift to Mike was a gold watch, which he also wore the day of.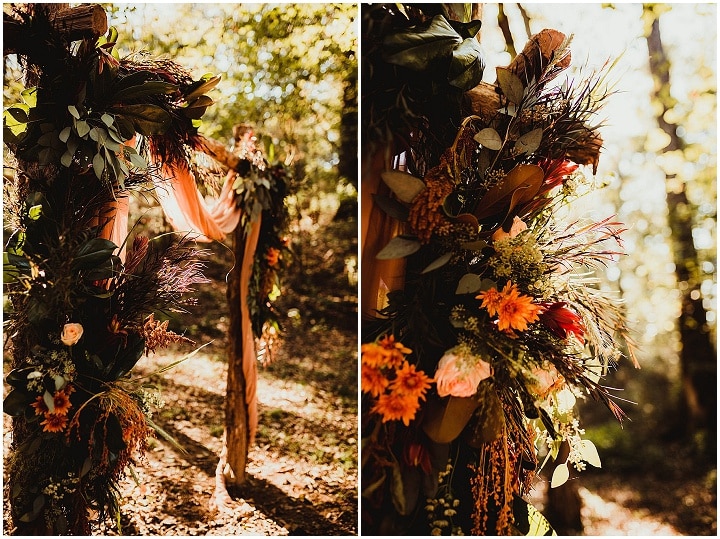 Theme or colour scheme
We love spending time outside and fall is our favorite season, so those two things were definitely our inspiration for the wedding. We wanted to incorporate nature as much as possible, which is why we had an outdoor ceremony and an outdoor area with games for the reception. The colors of fall were the vision for the wedding colors as well, along with a little bit whimsical. We wanted a lot of greens, burgundy, and copper to reflect the changing leaves. I wanted the wedding to also feel a little whimsical. My family is very proud of our Irish heritage, so I tried to incorporate that where I could. I had a Celtic cross on my bouquet. My dad gave an Irish toast at our reception. We served Irish mules at the reception in honor of my grandpa (who was born in Ireland). Because I'm a teacher I incorporated elements of my students by having a student make Hogwarts House signs to be placed on each of the guest tables. I had another student paint a leather jacket that I wore during the reception."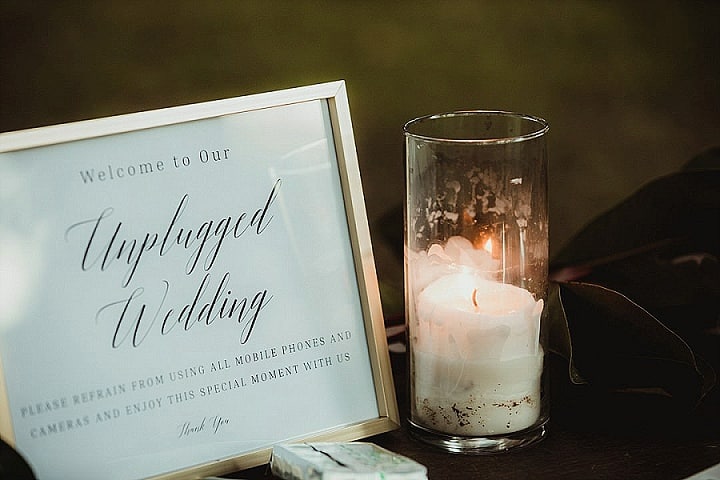 Decoration
The ceremony was in the woods, so we didn't want to distract too much from the beauty of the setting. The altar had some beautiful florals that reflected the fall colors and beautifully draped fabric. The aisles were also lined with florals in copper vases along with candles. The reception had two different areas: indoors and outdoors. Outside, it consisted of a bar along with a canoe full of beer. There were also games such as cornhole, giant Jenga, and washers. Guests were able to sit on an antique furniture set or chat around the cocktail tables set up around the lawn. Our wedding favors consisted of caramel apples with tags that read, "apple-y married." These were on a cart on the lawn as well. Above the lawn, were string lights. Near the bar, was a banner that read, "With a love too deep for words, I am yours forever." On the way inside, is a giant LOVE marquee sign. Inside the barn, the tables had dark green table cloths with floral centerpieces and candles. We also had vintage glassware. Near the groom's cake was a table that consisted of pictures of our parents' and grandparents' weddings. The only DIY part of the wedding décor was the table signs. Since we had four long tables for our guests, we named each table after one of the Hogwarts houses. The signs had the house crest and said, "Sit here if you are" and listed the character traits of that house. We allowed our guests to "sort" themselves. The crests were drawn and painted by one of my students. I did the writing on the signs.
Flowers
I love florals and wanted them in all aspects of the wedding. However, I wanted some non-traditional florals to be incorporated as well. The bouquets and centerpieces included different types of grasses and leaves in addition to the flowers. The florals did play an important part in the overall style because it helped to bring elements of nature into all aspects of our wedding. I even had some in my hair!
Personal Touches
I wanted our wedding to be very personal. That is why we had one of our good friends from college officiate our wedding and why we wrote and read our own vows. Music is also a big part of our lives, so we wanted some non-traditional music choices during our ceremony. Our cellist played Coldplay's "Yellow" as I walked down the aisle. Because we are huge fans of The Office, we danced back down the aisle together to Chris Brown's "Forever." During our cocktail hour, my brother-in-law played guitar covers for our guests to enjoy. In addition to pictures of our parents and grandparents, I wanted to incorporate more of my grandparents since they could not be there. I wore my grandmother's watch and had other mementos in my bouquet including a rosary, class ring, and army pin. Some of my favorite ways that I personalized our wedding was including some of my students. Teaching is such a huge part of who I am, so I knew I needed to include my students in some way. As I mentioned above, I had a current student make table signs. I had a former student paint a leather jacket that I wore during the reception. She painted a beautiful floral design surrounding and "R + M"
Favourite part of the day
Their favorite part of the day, "reading of our vows to each other. It was something that we weren't sure about doing, but I am glad that we did. It was special and meaningful. " Becca also loved "having all our friends and families in one place. Since our families live in so many different places, this was the first time that everyone was together. We all came together to meet in the middle."
Special moments
"Our friend from college was our officiant and told funny stories. We had a cellist play "Yellow" by Coldplay as I walked down the aisle and we danced back down the aisle to Chris Brown's "Forever" because we LOVE the Office. I had my grandfather's US army pin from the Korean War and my grandmother's rosary which was her mother's rosary all part of my wedding bouquet."
Advice for other couples
If you are like me and hate planning the logistical stuff, get a venue that does it all for you. That was a life-saver! I knew that with teaching and coaching, I would not have time to plan my wedding on my own. Read your own vows. We were both so nervous to do it, but it ended up being the most special moment of the entire day.
Supplier Shout Outs
For more information on Irish Eyes Photography go to