Happy Monday everyone, I hope you are all well and happy? Did you have a good weekend? I am back from my holiday, we had a lovely time at Tattershall Lakes, so much so that we have already booked to go back again next year. A few days away can make such a difference. I am now a little sad that the summer holidays are nearly over, I have loved spending time with Dexter over the last few weeks. Going to Cornwall, going off on our day trips together, but now it's time to settle back into a 'normal' working routine and get back on with bringing you amazing wedding content. Starting with this beautiful New York wedding with the most gorgeous mountain views. Wendy and Jon chose the Catskills as they had spent many a weekend there, so it seemed like the obvious choice. They reflected their love of the area with their earth tones of cream and green along with gorgeous moss and toffee coloured flowers as their centre pieces. Love Me Do   captured the day beautifully.
A magical day filled with family, friends, trees and mountains. It was a perfect blend of heartfelt and funny moments.
Wendy and Jon were married on 29th June 2019 at Onteora Mountain House (in the Catskills, Boiceville NY). 'We both love the outdoors and mountains. Before we got married, we would drive up to the Catskills for a weekend getaway every chance we had. We wanted to bring our friends and family to a place we love. Also, it was always a dream of mine to get married under a tree. We had 100 guests and it took 8 months to plan.'
How they met 
We met at work. I was his producer. He was my creative director. The romance started when we went on a shoot in Cape Town, South Africa. We've been together for 4 years now.
The proposal
Not exactly what I expected. He proposed to me in the bathroom. We had been out drinking and I not-so-subtly brought up the topic of marriage on the way home. He already had the ring and was trying to throw me off his scent so he told me he didn't want to get married. I was so upset by this, I locked myself in the bathroom. He figured the only way to fix it was to propose to me right then and there. He knocked on the bathroom door and when I opened it, I saw him holding the ring. I shut the door right away and said "No no no! Not now!" But after a few moments, I realized I couldn't un-see the ring so opened the door again and there you go. That's how he proposed.
How did you allocate your budget?
We focused our budget on things that we felt would add to the experience. We didn't care about being flashy. We just wanted to create a special and memorable day that was reflective of us.
Where did you splurge and where did you save?
We splurged on the flowers. In particular, I wanted a semicircle arch for the ceremony but I asked for it to be built in pieces so we could move it and repurpose it for the reception. The venue itself was more than what we were hoping to spend but it ended up being worth every penny. We had the most incredible view and everything was so well managed. I saved on my dress and the stationary.  I didn't want to spend a crazy amount on a dress that I would wear for only a day. I also find that guests tend to forget about wedding stationary so I didn't want to spend too much in that area.
How did you choose your photographer?
We searched high and low for our photographer. There were so many out there that had cheesy poses in their portfolio. We were looking for a photographer that could capture candid and natural moments with a clean look (not too many filters). We were so happy to find Carina from Love Me Do. She completely put us at ease from day one.
The dress
I custom designed my dress through Anomalie. My earrings were from BHLDN and my shoes were from Macy's. I wanted practical heels that I could dance all night in.
The suit and bridesmaids
The groom's suit was by J.Crew and the bridesmaids had the option to purchase their dresses wherever. I just asked them to find dresses in shades of green. The groomsmen were asked to wear a navy suit and we provided them with matching green ties.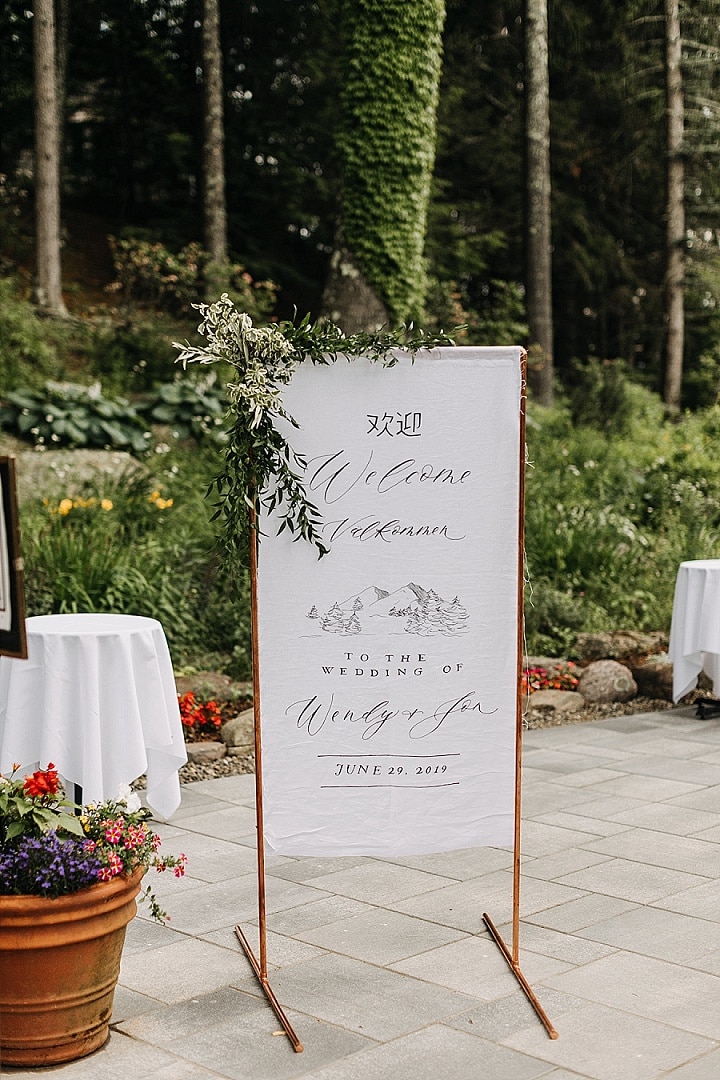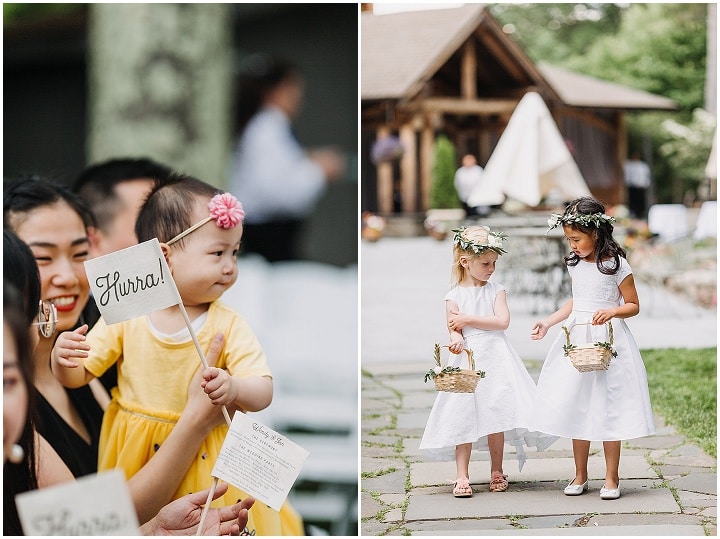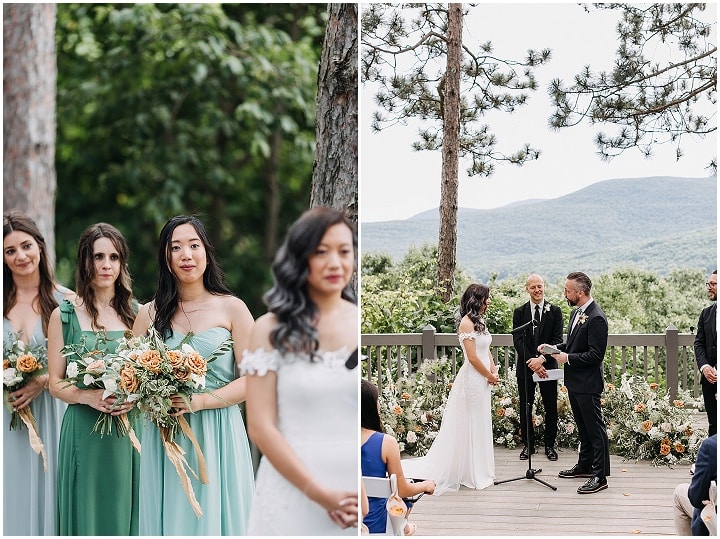 Theme or colour scheme?
There wasn't a theme per se but we wanted to keep the mountain/woodland feel. We focused on earth tones like green, brown and cream.
Flowers
Both Jon and I are very sensitive to scents so our amazing florists, Olive & June made sure all of the flowers worked with our color palate and were not heavily scented. We also requested toffee-colored roses and moss for the centerpieces which looked magical.
Decoration
Our decoration was minimal because the venue needed very little. We had centerpieces with moss, brass candlesticks and small bud vases with flowers and ferns. Each table had a different postcard of a place Jon and I travelled to. On back of the postcard, we wrote a little note about why we loved the place that the table was named after. We also had custom fabric signs by Holly Winnie Calligraphy. She created a welcome sign for us in Swedish, Chinese and English. We also had a fabric sign that said "Love you to the mountains and back" that hung behind the DJ booth.
Food
I made a point to eat the dinner that I carefully chose months ago. I had beef tenderloin but I didn't get a chance to eat any of the desserts besides a bite of the cake.
Wedding cake
My husband's favorite cake is called Schwartzwaldtårta. A Swedish version of a black forest cake. It's made of fresh cream, meringue and chocolate slabs. We were lucky to find Linda from Grounded who was not only Swedish but an hour away from our venue. She made the most amazing Schwartzwaldtårta for us.
Entertainment
During the ceremony and cocktail, we hired an incredible quartet called Sterling Strings. They are a group of musicians based in NYC that often play in subways to promote themselves. I was actually introduced to them at a friend's wedding and I knew I had to have them for mine. They're amazing because their playlist includes both classical and modern music. For us, they played everything from Dr. Dre to Rolling Stones. I think everyone really enjoyed the quartet because it was so unexpected to hear these modern songs played by classical instruments. They also played Chinese songs during our tea ceremony. Best of all, I requested the Jurassic Park theme song for my walk down the aisle and they nailed it. We hired DJ Alicia Mary to keep the music going during reception. From the beginning, I really wanted a lady DJ and she definitely delivered the party.
Who supplied the stationery?
Minted. We found a letter pressed design that went perfectly with our theme.
Where did you go on your honeymoon
We went to Southeast Asia for our honeymoon. We started in Singapore, Borneo Rainforest and Bali. It was a perfect mix of city, nature, culture and relaxation.
Personal touches
We tried to infuse both of our cultures as much as possible (Chinese & Swedish). For our programs, we made and printed our own fabric flags that had the program info. Some said "Hooray!" and some said "Hurra!" which was Swedish for "Hoorray!" Our guests were able to wave them at the end of the ceremony. During the ceremony, we added a traditional tea ceremony with my family which was accompanied by Chinese music played by the quartet. Our gift bags for the guests had a mix of local Catskills treats and Swedish and Chinese candies. During reception, we printed out lyrics to a Swedish drinking song that everyone could join in on. For dessert, in addition to our Swedish wedding cake, we had fortune cookies with custom fortunes, Chinese egg tarts and a spread of various Swedish cookies that my husband baked himself using his mother's recipes.
Special moments
It's hard to say! Every moment was really special. The day before the wedding, we had hosted a welcome event at West Kill Brewing, one of our favorite places to be in the Catskills.  We rented a food truck and got to spend time with friends and family before the big day, which was really nice. But it really hit me when I walked down the aisle. I saw all of the faces looking at me and I realized how incredible it was that everyone we loved travelled from different places in the world to be with us that day.
Advice for other couples
Don't sweat the small stuff. Everything works itself out and even if something doesn't go perfectly, only the two of you would really know. The goal is for you and your guests to have a great time.
Biggest surprise
All of the speeches were surprises. This is typical for a Swedish wedding. There is a toastmaster (who was our dear friend Christian) and he coordinated all of the speeches for us. At the end of the speeches, some of our friends played a really funny video on the projector, which was completely unexpected.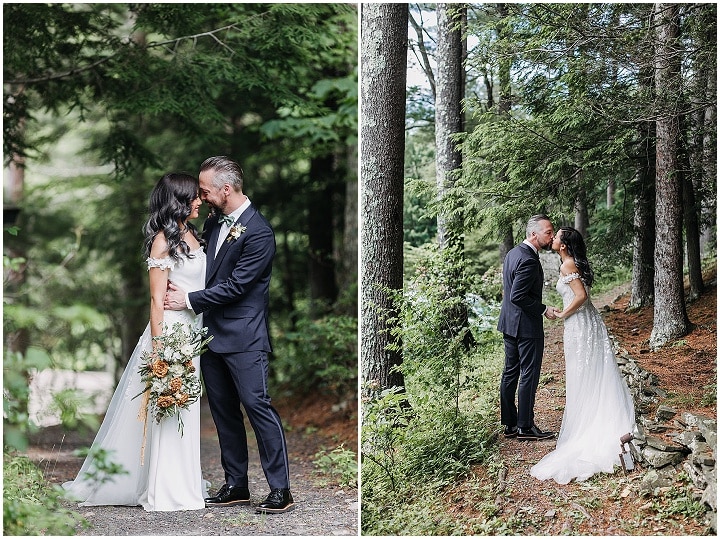 Supplier Shout Outs