Hello you lovely lot. How are you doing now we have reached the mid point of the week? I am still in Cornwall having a lovely time. Today we are off to the Eden project, which I am very excited about. The last time we went was 4 years ago when Dexter was 2, he still remembers it and keeps asking to go back so I am really looking forward to today. In the world of weddings, I have Elouise and Mitchell's gorgeous Cornish Tipi wedding to share with you today. The couple were lucky enough to hold their reception on their parents land, which meant they cold have the personal day they were looking for, filled with so many DIY projects. From the Order of the Day to the invitations, bar signs to the table numbers, this wedding is brimming with gorgeous handmade touches. I am also in love the bridesmaids boho inspired dresses from Show Me Your Mumu with the matching flower crowns – just adorable. Big thanks to Joshua Gooding Photograpy for the images.
Everyone tells you that your wedding day will be the best day of your life, and it most certainly was. 
Elouise and Mitchell were married on 10th August 2019 at St Martin's Church, Lewannick – This was the church that Mitch used to visit when he was at primary school, with the reception at Mitch's parents house in Polyphant, Lauceston (Cornwall). 'We have always wanted a DIY style wedding, ever since we attended Mitch's cousins wedding a few years ago which was beautiful. We did visit some venues but found that they were very fixed in what they had to offer. We wanted to do it our way and make it as
unique as possible for us, and the only way to do that was to do it ourselves! We are very lucky in the fact that both of our family homes are small holdings so we decided to have the reception at Mitch's parents' house in Polyphant. This made the wedding so much more meaningful and it was incredible to see all the family and friends helping out where and when they could. I originally saw the tipi idea on Pinterest and, as soon as I showed it to Mitch, we knew that was the style we would go for. We did some research and came across The Cornish Tent Co. who were extremely helpful. We gad 80 guests for the day and an extra 80 for the evening. We got engaged in Feb 2018 and married in Aug 2019 so a year and a half to plan it.'
How they met
This is embarrassing – we met at Oceana nightclub in Plymouth.. say no more! We have
been together since June 2015.
The proposal
Mitch had booked a surprised holiday 'for my birthday' which was in January. The holiday was to go to the Philippines in February as this had been somewhere we had both always dreamed of seeing. Little did I know that he had been planning his proposal and had told me it was for my birthday to keep me off the scent! We were on a day boat trip visiting various islands and lagoons. We actually snorkelled with a turtle so Mitch thought this would be the prime time to ask me. We were swimming in a beautiful lagoon called Kayanan Lake when he popped out the sodden ring box from him 'dry bag' which had
actually leaked!
How did you allocate your budget?
Probably a bit stupidly but we planned what we would like for the wedding and set out how much it would cost us. From there we knew how much we needed to save each month.
Where did you splurge and where did you save?
The tipis weren't cheap by any means so that cost us a lot of money. Also having 6 bridesmaids and 6 groomsmen is pretty expensive. We had a hog roast for the main meal so that saved thousands. I originally wanted meat sharing platters but this just wasn't feasible. Most things we did ourselves including the decorations, lots of the flowers, supplying the alcohol, the favours, the invitations and save the dates, and even the fireworks.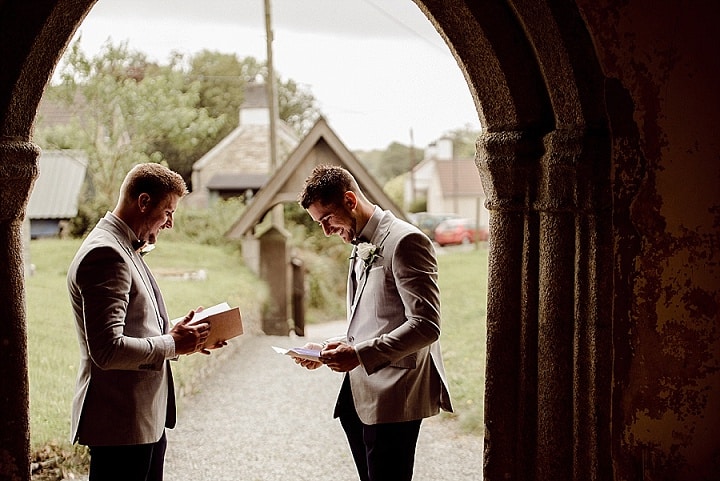 How did you choose your photographer?
I knew I wanted Joshua Gooding Photography before I even got engaged; in fact, I booked Josh before even booking the church! Josh and I were at school together so I've been aware how talented he is for years. And my goodness did he perform! We are so happy with our photos and have many compliments about them.
The dress 
My dress was by Martina Liana and was bought from Sam Cox in Plymouth which unfortunately has closed now. I had my Nan's wedding ring and my Great Nan's engagement ring resized so these were my main accessories. I did buy some earrings, from Lace and Favour. My shoes were peep-toe heels from Rainbow Club.
The suits and bridesmaids
As you can imagine, buying suits for 10 people was turning out to be extremely expensive. So we actually decided to buy them from Primark! It took a lot of logistical planning but we got there in the end and saved an absolute fortune! The bridesmaids dresses were imported from the US from a shop called Show Me Your Mumu. I found them via Pinterest and fell in love with them instantly. I didn't just want the same blush pink lots of brides tend to go for – I wanted something different. I also loved how these dresses came in different styles so my bridesmaids were able to choose the one they knew would suit them. I wouldn't recommend importing dresses though as I got charged an extra £400 in
taxes/shipping fees!
Theme or colour scheme
We didn't really have either. Our theme was 'If it's personal to us, then let's do it". We loved DIY style wedding and wanted it to be as unique and individual as it could be.
Flowers 
I'm not overly into flowers however I chose some which I would like for the bouquets. I knew I wanted plain white/green bouquets because of the patterns on the bridesmaids' dresses. I wanted lots of vibrant colour in the tipi and around the feel. I just asked my florist to do her thing and she came up with the most stunning arrangements. All of the table flowers were grown by my mum in her garden so I spent the Thursday and Friday of the wedding organising those into all the vases I had decorated. I also was able to make one arrangement and a milk churn arrangement from the flowers my mum had grown!
Decoration 
I liked the tipi to speak for itself so we paid extra to have lots of lighting in the tent. This was our main decoration. We did have quite a few flower arrangements around and we had made some signs etc. to make it look more pretty.
Food 
We had canapés as the guests arrived at the reception and then hog roast for the main meal. In the evening we had left over hog roast, pasties and a cheese board.
Wedding cake
The wedding cake was very kindly made by Mitch's talented aunt. It was a four tiered naked style cake. The tiers were salted caramel, eton mess, lemon and blueberry and carrot.
Entertainment
During the day we had a very talented singer who was absolutely brilliant. He's called Jack Humphries. We also had Tim Coleman Event Hire who DJ'd and then finally a band called Boogie Sugar for our evening entertainment. They were all fantastic.
Who supplied the stationery?
I made our own save the dates and invitations. For the save the dates, we took three Polaroid style photos of us and added them to a proforma on Vistaprint. We printed about 200 for £11.00! We also made our invitations. I bought kraft card and folded them so I was able to stick information on each card stacked behind each other.
Where did you go on your honeymoon?
We have a campervan so a week after the wedding we travelled around Northern and Southern Ireland for 3 weeks which was lovely.
Personal touches
Save the dates and invitations
Order of the day (I scalded part of a cable drum to make a clock face)
Order of service
Confetti cones
Jar decoration
Bar sign – made out of cork, with a glue gun
Table numbers – made out of cork, with a glue gun
Fireworks – set off by Mitch's brother
All the signs
Creche tent – we borrowed a tent and put some games in it so children had space to play
The bar – we asked for donations for 3 charities that are close to our hearts.
Lights – we put a candle light around every fence post in the field to light the whole field up
Demijohn jars – it took days to scrape off the glue but we got there in the end!
Special moments 
At the end of the night, Mitch and I drove around the field and took a moment to take in how beautiful it looked lit up in the dark. I also spent most of the night on top of Mitch's shoulders – this was a definite highlight!
Advice for other couples
Plan away and enjoy planning. I know it's stressful but everything will work out in the end!
Biggest surprise 
Being ready early! I'm always late for everything normally!
Supplier Shout Outs
Tipi: Cornish Tent Co 
Food: South Devon Hog Roast
Vide: I Do Film Weddings
Flowers: Launceston Florists
DJ and Cocktail Van: Tim Coleman Event Hire
Hair: Hair By Emma C 
Make Up:The Make Up Artist Sadie
Dress: Martina Liana
Bridesmaid Dresses: Show Me Your Mumu
Shoes: Rainbow Club
Day Singer: Jack Humphries 
Suits: Primark
For more information on Joshua Gooding Photography go to
 www.joshgooding.co.uk / www.joshgooding.co.uk/blog / [email protected] / FACEBOOK / INSTAGRAM 
UK & Destination wedding photographer based in London. I simply like to have an incredible time alongside the couple and their guests, by blending in amongst all of the mayhem, letting things unfold naturally and embracing any spontaneous mishaps along the way, so that I can present the couple with a collection of beautifully unpredictable, authentic images from their day.