The Boho Wedding Directory is a hand-picked list of all awesome wedding suppliers in the business, ready to help you plan your Boho wedding. The Directory is located in the main menu bar at the top of each page and is super easy to use. It is split up into suppliers and regions making it easy for you to find the perfect Boho supplier for your wedding.
To make sure you don't miss any of the wonderful suppliers that have been added to the directory, each week I showcase the suppliers that have joined in a mini update. This weeks new suppliers added to the directory are:
Photography: Barbara K Photography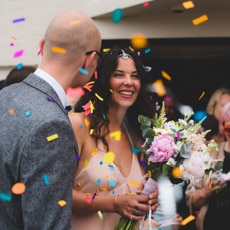 fun | quirky | relaxed | alternative wedding photography for free-spirited couples Are you planning an unconventional wedding? Then you're my type of people! Do you hate cheesy wedding photography? Then we might just be made for each other!
More Information: www.boho-weddings.com/barbara-k-photography
Stationery & Decor: StickerYou
StickerYou is the best place to create the wedding of your dreams with custom wedding favor labels, wine labels, temporary tattoos and more. Use our easy online interface to create fun, personalized labels and decals for your wedding favors, table wine, bachelorette party, and dance floor. Simply upload your design or choose from templates then match to your theme and colors. Your guests will wonder how you did it!
More Information: www.boho-weddings.com/stickeryou
Photography: Richard Perry Photography
Yorkshire based UK and destination wedding photographer. Offering a relaxed and friendly approach to capturing memories and real moments in a documentary style with a touch of editorial portraiture.
More information: www.boho-weddings.com/richard-perry-photography
Venue: Runa Farm
Natural luxury, harmonious and calm. Exceptional quality and comfort are key, along with hints of pure Balearic beauty and fields full of romance. Exclusive to couples, we offer full-on festival farm wedding complete with open-air views, live music and outdoor dining, or chic, Mediterranean style celebrations laced with Ibizan elegance.
More Information: www.boho-weddings.com/runa-farm
Photography: Benni Carol Photography
Hello! We are Benni and Carol, two Italian sisters whose specialty is bohemian outdoor and destination weddings. We work both in the UK and in Italy. We combine artistic & creative style with a documentary approach, our images are natural and candid and never posed. Being two photographers on location, we are always ready to capture every precious moment of your day. If you are interested in seeing more of our work, just visit our website or send us an email, we look forward to hearing your plans!
More Information: www.boho-weddings.com/benni-carol-photography
Jewellery: Diamonds Factory
Diamonds Factory is a jewellers based in Hatton Garden, London. They expertly design, craft, and deliver bespoke pieces straight to your door. Providing impeccable service and quality, their knowledge and expertise spans four generations. All of their specially selected materials are of the highest quality and ethically sourced.
More Information: www.boho-weddings.com/diamonds-factory
Photography: Beyond The Frame Photography
So you're looking for a fun and relaxed Yorkshire wedding photographer? I'm a guest with a camera, documenting your kickass wedding naturally as it happens from the inside. No cheesy posing or hour-long photoshoots! How about that!
More Information: www.boho-weddings.com/beyond-the-frame-photography
Venue: Whitworth Estate & Deer Park
Whitworth Estate & Deer Park is a brand new wedding location in the heart of The North of England brought to you by the creators of the UK's multi-award award-winning wedding venues; Newton Hall & Le Petit Chateau. Set to open in Spring 2021 be the first to have your big day at Whitworth with a full diary of peak dates now available for bookings.
More Information: www.boho-weddings.com/whitworth-estate-deer-park
Photography: Ale Armijos Photography
Hello and Hola from me, Ale Armijos. Passionate photographer based in the UK. Specialising in wedding photography, I aim to capture the natural essence of your perfect day in the images I deliver, creating emotions of love, happiness, excitement and timeless quality.
More Information: www.boho-weddings.com/ale-armijos-photography
IF YOU ARE INTERESTED IN GETTING YOURSELF ADDED ON TO THE 'BOHO WEDDING DIRECTORY' EMAIL ME AT 

[email protected]

 FOR AN APPLICATION FORM.
HAVE A FABULOUS WEEKEND  
BIG BOHO LOVE
KELLY XX