Today I'd like to introduce you to a new feature that came about from the readers survey results. One of the questions I asked was what would you like to see more of, and you said diary entries from real brides. So welcome to 'Diary of a Boho Bride'
I have chosen 3 of my own Boho brides that I am currently working with on 2012 weddings to share with you their wedding planning stories. I have tried to pick 3 different styles of weddings to offer you variety, all with different planning options chosen from my own wedding planning services. If you remember I ran this feature last year with my lovely bride to be Emma, the feature was a success then so I'm hoping for big things from it this time.
Today are the introductions, a way for you to get to know each couple better. From there they will be each writing their own diary entries covering a variety fo subjects, each reflecting back on their wedding planning journey.
If there is anything you would specifically like to know about then let me know and I can ask them to focus on a certain area for you.
So without further ado here are the 3 brides'
Claire and Tom
Wedding: 8th September 2012
Venue:  Utopia, Broughton Hall, Skipton North Yorkshire
Photographer: Mark Tattersall
Planning Service Booked: Partial Planning
We have been together for 5 years; we were friends first after meeting in our halls of residence on the first day of University! Tom Proposed to me on Holiday, we were in Turkey. We were staying in an amazing little village in Cappadocia and had walked up a hill  with a bottle of wine to watch the sunset, when Tom sneakily pulled out a ring from the camera case- it was a lovely surprise!
Our wedding is going to be held at Utopia at Broughton Hall. Utopia is an amazing modern building that is within a walled garden on the Broughton Hall estate. We will be getting married at the venue (hopefully outside if the weather is nice!). Our guests will then enjoy canapés and champagne in the garden before going in to a marquee for the wedding breakfast. In the evening we will be in the Utopia building and guests will be treated to entertainment from Toms Dads band! Hopefully there will be lots of drinking and dancing!
Although I do absolutely love the country cottage style weddings it won't quite go with our super modern venue so it will probably be quite modern. I am still getting lots of inspiration from my wedding magazine addiction! The most important aspect of our day is that everyone has a great time!
So far we have booked the venue, the honeymoon, the photographer, the non-religious ceremony, the band and the wedding rings. We are still waiting to finalise the marquee plans and the catering plans. Once they are sorted we will think more about the theme/flowers etc
I am looking forward to our safari-beach honeymoon! It is an extravagant holiday for us as we love going backpacking and we haven't been on a 'normal' holiday together!  Tom even writes his own backpacking blog!
Jessica and Scott
Wedding: 10th June 2012
Venue: Amante beach bar, Ibiza
Photographer: Gypsy Westwood
Planning Service Booked: Full Ibiza Planning
Scott and I first laid eyes on each other at the gym. I was killing myself on the treadmill while he was doing his usual routine of chatting to anyone to avoid having to actually work out.  But it was at a club in Leeds where we first spoke. He asked me where the exit was although we were stood right next to it. It was the worst chat up line I'd ever heard and I remember pointing to the door and saying something sarcastic. Needless to say that conversation ended there.
We didn't actually become friends until two years later, after meeting at a mutual friends party, when I was in a relationship with someone else. I didn't even really think of Scott in a romantic way, but became good friends with him instead. Gradually, I started becoming jealous of his relationships with other girls and him likewise and a few months later we were madly in love with each other.
We hadn't been together long before he proposed. We both knew we wanted to be together and there was nothing stopping us from making that commitment to each other. He picked the moment during a Sade concert in Birmingham, she's one of our favourite singers, so it was quite appropriate to do it then. I thought it was going to be during the song 'No ordinary love' but instead it was 'Smooth Operator' he chose to get down on one knee to.
Our wedding is booked for June 10th next year at the beautiful location of Amante in Ibiza. I decided to go for the Full Planning package from Boho with Tiffany, Kelly's assistant who is based in Ibiza to help on the day. So far, we've organised the main things- location, food, flowers, cake, a celebrant to conduct the wedding ceremony, DJ, photographer and I have the most beautiful wedding dress I can't wait to wear!!
I still have two bridesmaids dresses to find and Scott has his outfit to buy (he wants to wear some sort of Miami Vice style white suit!) and there's bits and pieces like shoes and nderwear, but I still have quite a bit of time to get them.
Scott and I have just got back from Ibiza, where I saw Amante for the first time. I was absolutely delighted with the venue, which I had previously only seen on the internet.  It's a truly stunning location, a restaurant set on a cliff overlooking its own bay and the natural beauty speaks for itself without me having to create any other style. It's quite rustic and I'm trying
to follow this through with natural table decorations such as pebbles and shells in large glass bowls. I've chosen coral and brown flower petals to line the aisle, and I can see myself walking through in the sunlight to the Thai style pagoda, where the ceremony will take place.
We just wanted a small wedding and so have chosen to invite 50 of our closest friends and family. I can't wait for them all to witness Scott and I declaring our love for each other. To me, that is the most important part of the day. I am definitely looking forward to the party as well though!!
I am counting down the days until I become Mrs Woolston. I love Scott so much and can't wait to spend the rest of my life with him.
 Johanna and Paul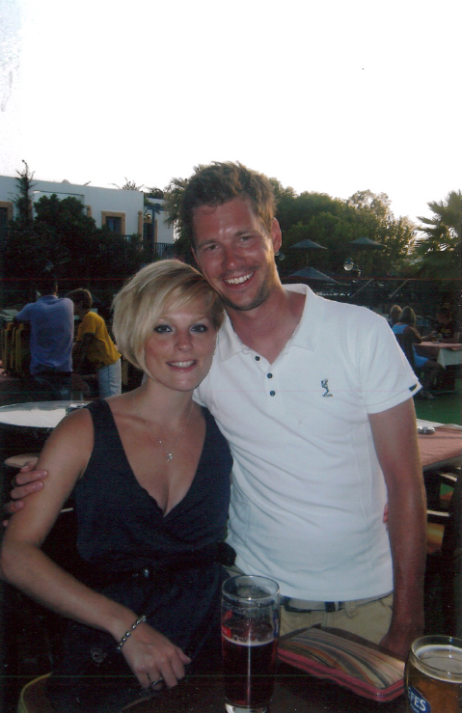 Wedding: 1st June 2012
Venue: The Botanical Gardens Sheffield
Photographer: S6 Photography
Planning Service Booked: Full Planning (Johanna is my sister-in-law, so this is a wedding present)
I met Paul, my future husband (it seems funny saying that) on the 5th September 2001. It was our first day at Norton College in Sheffield and I was sat with my best friend in the canteen. Both of us were single so were free to look out for the good looking boys. We both spotted him as he walked into the canteen but he was shortly followed by a girl we presumed was his girlfriend. We later found out that she wasn't and we all became great friends along with others at the college.
Paul and I took English Language and Sports Science together and after 6 months of pretending we didn't fancy each other we finally got together. We spent the day shopping in Leeds (only as friends of course) then that evening Paul had to work but we were texting each other all evening like you do at 17 years old. Finally Paul sent me a text message that read "how's about a guy like me and a girl like you get together sometime?". I had that nervous feeling inside as I hit send on a text to him that said "yeah". It wasn't until 3 years later when we were relaxing at Uni watching the great film "Dumb and Dumber" that I heard the line again and realised Paul had stolen it straight from that. We couldn't stop laughing. He had got away with it for years. He informed me that he used that line so he had a get out if a said "no", he said he could have joked it off saying he was fooling around with a line from the film.
So, over 9 years later, 3 degrees, one diploma, 6 houses, one year of a long distance relationship between Warwickshire and Sheffield and 2 months between South Africa and Leamington Spa we went on holiday to Turkey with great friends of ours. 5 days into the holiday Paul and I went for a walk along the beach to a lovely wooden shack in the sea and whilst sat on there, looking at the beautiful view Paul came and sat beside me and used the same line again followed by "lets make it more serious" and handed me the most beautiful diamond ring. He had been hiding it in the safe all week. I did wonder why I was never allowed to get anything out of the safe but was enjoying Paul doing it all for me. I was disappointed that he didn't actually say "will you marry me?" but me being me, I told him to actually ask me to marry him and I immediately responded with "yes". We were both so excited we rushed back to the beach where our friends were and the celebrations began there and lasted for a few weeks. Once home we celebrated with friends, family and colleagues. We were overwhelmed by the lovely messages, cards and gifts we were given. It was lovely.
As soon as we touched down at Birmingham Airport post holiday the wedding plans began. We are getting married at Botanical Gardens in Sheffield on Friday 1st June 2012. We didn't want to wait. We will have been together for 10 years by the time we tied the knot so there was no need to wait. The ceremony will take place in the pavilion followed by a champagne reception and then we will move to the marquee on the land of the Botanical Gardens for the wedding breakfast and evening do. We can not wait!
So far we have booked the venue, DJ, Photographer and caters/bar. All thanks to the help we have received from Kelly at Boho Weddings and Events. I have my dress, veil and hair piece that I love (thanks to my lovely parents). Paul has picked but not yet purchased his suit. Our bridesmaid has her dress and the two best men who are my brother and Paul's brother will be wearing the same suit as Paul. Wedding dress shopping was such a lovely experience and I was lucky to enjoy it with my lovely mum, best friend and further mother in law.
We still need to decide on flowers and some decorations and also book the marquee, the latter being next on the list. We have the registrar booked as well as the Leopold Hotel for me, my mum, my Dad and my bridesmaid for the night before the weeding. Paul and I are having the bridal suite the night of the wedding and the night after and our guests that aren't from Sheffield have all booked into the hotel too so its all back there for an after party. Luckily it's a 24 hour bar for guests.
Our wedding style is classic modern. It's very simple yet stylish with very minimal colour so that it stays looking classic and classy.
Although we do have lots of traditional wedding things going on our main focus is a party. Our friends and family are all close and so we hope to supply a lot of nice food and drink and get everyone on the dance floor. We have booked a DJ that meets our requirements for a fun filled evening of enjoyment and dancing. Paul is absolutely dreading the first dance! I see our wedding day as being the happiest day of our life's and the start of our next chapter although I am not entirely sure how much will change.
Thanks to  Claire, Jessica and Johanna for their diary entries and sharing with you their wedding plans and stories. Please make them feel welcome to the Boho Blog. I look forward to hearing their next diary entry, so watch this space
Big Boho Love
Kelly xx
Due to an email issue if you have emailed me between the 2nd & 9th of December, please resend it.
X