Happy Monday everyone and how are you all? Did you have a wonderful weekend? I had a lovely one, as it was Dexter's birthday weekend and also Fathers day. As we are only allowed to see 6 people at a time, the whole of Saturday was spread out with Dexter having different friends to visit, all for separate play dates. We had a children's entertainer for his mini party in the afternoon, it was so much fun! Yesterday we walked an Alpaca in the morning at one of our local farms and then we had an amazing meal from our favourite restaurant that is now doing 'dine at home'. A great weekend all round! I hope yours was full of fun and happiness? I am starting the week with the wonderful wedding of Jane and Pete. They had an Eco friendly Welsh wedding, filled with amazing DIY details and Homepsun projects. From foraged greenery to home made cakes, this wedding really was a labour of love. The results are lots of smiles, lots of fun and lots and lots of love, all captured perfectly by When Charlie Met Hannah.
Relaxed, personal and loads of fun……It was f***ing brilliant!
Jane and Pete were married on 31st August 2019 at Coed Hills Rural Art Space, South Wales. 'We wanted somewhere with an eco-friendly ethos, a relaxed vibe, and somewhere that we would have a lot of input over everything from the food and drink, to the décor, and the timings of the day. We also wanted somewhere that would give us scope to have people stay over, and to make more than just the one day of it. The amount of freedom was a big factor as it allowed us to tailor the wedding to suit us. We didn't want a standard hotel wedding package, we wanted something unique and memorable. Plus – they didn't charge corkage! We had 80 guests in the day, and around another 30 – 40 extras for the evening celebrations. Around 40 people stayed over in luxury yurts that we arranged, so we also had caterers in to do a big cooked breakfast at the venue for the overnight guests the next morning. We went to see Coed Hills in January of 2018, and they only had one date left in 2019, so we took it there and then – it was our only venue viewing! But once the date was in the diary, we didn't start really planning everything or saving really hard until the beginning of 2019.'
How they met  
Pete: We've been together 8 years, but I've known Jane a lot longer. I think I was 15 and Jane was 17 when we first met, I tagged along with my older brother to her school's sixth form party.
Jane: Pete is the younger brother of one of my oldest friends. We didn't get together until I was in my mid-20's – I was living in London, and he was in Uni in Worcester. We'd been on a few nights out with mutual friends back in Cardiff and started to see more of each other whenever we were both back 'home', and it grew from there. We did a sort of long-distance relationship for about 18 months whilst Pete finished Uni, with him staying with me whenever he was outside of term-time. After that I moved back to Cardiff and we moved in together properly, and the rest is history.
The proposal 
Pete: I popped the question in Lisbon.  I didn't really have an idea of when or where I was going to ask Jane, sort of waited for the right moment, but this did mean me walking round Lisbon all weekend with the ring in my pocket. I eventually asked her on the Saturday night after dinner, we went to a spot that overlooked Lisbon. It was quite busy, so I had to find a quiet corner – I didn't want people clapping and all that! It was magical.
How did you allocate your budget?
There were some things we just would not compromise on. We knew we wanted to provide a free bar for everyone, so we ring fenced a healthy budget for that. We also knew we wanted to give people a really lovely sit-down meal, and to have a live band. To be honest we managed to get everything we wanted in the end – our favourite saying was "we're only going to do this once, let's do it properly."
Where did you splurge and where did you save? 
By far the biggest expense was the venue hire (£6.5k) but this was the most important element for us, as everything else we planned was influenced by that choice. Probably the places we saved most were on flowers and the cake. Our outfits were also from the high-street and bought with the intention that they would be worn again and again (with the exception of my dress).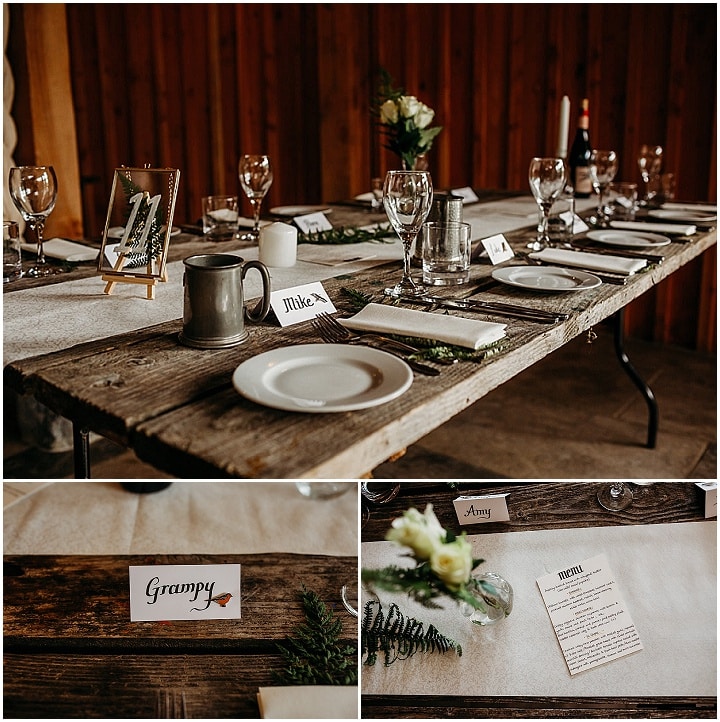 How did you choose your photographer? 
A local blogger who I follow on Instagram had them to photograph her wedding and the pics looked great. When I started to dig around on Charlie and Hannah's profile, I could see they were a fan of non-posed, candid style snaps, and they'd photographed at Coed Hills before, which made me feel like they would be the right choice for us.
The dress  
My dress was by Justin Alexander and was from a bridal shop in Cardiff city centre. It's a style I never would have considered normally – I was adamant I didn't like lace, but the owner of the bridal shop suggested I try it on, and it looked so much better than anything else I had picked for myself. My shoes were from Kurt Geiger and bought in the sale. Our rings were made from one of my late nana's gold necklaces, which we had melted down and sand-cast into two wedding rings – they have a slightly textured appearance and I absolutely love them.
The suit and bridesmaids?
The groom's suit and the groomsmen's trousers were all from Next, and the bridesmaid are all slightly different but the same colour palette from ASOS. As two of my bridesmaids live in London, I didn't even see the dresses actually on them until the morning of the wedding – they just sent me videos to show me how they looked!
Theme or colour scheme 
My main wish was to bring as much natural greenery into the décor as we could – and we did a lot of that with ferns that our wedding party foraged from the grounds at Coed Hills the day before the wedding. I knew I wanted quite a natural colour palette, so it was all green and white for the flowers, and everything else fairly neutral.
Flowers 
Again, I found our florist Leisja on Instagram. We wanted to forage a lot of greenery from the grounds at Coed so I originally only planned to get bridal party flowers, but then I saw a wildflower wreath that Leisja had made for a local vegan café and I knew I wanted some wreaths, too. When we met for coffee, I explained that we were trying to make more sustainable choices where we could, and so she managed to source white roses from the Wye Valley (instead of shipping them in from Europe as most roses are). It was more expensive, but worth it. And we are still using the frames from the wreaths she made us to create home-made Christmas decorations every year.
Decoration  
The quirkiest element of the décor came from the hand-made, faux-taxidermy animals from our good friends (and wedding guests) Kath and Jon from Broken Hare. We had a huge stag head put up in the stone barn where the ceremony was, and that's where we included the handmade wreaths from our florist, too. In the main, circular barn we included one of Broken Hare's giraffes, which turned into a great place for people to take selfies! We also had one of their unicorns, and a little fox head – it was fun watching people's reaction to them throughout the day. The rest of the décor was very DIY – we hung paper lanterns and festoon lights, foraged ferns for the tables and for vases, and my sister hand-wrote the order of service and the table plan.
Food  
I write a local food blog so I knew people would be expecting a good feed. Our friend Laura from The Tidy Kitchen Co did our catering, and she did an incredible job – we told her we liked the idea of a 'summer roast' and she worked her magic from that brief. We had a cold starter of burrata with beetroot coulis, pickled radish and edible flowers. For the main we had organic roast chicken with a delicious lemon and garlic sauce, served with huge platters of sharing sides – crispy new potatoes with garlic and sea salt, heirloom tomato caprese salad with buffalo mozzarella and basil pesto, miso-roasted aubergine with sumac and pomegranate, and green beans with chilli. We were able to try everything at a tasting evening at Laura's house before the wedding which was a really fun way to decide the final menu and get excited about the big day.
On the drinks side, we had two kegs of beer from a hyper-local brewery (less than 10 miles away), and lots of small cans from an eco-friendly company called Toast Ale, who make beers out of wasted bread. We found a natural red wine from Spain, and a white from Portugal that we drank on the night we got engaged. Then we had plenty of Prosecco, and lots of sloe gin which we made from sloes picked from Pete's Dad's garden.
In the evening we provided a help-yourself cheese tower, with loads of chutneys we picked up from the local farmers' market. We also had award-winning local street-food traders Dusty Knuckle serving up wood-fired pizzas by the slice.
Wedding cake 
We didn't want to splurge on a big fancy thing, so my mum made our wedding cakes; a chocolate one and a vanilla one, and she stressed about it for months beforehand! But they were both delicious and disappeared in minutes.
Entertainment 
We had a classical guitarist for the ceremony and reception drinks, a live band doing pop and rock covers for the evening, and then playlist that Pete made for the late-night tunes.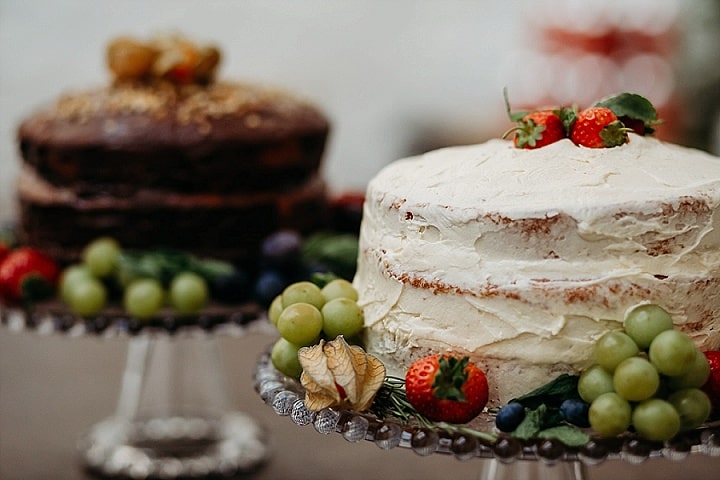 Who supplied the stationery? 
To save on waste, the 'save the date' was just an email PDF which I designed on Canva. We sent out paper invites which I bought from a standard template from Papier, but I got my calculations wrong and ordered one per person rather than one per household, so I asked my sister to turn the surplus ones into hand-written menus for the tables on the day. She also did name placeholders, and we pinned an RSPB badge onto each one as a wedding favour.
Where did you go on your honeymoon? 
We had a short mini-moon in Carmarthenshire at a place called Cambrian Escapes – they have a cosy self-catered cottage that comes with a with a wood-fired hot tub overlooking a babbling brook. It's gorgeous. Then in January 2020 we went to Bali for the proper five-star honeymoon experience. 
Personal touches 
All of the decorating was done by us and some of our wedding party – from putting up paper lanterns to collecting ferns for the tables to stringing up festoon lights in the ceremony room and hand-painting the signage. We wanted a day that we designed – not someone else – so we knew we'd have to work hard on the two days beforehand to bring it all together. But it was part of the fun.
Special moments 
Pete: First and foremost, Jane walking down the aisle, she looked incredible. But the whole day was brilliant, it's very rare to have all your friends and family in one place and to share our day with them meant the world.
Jane: We had our own top table, with just the two of us sat on it. At one point during the wedding breakfast I remember us looking around the room, at the sunlight pouring in through the windows and all of our friends and family enjoying the meal that we'd chosen, and thinking 'well, this is bloody great'. That moment of contentment combined with the anticipation for the evening celebrations was pretty special. 
Advice for other couples 
Pete: Relax and enjoy every minute of the day. Also pace your drinks, you don't want to be forgetting anything or feeling disgusting the next day.
Jane: Decide what the most important things are to you, and don't compromise on those, but do think about ditching the elements that you don't feel strongly about – you don't have to follow tradition for the sake of it. Try not to create loads of waste with favours and décor that will only be used once. Most importantly, try not to get stressed – break what needs to be done into smaller chunks and just tackle it bit by bit. You'll have the best day whatever happens, so there's no need to worry too much.
Biggest surprise  
Pete: Jane turning up! Nah, no real big surprises, apart from the amount of alcohol we had left over. Was expecting more damage to be done but it just meant that our home bar was very well stocked for a while!
Jane: I had a pretty clear idea of how everything would go as I had planned it all to the letter, so there were no real surprises for me – just how fast the day went! It flew by.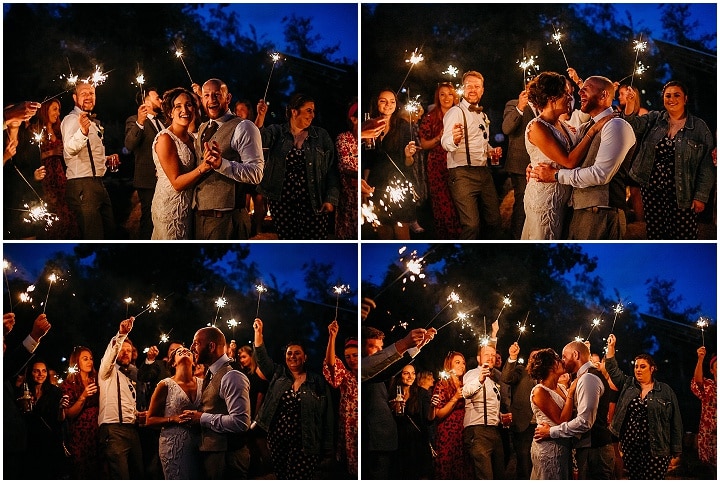 Supplier Shout Outs
For more information on When Charlie Met Hannah go to
www.whencharliemethannah.com / www.whencharliemethannah.com/blog  / www.vimeo.com/whencharliemethannah / FACEBOOK / INSTAGRAM 

We are When Charlie Met Hannah, a photo and film duo made up of two friends who love weddings! We are based in Newport in South Wales but we love to travel. Our style is fun, relaxed, prioritising real moments over posed. We are completely camera shy ourselves so we empathise with our couples and won't make you do anything that makes you cringe! Above all we just want you to have fun and enjoy your day.

 

[jprel]