Today I am bringing you this super stylish, industrial inspired wedding from Derbyshire. Bee and Matthew describe their wedding style as 'Scandi and Simple with a bit of industrial thrown in'. They used a colour palette of black, white and grey and used the foliage to add a splash of green and to give a softer look. The whole day was held at Haarlem Mill and was filled with a lot of laughter,  great entertainment and amazing food and drink. Big thanks to London Wedding Photographer Miki Studios for the awesome images.
It was incredible from start to finish, and amazing to have all of our friends and family in one place to celebrate. It was just one big party, all day!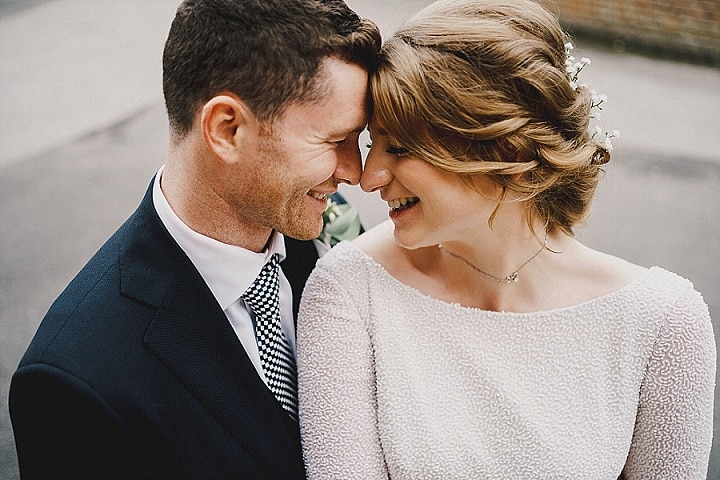 Bee and Matthew were married on 28th September 2019 at Haarlem Mill, Wirksworth in Derbyshire. 'We were looking for something industrial that would work both to reflect the scandi style that we had in mind and also the fact that we are both engineers. The red bricks and wooden floors at Haarlem were perfect, so we went to have a look. After finding out that Haarlem is actually a catering company-turned-venue and having met Helen, Natalie and Millie – we knew that this was the one. We had 110 guest and it took 18 months to plan' 
How they met 
We met at University through the Tennis Club initially, and subsequently discovered that we were both doing similar engineering courses, and came across each other in lectures. Matt would obtain catering packets of Chocolate Bourbons through his job as a Student Ambassador and try to win me over by supplying these during my long Monday of lectures. In the 7 years since, we've coincidentally got jobs working for the same company – in different departments – and both moved abroad to the same city, working on different projects…
The proposal
In classic Bee & Matt style the proposal was highly unconventional. I had had a stressful day at work and came home to a very shifty Matt, who when challenged about why he was being so shifty, decided that the best course of action would be to propose on the spot on a random Thursday night at home. Given that my immediate response was "but I'm so young" this was probably the right thing to do – I of course followed up very quickly with a yes!
How did you allocate your budget?
Honestly, we tried not to let "budget" stand in the way of us having the wedding we wanted. Obviously, we had a budget, so made sure that we had enough allocated to the things that mattered to us and that would be the most memorable. A good 40% of the budget went on food & wine and probably the other significant chunk went on entertainment and photography – as these were the things that we would remember and have to remember the day by.
Where did you splurge and where did you save?
Food was always going to be where we splurged, and wine, so this was definitely where we spent our money. Haarlem Mill being their own catering company (Zest4Events) we were able to choose the food and completely tailor the menu, they were so accommodating. Matt is known for his love of Garlic Bread, so that had to feature somewhere! We also spent a long time choosing the entertainment as this is normally the thing that we find the most memorable and enjoyable at other weddings. I also knew that I wanted to have lots of stationery, as this is something that I have loved for as long as I can remember, so we probably spent a little more than average on our invites.
We saved on decoration as the venue didn't need much, but also chose not to spend money on favours, instead we treated everyone to incredible food and a free bar. We think this went down pretty well!
How did you choose your photographer?
We met Ash of MIKI Studios at a friend's wedding as their photographer, he was super friendly and we honestly thought he was a guest or a friend, he interacted with everyone so well. We booked as soon as we had confirmed our date!
The dress 
My dress was by Andrea Hawkes, again I wanted something really simple but also something a little unpredictable – I didn't want people to think 'oh that's exactly what I expected her to wear.' My shoes were from Russell and Bromley, again simple, nude suede block sandals, my bridesmaids wore the same style in black suede.
The suit and bridesmaids
The suit was from Clements & Church in Leamington, this was one of my favourite parts of wedding planning, choosing the tiny little details. Matt continually wound me up, saying that he wanted to get married in a white suit, so he had a white storm collar put into his suit as a nod to this.
We dressed the boys in T.M.Lewin suits and the bridesmaids wore Jenny Yoo dresses, having been told that they could have any style they wanted – they all ended up in the same dress! We had a great day at The Wedding Gallery in London trying them all on, they have lots of designers, sizes and colours – which meant that we could see them and try them rather than taking an online gamble.
Theme or colour scheme
The theme was scandi & simple – with a bit of industrial thrown in. We used a lot of black, white and grey – with plywood and concrete to complement the venue. The bridesmaid's dresses were a steel blue as I didn't want them to look like they were dressed in the décor! The colour suited all of them perfectly.
Flowers
We are not big on flowers, so the criteria for these was that they had to be very minimal and white. We chose white hydrangeas, lily of the valley and lots of green foliage which went perfectly with the concrete and ply. Kerry from, who's workshop is conveniently based in The Mill completely got the brief and made the venue look incredible, complete with a foliage hoop that framed the ceremony and provided a backdrop during the evening.
Decoration
We were lucky in that we didn't need a huge amount of decoration, the venue in itself was almost enough. We decorated the tables with running foliage and a few flowers. Each table also had a plywood table number, which Matt and I designed in CAD, and then had CNC'd. The table plan and order of the day were also printed on plywood to match and the candle holders were all concrete. I also set a challenge to my very practical father to make a concrete cake stand, which he rose to and it looked fantastic, but also weighed an absolute tonne!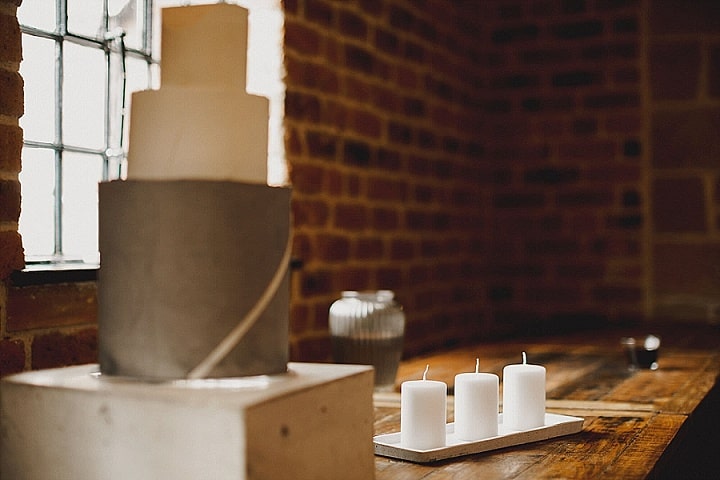 Food 
We were so busy that we missed most of the canapes, which included fish pakoras, lamb with Greek yoghurt, smoked salmon and more. As our reception drink we offered a Cote de Provence rosé – as this is what we spend most of the time drinking when we are on holiday!
When we sat down we had boards of antipasti (with Garlic Bread!) to start as this was a bit more informal and we always find that canapés, three courses, cake and evening food can be a bit too much! Our main was slow roasted belly pork, which I could eat again and again. Followed by either chocolate fondant or lemon tart – firm Family Wyatt favourite desserts.
During the bands break we served bacon or sausage sandwiches – perfect for soaking up some of the alcohol!
The wine was equally as important as the food, so we can't move on without mentioning the wine tasting that we had with John Hattersley, a local wine merchant who gave us a superb wine tasting with our families to help make some very difficult decisions! I am still ordering his wine and will continue to do so!
Wedding cake
We virtually met Nat over FaceTime, as we are currently living abroad, when first thinking about the cake and once again we were incredibly lucky. She instantly got the theme and style of the wedding, and designed and made us a stunning cake that stemmed from the theme of our stationery. To top it all off the cake was the best cake I had ever eaten, we had 4 flavours including sticky toffee pudding and Espresso Martini.
Entertainment
During the day Nick Stein entertained us with some incredible hustling – not your average magician – and during the evening Capitale kept everyone on the dancefloor. They were amazing and probably significantly reduced the number of people propping up the bar and adding to our bar bill! I don't think the dancefloor was ever not full!

Who supplied the stationery?
Natalie of Nats Paper Studio supplied all the invites and on the day stationery – and tied everything together using her Modern Geo range. She also sourced some drinks markers, made out of Perspex, which acted as place names for each guest. I was really keen to support small businesses throughout the whole process, and Nat proved that this was absolutely one of the best decisions, it felt like she was so invested in your wedding, with an incredible attention to detail and just a genuinely friendly person to work with.
Where did you go on your honeymoon?
We had a mini-moon directly after the wedding, spending 3 days in Copenhagen (continuing the scandi theme!) before driving back from the UK and stopping off in some small French towns before heading back to Munich. We hope to have a proper honeymoon at some point, but need to find 3 weeks to head off to New-Zealand, so maybe when we move back home!
Personal touches
We knew that we wanted a reading to break up the ceremony, but neither of us are keen on poems or the standard wedding readings – they just aren't our thing! Instead we chose for Matt's sister to read an extract from Paddington as both a childhood favourite and also because some of the character's traits are those of Matt and I!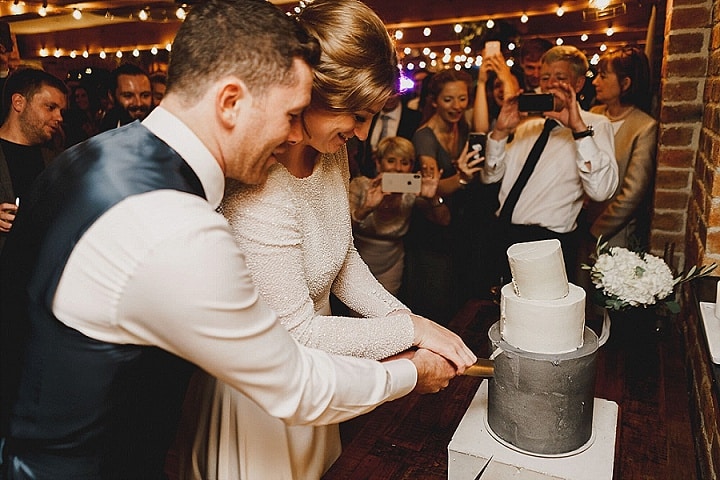 Special moments 
The whole day was special and memorable, but if one thing stood out as a highlight it was the dancefloor. The whole day was one big party but the dancefloor was something else – there are plenty of photos as evidence!
Advice for other couples
There's lots of advice out there, but undoubtedly, you'll question at times just quite how much money you are spending on a single day so our advice would be the following:  You probably won't have another opportunity to celebrate and party with all your friends and family together, so spend what you can afford to and we promise you won't regret it. If we could spend the same money to have the same day again, we would!
Also don't feel that you have to abide by tradition or do what is expected of you. We didn't have a first dance because, quite frankly, we can't dance! Instead we had a dance at the beginning of the second set which everyone joined in with. I also chose to have a best man who made a speech and helped with a huge amount of the organisation. Everything that we chose to do was a reflection of our personalities and we definitely didn't abide by the book! Do what you want – it's your day!
Biggest surprise 
We aren't big fans of surprises, so everyone was under strict instructions! The best surprise actually came a few days later as one of our groomsmen had been secretly filming throughout the day and had collated a video of all our guests singing and dancing along to our 'first dance' song – Adventure of a Lifetime by Coldplay. I think we've already watched the video a few hundred times and it was the most unexpected, but brilliant present.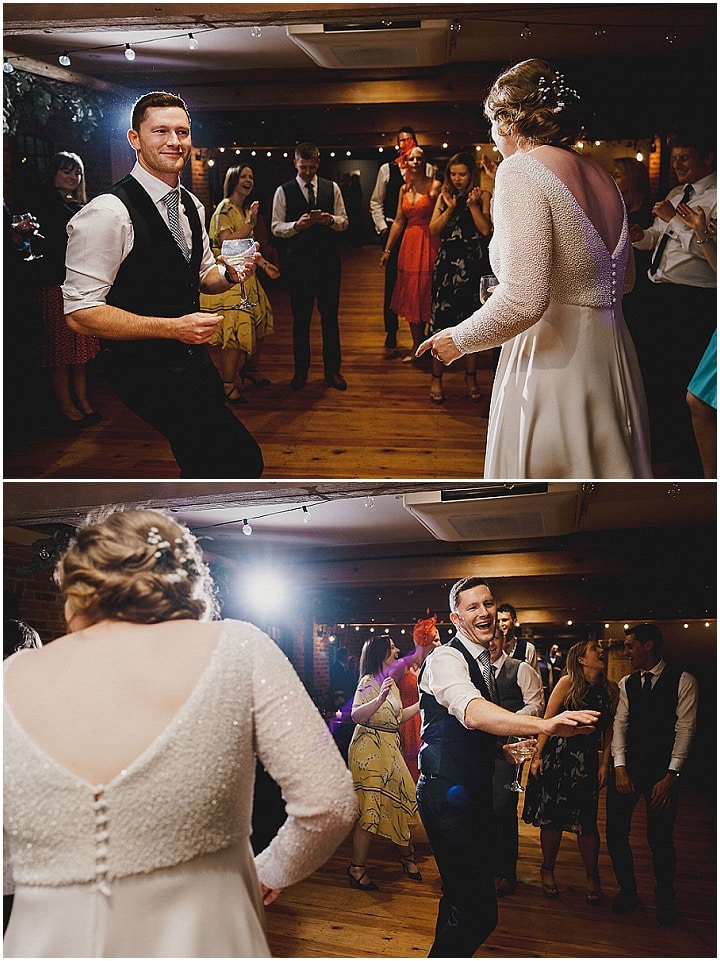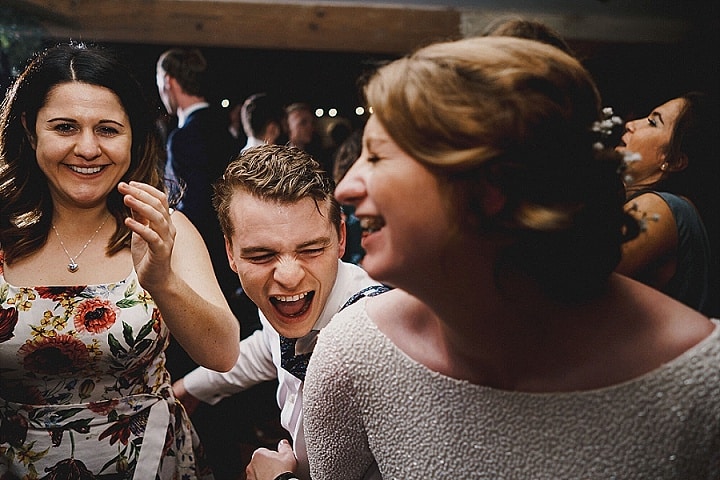 Supplier Shout Outs
For more information on MIKI Studios go to 
www.mikistudios.com / www.mikistudios.com/haarlem-mill-wedding-photography /  [email protected] / FACEBOOK / INSTAGRAM