Today I am taking you off to the gorgeous South West of France for this delicate, romantic and bohemian inspired country wedding, courtesy of Marie Marry Me. Sandra and Bruno were looking for a rustic chic wedding venue that gave them the country laid back vibe. They found in Mas du Juge. The whole day is ethereal, whimsical and totally dreamy. With pale whites and creams, for a natural relaxed look, the splashes of colour in the flowers, add just enough of a contrast. This whole wedding is fun and filled with smiles, especially from the number of children. Everyone looks super stylish, yet laid back at the same time. Enjoy!
Romantic and delicate, but also funny, bohemian and artistic.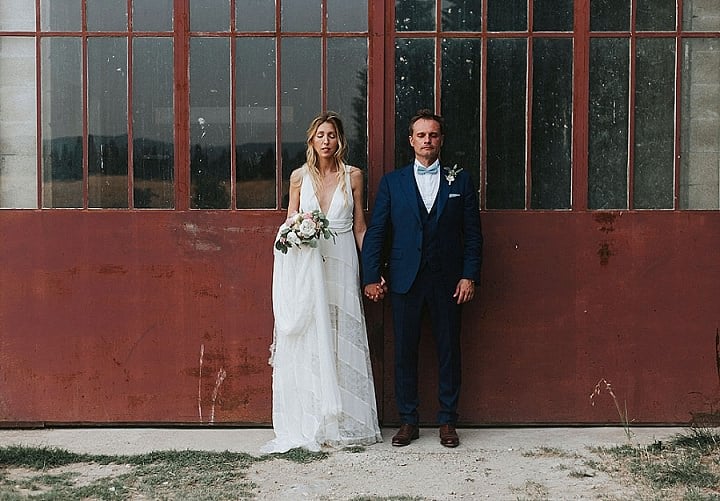 Sandra and Bruno were married on 29th June 2019 at Moulin des Rosiers (South west of France) 'We were looking for rustic chic wedding, and we wanted a country house where kids could play and all the guests could enjoy some live music, a handmade ice-cream corner, etc. Like a summer party with friends and family. I love florals, and definitely wanted this organic and natural side in our celebration. Something chic, but bohemian. Something that really inspired me is the work of Davis Hamilton. We had 120 guests including children, and it took a year more or less to plan.'
How they met
We met the 17th June 2006 and we knew we were meant to be together. In 2008 we became civil partners. We have two daughters: Tess and Swan (six and nine years old). In fact our wedding's day was also the birthday of Tess, that's why we had two cakes: the typical French wedding cake (pièce
monté) and another smaller one for Tess. We're SO happy together, so why not upgrade to a full commitement now that we're a family?
The proposal
There's no much to say about this… We got engaged in 2008 and we became civil partners (pacsés in France) and we decided to confirm our commitment and celebrate it with our friends and family now that our daughters are older, so they could be also part of the celebration.
How did you allocate your budget?
This was so difficult! Main thing was the house, and of course the caterer company, and the photographer. I work as a fashion designer for a company, so I designed my own dress. And I love handmade details and DIY in general, so I've tried to do all the decoration details by my own. This means, not only all the decoration stuff of the tables, Seating Plan, and different corners in the Venue. But also the floral crowns for the kids, their clothes… Everything I could do, I did it by my own.
Where did you splurge and where did you save?
I did not splurge a lot, but I invested in the venue and the caterer, and I could save in other things like the make-up (I did it myself also). Thank god Pinterest exists!
How did you choose your photographer?
I found Marie Marry Me surfing the net and I've felt in love with their way to capture the feelings and actions in a spontaneous way. I love that! Their videos and photos are so natural, so we are. We don't like posing, we love their artistic eye, their way to click in the right moment at the perfect time: smiles, love and complicity. Their images are lovely! It was a total match with my way of thinking, because I consider myself also an artist since always, as I'm working in the image side for the fashion industry since 20 years ago. Negative side? Honestly I don't know. They were amazing, since the first e-mail Eva was there (no matter when I send her a WhatsApp she always replied my messages so fast!), until the day after the wedding, when they came back to the venue just to say Bye.
The dress
I had two dresses: one by Delphine Manivet and another one designed by me I work for BA&SH Paris).
The suit and bridesmaids
Massimo Dutti and the bridesmaids were BA & SH
Theme or colour scheme
Only for the bridesmaids and groomsmen. Ladies wore matching dresses and matching accessories (I did her floral accessories), and gentlemen wore blue suits.
Flowers
Different types in an organic palette (greens and whites). And for the evening, at the candy bar, there were more colourful and small flowers, like a wild giant bouquet in a big rattan basket.
Decoration
Everything was handmade (I'm a DIY bride!). I did the illustration of the stationery, all the signs, the floral arrangements, etc.
Food
We booked a French local caterer called "Mélodie des Mets", and they offered us different starters/canapes during the wedding reception, served in a dynamic way so our guests could taste them from the plates. This included also a grill for the hot starters, but also a jam and cheese corner. And then into the dining room, we've continued the meal with some other "serious" dishes, like a vegetables with seafood soup, and some other specialités.
Wedding cake
The typical French cake called "pièce monté". Not a cake, but a mountain of small cakes made by Rabattu.
Entertainment
We have a Gospel choir in the religious ceremony, but also during the reception (they've played some other indie songs). And during the party we had a DJ and a Photobooth, so our guests could take funny pictures all night long.
Who supplied the stationery?
I did it by myself
Personal touches
Almost everything!
Special moments
The preparations with my best friend and my two daughters were very special, indeed. Share these very special moments with my children was really unique. And then of course the ceremony with the gospel choir, but also the reception, where we could spend some time with all our guests.
Advice for other couples
Do not stress so much, everything's gonna be fine if you both love each other truly and with fully commitment.
Biggest surprise
Everything was perfect as it was, so I guess that there were no big surprises. The day after we did a Brunch with all the guests and the photographers stopped by just to say Bye because they were traveling to Barcelona by car. And at night they were sending us a selection of the images, so we could re-live some of the moments. Time flied that day!
Supplier Shout Outs
For more information on Marie Marry Me go to
www.mariemarryme.com / FACEBOOK / INSTAGRAM / PINTEREST