Today's wedding sees us head across to Nottingham for this 'Festival Feel' Woodland wedding that is filled with amazing decoration, gorgeous blooms and the sweetest couple. Lydia and Seth managed to plan a wedding for 150 people in 6 months, pretty good going i'm sure you will agree! They wanted a laid back day, at a location they cold really put their stamp on and this they found in the local Scout field. The whole day was helped along by utilising lots of their good friends' talents, including the catering, cake, wedding ceremony and decorations. The whole day is full of colour, garden games, fantastic blooms and lots of smiley happy people. The day was captured beautifully by Vicki Clayson Photography.
The most wonderful few days of our lives! Sunshine, laughter, love
Lydia and Seth were married on 1st September 2018 at Tollerton Scout Field in Nottingham. 'We knew we wanted a venue that was 'us' somewhere we could put our own stamp on things – relaxed, informal and a bit wild. We looked at a handful of 'proper' venues but none of them felt quite right then Seth suggested we have a look at the old scout field in the village where he grew up. It was perfect – a blank canvas, a field with a small wood behind it. The fact it was part of Seth's childhood made it feel even more special. We had 150 day guests plus quite a few more in the evening (we lost count slightly as I thing we ended up inviting half the village!.) It took 6 months to plan, we got engaged in March and got married in September.'
How they met 
We actually met in a tent in Scarborough! I was on a surf camping trip with some of my friends when this hot, bearded tattooed surfer rocked up at our tent, as soon as he smiled at me I knew I was in trouble! It turns out Seth had known one of my friends for years and as he was a local she'd told him to pop by and say hello…and that moment changed everything; by the end of that weekend I think we both already knew that we'd met the person we wanted to spend the rest of our lives with. We only actually met a couple of years ago and it has been a complete and utter whirlwind since then but when you know, you know!
The proposal
Seth proposed when we were snowboarding in France (I say we were snowboarding, rather I was snowboarding and Seth was falling over a lot as it was his first trip!). I remember thinking he seemed a bit nervous that day and he told me it was because it was because we were so far up the mountain…I got to the bottom of a run and it had just started snowing, Seth was waiting at the bottom and he asked me to come and see the view he'd found, I did and when we got there he got down on one knee and asked me to marry him.
Where did you splurge and where did you save?
We had a relatively small budget and when we started planning we thought it might be a push to have everything we wanted but somehow we managed it! In fact I think timescales and budget actually helped us make decisions (that and a hefty dose of fate!)
We sat down early on and decided what our priorities where and both agreed that we really wanted to share our day with all our friends and family rather than having to trying to whittle down the guest list.
My dress was about 10th of its original price in a closing down sale and the venue was next to nothing. We pushed the budget on the band because we really wanted make sure everyone danced!
How did you choose your photographer?
I am very self conscious when it comes to having my photograph taken, so much so I nearly convinced Seth that we shouldn't have a photographer just to negate the stress of me having to pose for photos, luckily he persuaded me otherwise!
I followed a few wedding photographers on Instagram and someone recommended Vicki to us. I loved her style immediately. On the day she made us feel totally relaxed and at ease, it just felt like having a friend take pictures! She did an absolutely incredible job and captured the day perfectly – I love our wedding photos so much!
The dress 
My dress was from Angela Vikkers in Nottingham. It was pretty much the only dress I tried on. I walk passed the shop on my way to work and noticed it was closing down – I called in on the off chance and immediately saw the dress. I tried it on and it fitted and I loved it! My shoes were from ASOS but I changed into some silver vans as soon as we walked out of the ceremony!
The suit and bridesmaids
The suit qas French navy with a tweed waistcoat – Seth tried on a few different ones but in the end settled on one from ASOS!
I let the bridesmaids choose their own dresses – I wanted them to feel comfortable with what they wore and thought the idea of mix and match would just add to the boho feel of the day
Theme or colour scheme 
We just went with the festival feel of the venue; rustic, woodland and boho.
Flowers 
I could have agonised for hours over flowers, in the end I stumbled across Sophie's flower co.  and just left her to work her magic. Lots of bright bold blooms to contrast against the woodland backdrop.
Decoration
We hung dozens of tea light lanterns and fairy lights in the woods and then aside from that kept it fairly simple and rustic. Foliage runners and glass lanterns for the tables, bouquets doubled up as centre pieces.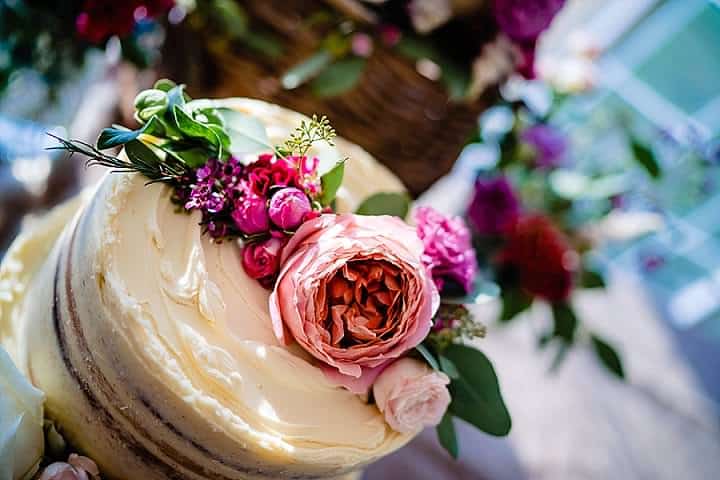 Food 
One of my dearest friends, Jasmin runs a café and she laid on the most incredible feast – poached salmon, porcetta, homemade pies, quiches, breads and Ottolenghi inspired salads. There were canapés and after the ceremony and stacks of cheese boards came out later on in the evening.
We wanted a relaxed style of eating, a summer picnic rather than a formal 3 course meal and it was just perfect.
We also asked a few of our nearest and dearest if they wouldn't mind bringing a pudding to share instead of a gift – we were totally overwhelmed with what people turned up with (I think we could have actually held a bake off as part of the day!).
Wedding cake
3 tiers of lemon and raspberry, elderflower and pomegranate and Victoria sponge, again Made as a wedding gift by my lovely friend Jasmin
Entertainment
We had a band, the amazing 'Horse & Jockey' horsebox bar (which totally made the venue) and some outside games. We also set up a 'kids tent' to try and keep the small people occupied.
Who supplied the stationery?
We found a lovely Esty seller called Blooms, she designed us a digital template which we could amend and print out ourselves
Personal touches
One of the reasons we loved our venue so much is that it gave us free reign to do what we wanted. We actually had got legally married a couple of days beforehand in a tiny ceremony so our friend Jon (the self titled 'bargain basement Brian Blessed!) acted as our celebrant on the day for a hand fasting ceremony; Seth wrote the words (although there was plenty of ad-libbing!) and we both did our own vows.
We tried to do as much as possible ourselves as it just all felt like part of the fun – everything from spending weekends down at the site clearing the woods, to making lanterns and litres of limoncello!
Special moments 
It really was the most magical few days of our entire lives (so far!). I remember arriving and walking into the woods and the sun was shining and all our friends and family were there and just thinking 'this couldn't be any more perfect'.
Advice for other couples
Just to relax and enjoy every moment of it, it all goes so quickly! The build up is all part of it there's no point in getting stressed about the little things.
Biggest surprise
Seth had organised a vintage VW camper to pick me up and take me to the venue on the day. I had no idea until it arrived.
Supplier Shout Outs
For more information on Vicki Clayson Photography go to
www.vickiclaysonphotography.com / [email protected] / 07973773796 / FACEBOOK / INSTAGRAM / PINTEREST
I'm Vicki Clayson, a wedding photographer based in Leicestershire and I love nothing more than capturing the most special moments of your big day. I specialise in creating beautiful, natural documentary style wedding photography that you'll look back on with joy and happiness for the rest of your life. I adore capturing those moments that tell your story, the tears, the hysterical laughter, and the close embraces.