Happy Monday everyone, and how are you all this fine Monday? Did you have a good weekend? Did you get up to anything wedding related? If so I would love to hear all about it in our fab Facebook group, there are lots of brides and grooms to be chatting all things weddings to, and exchanging advice. It's 2 weeks before I go away on holiday to Ibiza and my to do list just seems to be getting longer by the minute! This week is going to be VERY busy. Plus Dexter is in his first dance show this week, he is super excited but I am just a big bag of nerves! Anyway, on with the first wedding of the week and it's a real cracker! Laura and Danny have been together for 20 years and after having 3 children decided the time was right to tie the knot. They were lucky enough to hold the wedding on a friends farm, which is just as well as they had 300 guests for the afternoon reception and then 600 for the evening. It's a totally fun filled, family friendly day, filled with lost to do, and so much laughter and love. Big thanks to Photography by Bond for the fab images.
A traditional, old fashioned, locally sourced, family country wedding.
Laura and Danny were married on 23rd September, the ceremony was held at The Paper Mill, Benenden, Kent, with the reception at Risden Farm, Sandhurst, a private farm of a friend. We had 60 guests at the ceremony rising to 300 in the afternoon and up to 600 by the evening (it was a 3 part wedding). It took one year to plan.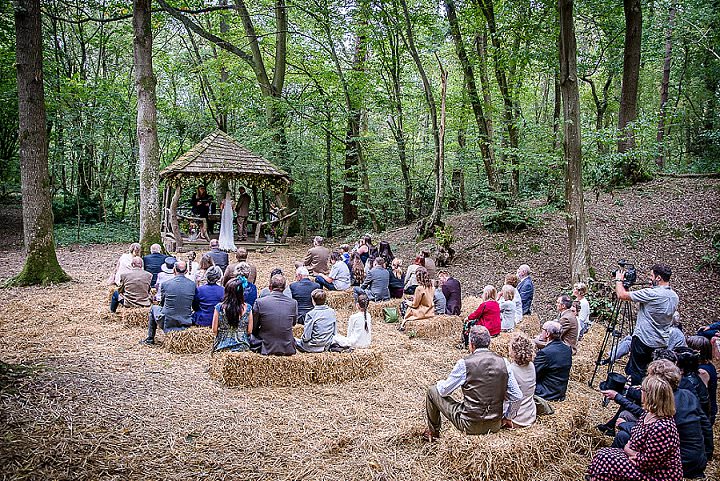 How they met 
We grew up as neighbours so have always known one another. We went our separate ways after leaving home but after spending time together in the summer of 1997 our relationship began and 20 years later we finally got round to getting married!
The proposal
I'm afraid there was no romantic proposal, we both always knew we would get married at some point when the time seemed right. At the beginning building our business was our priority and then children came along so we didn't get around to it until 20 years later!

How did you allocate the budget
We decided which elements were most important to us and spent the money in those areas. We wanted all our guests' needs to be met so a wonderful day could be had by all. The marquee and catering were areas we spent most money on, clothing and decoration were areas we saved.
The photographer
Choosing a photographer was difficult initially as you wade through many websites but pretty quickly you recognise a style that pleases you and narrow down the possibilities. For Dan and I once we had a shortlist, it then came down to personality and after a few conversations with Claire we felt sure she was the right fit for us.
The dress
My dress was by Lusan Mandongus, shoes were Rainbow Club. Our daughter was the only bridesmaid and chose her own dress online from an inexpensive supplier abroad!
The suit
Dan wanted tweed suits for himself, our sons and our brothers that we hired from a company called Black Tie in Crowthorne, Berkshire.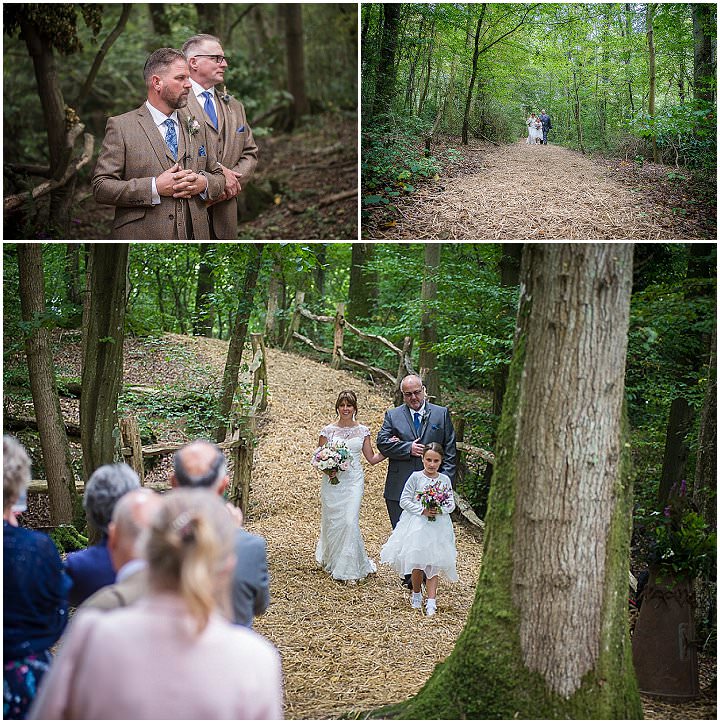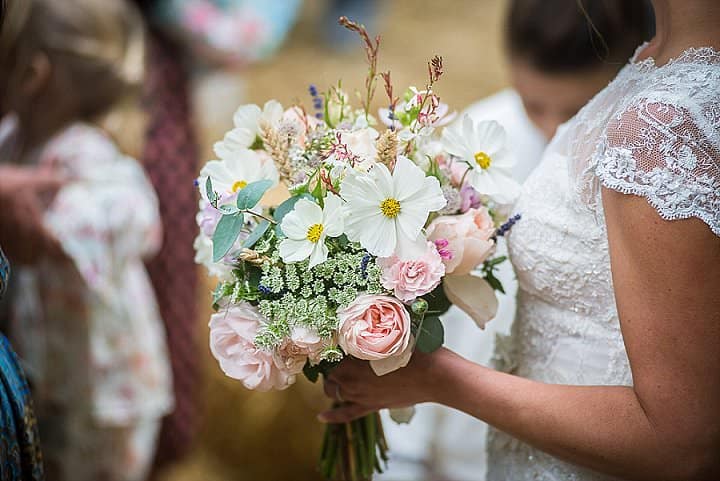 Theme or colour scheme
Our theme I guess was for the feel of an old fashioned summer / harvest country fair with lots to see and do besides a wedding celebration.
Flowers
We had cottage garden flowers on the tables in an array of different vases and jars.
Decoration 
Our decoration included a lot of fairy lights, hops, wheat, barley, bunting and every piece of vintage item we have acquired over our 20 years together!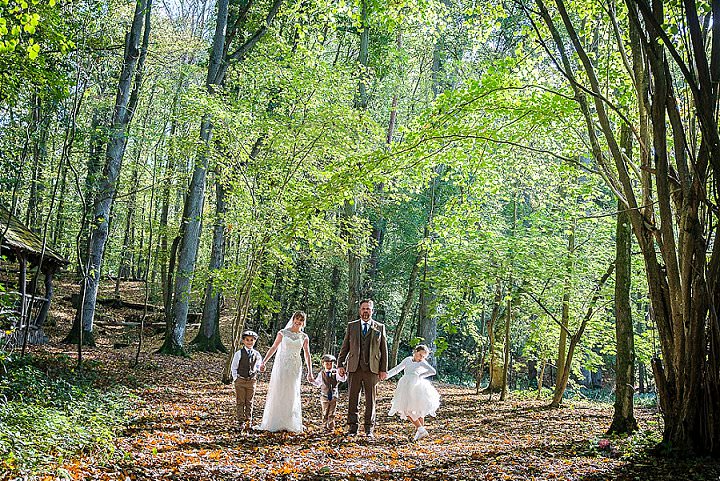 Food
Catering was hog roast cooked over Applewood on two homemade roasters, salads and new potatoes. Chocolate brownies and eton mess for desert.
Wedding Cake
A very talented friend of ours made our naked wedding cake decorated with fruit, flowers and wheat.
Entertainment
Our entertainment included a magician, band, disco and solo singer.
Stationery
A friend of ours did a hop drawing for us to use on our wedding stationery for our local printers to produce.
Personal touches
We made lots ourselves – living van, tables and benches, dried confetti, confetti cones, splat the rat, noughts and crosses, sandpit, bunches of wheat/oat/barley, the bar, maze, pig pen, straw play pit, decorated glass vases for flowers and night lights.
Special Moments
The best man speech was a special moment for us both.
Advice for other couples
Advice would be to produce a detailed timeline and details for suppliers in writing but build in flexibility. Enlist family/friends to help the day follow timeline and support suppliers.
Biggest Surprise
Biggest surprise was how overwhelming the day felt which prevented us taking in any problems or deviations from the plan and enlist someone to try and help sort it out.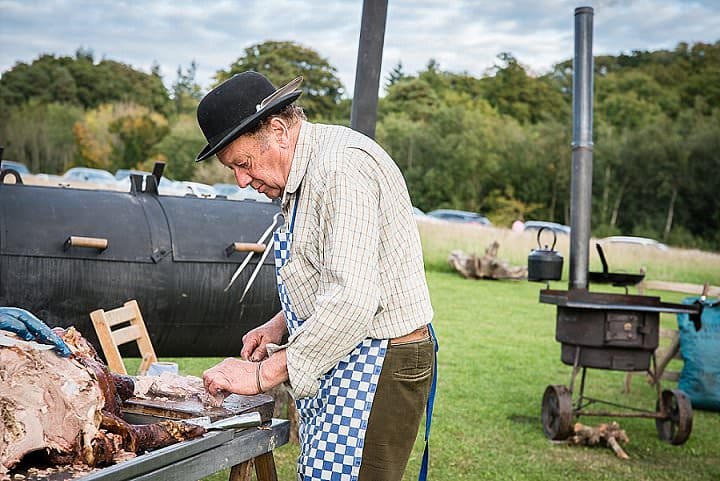 Supplier Shout Outs
For more information on Claire's Photography go to
www.photographybybond.co.uk / www.photographybybond.co.uk/blog / FACEBOOK / INSTAGRAM / PINTEREST