Today I have a real treat for you, I just wish that we had the ability to smell via the blog, as today's post is all about the most amazing scented candles you could wish for. Rachyeta Singh is the owner of Coco Rose Apothecary and she is here today to tell us more about her amazing business and her delightful candles. If you are looking for favour ideas for your wedding, or looking for gift ideas for your wedding party, OR even just in the market for a really lovely scented candle then these little beauties are just the thing you are looking for. Personally I am loving the Lime and Coconut, the Mint and Eucalyptus and the Lemon and Grapefruit and what more they are all 100% natural and 100% Eco friendly. I just know you are going to love these, they smell delicious, are beautifully presented and by using the code COCOFIVE you get £5 off at the checkout. Right I'm off to bulk buy a load for birthday presents!
Coco Rose is a modern apothecary in London. Our small kitchen makes all natural, eco-friendly candles for your inner and outer wellbeing – made with love – there is something here for everyone.
Taking floral influences, our products are fresh and beautiful for the modern man or woman. And even more importantly, all ingredients are natural and pronounceable.
Let's be kind to our minds and body, start or end the day with #cocorosenatural
What made you start your business?
I read a quote in a magazine that said 'when was the last time you did something for the first time?' So in 2017, I turned 30 and to make it a memorable year, I set out to have one new experience each month from Taxidermy to Pottery and perfume making to sailing. It was a monumentus year. It was the perfume making class that really stuck – fascinated by how a certain scent can send you back in time. So I spent the last year exploring scented aroma beads, diffusers and finally candles. And I couldn't stop.
Where are you based?
London, United Kingdom.  We cover the UK, but have most recently been taking orders widely to Europe and special orders for wedding favours which we have thoroughly enjoyed.
How would you describe your style?
I love experimenting. I have to set up some control mechanism otherwise I would have a new scented candle each week.
What makes you different to your competitors?
We like being a small business. This allows us to get to know our customers individually and hand pour candles individually. It is so special watching a project from start to end.
What do you enjoy most about your job?
The crafting of the candles, I love being in our kitchen actually making.
What sort of couple do you think you attract?
Eclectic, Boho style couples wanting a real hand made wedding.
What would be your ideal wedding to work on?
A magical outdoor wedding under the stars. Under trees lit up by fairly lights and pathways glowing with candle light.  
Can you give me some information on your pricing structure?
All requests are bespoke.
What can you never leave the house without?
Sample candle set,
What would you do if you won the lottery?
Setup a little highstreet store that pulls you into a sensory experience.
What's new???
I absolutely adore these 3 new fragrances now available from The New Collection – The Evergreen Series is three green inspired soy candles. All 100% vegan and natural – Mint + Eucalyptus Soy Candle, Green Tea + Lemongrass Soy Candle, Lime + Coconut Soy Candle.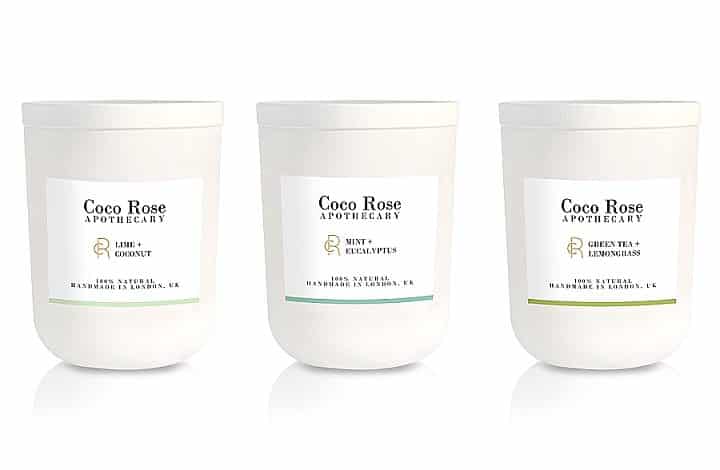 For more Information on Coco Rose Apothecary go to
www.cocoroseapothecary.co.uk / [email protected] / FACEBOOK / INSTAGRAM
this is a sponsored post