Hello you lovely lot and how are you all today? Has it snowed where you are? It has come down pretty thickly here, I'm hoping we don't get too much more if I'm honest. As pretty as it is, it does make the logistics of life pretty difficult! It might be snowy and cold outside today but here on the blog it is Summer, as I take you back to last August with this gorgeous sunflower filled wedding from Elaine Williams Photography. Holly and Etienne wanted a relaxed day with all of their closest friends and family. They designed a lot of the decoration themselves, so creating a wonderful day filled with lots of bright and cheerful sunflowers, earthy tones of browns and greens and some gorgeous memories for the both of them.
Our wedding day was everything we wanted it to be.  The wedding was bohemian, relaxed and we wanted to make sure that everyone could just enjoy themselves and that's what happened.
Holly and Etienne were married on 11th August 2018 at Kingdom Hall of Jehovah's Witnesses with the reception at The Hewett Arms Shireoaks in Nottinghamshire. 'We decided to get married at the Kingdom Hall because it was significant to us given our religious beliefs and we first visited the Hewett for others friends weddings and fell in love with the venue and we felt that it would perfectly match our ideas for an bohemian wedding. We had around 150 guests.  We tried to keep our wedding small to include only close friends and family, we wanted our wedding day to be intimate and only include people who meant a lot to us. To be honest we took our time regarding the finer details but we tried to book the venues as soon as we could, we then gave ourselves plenty of time to ensure all the smaller details were just perfect.  From Engagement to Ceremony day this was 15 months, we were still planning the day before the wedding.'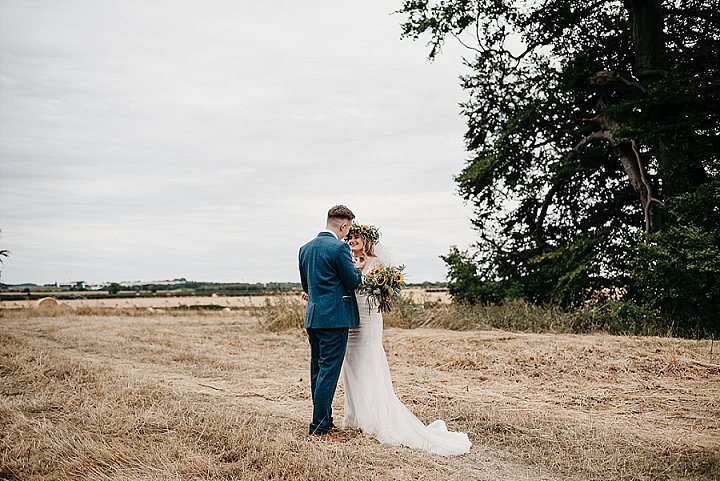 How they met 
We met through connected friendships groups at the cinema to see X-Men First Class, which is a film we still enjoy watching together, we were friends ever since and have been in a relationship since December 2015.
The proposal
Myself and Holly got engaged in Santa Maria di Leuca, which is a fishing village right at the bottom of Italy. On the day everything that could possibly go wrong went wrong, the restaurant I had planned to take Holly too had closed down due to the season. It was raining all morning, thankfully it did brighten up and get quite warm in the evening. I spent most of the day trying to find a different restaurant, I finally came across one and thought it would be perfect. One arrival in the evening it turned out this was also closed for the season. Holly didn't feel very well either so it wasn't looking good. However, after a nice walk along the sea front and the harbour, we came across an amazing seafood restaurant that looked out across the beach, there were no windows in the building so it was just fresh air and the sound of the waves. After our meal we went up the stairs to a rooftop terrace looking out over the sea. The rooftop was  full of candles and lanterns which subconsciously looking back influenced our wedding a little. But it was here I asked Holly to be my wife and thankfully she said yes!
How did you allocate your budget?
When we started to plan the wedding we set out with a realistic budget to spend. However, it all happens organically and we didn't keep a close eye on the budget, but managed to stick to it in the end.
Where did you splurge and where did you save?
We decided that the venue, flowers and photography we the things that mattered to us to the most so we decided to splurge on these things as we wanted them to be perfect.  Elsewhere we tried to do things ourselves and get friends and family involved to keep the cost down.
How did you choose your photographer?
We discovered Elaine through Instagram and instantly fell in love with her style and we knew it was perfect for our wedding.
The dress 
My dress was from Wed2be and was designed my Anna Soranno.  My shoes are Nine West.  My jewellery was from my late grandmother and is a family heirloom, my veil is from Etsy, a shop called ParisienneLuxe in Canada and I wore bare foot sandals from an Etsy shop in Bulgaria called DiaStyle.
The suit and bridesmaids
My Bridesmaids all wore their own shoes, they had earrings and necklaces from accessories and their dresses were from Debenhams.  Etienne's parents sounds a great suit shop in Skipton, Jenson Samuel that supply Marc Darcy Suits.  Holly handmade the flower girls dress out of an old wedding dress she had been given by a family friend.
Theme or colour scheme
We wanted a really relaxed wedding and due to that it meant it self to bohemian themes and country vibes.  Our colours were all organic natural colours, including beiges and earthy greens.
Flowers
Our floral arrangements included lots of greenery such as eucalyptus and wheat along with seed heads, we also had Lavender and Gypsophila, we also had mini sunflowers and herbs, like mint, sage and rosemary.
Decoration
Most of our decoration was floral but we did utilise candles and lanterns, we also scoured the local pubs for their empty gin bottles to make a colourful and unique centrepiece for our table.
Food 
For our starters we enjoyed traditional picnic hampers. We all had little wicker baskets full of cheese, chutneys, pork pies, various breads and fresh tomatoes, all of which was enjoyed with jugs of cloudy lemonade! For the main our chef came up with the idea for Cajun seasoned Pork that was stuffed with Apricot and Cider stuffing, finished of with a single fried Sage leaf. Sided with seasonal veg, herby hassleback potatoes and a beautiful cider gravy.
Finally our desert was a deconstructed spiced apple crumble, which was served with subtle lavender flavoured custard.
For the evening guests Etienne's mum made a cheese cake with Cornish Yarg, Cheddar, Wensleydale and cranberry, montognolo and a Brie heart, served with bread and homemade pork pies made by a close family friend.
Wedding cake
Our wedding cake was a three tier semi naked cake decorated with Gypsophila and sunflowers.  Our layers were pumpkin cake, lemon and poppy seed and carrot cake.  We also had a more traditional fruit cake on the side.
Entertainment
We had a close friend provide the DJ music.  He DJ'd throughout the night playing chosen music from us at first and then going with the flow.
Who supplied the stationery?
We created all our wedding stationary ourselves. I bought recycled cotton paper and printed a photoshopped image onto that and then printed our text from photoshop onto thin vellum paper and used fastened them together with split pins.
Personal touches
We did a great deal of the wedding decorating ourselves, we didn't have a wedding planner, we created all our favours ourselves, made the flower girls dress ourselves, decorated the venue ourselves, made our wedding invitations ourselves.
Special moments
Our wedding day was absolutely incredible and we thoroughly enjoyed every moment of it but a special moment for us was taking a step back from the day and spending some time together as a couple while everyone else was dancing, to just enjoy the day and look at all our hard work that had paid of and spend some time with each other.
Advice for other couples
The day goes by so quickly on the day from waking up to going to bed, just take a moment as a couple to step back and appreciate the day and take it all in.  Also, try not to worry to much about what is and isn't done when you get close to the day.  On the day before our wedding I was worrying the flowers wouldn't be perfect, but at the end of the day, there isn't anything you can change on the day so don't worry about what may or may not be perfect because in the end, it will be exactly what you hoped it would be and just enjoy the days leading up to the wedding to spend time with family.
Biggest surprise 
The biggest surprise for us was that the whole day went exactly how we wanted it to.  There was nothing in the whole day that didn't go exactly to plan, apart from someone cutting our wedding cake up before we had (which was nicely re-patched up for us to cut) the whole day went perfectly.  The amount of love shown at our wedding surprised us too.  Everyone was there to celebrate us as a couple and the whole day from start to finish was filled with so much love.
Supplier Shout Outs
For more information on Elaine Williams Photography go to
www.elainewilliamsphoto.com / [email protected] / 07967399418  / FACEBOOK / INSTAGRAM / PINTEREST