It's Friday, yay for the weekend! How has your week been? Have you managed to enjoy many Halloween activities? Mine has been great, I have spent the week with Dexter and lots of friends and family as it's been half term week. It's been lovely (if not a bit cold) enjoying the Halloween festivities and having lots of fun together. To celebrate all things Halloween and pumpkin related, I have this fun fall wedding from Texas to share with you today. Madeline and Ty chose to get married on Friday 13th and filled their day with subtle Halloween related details and decoration. They went about it very tastefully though, while incorporating the autumn colours and making the most of the gorgeous surroundings. Big thanks to Caryn Noel Photography for the images and to Madeline the bride for sending me in her wedding.
 A romantic Friday the 13th in October with a theme of "whimsical but not fairy, rustic but not cowboy, and bohemian but not casual". The day captured the romance of our love, while also incorporating the adventurousness and the fun of our personalities by having it on a spooky holiday
Madeline and Ty were married on 13th October 2017 at Pecan Springs Ranch, Austin, Texas. 'My groom and I were looking for venues in the Austin area that we felt really had a lot of character versus what one would think of as a traditional wedding venue. He located Pecan Springs Ranch online and immediately we loved the venue, the multiple ceremony sites, the beautiful reception site and the drink donkeys they had as entertainment for guests. When we visited, it was love at site. In terms of guests the total ended being between 150-160. It took about a year and a half to plan.'
How they met 
We say we met through a mutual friend. I was a server at a restaurant in between undergraduate and graduate school and he was working at a local hospital post undergraduate I was saying hello to a group at the restaurant and temporarily sat in my future groom's seat. My future groom came back and we were introduced to the other briefly. That same week, he had a large party for his birthday, which doubled in size and took over my section. I had no choice but to make small talk with him that soon became obviously flirting and numbers were exchanged.
The Proposal
About a year into their relationship, Ty and Madeline agreed that this relationship was "forever." However, Ty's proposal would not come until three years later.
One Sunday afternoon, Ty suggested a trip to the Dallas Arboretum. Madeline was a bit distracted when Ty brought her to a small poetry garden to sit on a bench and admire the flowers. Suddenly, Ty got off the bench and knelt down in front of Madeline. "Wait, wait…is this really happening? Right now?!" She stuttered. Yes, it really was happening, and it was happening when she least expected it. Ty asked Madeline to marry him, and Madeline said yes to the man of her dreams. As they say, the rest is history!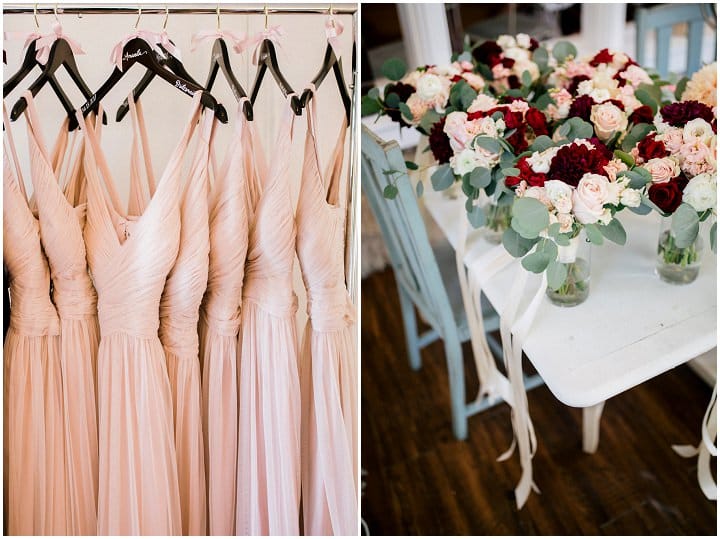 Where did you splurge and where did you save?
Despite spending more than we originally planned, we did a lot of budgeting. I purchased my wedding dress on sale, we purchased his grooms suit during a deal. Both our groomsmen and bridesmaid dresses were on sale. My stationary was on all sale. We took advantages of major sales like Black Friday, After Christmas, Labor Day and Memorial Day sales.
Our major spurges were most likely dinner as we choose to do a Farm to Table option. Very fresh food with a "family style" serving setting, which was about $11,000. But it was well worth it, people were still raving about how delicious our food was months after the wedding.
How did you choose your photographer? 
My bridal portraits and wedding day were shot by one of dearest friends from high school and photographer, Caryn Noel. Caryn hast shot over 100 weddings since the age of 15 and I was so honored to have her capture the most special day of my life. While photography was one of the most important details of wedding planning, I was so glad I decided to also have a videographer. Having both a photographer and videographer has allowed me to relive moments of the day captured in both still frame and moving picture.
The Outfits 
Unlike most brides, I selected my bridesmaid dresses before buying my wedding dress. I had known for years I wanted blush chiffon dresses that were all the same neckline. It was not until I had decided on an October wedding that I went with long dresses over short dresses. I was so fortunate to find a muted blush color by a company I have fallen in love with, BHLDN. Not only capture the exact "flowy" chiffon look I wanted, but also had the perfect muted taupe blush I was looking for.
My first day wedding dress shopping, I found the dress at Patsy's Bridal Boutique in Dallas. Walking into my first bridal salon appointment, the consultant asked me, so what type of dress do you think you are wanting? I responded, "I want lace, "fit and flare", sweetheart neckline, some beading and a long train." My friends and family who accompanied me dress shopping were not surprised I knew exactly what I wanted since I had been waiting forever to marry this man! The dress I selected was exactly what I had envisioned. Designed by Essence of Australia.
Once my wedding dress and the bridesmaid dresses were selected, I let my husband decide the suit color for the groomsmen. He selected a dark charcoal grey color that he, the groomsmen, and both the father of the bride and father of the groom, would wear from Men's Wearhouse. To differentiate between everyone, my husband wore a white bow tie, the groomsmen wore a blush bow tie, and the fathers wore blush regular ties. The brown accents were brown Oxford shoes with a matching brown belt, a white button down shirt, and socks of their choice.
Flowers
In order to expand on my vision of a romantic night in October, my florals and decor had to incorporate the warmth of my color scheme. My wedding colors were burgundy, blush, gold, and white, with the visioned theme to be "whimsical but not fairy, rustic but not cowboy, and bohemian but not casual." Thus, the wedding florals and decor were to incorporate lush greens, muted blushes, deep burgundies, whimsical whites, romantic golds, and touches of rustic, to match the aura of the venue. Specifically for my floral arrangements, I wanted guests to feel romantic with a rustic elegance. Designed by Wild Bunches Floral, the floral arrangements were centered around different textures of blush and and white, with only pops of burgundy, and warm greens to surround the arrangement. While blush is not considered a traditional fall color, it has always been one of my wedding color favorites. So finding the right taupe muted fall blush was crucial to fulfilling the wedding "feels" I was searching for.
Decoration
When selecting my table arrangements and decor, I said I wanted white and gold pumpkins everywhere, flowers with my color scheme, and hints of the Halloween/Friday the 13th fun we were playing off of.  I wanted the colors of the table decor to stand out, so I decided to go with classic white table linens and napkins. Other areas of the venue, including the drink station, had pumpkins of various colors (white, wooden, or gold) all around and of course the "poison" bottle decor was by the drink station.
Food 
After a delicious dinner served family style by Royal Fig catering that included farm market salad, shiner braised short ribs with truffle mash and truffle macaroni and cheese with housemate bacon, guests had their choice of a tiny pie for dessert designed by Tiny Pies.
Wedding cake
In lieu of a wedding cake, my husband and I had four flavors of tiny pies" for our wedding dessert. Flavor choices were chocolate brownie, pumpkin, apple cinnamon, and (in honor of my father's favorite dessert), key lime pie). The tiny pies were so popular, by the end of the night, there were none left!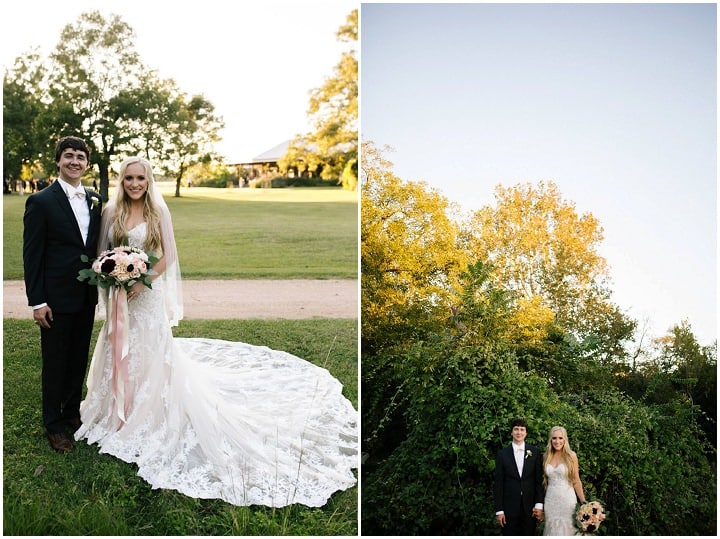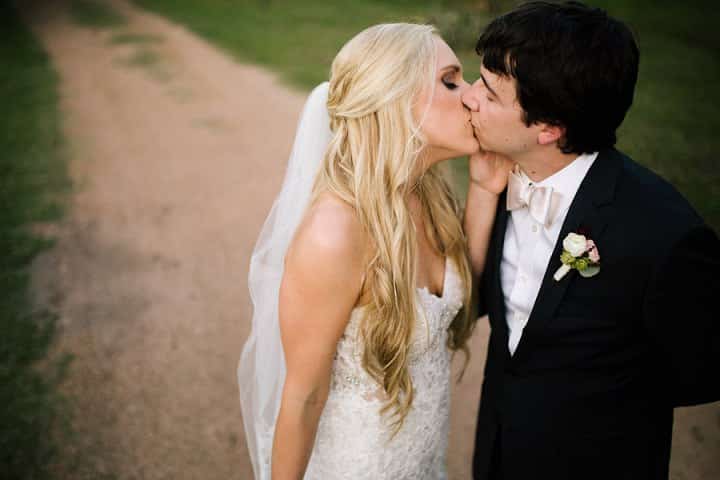 Entertainment
Ensuring my guests were always drawn to a source of entertainment and awe was a huge priority to me. Upon entrance to the ceremony site, guests were greeted by soft sounds from Hill Country DJ. The first thing guests saw was a hand made wooden sign that said "Welcome to Our Beginning" In addition to the "live" entertainment during cocktail hour, guests also enjoyed lawn games such as croquet, giant jenga, and cornhole while listening the sounds of Frank Siantra and Michael Buble.
Personal touches
My groom and I love Halloween and the fall season. But superstitions don't scare us, we got married on Friday the 13th in October! While we didn't have a Halloween themed wedding, we did incorporate a few things to honor our favorite time of year. Instead of the traditional "His" and "Hers" signs on the sweetheart table chairs, my groom and I had the phrase "Til Death" "Do Us Part" written in calligraphy on two pumpkins at our table.
Guests selected their drinks from the "Pick Your Poison" bar menu while surrounded by porcelain poison bottles and gold skulls. In honor of the month of October, we had several different shapes and sizes of real white pumpkins all around the ceremony site and reception. And last, but not least, as choreographed dances continue to be a popular wedding tradition, our bridal party performed "Thriller" for the wedding guests.
Special moments
Special moments and touches for my special day include the day of letter I wrote to my husband said "I have loved you for 2021" days. 2021 was exactly the number of days I had been in love with him to that day. I was able to recall the moment when I knew I loved him by tracking down a photo from that same day, allowing me to count the exact number of days. We exchanged our "day of" letters to each other during our "semi first look" before the ceremony began. My groom was very strict on not wanting to see me prior to walking down he aisle. He did, however, love the idea of a semi first look, holding hands around a wall corner while we read the love letters we had written to each other. His gift to me would be a diamond necklace and my gift to him would be a boudoir shoot and book.
Highlights of the day
The ceremony itself was "unplugged." But once concluded, guests were encouraged to take photos as desired during cocktail hour and reception. Our officiant was the man who introduced us. And were therefore, very honored he was the first to introduce us to the world as man and wife. He also just happen to become officiated on the only other Friday the 13th in the year 2017 (January 13, 2017).
Supplier Shout Outs
For more information on Caryn Noel Photography go to 
www.carynnoel.com / www.carynnoel.com/journal / [email protected] / FACEBOOK / INSTAGRAM / PINTEREST
 "I like to call weddings "love stories" because it evokes more emotion than the word wedding. I don't want to document just your wedding day, I want to document the love and movement that got you to that day. I consider my shooting style to be nontraditional with a photojournalistic feel.  My ultimate aim is to capture authentic connection, unfiltered emotion and the beauty in both the little and big moments. I'm based out of Austin, Texas but I frequently shoot weddings in different states and countries. If you have an elopement or intimate-wedding planned in an epic location, chances are I will waive my travel fee entirely because I love shooting adventuresome elopements the most!"