Happy Monday everyone and welcome to another wonderful week on the blog. I hope you all had a wonderful weekend? Mine was a mix of work, a 3 year olds sleep-over and an animal encounter experience where I got to handle a rat, chameleon and bearded dragon! To start the week I am jetting you off to Germany for the super sunny wedding of Melina and Christopher, courtesy of Rebekka Weiland Fotografie. This wedding is full of the most gorgeous ,simple, rustic styling. The couple did so much of the wedding themselves, really doing their best to keep within their budget. They have used soft natural tones which blend in perfectly with the gorgeous backdrop. A beautiful and touching outdoor ceremony, coupled with an airy and beautifully decorated reception. This wedding is the perfect antidote to today's super cold February weather!
Our wedding was just as we imagined, full of exciting and great moments. The loving design and our guests made it special for us.
Melina and Christopher were married on 22nd July 2017 at the barbecue area in the vineyards of the Palatinate (an area in Rhineland-Palatinate in Germany known for it's amazing wines and hiking in fall season) We celebrated our wedding at this place because both of us come from a small village and love nature and freedom in it. The location has given us the ability to design our wedding as a DIY project. Also the wonderful view was very convincing. We had 120 guests and it took a year and a half to plan.
How they met 
We met for the first time in 2007 on a handball game. We got along very well from the beginning and became good friends. We did not have any contact with each other for some time and it took a couple of years to get back together. We finally became a couple in 2010. At the time of the wedding we were in a relationship for 7 years.
The proposal
On our 6th anniversary (2016) Christopher finally asked the questions of all questions. I've been waiting eagerly for quite some time. After a nice day and dinner together we came home. I had no clue he would propose. I was already on the couch watching Grey's Anatomy on tv. Chris came and told me he had another little gift for me. He gave me a picture of us which was taken at another wedding in the couple's photo booth. In the photo I held a sign which said "perfect together". Then he said that this picture says more than he could put into words. Then he took out the ring and asked me if I wanted to marry him.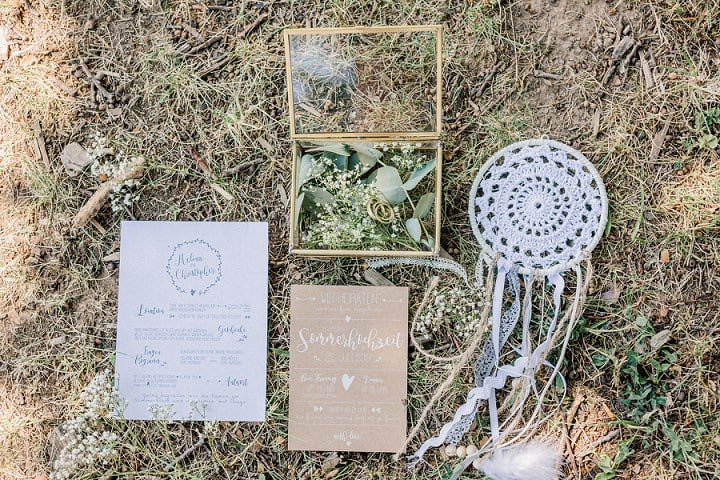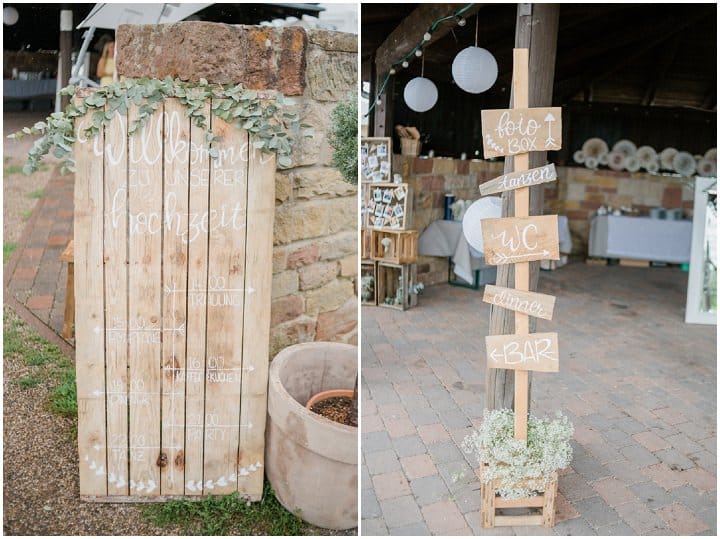 How did you allocate your budget?
Our budget was kept rather low, because we were both still in the middle of studying. We really wanted it to be under 10.000 euros.
Where did you splurge and where did you save?
our wedding expenses were around 8000 euros. We saved a lot of money because we designed and crafted a lot ourselves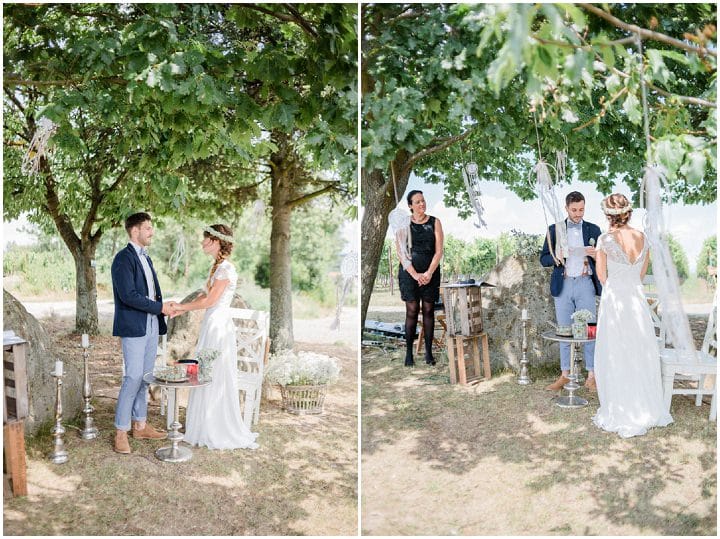 How did you choose your photographer?
We chose our photographer because we really liked her image design and we knew that we wanted it just as much for our wedding pictures. After the first meeting with her and the results from our engagement shoot we knew that we had found the right photographer.
The dress 
I found my dress in a small sweet bridal atelier named Jolie Braut and Fashion in Bruchsal. It was from the brand küss die braut (translated into English: kiss the bride). The jewelry was from a small and beautiful jewelry shop in the oldtown of Landau: Lianoa . I ordered the shoes through Zalando. The flower wreath was handmade by a dear friend.
The suit and bridesmaids
The suit was from a mixture of suppliers and the bridesmaids from ASOS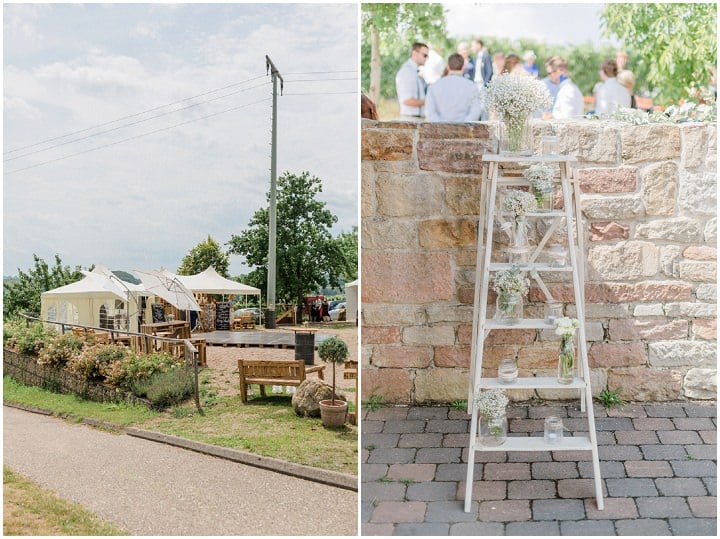 Theme or colour scheme
Our motto was do it yourself in a vintage style. Our colours were white, beige / nutmeg and silver fitting our flower choice.
Flowers
eucalyptus, gypsophila, a ton of baby's breath and wild roses
Decoration
We really wanted the decoration to be rustic and vintage. We had a lot of wooden and lace elements. I designed dreamcatchers for the trees and wooden signs, which I labeled with white paint. We had a lounge and a bar made of wooden furniture and a dance floor made of pallets and wood panels.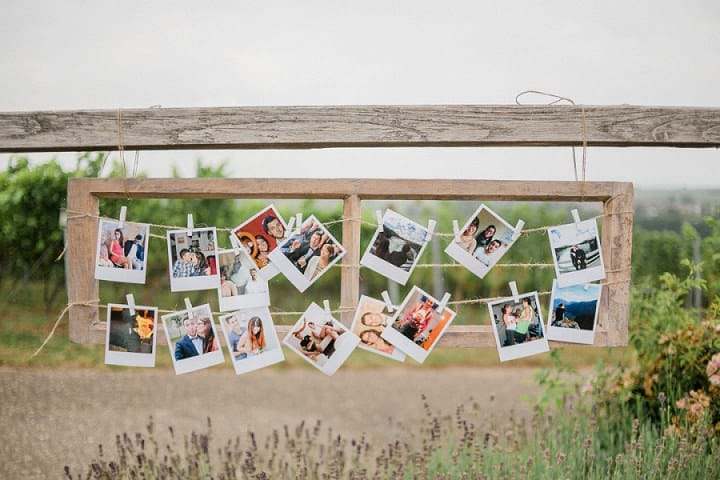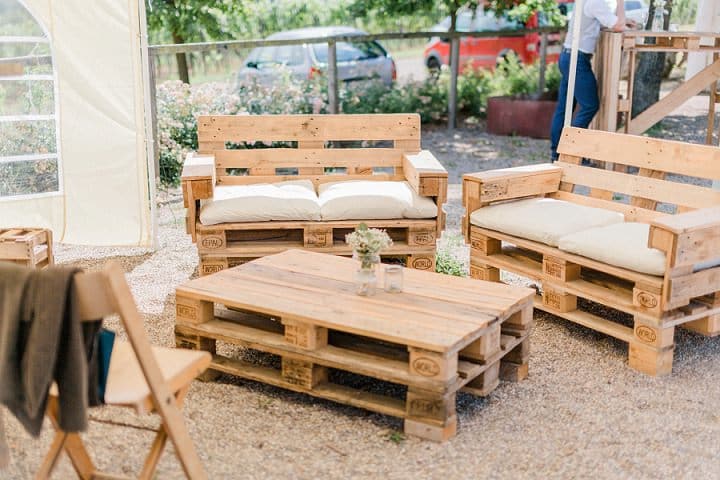 Food
Our food was prepared on the spot. We had a barbecue with different variations of meat, which were made on the grill. As a side dish there was a variety of vegetables, fried potatoes, potato gratin and salads.
Wedding cake
The wedding cake was designed by a good friend for us. His café is called Patisserie Theodor. The filling of the cake was different in each level. First raspberry and chocolate, then a mango lime filling and finally strawberry cream with tatonga bean. There was cream cheese cream around the cake.
In addition to the wedding cake, there was also plenty of fresh fruit and a few other homemade cakes.
Entertainment
During the day we had set up various garden games for the guests. Jenga, can throw and boule. There was also a photo booth, which our guests liked and used a lot. They had fun in the photo box. In the evening there was a father-bride dance. The bridal parents surprised us with a playback performance with the song of Robbie Williams and Nicole Kidman: something stupid. And the bride's father gave the bride to her groom with a song by Joe Cocker: you are so beautiful. Our friends had organized a little flash mob for us. It was very funny.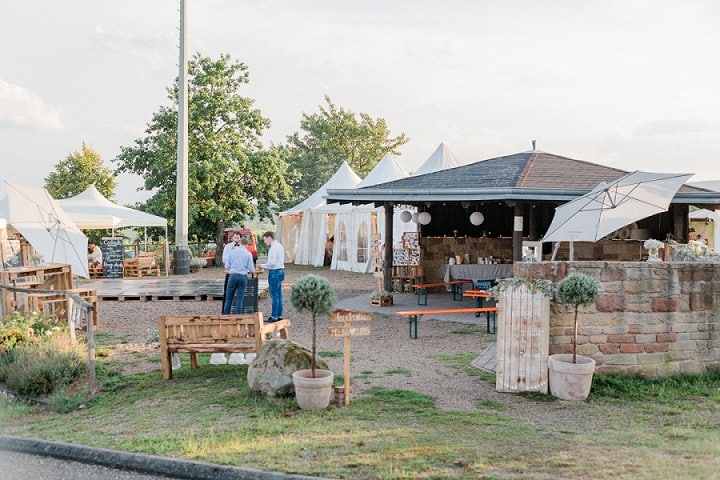 Stationery
Our stationery was also designed by ourselves together with a friend of us. The maps were subsequently printed in the Butz and Bürker printing works in Karlsruhe. They were then decorated by me (Bride).
Personal touches
We did almost everything ourselves. The dream catcher, the wooden furniture and signs, the background for the photo box as well as the accessories, the flower decoration, a water and sparkling bar, the dance floor and the cocktail bar. We did all these things ourselves before the wedding. Since our wedding was outdoors and the location left us all open for the design, we could plan everything very individually and according to our ideas.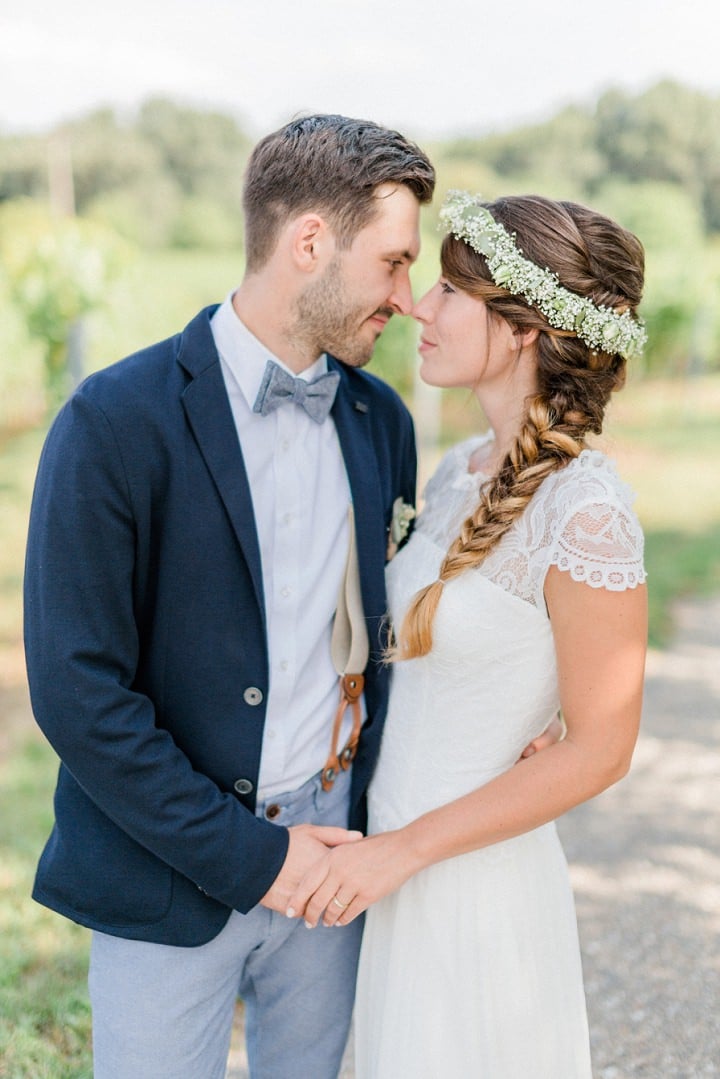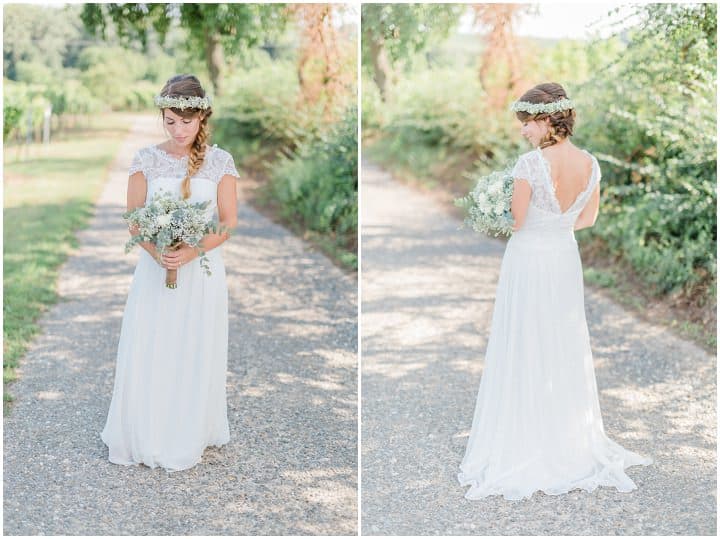 Special moments
A very exciting moment was when I (bride) was given away by my father. But the vows we gave each other was a great gesture and so full of dear words. Our singer moved us to tears and my maid of honor surprised us with a poem. The wedding ceremony was a very emotional moment and one of the best memories of our wedding.
What advice would you give other couples?
We totally enjoyed the preparation time. It was great to find your own ideas in home-made things. Let your creativity run wild and express your feelings in the small details of your wedding. That is what makes it unique.
Another tip: do not let your dream day pass by. Enjoy the day as much as you can and hold it tight. Give tasks away to professionals when it comes to your day. This way you can take care your guests and of each other.
Biggest surprise
There were many moments in our wedding that surprised us. The sweet words of the maid of honor during the wedding ceremony, the musical surprise of my parents and also the flash mob. We did not expect so much commitment of our guests but we enjoyed it very much.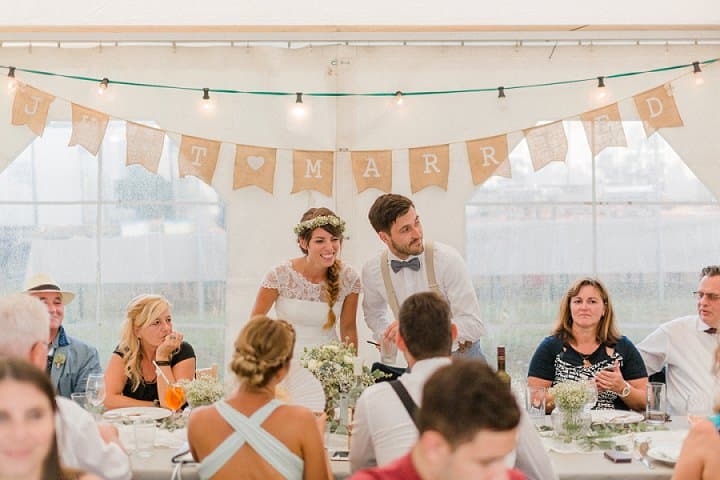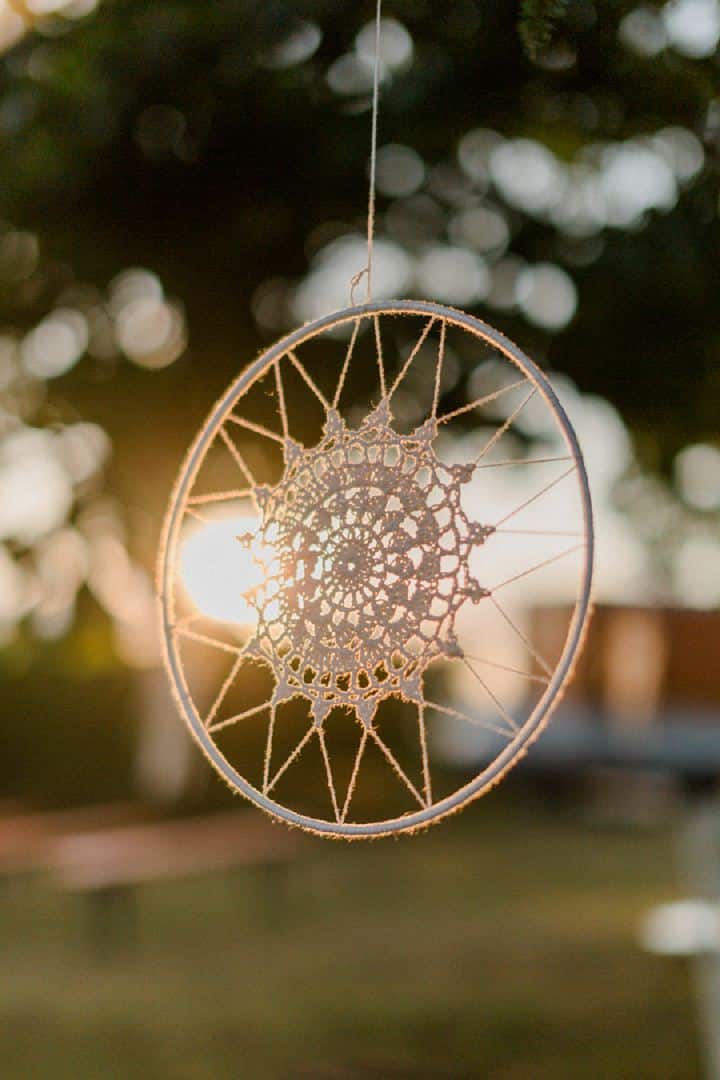 Supplier Shout Outs
For more information on Rebekka's work go to
www.rebekkaweiland-fotografie.com / [email protected] / FACEBOOK / INSTAGRAM