Happy Friday everyone and how are you all this fine Friday morning? Have you had a good week so far? Today, as it seems to be getting colder again, I thought I would bring a bit of sunshine into your day with this gorgeous tropical themed wedding from Christina Craddock Photography. Christian and Kandace were married on 3rd June 2017 at River Palm Cottages and Fish Camp at Jensen Beach in Florida. The day is filled with colour, fun and a few DIY details thrown in for good measure. I do love a tropical themed wedding, the colours are so vivid and these work perfectly against the white sandy beach. I also love the bridesmaids dresses and of course that super cute first look.
How they met and the proposal
Christian and I met through mutual friends. We actually lived in the same neighborhood like 2 blocks away from each other for years and never met. He moved to Florida our sophomore year of high school and that was the year I switched high schools to play soccer. 13 years later we met when we were out Day drinking.  I convinced him to sign up for a spartan race with me the next weekend (which happened to be Valentine's Day) and that was it! The proposal was pretty much the cutest thing ever. It was about a year after we started dating and we were walking on the beach looking for sharks teeth and he yelled hey I got one so I ran over and he was holding the most beautiful ring! We still have yet to find a shark tooth.
The Dress
Again, I used Pinterest A LOT. I found my dream dress on there and quickly searched bridal shops in my area that carried that designgber and found one! I tried on probably 15 dresses and when I put that one on I knew it was it! It was very fitted, low back, all lace! Perfect for an outdoor Florida summer wedding. 2 weeks later I found out I was pregnant! My son was born 3 1/2 months before our wedding and when I went to my first fitting I couldn't get the dress on! So I had to buy a dress that they would sell me the sample of that day… it was the most beautiful dress and I can't imagine wearing any other dress!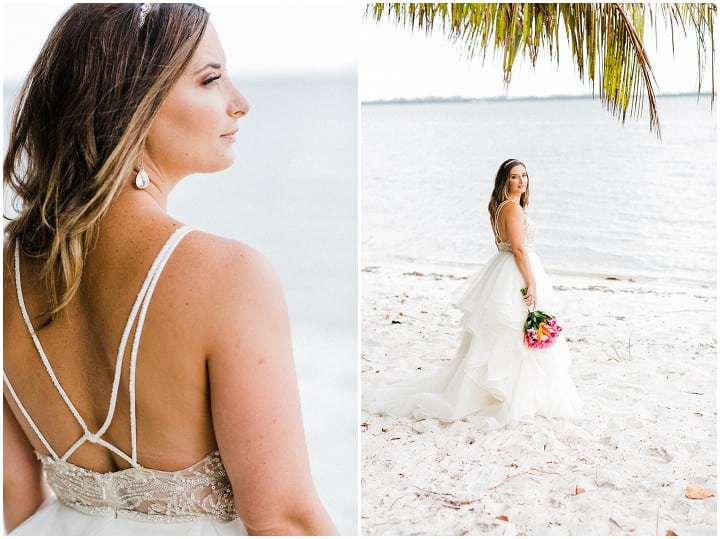 Theme and colour scheme
Our wedding theme was tropical and the color pallete was a mix of bright pinks, oranges, yellows, purples, and greens.
Decoration
I spent A LOT of time on pinterest! Our whole wedding was outside so I didn't think we needed a ton of flowers and came across an idea on Pinterest to use whole pineapple for centerpieces which I loved and was super affordable. Our floral vendor, polished petals, was so great in helping us tie the pineapples into the flowers. I really had no idea what the tables were going to look like until the morning of! Julie did an amazing job! There was some DIY decor too. We didn't want to print wedding programs because we felt like no one cared and they end up in the trash so we used a giant picture frame and paint pens to make one big program with our parents names and the bridal party.
Flowers
The flowers were very tropical! We used a mix of roses, birds of paradise, peonies, orchids, etc… we also used pineapples for the centerpieces. I think they played a huge part in giving our wedding it's tropical theme.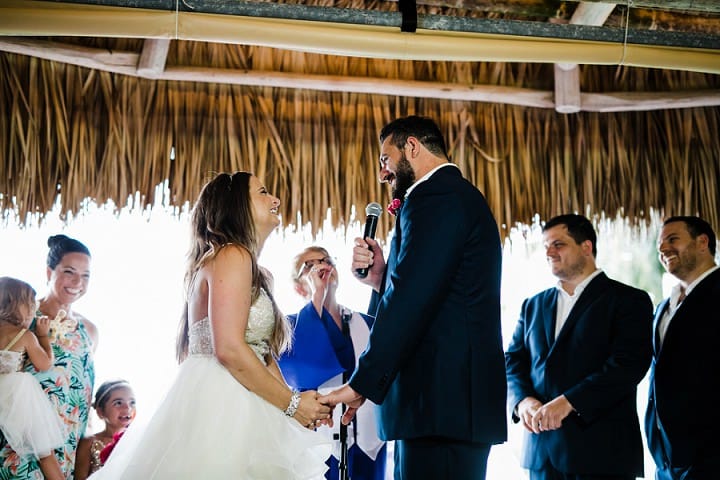 Personal touches
Our day was filled with our favorites when it came to food and music! For food we used the restaurant I work for, which is one of the top restaurants in the county, Little Moir's Foodshack. I can't get enough of their food! One of my favorite hints they have their is their "adult mac and cheese" so of course we had that. Also they are known for heir crusted fish – we went with butternut bacon Gouda crusted fish! For dessert we did a traditional cake but we also had our food vendors signature raspberry key line our! For music we used the band "girlfriend material". When we started planning we knew right away that we wanted them for our wedding band. The lead singer had recently moved to California so we had to fly him and do a little begging to get them and they were totally worth it! People are still talking about how awesome they were!
Special moment
I think the first look we did before the ceremony was the most special moment. We opted for that so we could get a lot of the pictures done before the ceremony and I think it's the way to go. It's very private and intimate rather than the whole wedding watching.
Advice for other couples
Get at wedding planner, even if it's just for the day co-ordinating. We're so lucky that everyone pulled together to get stuff done but that was a stress we could have avoided.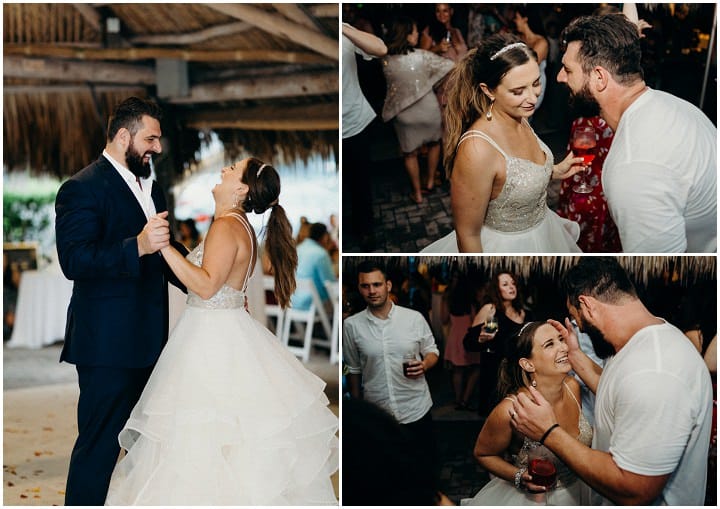 Supplier Shout Outs
For more information on Christina Craddock Photography go to
www.christinacraddock.com / [email protected] / FACEBOOK / PINTEREST / INSTAGRAM / TWITTER