Happy Monday everyone, I hope you all had a wonderful weekend? Mine was fab, so I am now rested and ready for the week ahead. I have an amazing selection of weddings for you this week as I take you across the world celebrating weddings everywhere. Today we are jetting off to Oregon for an awesome homespun bohemian wedding. Karli and Joe were married at the home of their Maid of Honour on the Rogue River in Grants Pass Oregon. It's a stunning location, a beautiful quiet woodland which lends itself perfectly to Karli and Joe's natural, laid back bohemian day. The whole day is personal as everything has been created by hand by friends and family. A beautiful outdoor ceremony, aswell as the most gorgeous homespun decoration. What a beautiful way to start the week! Big thanks to Aly from Hazel Eye Photography for the amazing images.
 All the details came together to make the most authentic and unique to us of celebrations. It's was beyond what we could have ever imagined yet exactly what we dreamed all in one.
Karli and Joe were married on 8th July 2017 at grants pass in Oregon 'it was the home of the brides maid of honor and a special place she spent lots of time growing up, we had 120 guests and it took 7 months to plan.'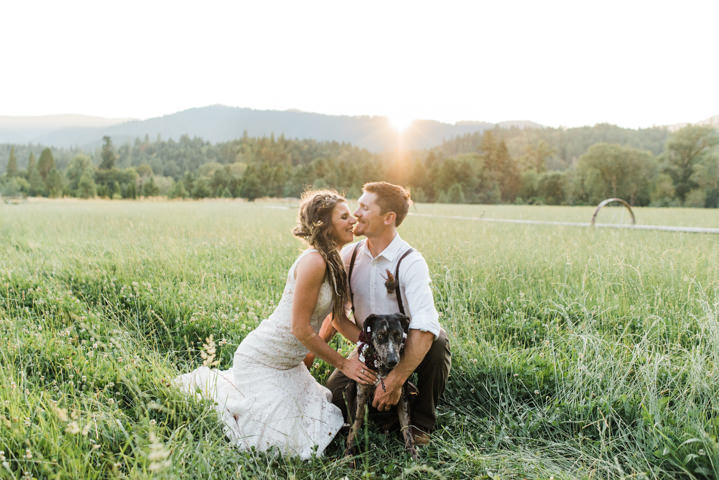 How they met and the proposal
Joe and I met while attending college at Western Oregon University. It was a time in which neither of us was interested in a relationship but after a week of trekking around Moab with the Natural Science club we found the chemistry and compatibility too strong to ignore. Our partnership grew over countless bow hunting and backpacking trips where we pushed ourselves to new limits spending weeks in our beloved Eagle cap wilderness, harvesting mushrooms, deer, elk, berries, and exploring new basins and sacred spots known only to us.
One day in 2014 after a long and monotonous work week I came home and announced that I had planned to hike the 2,660 mile Pacific Crest trail, reaching from the Mexico to Canada border. Without a bat of the eye or any element of surprise Joe replied "lets do it!" Together and now equipped with a new set of adventure dreadlocks and our one man tent we made the entire length of the trip in 4.5 months. If there were ever a better test to see if you are compatible with someone; 25 miles a day and only one shower a week will do it.
Fast forward 3 years after a rainy hunting trip Joe popped the question at a hotsprings in La Grande Oregon. I was stunned as he pulled the most beautiful and unique locally made (and from my hometown to boot!) ring that encompassed all the most important elements to us. A citrine sun signifying Fire, engraved waves for the water, a mountain for the earth aspect, and finally air, portrayed by the blowing wind.
Our adventures as husband and wife continue as we just recently moved into a RV full time in order to travel for Joe's work. We split our year between the Northern Oregon Coast and the beautiful mountains and blue sky of Eastern Oregon running, hiking, foraging and playing with our pup Indi.
How did you allocate your budget?
We prioritized good food and drinks and photography!
Where did you splurge and where did you save?
We saved on nearly all the decorations, the bride spent months thrifting the decor and all the antlers, mounts, and furs were harvested from both bride and groom.
How did you choose your photographer?
Aly is a phenomenal photographer, we clicked instantly personality wise and her body of work is just the very best.
Dress
Dress was by BHLDN. Accessory's from ETSY shoes Toms
Suits and bridesmaids
Pants prana, shirts Macy's, dresses Lulus
Theme or colour scheme
No I wanted a wild feel and let the girls pick whatever they wanted to wear
Flowers
Mixed blend
Decoration
Whimsical woodsy, all natural materials, skulls, flowers, candles, gold, wood. The groom made the benches by hand from the timber on the property.
Food
Pizza and salad from Mama Mia pizza and cookies from Dripout cookie
Wedding cake
Carrot cake from Ambrosia bakery
Entertainment
Slack line, bouncy house, dance floor!
Personal touches
Everything was done ourselves, from the benches to the decorations, mother of the  bride helped with every detail handmade vintage table cloths. All flowers besides the brides bouquet were done by mother of the bride and aunts. Boutonnieres were handmade from grand father of the bride's personal fly tying feathers by the mother of the bride.
Special moments 
Just being with everyone we love and celebrating together. Seeing Joe's face for the first time walking down the isle and exchanging handwritten vows are things I will never forget.
Advice for other couples
Do it for YOU. Don't try to impress or put on a show for anyone else. If that means having a ceremony and party or eloping be sure it's comes down to what will make it memorable for you!
Biggest surprise
That everything truly did turn out wonderfully it wasn't perfect but it was us.
Supplier Shout Outs
For more information on Aly's work go to
www.hazeleyephotography.net / www.hazeleyephotography.net/oregonphotographerblog / FACEBOOK / PINTEREST / INSTAGRAM
Proud to have been nominated as one of the top new vendors in the state of Oregon as well as one of the top wedding photography studios. I am a photographer available for travel both within state and beyond. I strive for a mix of photojournalism and posed portraits combined as well as often bringing in the surrounding landscape of our beautiful area into my portrait images. I love getting out to sessions and being social and getting connected to the people around me.