As the weather seems to be turning even colder here in the UK I am delighted to be whisking you away to the much warmer and sunnier climates of Valencia in Spain for todays Rustic Bohemian themed day. Naza and Héctor both work for an animal foundation, so it was really important that their own dogs were well catered for within their wedding and that they were able to play a big part. The whole day is super relaxed, full of yummy food, gorgeous laid back decoration and of course the most amazing dogs, who really do steal the show. Big thanks to Cristina Yabiku  for the lovely images and to Romeos y Julietas the couples planners who sent me this gorgeous wedding.
An incredible day surrounded by the people they loved the most, including colleagues from the foundation they work at.
Naza and Héctor were married on 10th September at a Private villa surrounded by orange trees fields in the outskirts of Valencia. They needed a venue to accommodate their 4-legged guests. The presence of dogs at the wedding made it key to select a place where they were allowed. They had 70 guests and it took 5 months to plan.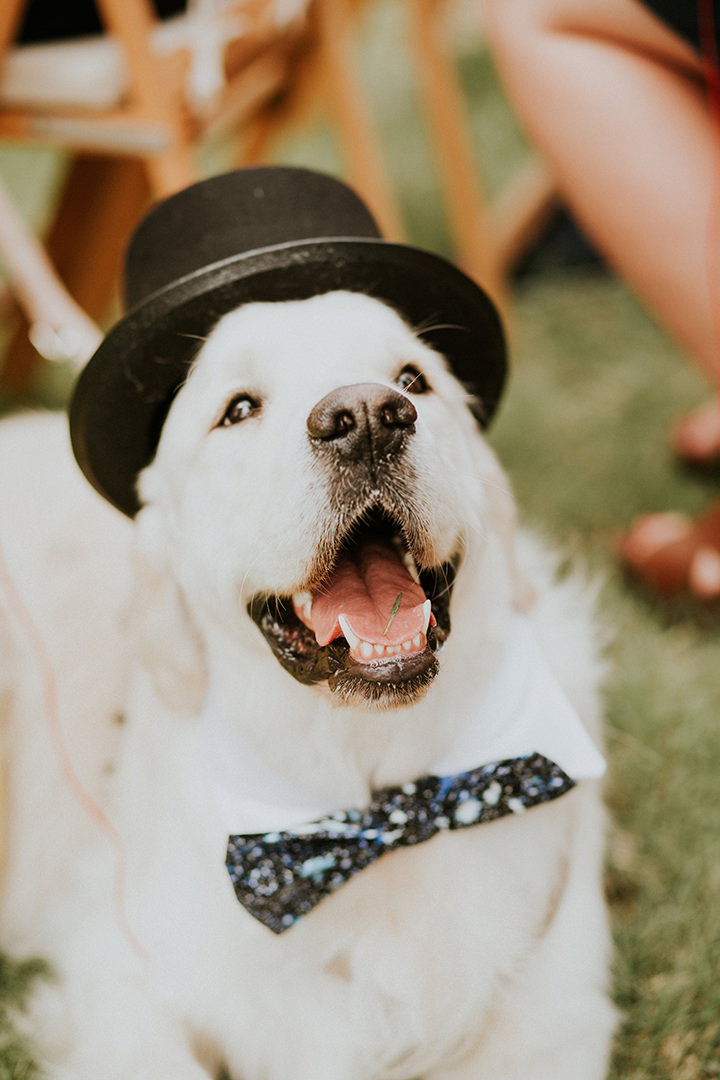 How they met
They met working for the A Cavall Foundation It´s an organization that brings animals and people with special needs together, to educate, make theraphy and have fun.
The proposal
There was no proposal. It was a very laid back celebration. For instance, the ceremony was never called ceremony; it was the "Sharing zone".
How did you allocate your budget?
Most of the budget went to the catering. A lot of things own-made helped them in saving
Where did you splurge and where did you save?
Food took most of the money. Decoration was mostly self-made, so it turned out to be a good money saver.
How did you choose your photographer?
Cristina Yabiku is also an animal lover and since they first met, they got along perfectly.
The Dress
Naza wore a dress by Mango. They are very easy going.
The suit and bridesmaids
Héctor selected his own suit and complements from no particular brands. Keeping things simple.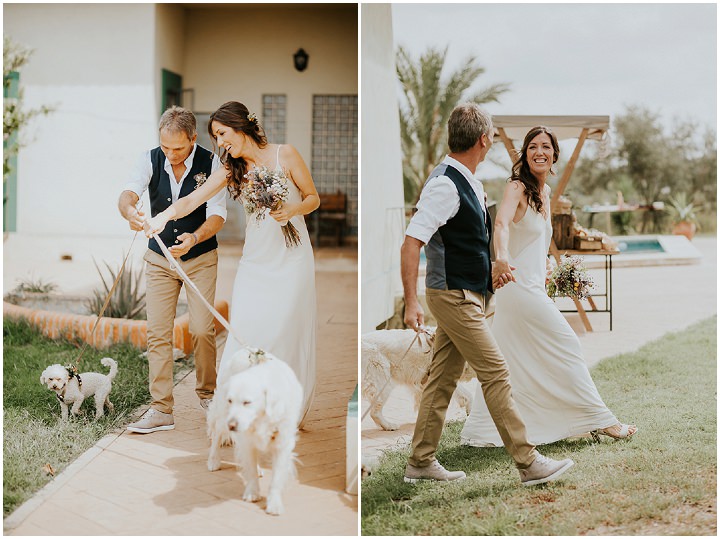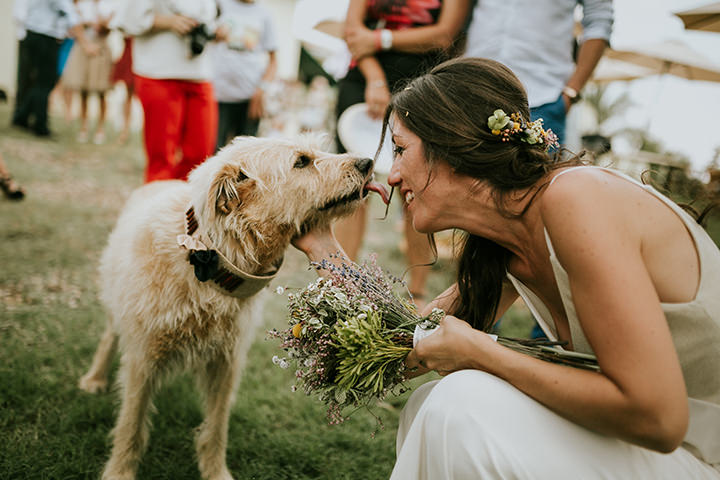 Theme or colour scheme 
The wedding was conceived as a country/rural setting where greens and whites dominated.
Flowers 
Lavander, Craspedias, Gypsophila Paniculata, mini Daisies, Eucalyptus and Africa mixed flowers.
Decoration
Wooden signs indicated placement of things around the venue. For the ceremony, we used an old bell tower as background, a vintage singer as officiating table and the entry hallway was decorated with uneven carpets and ferns indicating the way. For the reception we had decorated buffet areas with clay containers and stalls. Glass containers with wild flowers were placed on the tables.
Food
All the food was veggie specially made for the occasion.
Wedding cake
There was none, instead they presented their guests an individualized tofu and chocolate mini cake for each one.
Entertainment
A live band playing swing music entertained the party. There was a special area for the kids to play with all sorts of games. Also, we prepared a games area for the dogs with sticks and pineapples for them to chew. For the two-legged guests, we had a siesta zone, best wishes tree and badges with funny wording
Stationery
All the stationery was self-made by the couple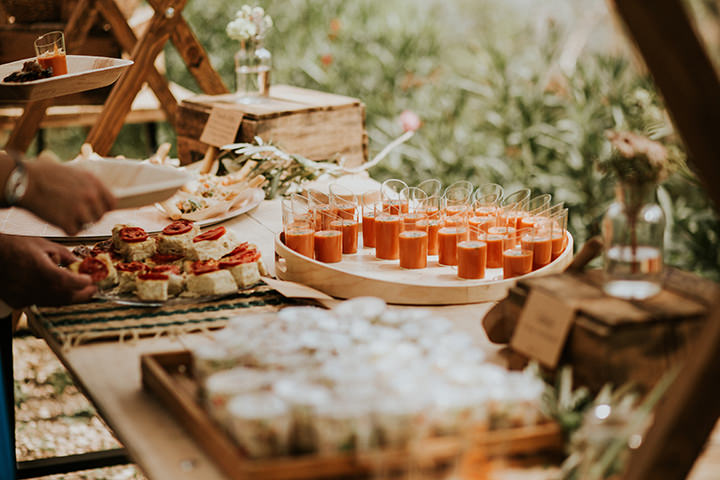 Personal touches
Couple made the invitations, stationary and all the wooden signs.
Special moments 
The arrival to the ceremony, they both arrived together with their five dogs.
Advice for other couples
Try to enjoy every single moment of the preparation and the day itself
Biggest surprise 
A friend of the couple carried out the officiating of the ceremony and he had a surprise ritual for them. The red thread ritual. Linking all the guests and the couple by a never-ending red thread.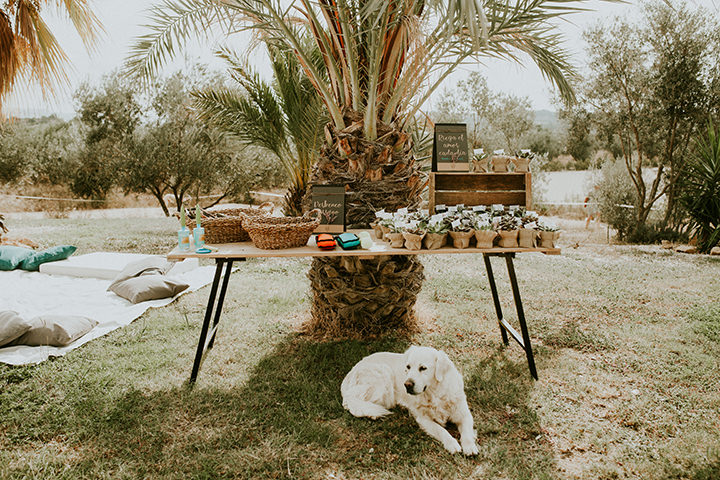 Supplier Shout Outs
For more information on Romeos Y Julietas planning work go to
www.romeosyjulietas.es / [email protected] / +34 616 862 862 / FACEBOOK / PINTEREST / INSTAGRAM / TWITTER
About my work: We are wedding planners located in beautiful Valencia, Spain. We specialize in creating, designing and organizing hand-made weddings. We strive in totally customized experiences for our couples. No wedding is the same as the previous, each one carrying the couple´s ADN deep inside the concept.