Todays wedding is a real belter, I just know you are going to LOVE it! It's a Festival themed wedding held at the brides parents home, with the ceremony in the front garden and the reception in the back! It's a real celebration of love, colour, vibrant patterns, DIY, and so much fun and laughter! Lauren and Jay really made their wedding a family and friends affair, with so many people pitching in and helping make their day a wedding to remember. From the amazing rag bunting, to the tie died table clothes, the whole look and feel of this wedding is bang on! With a glitter bar, dressing up area, Pizza ovens and a hot dog stand, everything about it is cool, relaxed and full of joy. Even the pet dogs got in on the wedding action. Massive thanks Emma at Heart Full of Tea for the awesome images.
It was just what we had hoped for, a relaxed environment to celebrate and party with our closest friends and family. Our love for music, food, drink and friends featured heavily throughout, we wouldn't have changed a thing!
Lauren and Jay were married on 15th July 2017 at Lauren's parent's house and garden in Witcombe, Gloucestershire. 'Growing up my parents always joked that when I wanted to get married, that I would have to get married in their garden.Then when it came around to actually looking at venues, both Jay and I agreed that it would be the perfect place! We legally got married the week before, and asked my brother to do the blessing, we had the ceremony on the lawn in front of the house, and the party in the back garden. It was so lovely to have everything all in one place, and not have to worry about our guests moving between venues. It also meant that we could decorate the place exactly how we wanted, and lots of our friends took the Friday before the wedding off work, so we had a big group of us getting the venue ready. This was just as much fun as the wedding, and honestly, we could not have done it without everyone! We had 85 guests and we started to properly plan the wedding about a year before getting married.'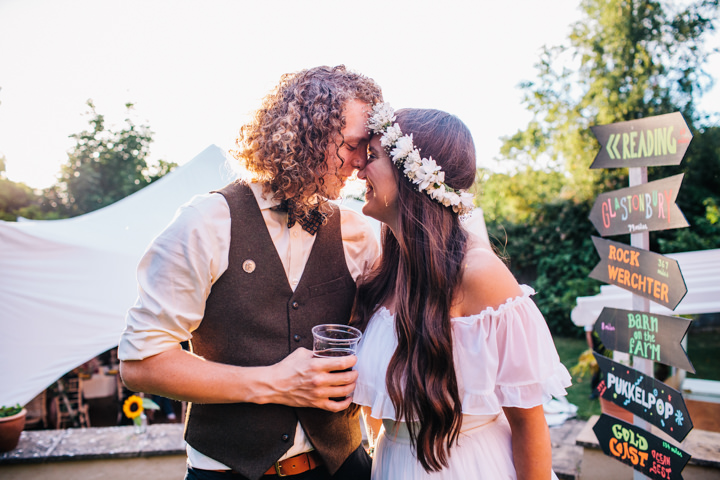 How they met
In the summer of 2012, we worked together for a charity running a summer programme to help young people develop confidence and life skills. After the summer, we stayed in touch, sharing music with each other over Facebook. A couple of months later, Jay invited me to see a band that we both liked in Birmingham (where he was living at the time) and that's where it started. We did the long-distance thing for a couple of years before Jay moved to Cheltenham, which is where we live together today – all in all it has been five years in the making, but it feels like this is how it has always been!
The proposal
Jay had been planning the whole engagement, to which I was obviously oblivious. On the 21st December 2015, he had arranged for us to go and meet some friends for drinks. We were supposed to be getting ready, but while Jay was in the bathroom having a shower, I had fallen asleep on the sofa. An hour or so later, jay came down, looking smart and shocked that I had been sleeping, hurried me to the bathroom as we didn't have much time! I quickly jumped in the shower, put on my dressing gown  and wrapped a towel around my head. Jay said "can I give you an early Christmas present?" To which I declined. He continued to push and convinced me it was only a little something. He handed me his phone and told me to press play. He had made a video that included photos displaying some of the incredible things that we have done together, backed with one of our favourite songs. Throughout the video, captions popped up telling me how much he appreciated me and loved me, I sat in silence and watched it until the end. When it finished I was in a flood of tears, wearing a bright pink dressing gown, no make-up and a towel in my hair. He followed the video by saying, "I didn't think it would make you cry, now would be the perfect time to pull a ring out, eh?" To which I laughed but then he did! He reached into his pocket and pulled out my engagement ring and if I wasn't crying enough beforehand, I definitely was after seeing the ring!
How did you allocate your budget?
We didn't really have a sensible way of allocating the budget. We knew that we had about £10k that we were willing to spend. From there we picked out what our priorities were (music and tent), we would then simply use any leftover money for everything else and along the way, either doing stuff ourselves or receiving help from our generous and talented friends!
Where did you splurge and where did you save?
Our biggest expense for the day was music. We knew that this would be the case early on, as this was a passion of ours. We spent a long time looking for the perfect band and finally settled on 'Festival Nights' for the evening entertainment and a talented folk artist 'Chaz Thorogood' for the afternoon music. Both of them were absolutely BRILLIANT.
We didn't have a ridiculous budget, so we tried to save pretty much everywhere else, together we made a lot of the signage and decoration for the day – we made over 200m of rag bunting!!! Jay designed the site plan and invites, he also built our arch. I did most of the stationary with help from friend, putting to use a calligraphy class I took earlier that year. For the tables, my dad managed to find us 100 (foreign language) vinyls from a charity shop for £10, and myself and a friend used our new found calligraphy skills to write everyone's name on each one.
Jay and me also spent a few weekends making homemade linonchello, which we put in small bottles, with handwritten 'drink me' signs on for our favours.
A good friend of ours baked us the THREE best cakes we could ask for. He took our favourite flavours (carrot, lemon and blueberry) and they literally disappeared in seconds.
We wanted to have a sit down meal, without paying over the odds. So we thought – PIZZA! This turned out to be a great idea, quotes were much more reasonable and who doesn't like pizza!?
How did you choose your photographer?
Myself and a friend visited a vintage wedding fair in Bath about a year before the wedding. On entry there were some flyers on the desk for 'Heart Full of Tea'
Jay and I decided to email Emma, and instantly there was a connection. We absolutely loved the photos she showed us of other weddings she had done, and she seemed so lovely, fun and laid back.
On the day itself, Emma was just absolutely brilliant, it was like having a friend with us the whole day. She made us laugh, and feel relaxed, and was happy to work around us and fit in with our day.
I cannot even begin to explain how happy, and lucky I feel to have such wonderful photos that really do capture our day. Originally this was going to be one of the places which we were going to try and save, perhaps not even have a photographer at all But Emma was one of the best decisions we made. The photos we have are just the perfect way to relive the magic of the day.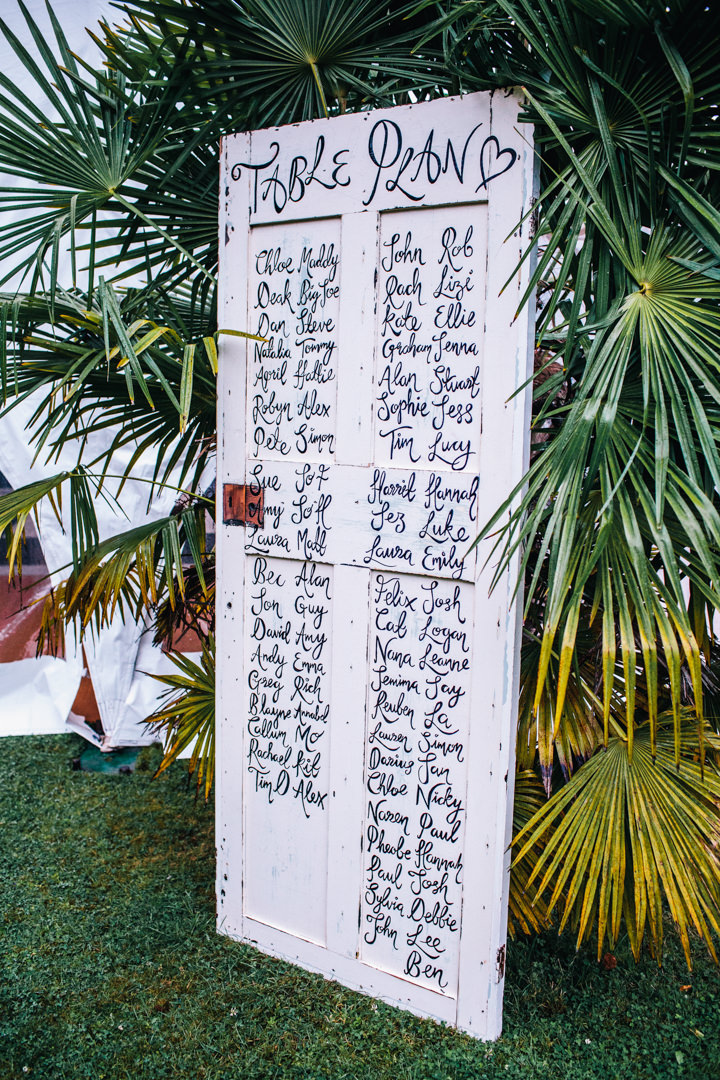 The dress
I hated the thought of having to spend a lot of money on a dress which I would only get to wear for one day. After about one month of looking on ebay, I found a 70's vintage dress which cost me the bargain price of… £22. A lovely lady down my road then made a few simple adjustments for me and hey presto, I had the perfect dress!
On the morning of the wedding the heavens opened and I felt this was a sign to wear a pair of wellies that one of my bridesmaid's had designed for me for my hen party. The wedding was also a festival theme, so felt that this fitted the theme perfectly!
On the morning of the wedding Jay sent me a little something, which was a mother of pearl ring, a wonderful surprise and went with my dress perfectly.
The suit and bridesmaids
Jay didn't want a traditional matching suit, he got the separate jacket and tweed waistcoat from Slaters and the trousers from H&M, finished off with his self-tied bowtie.
I wanted my bridesmaids to feel relaxed and comfortable, so I just picked a colour theme (pinks, purples, greys) and let them choose a dress that they liked. All my friends ending up going for long dresses, found on ASOS, which all fitted together perfectly.
Theme or colour scheme 
We wanted the day to be fun, colourful and informal, we made multicoloured rag bunting, huge rainbow festival flags, wacky signage and injected a bright and colourful elements to our day wherever possible.
We also named the wedding "Dog Lane Festival" (the address of my parents house) as Jay and me just absolutely LOVE music festivals, and got everyone a wrist band to wear on entry. We gave out guitar pics to all our guests to get a drink from the bar, and the bar was in the wooded area at the bottom of the garden which we called "Enchanted Forest Bar".
We had a "Glitter Station" – I absolutely LOVE glitter, and it is an essential part of any festival! This went down so well, and by the end of the night everyone had glitter on them (even my grandma).
Finally, we had a fancy dress section, which didn't come out until about 6pm. Both Jay and myself love fancy dress, and again this is a big part of festivals. This went down extremely well, and all the fancy dress had been taken and worn within about an hour.A memory that will last a lifetime.
Flowers
A friend, Sue Ross, did our flowers for us. She was brilliant, especially as I didn't really have any idea of exactly what I wanted. I told her the colours of the bridesmaid dresses and said that I didn't want them to be too formal, and then let her work her magic. When the flowers arrived I was blown away by how beautiful they were, and how carefully, and thoughtfully they had been put together.
Decoration
It was very much a festival theme, we had rag bunting, tall flags, festoon lighting, rustic outdoor bar, cool signage!
For the tables Jay and me made tie die table runners, had blue glasses, and multi-coloured flowers, which my friends all arranged the day before the wedding. As mentioned before, a friend and myself made the vinyl name places, and made our own limoncello for the favours.
Jay and a friend made the arch for the ceremony, and the farm down the road lent us hay bales for everyone to sit on.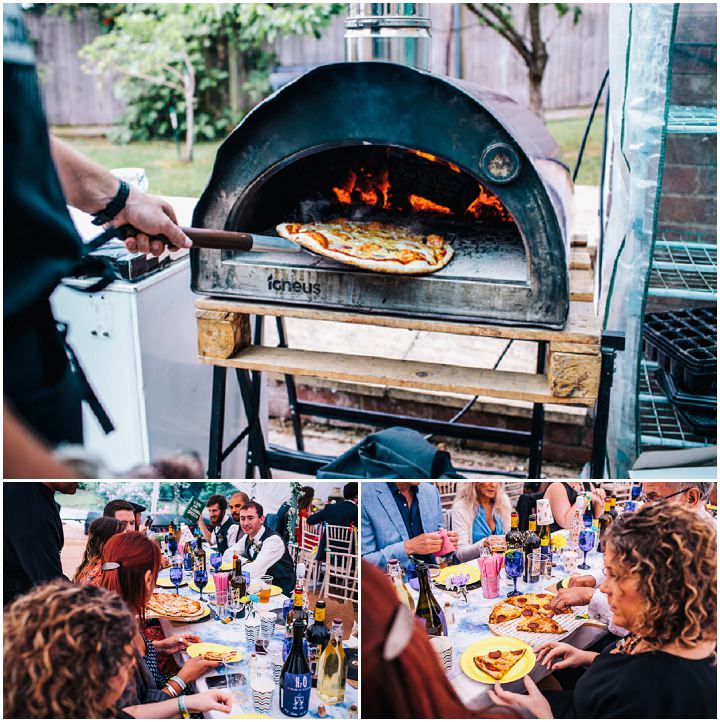 Food
Our caterers, brought along four pizza ovens and started churning out over one hundred pizza for everyone to share!
In the evening a hot dog cart arrived which worked perfectly with the festival theme.
Wedding cake
Our good friend and talented baker Tim, kindly created our three delicious naked cakes, with lemon, carrot or blueberry to choose from! This was by far the best food of the day, and they disappeared within seconds. You could tell that they had been baked with so much care and love, and was so lovely to have our wedding cakes made by a very close friend.
Entertainment
We had day music, evening band, a glitter station and a fancy dress station, which went down very well!
The evening band Festival Nights were absolutely brilliant. They kept everyone on the dance floor all night. They really made the festival theme come alive, and were one of the highlights of our day.
Who supplied the stationery?
A friend and myself attended a calligraphy workshop by 'Emerald Paper Design' and was one of the best things we did before the wedding. This meant that we could do all the designing ourselves, we made signs, my friend wrote the table plan on an old door we found, vinyl names, favours and other bits of decoration. It was so much fun to be able to do all these bits ourselves and make them exactly how we wanted them.
Personal touches
As you've, probably gathered, we did a lot ourselves. Two things that guests often mention to us are the place names and favours. For place names, we made a personalised vinyl record for each guest. It really stuck with the musical element and looked really cool on the tables. Pretty much everyone took them home. For the favours, Jay made some Limoncello, which we put into cute little potion bottles, everyone loved the sweet alcoholic treat before dinner!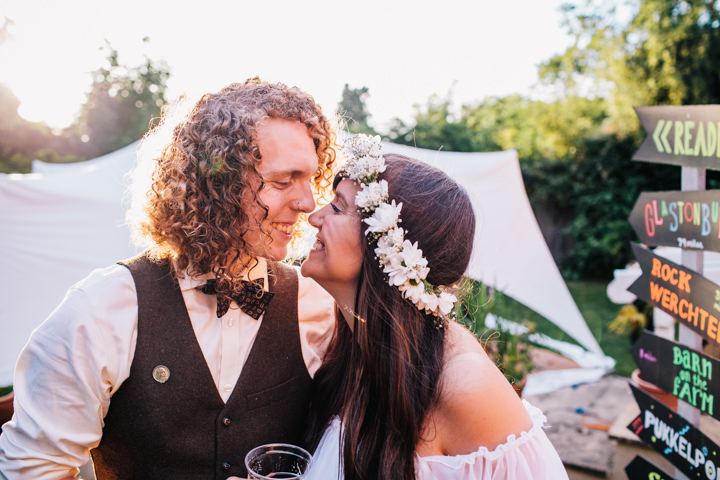 Special moments
The ceremony was one of the highlights of our day. Lauren's brother did our blessing, and this meant that it was so personal, touching, funny and filled with love. We also wrote our own vows.
Advice for other couples
I think there is so much pressure now to have a big wedding and spend lots of money. But really it is just about celebrating your love, and having all your closest friends and family around. As long as it is what you as the couple want, all your friends and family will love it too.
Biggest surprise 
We have a dog, called Einstein, who is the other love in our lives. This wasn't really a surprise as we always knew he was going to be there on our wedding day, but I guess it was a surprise in how involved he could be. This was another plus in having the wedding at my parent's house, it meant our dog, and their two dogs could be involved. Einstein was just so excited to see so many people, and get so much attention. He loved having his photo taken, and stealing everyone's left over hotdogs at the end of the night. The photos we have with him, are something I will treasure for the rest of my life and just so happy he could be such a big part of our day!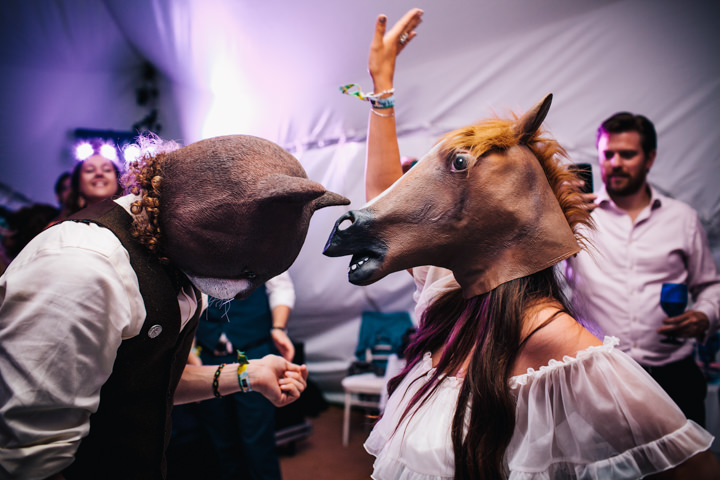 Supplier Shout Outs
FOR MORE INFORMATION ON EMMA'S WORK GO TO:
www.heartfulloftea.com / FACEBOOK / INSTAGRAM / PINTEREST / TWITTER