Happy Wednesday everyone! Are you still confused as to what day it is? I still seem to be in Christmas mode, but I'm sure the realty of January will kick in soon. I have some amazing weddings scheduled over the next few weeks, so today I am starting off with the first real wedding of 2018 and I've made sure it's a good one! Kirsty and Brent had a bohemian filled outdoor wedding, which reflected their love of nature, the open air and for all things love filled and happy. They chose a venue that embraced the countryside around them, which resulted in some of the most beautiful portrait shots I have seen in a while! A stunning day, filled with so much love and tenderness, captured absolutely beautifully by Natalie Pluck.
Our wedding day was filled with all the good stuff: all the happy people, all the beautiful, green nature, and all the love and kindness you could wish for. It was a cheek-achingly happy day, full to the brim with joy and love.
Kirsty & Brent were married on 20th May 2017 at at Falling Foss Tea Garden (with a spot of afternoon tea, of course). Our reception was in a marquee in Castleton, looking out over the North York Moors. 'We love the great outdoors, so getting married surrounded by nature was important to us. We wanted a relaxed, affordable venue close to Castleton, and when we found Falling Foss we absolutely fell in love with it. We had about 60 guests total for the whole day. Brent proposed in February 2016 and we started planning straight away. We spent a couple of months finding and booking all the main suppliers, before we headed out to spend a year working and traveling in New Zealand. We didn't do too much while we were away, and figured out all the final details on our return to the UK, just a couple of months before the wedding. So all in, we probably spent around 4 months planning.'
How long have you been together?
We met in South Korea, where we were both working as English Teachers, brought together by a mutual friend at a little live music bar in the city where we worked. We've been together just over 6 years now.
The proposal
Brent proposed on a visit to the UK. It was understated and very sweet, and definitely a surprise.
How did you allocate your budget?
Easily! The cost of a wedding can easily get out of hand – all those little details add up. We tried our best to keep it in check, by finding great local suppliers who could work within our budget, and doing the little things on our own (well… with the help of our family and half of Castleton).
Where did you splurge and where did you save?
Falling Foss, our photographer, the marquee, and food were our biggest expenses, making up a significant portion of the budget. We saved by involving half the village in the organisation of our wedding! A family friend drove us in his incredible 1956 Land Rover. The local ceilidh band provided our entertainment (and it was their last ever event!). And an awesome team of ladies did all the flowers (there were a lot!). We also did all our own stationary, any little details, and made our own favours. It was kind of a community wedding, and it was just perfect.
How did you choose your photographer?
I scoured the internet for photographers whose work we both liked. We really wanted to choose someone local, and we just fell in love with Natalie's dreamy, natural style.
The dress 
I went for separates, with the skirt by Catherine Deane, and the top by Dreamers and Lovers.
The suit and bridesmaids
Brent's suit was also separates! The jacket was from Reiss, with trousers from TopMan,  I think. He and the best man had matching braces and bow ties from Etsy. We wanted our bridesmaids to have dresses that they could wear again and again, so we all went shopping together and found them beautiful floral dresses from Phase8. The flower girls had gorgeous swirly-skirted party dresses from Monsoon.
Theme or colour scheme
I'm not sure that we had a real theme in mind  – we just wanted the day to be relaxed and natural. For the colour scheme we had a very (very, very) vague blush pink, sage green, navy and brown theme.
Flowers
Oh so many flowers! They were our main decoration for the day, and the ladies of Castleton put in so much work creating beautiful bouquets, button holes, and vases, buckets, and jars filled with flowers at all the venues. There were tulips (my mum planted 200 and most of them bloomed too early, but we managed to keep a few), eryngium, eucalyptus, lilac, and lots more that I don't know the names of.
Decoration
Flowers! And fairy lights.
Food
In the afternoon we had scones with jam and cream, brownie bites, and coffee from Falling Foss. Those guys know how to make the perfect afternoon tea! Lillies Catering made us the most delicious meal, with a veggie antipasti selection to start, followed by local pork belly (cooked to perfection), with crackling, on a bed of sweet potato mash. We had the wedding cake for dessert, which worked out perfectly.
Wedding cake
Bothams of Whitby made us a fantastic naked cake with victoria sponge, lemon sponge, and chocolate layers. It was decorated with fruit and a few flowers, and it looked and tasted beautiful.
Entertainment
We are very lucky to have some talented friends, so our maid of honour sang with our best man playing guitar in the ceremony. In the evening my cousin sang for us (she has such a dreamy voice), followed by a local ceilidh band who got everyone up dancing and laughing the night away.
Who supplied the stationery?
We made the very little stationary that we had.
Personal touches
We did a few things, and a whole lot more with the assistance of our family, along with half of Castleton. Growing tulips, collecting flowers and foliage from willing gardener's gardens, all the decorations in the marquee, the table plan, and photo guest-box to name a few. We hand-made the favours while we were in New Zealand. A friend taught us how to make flowers from New Zealand Flax, and we thought they would make nice, personal favours. We harvested, cut, and folded the flax into 70 flowers, which we mailed back to the UK. Then we labeled them ourselves, and they doubled up nicely as place names on the tables.
Special moments 
There are a lot! Here are a few: everything about Falling Foss Tea Garden, riding in the Land Rover, the roar of the waterfall, the rain that only came during the ceremony, the smiles and love, our maid of honour and best man playing and singing in our ceremony, meeting my sister-in-law for the first time when she did a reading during the ceremony, playing in the stream getting photos, the speeches, the food, the children, the cakes, abandoning the official first dance in favour of swaying and dancing with all the children while my cousin sang for us, watching the sunset over the moors on our first night as husband and wife, the hugs (so many hugs!), and ceilidh dancing the night away.
Advice for other couples
Just do whatever feels right for you!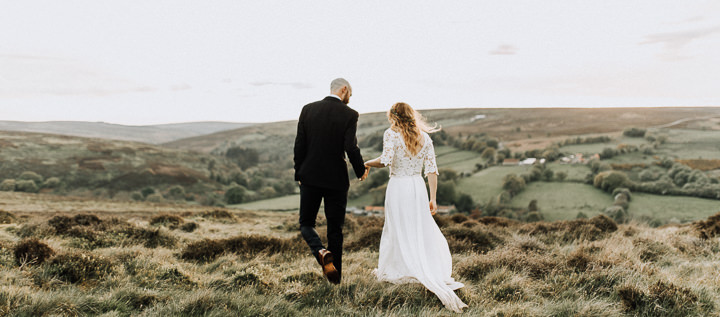 Biggest surprise of the day
The rain! The forecast for our wedding day was for the light showers. OK, I thought. That we can deal with. As I walked down the aisle a light shower started. Luckily, someone had thought ahead and had a whole lot of umbrellas, which they handed out to all the guests that weren't lucky enough to be under the gazebo with us. The rain slowly got heavier and heavier, until the Registrar asked if anyone had any reason we shouldn't be wed, and then the rain poured down, audibly heavier in that moment. I certainly wasn't expecting that!
Supplier Shout Outs
For more information on Nantalie's work go to
www.nataliepluck.com / [email protected] / 07875672272 / FACEBOOK / INSTAGRAM / TWITTER
Beautiful, artistic wedding photography, based in Yorkshire, serving the UK and beyond