Happy Friday everyone! I do hope you're all well and happy. Hopefully you've had a fantastic week and starting to feel a little festive? I officially started my Christmas celebrations yesterday with my first Christmas night out, so I am feeling a tad delicate today! I went out with a group of my mum friends for Christmas dinner, drinks and dancing – all very festive and we had a wonderful time. Tomorrow I'm out for my second Christmas night out, with another group of mum friends. It's very rare that I go out at all these days, so twice in one week is unheard of! The festivities have well and truly begun! Happy days!
We are finishing off the week with this lovely Cyprus wedding that's been sent in from stationers Dearly Beloved and photographed by Dom Moore. Lucy and Benjamin chose an intimate wedding of 20 guests, which they managed to plan in just 4-months. This wedding is a great example that you don't have to have loads of fuss and frills to make the day special, as this wedding was created on just a £4K budget and it looks like so much fun!
Our wedding was like the perfect unification; having our closest family and friends at our favourite place in the world whilst getting married to the man that I will forever adore.
Lucy Eleanor and Benjamin were married on 13th April, 2017 at Dhekelia Sailing Club and The Chapel of Agios Nickolaos, Cyprus. 'It's where I grew up and the Sailing Club is where I spent a lot of my days, particularly over the summer holidays. Ben and I had been on holiday in Cyprus 2 years previously so I had to take him to visit one of my favourite places in the world. We had just 20 guests at our wedding and it took just 4 months to plan.'
How they met
We met in the Royal Marines Band Service. We were in training together, though Ben was a year ahead. We passed out of training within six months of each other and were both posted to Scotland. We started going out after a few months of being up there together, so we have been together about 4 years.
The Proposal
It was Christmas day and our first one together and in our own house. It was just us two together with our dog. Ben waited until the evening after we had spoken to all the family and pretended that he had forgotten that there was one last present to open. He came downstairs with a shoebox shaped present and upon opening it, confirmed it was a shoebox but looking inside under a wadge of bubble wrap sat the box with the ring in.
How did you allocate your budget?
We only had £4000 available to spend on our wedding so we decided that the flights and accommodation were a priority, followed by the photographer. The only thing we really wanted for our wedding was for our closest friends and family members all to be there at the Sailing Club for a celebratory meal so the rest was just small and inexpensive detail.
Where did you splurge and how did you save?
The biggest expense was the photographer Dom Moore. My brother and his fiancé (wedding stationers (Dearly Beloved Design) advised us that as you look back on the days events you want the photos to have captured the day in a way that will do it justice. We saved on the decorations that were handmade by my family and put together by our very kind friends and family volunteering on the morning of the wedding. Also the buffet dinner (that also fed the whole wedding party at a picnic the following day) was a steal at €8.00 a head. The local florist we used had remembered my dad from over 10 years ago, as he used to buy my mum flowers from her when we lived over there. We wanted to keep the flowers simple as the location was so beautifully real; we picked out some gypsophila and bright carnations and she also gave us a really good price for 2 bouquets and 3 button holes for the bridal party.
Why did you choose your photographer?
He was an acquaintance of Dearly Beloved's who strongly recommended him and after viewing some of his work online, we were convinced. We knew we didn't want to spend hours and hours posing and Dom Moore has a great way of taking great, natural shots without you even realising.
The Dress
My earrings were my something blue and belonged to my late Granny. My dress was from Chi Chi Clothing London. Shoes were sparkly flats from Debenhams.
The Suit and the Bridesmaids
The Groom's suit was from Moss.
Theme or colour scheme
We didn't have a colour scheme in mind at all but it just came about naturally. Ben and the Best Man had matching blue suits from Moss Bros and my sister (who was my only bridesmaid) had a navy blue dress, then the majority of the men decided to wear blue suits and my mum had tried a few dresses and the one that suited her best was navy blue with gold embroidery, which I also had on my wedding dress. Therefore, the colour scheme, through a natural progression, became blue and gold.
Flowers
I had bright pink Carnations with white Gypsophila and Olive branches from Florist Suppliers.
Decoration
Bunting (made from vintage net curtains by my sister), fairy lights, tea lights in jars wrapped with brown string detail around them and we managed to get extra olive branches from the florist to decorate along the table.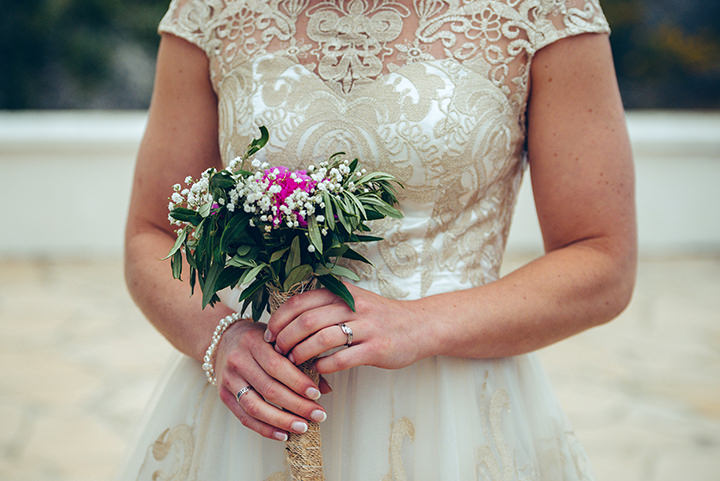 Food
After the ceremony we had homemade canapés and mini koubas, which are a Cypriot snack made from couscous. The wedding breakfast was a buffet of Greek Cypriot dishes. It was a chance to introduce guests from the UK to authentic Cypriot cuisine – which they all loved. Our caterers were Regina Food Services.
Wedding Cake
No cake but we had a number of local traditional sweet pastries called Tahini pies served with fresh strawberries.
Entertainment
I had my friend Alice play the violin at the beginning of the ceremony as I walked up to stand with Ben. Music wise, we had asked all guests to select up to five songs they wanted to dedicate to the day so we had that playlist for the reception and dancing activities. We also had a photobooth table with a selection of props and objects next to a Polaroid camera and an album for everyone to stick their photos in.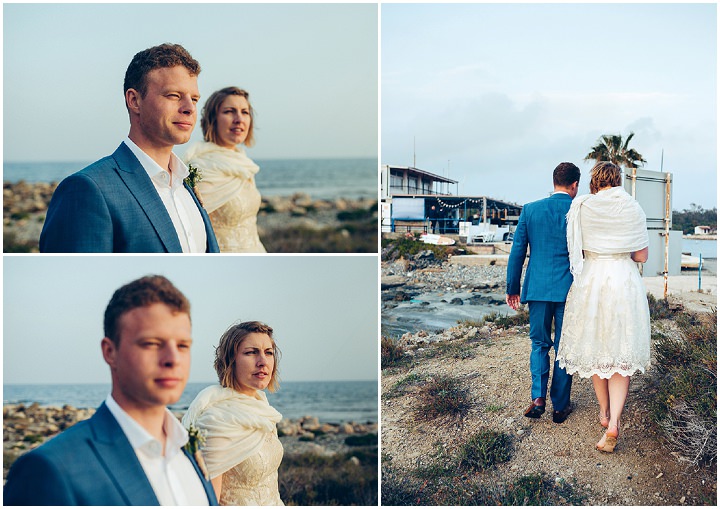 Who supplied the stationery?
Dearly Beloved Design created us personalised invites, menus, labels, a sign for the Polaroid table and a cover for the Polaroid album. Abi was incredibly patient with us and with her creative mind she managed to put together a beautiful design that reflected our personalities with the wedding theme and even came up with an impressive illustration of our Sprocker Spaniel Ruby.
Personal Touches
Pretty much everything! A lot of aspects of the wedding were DIY and we were very fortunate to have family members collecting various objects to fly out to Cyprus with like blankets, string, fairy lights, bunting, props for the Polaroid, Stationery, tea lights, sweets for the favours, napkins, jars, cocktail sticks and shot glasses for canapés. It was a wedding created by all.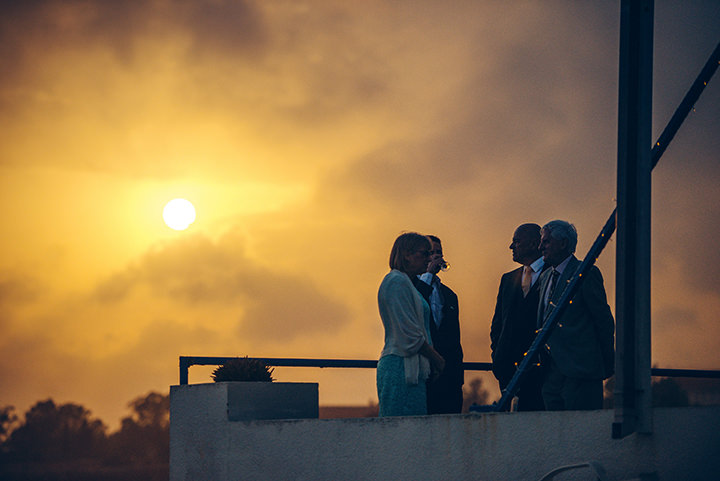 Special Moments
Ben's Grandad, who is a Lay Preacher, performed our marriage blessing. The whole wedding was really intimate but having Grandad at the front being the one to take us through the "I do's" was really unique and memorable. The highlight of the day for both of us was when we met on the balcony to start the ceremony with Grandad. It was an overwhelming moment of absolute happiness.
Advice for other couples?
As important a day that your wedding is, it does not mean that you should spend your life savings on it. It is just one day of (hopefully) your long life together so if money is an issue, figure out what is important for you to spend money on and prioritise from there on and remember it's your day and you are allowed to be a bit selfish.
Biggest Surprise
A video that was the brainchild of Ben's mum. It was of our dog Ruby, who obviously couldn't come out to Cyprus, and the video is of her running around trying to find something to wear for the wedding and then we were presented with a stuffed toy version of Ruby wearing the outfit that she had chosen.
For more information about Dearly Beloved's Stationery work go to:
Dearly Beloved Design / [email protected] / +447731368329 / FACEBOOK / INSTAGRAM / TWITTER
For more information about Dom's work go to:
www.dommoore.co.uk / FACEBOOK / INSTAGRAM 
Dom Moore is an award winning UK based freelance photographer, specialising in portraiture, brand styling and print material photography. Having photographed weddings for a little under a decade, many can attest to Dom Moore's ability behind the lens, and the service he provides. He boasts a skilled ability to capture those delicate fleeting moments with a natural poise. Dom is renowned for his personable and non-invasive, professional attitude. Photography is Dom's passion, his livelihood. This is clear from the client base he has built, having had work featured in prominent national media such as The Guardian, The Telegraph and ITN.