Good morning everyone! Welcome to Monday, I do hope you had a wonderful weekend! I had an amazing week off work, catching up with friends and family and spending some quality and much-needed timed with Nik and Dexter. I'm now back and ready to face a fantastic week of planning and preparation for something BIG we have planned here on the blog. Today I am delighted to introduce you to these beautiful stationery suites from the highly talented Alison Boote! A fantastic graphic designer, Alison's beautiful paperie is classic and utterly gorgeous and I know you are just going to love her work.
Alison is an experienced designer offering bespoke wedding stationery design – from simple save the dates to totally unique designs for entire stationery suites and on the day items.
What made you start your business?
I have been a graphic designer for the last ten years working as an employee within a couple of design agencies and eventually venturing out freelance. I got married in 2014 and naturally designed all of my own wedding stationery. I loved creating the designs for my own wedding and realised that wedding stationery brings together all of my favourite elements of design – branding, typography and illustration. So alongside working freelance I decided to set up my own business offering wedding and event stationery.
When did you start?
I started designing wedding stationery in 2014 and from then have designed for friends and family alongside my freelance design work. It was earlier this year that I decided to make my business my focus and have been fortunate to work on a handful of lovely weddings.
Where are you based?
I am based just outside of Macclesfield in the beautiful countryside between Staffordshire and Cheshire. I'm literally just around the corner from the beautiful Heaton House Farm wedding venue. I love visiting cities to take in the visual inspiration but I am a country girl at heart and love nothing more than going for country walks taking inspiration from the natural beauty that surrounds us. I have my own studio at home so I love being able to shut myself off in my own creative space.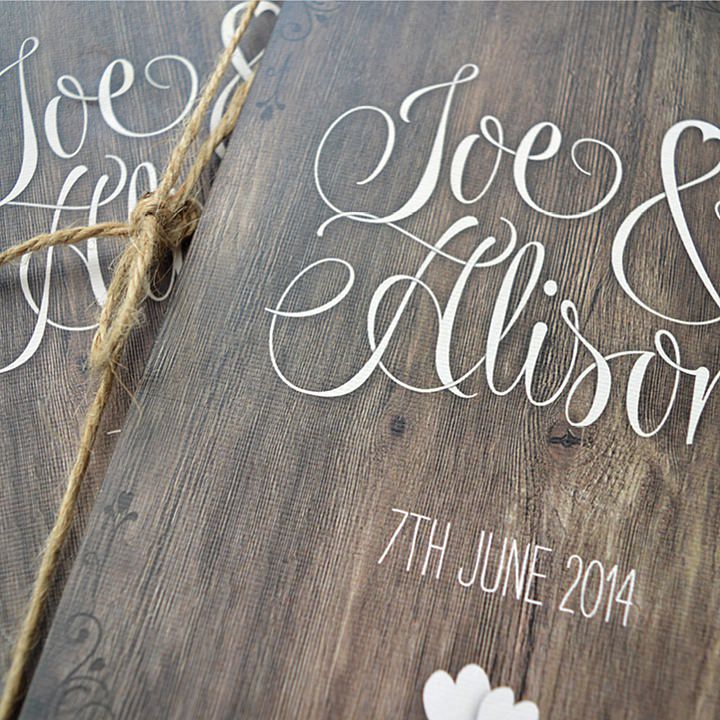 What sort of geographical area do you cover?
Thanks to modern technology I am able to work with clients from anywhere in the world. For anybody wanting to come along and meet face to face I am easily accessible from Staffordshire and Cheshire and not too far away from Derbyshire or Shropshire either.
What were you doing before?
I was working as a graphic designer. I've always loved branding and have been involved with developing campaigns and stand-out creative for numerous multi-sector clients: luxury brands, restaurants, retailers and niche labels. I have a lot of experience within the hospitality industry – particularly bars and restaurants. I think this kind of design style lends itself well to wedding stationery design as it overlaps being in hospitality – it makes me the perfect person to work up your wedding breakfast menu!
How would you describe your style?
My style can depend on what a client needs but it always has a focus on great design and gorgeous typography. I'm a bit of a perfectionist so I love nothing more than some well laid out text and a beautiful typeface. I make sure that every piece is perfectly printed by using professional printers. I also like offering a bit of luxury so I use quality papers and printing methods – like white ink and foil. I don't really do embellishments – there are some beautiful stationery designs out there that have ribbons, lace and gems attached but that's not my style. My focus is on a really lovely piece of print.
What is your biggest achievement so far?
My biggest achievement is probably getting my website up and running. Although I have designed websites before it's always difficult when designing for yourself as you're never quite happy. I still have lots of things I want to change and add to it but I'm just very happy to be in a position where I've managed to build it and get it out there.
What makes you different to your competitors?
I think what makes me different to a lot of other wedding stationers is that I have a background in design and can now apply all of the skills I have gained to weddings. I have always loved branding and a wedding day is no different to branding any other event. Every little detail adds to the overall feel that you are trying to achieve. From the napkins you choose to put on the tables to the music you walk into the church to – everything says something about you as a couple. The wedding stationery is very often the first glimpse of your day that your guests will receive, whether it is a save the date or an invitation, so it's really important that this piece gives a true representation of your day and you as a couple.
What do you enjoy most about your job?
I love doing what I love! I am very lucky to make a living out of being creative and I now feel I've taken that to the next level being involved with weddings. I get to work with beautiful fonts, illustrations and lovely papers on a daily basis – who wouldn't love that?!
What sort of couple do you think you attract?
I think I attract people who are looking for great design and for products they can really make personal to them. A lot of people have an idea of how they want their stationery or on-the-day items but struggle to find something "off the shelf" that meets their expectations. That's where I can help with bespoke design.
What would be your ideal wedding to work on? 
I love working on any wedding but it's always nice to do something a little different. I have just created some vinyl graphics for a beer pong table for one wedding – I enjoy creating all of the bits for the day itself that all come together to make it unique to that couple. One of my favourite styles to work with is really minimal and elegant designs. Combining a lovely tactile paper stock with the right colours and fonts can make a really classic and luxurious design.
What plans do you have for the future?
I am currently getting prepared for my first wedding shows later in the year – starting in September. I'm really looking forward to getting out and meeting lots of couples who are planning their big day. I will soon be launching some of my designs as a 'Signature Collection' which is ideal for those couples who are working to tighter budgets or timescales. They will be customisable with your own details or colour variations. I'm also in the process of looking into more luxury products and techniques and hope to offer further designs that incorporate white ink printing, foiling, embossing and letterpress.
What is your ideal way to spend a day off?
My ideal day off would be spent with family. I have a daughter who is nearly two – so no day is a day off haha! I'm usually busy running around after her but love going for walks with her, my husband and our dog. There's quite often a family film involved on a day off – usually Flushed Away or Madagascar! Apart from that I do love a good spa day to relax and recharge the batteries.
What can you never leave the house without?
My iPhone. I pretty much use it for everything – the time, checking emails, checking social media, using it as a sat nav, checking the weather and writing lists.
What would you do if you won the lottery?
I have this conversation with my husband a lot and we don't even play the lottery! I love where we live and I love our house so I'd perhaps just have another holiday home somewhere with a spa and a painting room. And I'd travel more. We did a round the world trip together in 2009 so there's a few countries I'd like to go back to, including New Zealand and Fiji, as well as discovering some new places.
If you weren't running your business, what would you be doing?
I think I'd still be working in the design industry and probably spending a lot of time thinking about setting up my own business! And I'd probably do a lot of painting – I miss spending hours working on a painting.
For more information on Alison's Work Go To:
www.alisonboote.com / [email protected] / FACEBOOK / I: @alisonbootedesign