Happy Monday everyone, I hope you had a wonderful weekend. Mine was fab, spent with my wonderful family and I'm now ready for the week ahead! We have a jam-packed week planned for you and we are taking you around the globe this week with our real weddings, starting off with this awesome New York Wedding. Eszter and Michael came from Australia to hold their New York wedding in one of the best spots they could pick, on the water in a private yacht! They held an intimate wedding of 50 guests and took some time out before the ceremony for a first look in Central Park. An amazing day, that goes to show you don't need a heap of details and decoration to hold a fabulous wedding, the New York skyline is decoration enough. Big thanks to LJM Photography for the amazing images.
"What day is it?", asked Pooh
"It's Today!", squealed Piglet
"My favourite day", said Pooh
Eszter and Michael were married on the 30th June 2015 at Mariner III, New York City. 'We were both completing post graduate studies in Boston/New York and thought this was the perfect opportunity to have a small intimate wedding in the best city in the world! No one puts on a wedding like New York! We had 50 guests and the wedding took around 12 months to plan.'
How they met
We initially met when I was in year 12, and Michael was at university. We worked on a charity event together. I had a boyfriend at the time (Michael objects to this point, but I swear I did!), so nothing happened, but Michael did try to impress me with a packed picnic and Shakespeare in the park. It was only recently that I found out that his mum actually packed the picnic- which makes so much sense given that the salad dressing was in a dainty Tupperware container which caused me endless entertainment at the time.
The Proposal
Well I feel like I need to include the back story as that is pretty fun! Michael and I went to New York together for a holiday in 2013. While we were there I spent many hours looking through Tiffany's. On my birthday, I went to pick up a necklace that I had bought for myself that needed to be resized. Michael seemed grumpy… and I felt awfully guilty as it must have been the 4th time that we visited the store, turns out, he was buying my engagement ring! Fast forward 8 months and we are on our way to Michaels' parent's beach house. I looked at him and he was being very strange. It's important to know that Michael is a very stable person, nothing really phases him, so when he is acting strangely it is a memorable occasion. I pointed this out to him and told him that he was acting like he did in New York on my birthday….….The following morning Michael proposed while we were taking photographs of the sunrise on Fairhaven beach! It was magically and goofy and perfect!
How did you allocate your budget?
Our budget was predominately spent on our venue. That counted for around 60% of our budget. It was really important to us that we found a very special venue that our guests could enjoy given they were making the huge trip over. The cost of the venue included the yacht and food and drinks so it was a big expense. Then the next most expensive item was our photographer who we flew over to New York, as no one else would do! Then the videographer came in the 3rd biggest expense and then Michael's suit. The other items slotted into the budget. I bought one of my dresses from Bloomingdales for $87 and the other on Ebay for $250. I made the headpiece for my short dress as well as my bouquet and the bridesmaids fans. My grandmother bought my headpiece for the long dress and that was custom made to suit the dress by a very talented Milliner in New York. We saved a lot by doing lots of things ourselves. We made the bouquets on the morning of the wedding. The girls and I walked down to the local bodega and picked out a few bunches of flowers and we all put them together while drinking cocktails and having breaky! It was a lot of fun!
Why did you choose your photographer?
Lauren photographed the wedding of my colleague and I fell in love with her style. I then recommended her to my friend and she captured their wedding beautifully. Lauren has this magical gift where she can capture special moments and emotions and shoot them in the perfect frame, with the right atmosphere, lighting and angle. When we met with her, we fell in love with her gorgeous personality. She was so welcoming and warm that you instantly connected with her and felt like you had known her all your life. No one else was ever going to be like Lauren.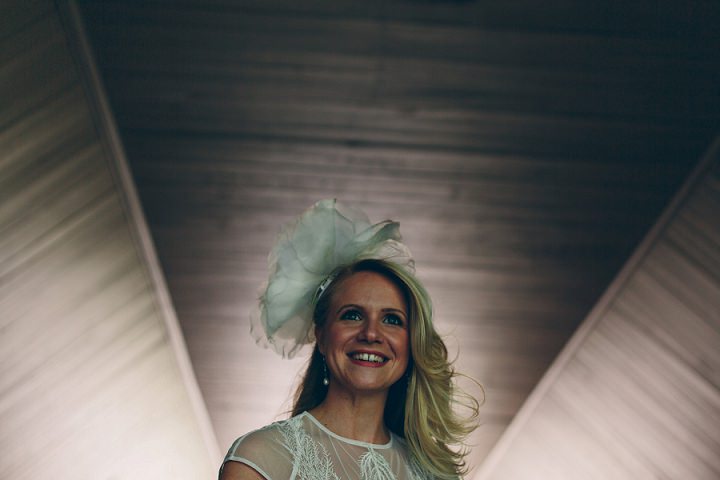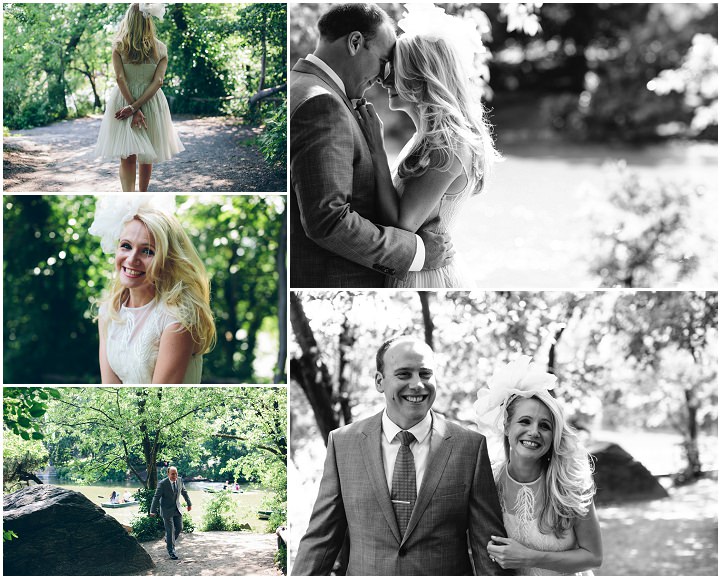 The Dress
I had two dresses. The long dress was the one that I got married in and it was a team effort to chose that. I was in New York and our families were back in Australia so I would regularly send the photos and ask for their thoughts. This dress was the one that everyone agreed on and loved. That dress was from Bloomingdales and I bought it on sale for $87. I am so proud of this purchase and the dress was absolutely stunning.
We decided to have photographs in Central Park before we went to the Yacht. Michael being the traditionalist that he is didn't like the idea that he would see me in my dress before the wedding. So with delight I decided the only way to solve that problem was to buy a second dress! So I found a gorgeous twirly Ted Baker dress that reminded me of one of my favourite paintings; L'Etoile by Edward Degas. I felt like a princess and that was a dress that I bought purely for that moment that I would see Michael for the first time. My shoes were extra special- they were a pair of Louboutins that I absolutely fell in love with! I still have them today and they bring me such joy whenever I wear them.
The Suit and Bridesmaids
Michael bought a Canali suit which was extra special. The craftsmanship in those suits is really special and the fabric was gorgeous. I was so thrilled that he could splurge on something really special for our wedding. The girls picked their own dresses within the colour scheme of pastels. The girls were located all over the world; London, Australia and Austria so they picked their dress and we paid for them.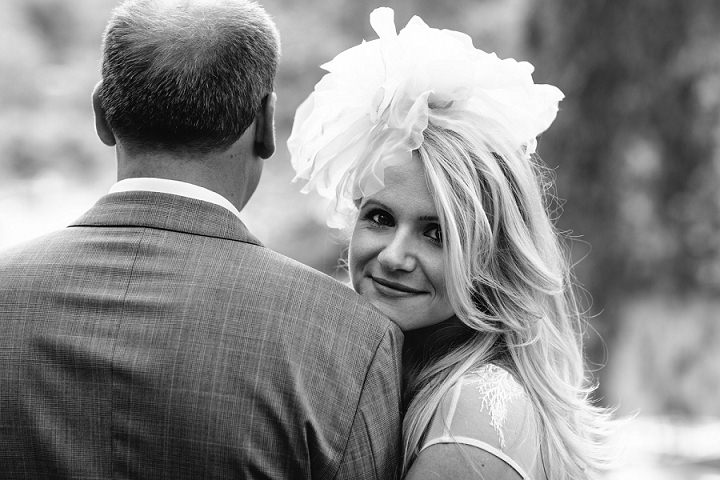 Theme or colour scheme
We worked with a palette of neutrals, pastels, and dark blue.
Flowers
I had freesias, roses and a few other varieties. We picked up the flowers in the morning from the local bodega, so while I had hoped I could get some peony's they didn't have any at the store so we found alternatives.
Decoration
We had the New York skyline as our decorations! We had some flowers for the table but I don't think anyone spent any time looking within the boat!
Food
We had a selection of seafood and various meats and salads. There were canapes to start and then a big buffet for main. I have a fructose intolerance and was too hard to cater for, so I made my own wedding meal which I carried in a little lunch box to the boat.
Wedding Cake
This was such fun! Being in America, no amount of filling is ever enough so we were offered so many different options to try. Michael was our official cake tester and settled on chocolate cake with cannoli filling.
Entertainment
We found a jazz band in central park who agreed to play as guests arrived. This set the mood for our wedding. Then we had a DJ on board who played some jazz at the beginning and the kicked off the dance floor after the meal and speeches.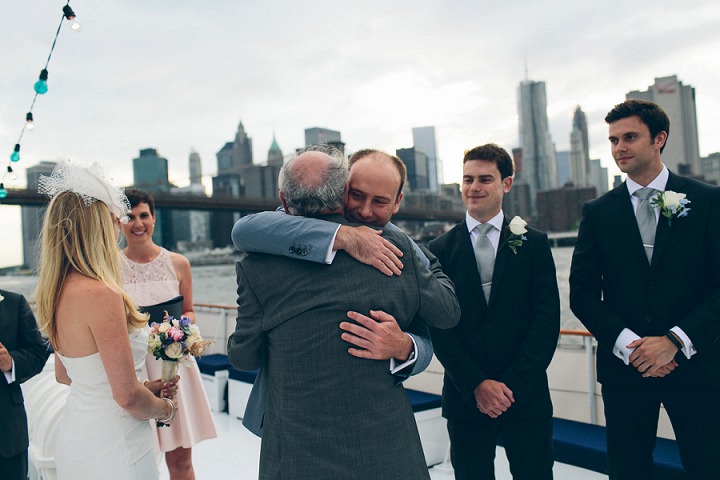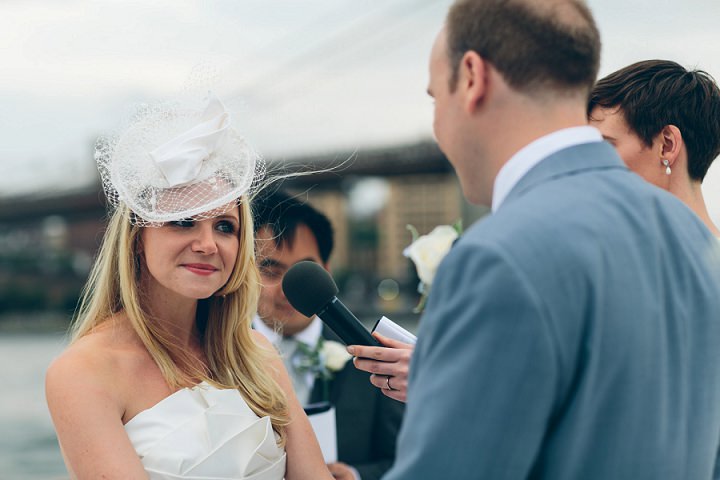 Who supplied the stationery?
We got them printed from Etsy.
Personal Touches
We did a lot ourselves. That was half the fun. We designed the invites, I made my headpiece, my girls arranged the bouquets and I made the fans the girls carried.
We bought blankets for the boat in case people got cold and set up a refreshment station in the bathroom filled with lovely products and necessities. We organised gift bags for our families, bridesmaids and groomsmen filled with personalised sunglasses and socks for the boys and tops and drink jars for the girls. This made for a festive getting ready period.
Special Moments or Highlights
The moment they announced that we were husband and wife. That was the best moment followed shortly by seeing Michael for the first time in our special spot in Central Park.
Advice for other couples
Don't take it too seriously. The small details will quickly be forgotten and they are not the important bits anyway. Try your best to plan what matters to you but as soon as the morning of your wedding arrives, forget about it all and if things don't work out, don't give it a seconds thought. The day goes so fast that you don't want to waste a second of it being miserable.
Biggest Surprise
The biggest surprise of the day was witnessing my hairdresser get arrested. We arrived in the cab to the hair salon to find my mum inside with cops surrounding the place. Turned out my poor hairdresser was sick the day before and his boss got angry and fired him. His boss was holding his belongings hostage and my hairdresser trespassed so they called the cops. He was quickly released and offered to come to my apartment and do my hair there. So we ran down the street with him picking up supplies and then fed him martinis and food and debriefed with him about what had happened. Definitely did not expect that one!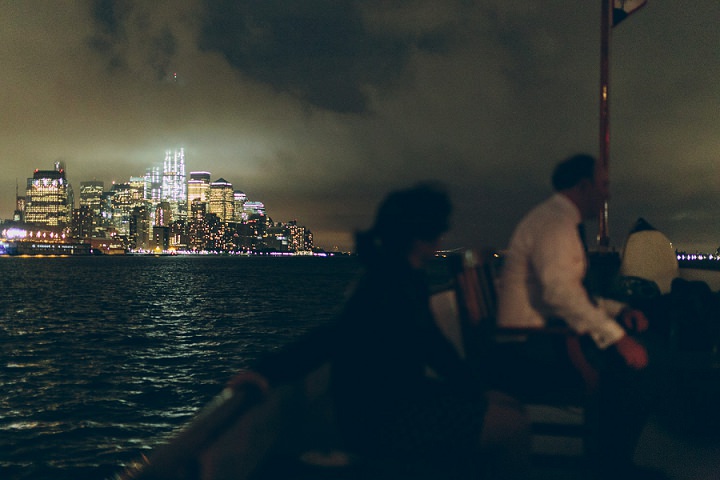 Supplier Shout Outs
 For more information on Lauren's work go to:
           www.ljmphotography.com.au / 0412 13 82 89 / FACEBOOK