Happy Wednesday everyone, we are back with the most gorgeous real wedding for you today all the way from sunny Spain. This beautiful Spanish wedding comes courtesy of Dos Mas En La Mesa and is filled with a lovely laid back vibe, mixed with Boho chic decor and so much petty festoon lighting, not to mention all the delicious food! Elena and Rob chose the most stunning location which really brought their wedding to life, as for Elena's gown, oh so beautiful!
It was even more special than what we had imagined. With all our family and close friends together, we felt like we were at home.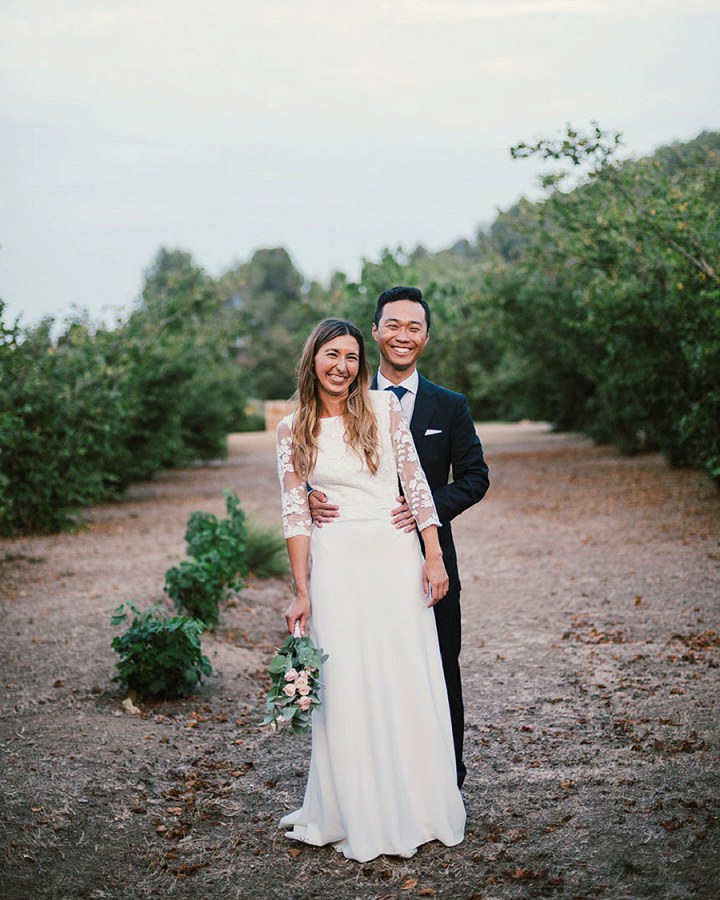 Elena and Ro were married on 3rd September 2016 in a ceremony at Santuari de la Mare de Déu de Misericòrdia, followed by a reception at L'Avellana Mas d'en Cabre, Tarragona, Spain. 'Elena´s whole family is from Reus, and her parents got married in the very church that we did. We thought it was a nice idea! We chose our reception venue based on the fact that it was close to Reus, that it was the perfect size for our wedding (more intimate, closed), and because we wanted something outdoors. We had 120 guests and the wedding took 1 year to plan'
How they met
We met in Cairo, Egypt, during a summer exchange program. We spent a month in different cities in Egypt travelling. We've been together for almost 7 years since then.
The Proposal
We were spending the weekend in Barcelona when I (Roh) proposed. Elena had an important exam that day so she didn't have a clue. To say the least, Elena was very surprised. It was a special day!
How did you allocate your budget?
We tried to set maximum costs for the different areas where money was needed, prioritizing some over others. Good food, music, environment and photographer were important for us.
Where did you splurge and where did you save?
Most of our budget went into the catering. We wanted to make sure that they served a variety of food and that the guests were happy.
Why did you choose your photographer?
We found dosmasenlamesa´s blog while searching for a wedding photographer. We really liked the idea of the moment itself being the center of attention, instead of just us. We liked that their photos were natural and full of emotions.
The Dress
Pol nuñez. No accessories (except for the pearl earrings that Elena always wears) and Elena wore ballerinas.
The Suit and Bridemaids
Carolina Herrera, and the bridesmaids had the freedom to choose the dress, which was spectacular.
Flowers
We had miniature roses (pink) mixed with eucalyptus.
Decoration
We put together some candles, flowers, and lights (hanging from the trees). We wanted to make everything cozy without having a particular theme. The sign with our names at the entrance was made by Elena's cousin.
Food
We started off with appetizers in the entrance area of L'avellana. We had a large tent and everyone was on their feet. We had various stations serving all kinds of food (Iberian ham, sushi, croquettes, cheese table…). Then we moved downstairs to the dining area where everyone was seated in three long tables. There, we had the main course (Beef tenderloin with green pepper creamy sauce), the wedding cake, and champagne.
Wedding Cake
Naked cake made by the caterers.
Entertainment
During the appetizer we had an acoustic duet (piano, guitar) playing some pop music. The same girl sang for us during the first dance. During the dance we had a DJ.
Stationery
We worked together with LeBlue to design the invitations and the seating cards.
Personal Touches
Most of the decorations were done by us and our family members (including the entrance sign, toiletries for the guests, and guest book). The flowers were also done by us (with the help of our florist).
Special Moments or Highlights
There were three amazing speeches during the dinner, by Elena's cousin, her maid of honour, and Roh's best man. Elena's friends also put together a video for us that highlighted our journey together. During the dance, since our guests were from many different cultures, we danced to Gangnam style, typical flamenco music, etc.
Advice for Other Couples
The key for us was that we were very relaxed throughout the whole process and in the end, the wedding felt like one big family dinner. Plan ahead of time and adapt accordingly.  Just enjoy it!
Biggest Surprise
That we made it until 6 am without any (major) incidences.
Supplier Shout Outs
For more information on the Photographer's work go to:
dosmasenlamesa.com / dosmasenlamesa.com/latest-posts / FACEBOOK / I: @dosmasenlamesa / PINTEREST