Happy Friday everyone! I do hope you have had a good week and that you are now looking forward to the weekend ahead of us? We ave a quite one planned in our house hold, 'the lull before the storm' as they say, as we are having major building work start in a week or so, so lots to get planned before it all begins. On with today's wedding though and today Lauren and Charles are sharing with us their gorgeous wood themed wedding, courtesy of Flash Charlie Photography. Charles is a tree surgeon, so wood and trees play a large part in their wedding. It also meant that they could create a lot of the decor themselves which worked well with their budget. To keep costs down they manged to get creative with lots of DIY ideas and some really helpful friends and wedding suppliers.
It sounds cliché, but the day was magical – so relaxed and such fun – everything that we hoped for and more.  To see the joy on the faces of our friends and families' faces made all the hard work worth it!
Lauren and Charles were married on the 20th August 2016 at the Church of St Mary the Virgin, Great Barrington in Oxfordshire followed by a reception at Great Barrington village hall. 'The 2 years before our wedding were hectic to say the least: we bought our first house, Charles was setting up his tree surgery business, I started teaching at a new school and also decided to train as a yoga teacher, so money was verrrry tight!  It really didn't look like we would be able to afford the type of wedding we'd hoped for on the budget we had.  We had our heart set on a 'barn style' wedding which would be rustic / vintage in style, but initial enquiries showed up hire costs for this type of venue at around £5,000, so there was no way we could afford it. Not wanting to compromise on quality, even though we strapped for cash, we took to Google and typed in 'village halls that look like barns' and stumbled across Great Barrington's village hall, which is stunning and at a reasonable price for the location in the heart on the Cotswolds. We had 100 guests in the day and a further 30 in the evening. We were engaged for 2 years, but it took around 18 months off and on to sort / plan in between buying our house.  The majority of the work came right at the end in the final 4-5 months.'
How they met
We'd known each other for a while through mutual friends, but it wasn't until we both broke up with our respective partners back in February 2012 that our friends nudged us together.  At the time, I'd just had a job offer accepted to teach English in a secondary school in Hong Kong, so we dated for 3 months and then I flew out in August 2012 to start my job. However, within 6 weeks, Charles had decided he wanted to join me out there, so came to stay and had job interviews and started the visa process.  Unfortunately, my Dad was diagnosed with terminal cancer, so I returned home to the UK in July 2013 and Charles managed to ask my Dad for his permission to marry me before he passed away in December that year.
The Proposal
As a tree surgeon, Charles is a total tree geek!  We love the outdoors and visiting National Trust properties and coastal walks.  Charles took me for a beautiful walk to Westonbirt arboretum which is absolutely stunning in autumn.  He proposed in the middle of a beautiful forest and then we had a champagne picnic together to celebrate.  He'd also arranged for me to get my nails done at a spa when we got home – very thoughtful!
How did you allocate your budget?
Early on we realised that if we had a venue which was very 'DIY' we could save money on corkage, the most important thing for us was to not rack up massive amounts of debt, whilst ensuring the day was what we wanted.  It was so important to us for our guests to have a fab day and for it to be relaxed, so the majority of our budget went on the reception hire, food and drink!  Hiring in a bar for the evening was a good idea, as it meant that we didn't have to try and calculate drinks for day and night. We were also very up front with our suppliers about our financial situation and asked how we could make our budget go further and if there were any creative solutions; they were all fantastic!
Where did you splurge and where did you save?
We saved on the wine, décor, favours, décor and photo-booth and food and splurged on comfy outdoor seating for guests. We begged and borrowed a marquee, fairy lights, vases and lanterns from friends who had already got married and friends also made the welcome food nibbles such as scones with clotted cream and jam and sausage rolls with chutney.  My talented friend, and hairdresser, Catherine did my hair for me and my bridesmaids for our wedding gift; she's so talented!
Wine was bought from supermarkets when there was 25% off offers and we used price comparison websites to find the best deals.
Why did you choose your photographer?
We were looking for a photographer who had a vintage style, was professional, experienced, but would also make us feel comfortable on the day.  Having searched for 'photographers in the Cotswolds' on Google, we met Mark who kindly showed us his portfolio and we were delighted to hire him and we're so so happy with the photos which really captured the feel of the day.
The Dress
The dress was £1,100 from White Rose – the earrings were a gift from my Mum and the bracelet from my now husband bought from Rock Lobster jewellery in Worcester. The shoes were from John Lewis. The veil and hair slide were included in a package from Linda Gray bridalwear – I got £175 of accessories included with the purchase of my dress.
The Suit and Bridesmaids
We manged to buy the suits from Topman and got 20% off which was great and bought the multiway dresses from Debenhams in the blue cross sale in January for £50 each.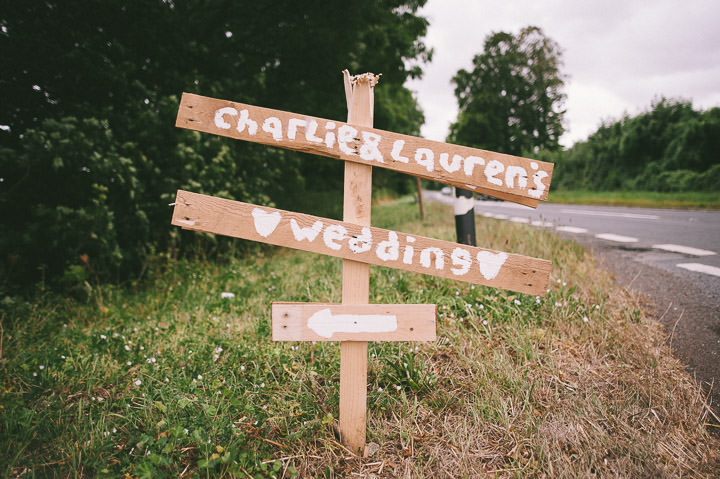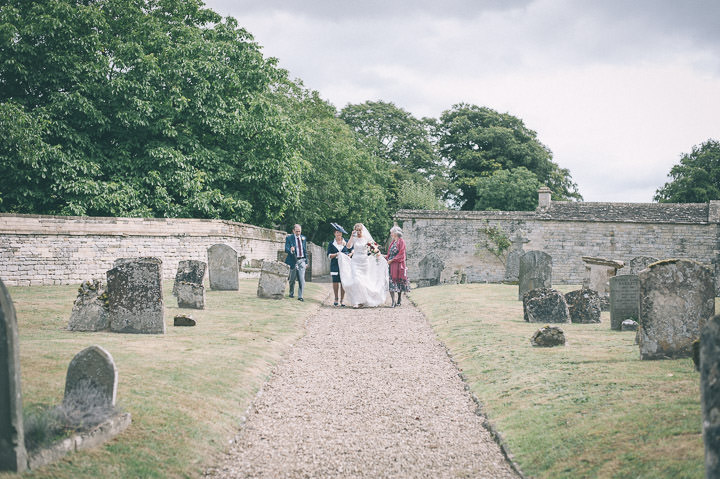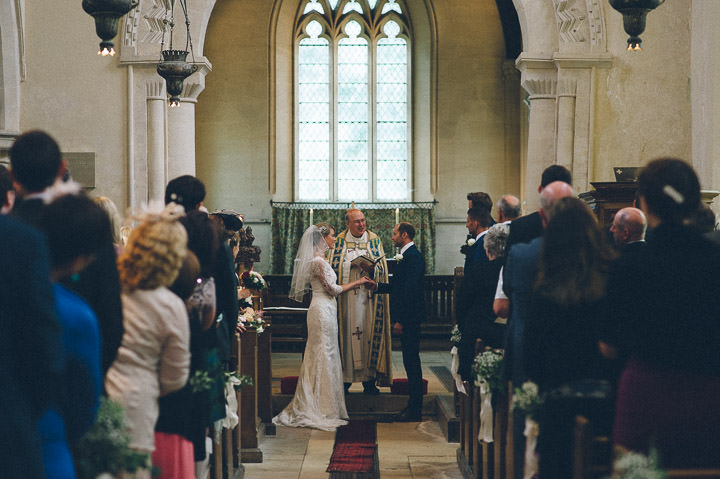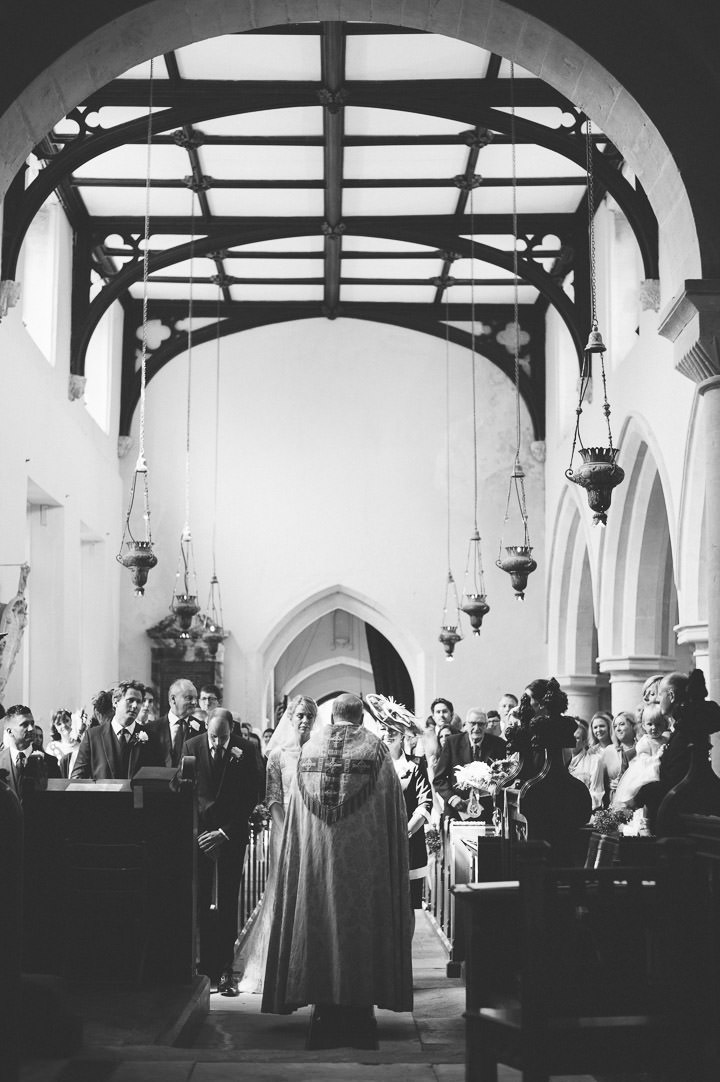 Theme or Colour Scheme
Initially it was going to be a hunter's green with gold and cream and a blackberry colour to reflect the time of year, however, we had a last minute change a few months before the wedding and entirely changed everything to burgundy, blues, blush pinks and peach!  It all worked out beautifully in the end, but it was a tad stressful.  Fortunately, Debenhams were very helpful at changing the colour of the dresses!
Decoration
Vintage style bunting and table cloths, fairy lights and candles in large glass containers and lots of cross sections of wood.
Food
We bought rustic style breads and olives from the wholesalers, for nibbles on the tables.  Our friends made the welcome food – home made scones with clotted cream and jam and sausage rolls. The main course was provided by The Cotswold Kitchen.  We were blown away by their professionalism and everyone commented on how great the food / service was.  They provided a cold buffet of roasted top-rump of beef w/ pomegranate & balsamic dressing, king prawns w/ paprika, garlic & rocket a vibrant beetroot, feta & thyme tart summer salad of courgettes & green beans w/ parsley oil and herby new potato salad.  For dessert we had tray baked meringue w/ pears, toasted hazelnuts, cream & chocolate sauce. Evening food were cheese and biscuits served in boxes and apple and sage sausage rolls.
Wedding Cake
My Mum's best friends made the cake for us. Initially we wanted a 'naked' cake, but the logistics seemed to be a nightmare, as they had a massive drive to get to our wedding. So I just gave them a theme of books and trees and said whatever they came up with would be great.  It really was the most amazing cake.  I couldn't believe what they'd come up with.  She'd made the whole thing wheat / gluten free, as many people were wheat / gluten intolerant.  I burst into tears when I saw it; the amount of thought and effort they'd put into it for us was astounding.
Entertainment
We had a local ceildh band from Worcestershire and we created a Spotify playlist on an ipod connected to a hired speaker for later in the evening.
Stationery
We printed our own menus for the table by downloading a free template and sourced a printing company to do our order of service which cost around £100.
Personal Touches
We wanted the wedding to reflect our loves – the outdoors and all things a bit retro and vintage, but weren't prepared to waste money.  We saved money on the décor for the venue by making 80metres of bunting using vintage style fabric from charity shops, such as curtains and bedding.  The favours and table signs were made by cutting cross sections of silver birch branches that Charlie had chopped down.  On one side of the favours we used a computerised laser cutter to burn / emboss the name of the guest in a beautiful font, and on the other side, drilled a space to glue a tea light in as a favour – both a gift and a name plate in one.  The guests loved them!
The table plan was made from using vintage-style photos frames from charity shops attached to a pallet and we printed out the names inside using free downloadable fonts.  We also made the signs with the running order for the day and welcome signs by making DIY chalkboards and using chalk paint over glass and downloading free fonts and using liquid chalk paint to create them; we were so pleased with the overall effect.
Special Moments or Highlights
We had a meal with friends and family the night before the wedding which really lengthened the weekend. On the day of the wedding, waking up at 6am in the morning and having a few moments to myself and being excited about the day ahead was lovely and relaxing in the morning with my bridesmaids and Mum. Seeing all of our guests enjoying themselves was fantastic!  As we were having our photos taken in the evening and walking across the field, Charles got chased by a cow!
Advice for other couples
Ask for help sooner rather than later!  I tried to do everything myself and if I had asked for help to make things and let go of my perfectionism I probably wouldn't have got so tired on the run up to the wedding! Also, don't compromise on what you want.  Although we didn't have a great deal of money, we had the perfect day and involving our friends and family with the entertainment and catering for the day made it feel like a team effort.
Biggest Surprise
How relaxed we both felt!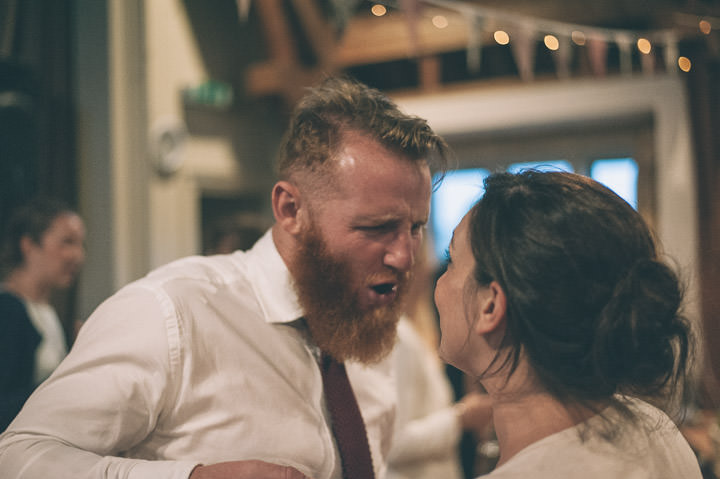 Supplier Shout Outs
For more information on Mark's work go to:
www.flashcharlie.co.uk / www.flashcharlie.co.uk/photography-blog / [email protected] / FACEBOOK / T: @flash_charlie