I hope you are having a fab weekend, did you know it's just 6 weeks 'til Christmas? Crazy! Whilst I bet some of you are super organised and have already started gift shopping, I'm heading up to the Scottish Highlands for some snow this weekend and trying to ignore all the carols already playing in the shops!
I hope you are ready for a serious amount of bling this week on Boho Pins. This week's theme is jewellery and we have everything from leg and foot jewellery to killer earrings. Maybe it's not too late to add some to the shopping list?
Image Source via Whitney Heard Photography – I just love this shoulder jewellery, such a gorgeous way of adding a bit of detail to your wedding gown by Blair Nadeau Millinery
Image Source via Anina Harmse – So much amazing jewellery going on here from the necklace to the feet, absolutely perfect for a Boho chic bride who loves a bit of bling!
Image Source via Gibson Bespoke on Etsy – Love this bridal cuff, perfect for a more rock chic look and a great way of adding in extra bling.
Image Source – Wow!! what an amazing look, I just love this Eugenie Collar from What Katy Did Next
Image Source – Perfect for a boho bride looking to break the wedding rules. I just love turquoise and mixing it in with your wedding look is so boho. From THOMAS SABO

Image Source – This is such a massive statement and would look fab on a plain strapless column dress! From Powder Blue Bijoux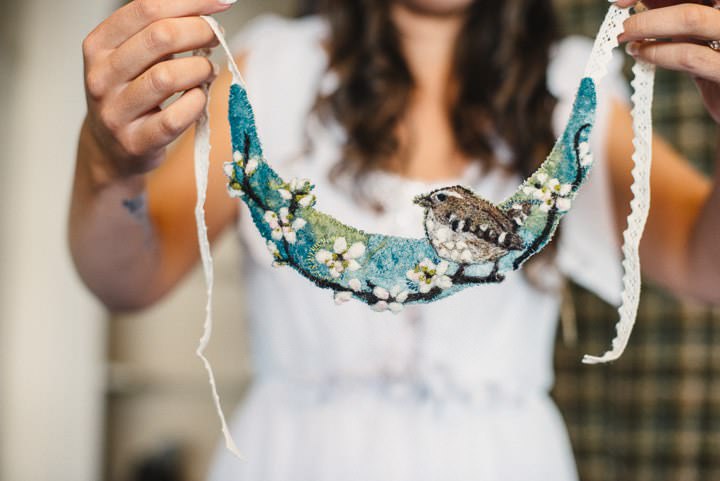 Image Source via  Photos By Zoe – This is so unique and perfect for the bird theme wedding.
Image Source via Karolina Paczkowska – I have a bit of a 'thing' for low back dresses adorned with a drop necklace. So simple yet stunning.
Image Source via Debbie Lourens Photography – Another beautifully simple piece, perfect for an exotic boho bride!
Image Source – An updo finished with a pair of statement earrings can lift a whole outfit and these are some beauties!